This 20-Minute Tomato, Basil, and Mozzarella Pasta Salad is fresh, fast, and flavorful! The perfect quick and easy Summer Pasta Salad recipe. Make it for your next party, picnic, or BBQ!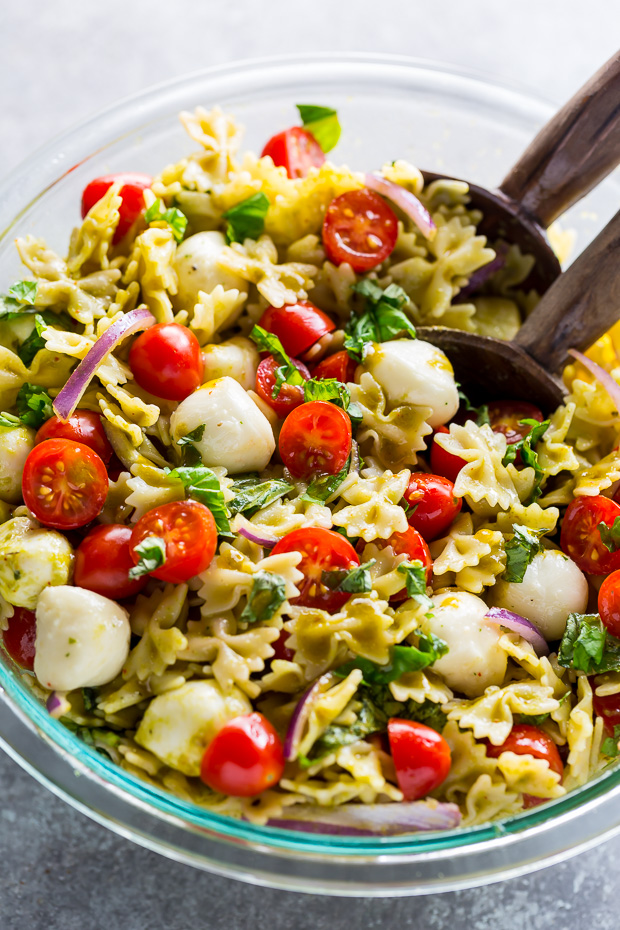 Easy Caprese Pasta Salad
Can I tell you a little secret? If this wasn't a baking blog, it would surely have one of the following names:
CrankyWithoutCarbs.com
WillDanceForFarafalle.net
PastaPastaPasta.org
MacaroniMadness.com
I think you get my point. Pasta is my passion! And if you feel the same, today's post is for you ♥

MY RECENT VIDEOS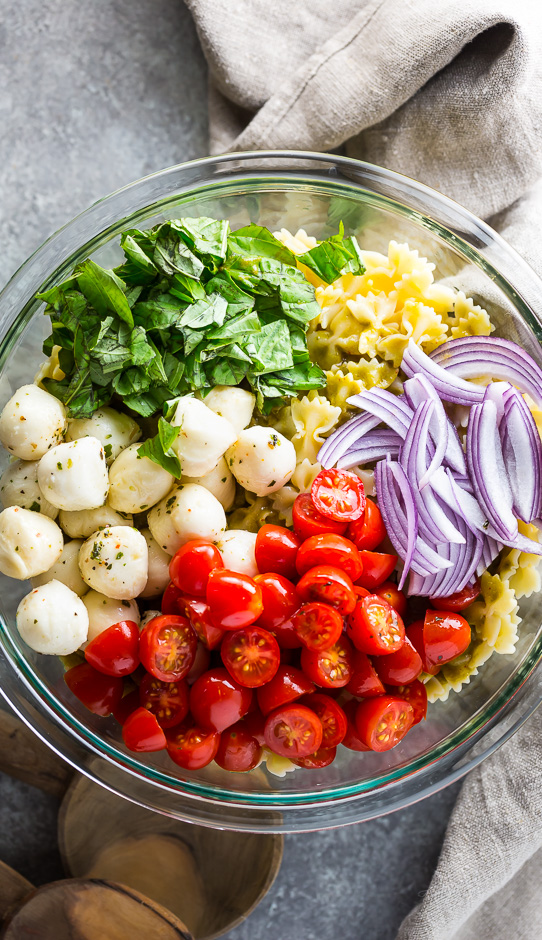 Tips and Tricks for Recipe Success:
This recipe can be made in advance! In fact, I think it tastes best after 24 hours in the fridge. It allows the flavors to mingle and develop. Plus, who doesn't love a big bowl of pasta waiting for them in their fridge?!
If you're going to make this pasta salad in advance, be sure to cook your pasta al dente. Overcooked noodles will quickly get mushy in this salad, and that would be a shame! I find 7 to 8 minutes at a full boil is usually perfect – but this will vary depending on the variety and brand of pasta you choose.
Speaking of pasta – let's talk varieties. I have a strong preference towards farfalle, but that doesn't mean you have to use it! Feel free to sub in penne, elbow noodles, or fusilli. Rigatoni could work in a pinch, but I find noodles with crevices shine best in pasta salad. They catch all that yummy dressing!!!
While we're on the subject of the dressing, you can make that ahead of time, too! Just be sure to cover it well and store it in the fridge.
I kept this 20-Minute Tomato, Basil, and Mozzarella Pasta Salad very simple – and vegetarian friendly – but feel free to bulk it up by adding some shredded chicken or chopped shrimp. Or add more veggies like broccoli, arugula, or avocado. It's very adaptable!
Made as is, this pasta salad is perfect for picnics, BBQ's, and other outdoor Summer events. Just stir it every so often to keep it looking fresh 😉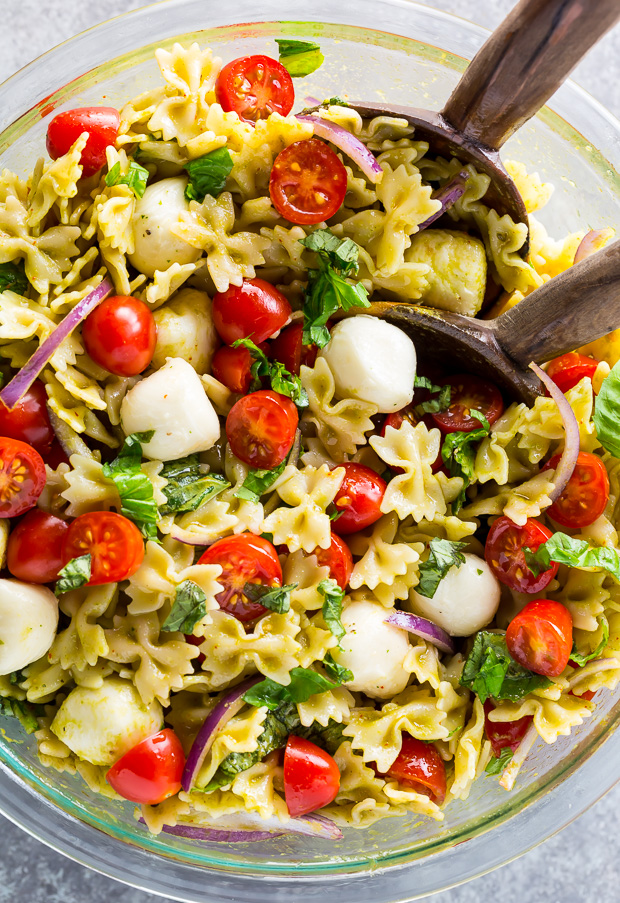 This is basically SUMMER in pasta salad form… I hope you make it and enjoy it!
For more Pasta Salad Recipes, Check Out: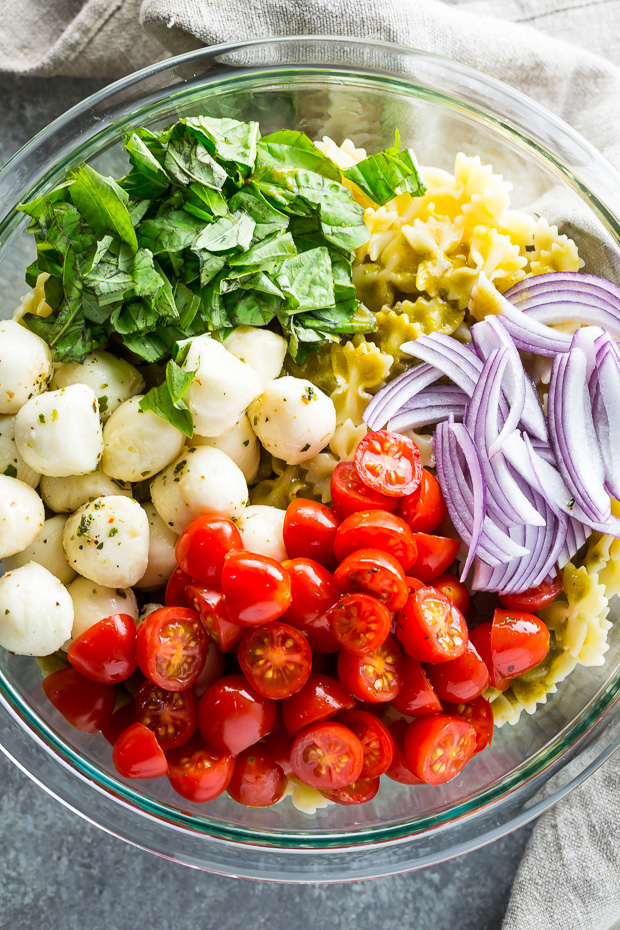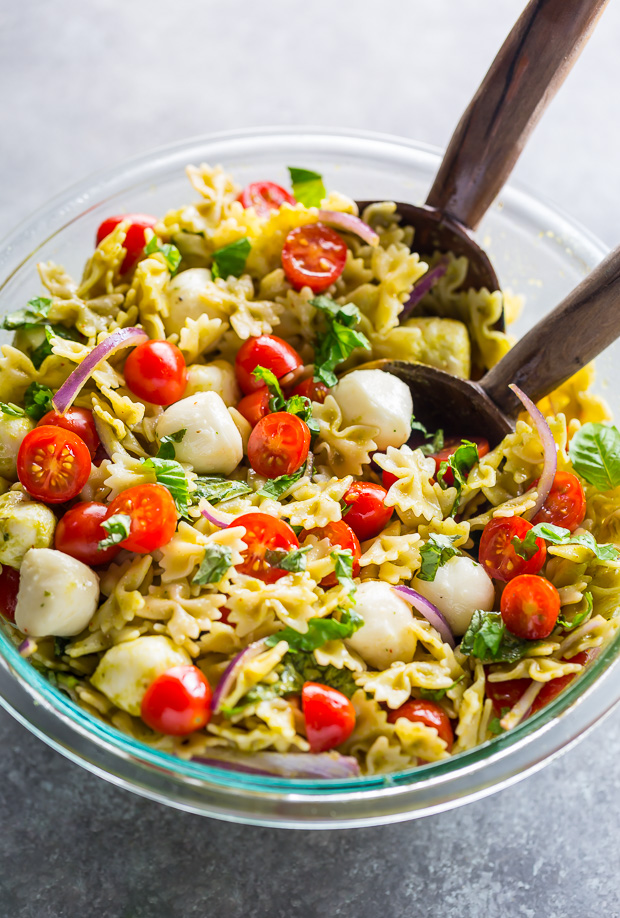 If you try this recipe for 20-Minute Tomato, Basil, and Mozzarella Pasta Salad, let me know what you think! Leave a comment below, and don't forget to snap a pic and tag it #bakerbynature on instagram! Seeing your creations makes my day ♥
20-Minute Tomato, Basil, and Mozzarella Pasta Salad
Yield 8 large bowls
This 20-Minute Tomato, Basil, and Mozzarella Pasta Salad is fresh, fast, and flavorful!
Ingredients
For the Basil Dressing:
4 ounces fresh basil
3 cloves garlic, minced
3/4 cup olive oil
1/4 cup fresh lemon juice
2 teaspoons granulated sugar (optional, but it adds a nice sweetness)
3/4 teaspoon salt (more or less to taste)
1/2 teaspoon crushed red pepper flakes OR freshly ground black pepper (more or less to taste)
For the Pasta Salad:
1 pound farfalle pasta
1 pint cherry tomatoes
1/2 cup thinly sliced red onion
(1) 12 ounce container marinated mozzarella balls, removed from oil
4 ounces fresh basil, thinly sliced
Instructions
For the Basil Dressing:
In the bowl of a food processor or blender, combine the basil, garlic, olive oil, lemon juice, sugar (if using), salt, and pepper. Pulse on high for about 2 minutes, scraping down the sides as needed, or until smooth. There should be no large chunks of anything! If there is, continue blending. Set aside until needed.
For the Pasta Salad:
Place a large pot of salted water over high heat; bring to a rolling boil. Add pasta and cook until al dente, about 7 to 8 minutes.
While the water comes to a boil and the pasta cooks, prepare the vegetables. Slice the cherry tomatoes in half; thinly slice the basil and thinly slice the red onion; set aside until needed. Remove the mozzarella balls from the oil and set aside.
When the pasta has finished cooking, drain it at once and quickly rinse it under cold water until cool, about 1 minute. Place cooled pasta in a large mixing bowl. Add dressing to pasta, then add the tomatoes, basil, onion, and mozzarella balls. Toss to combine. Serve at once, or chill until needed.
Notes
Pasta salad may be made and stored in the fridge for up to 3 days.
Courses Lunch, Dinner
Cuisine Italian, Pasta, Vegetarian
This post was updated on 5/7/2017