Supremely moist, rich, and decadent Chocolate Ricotta Layer Cake. This cake is always a crowd-pleaser and so good with a cup of coffee! Dangerously delicious!
Italian Chocolate Cake Recipe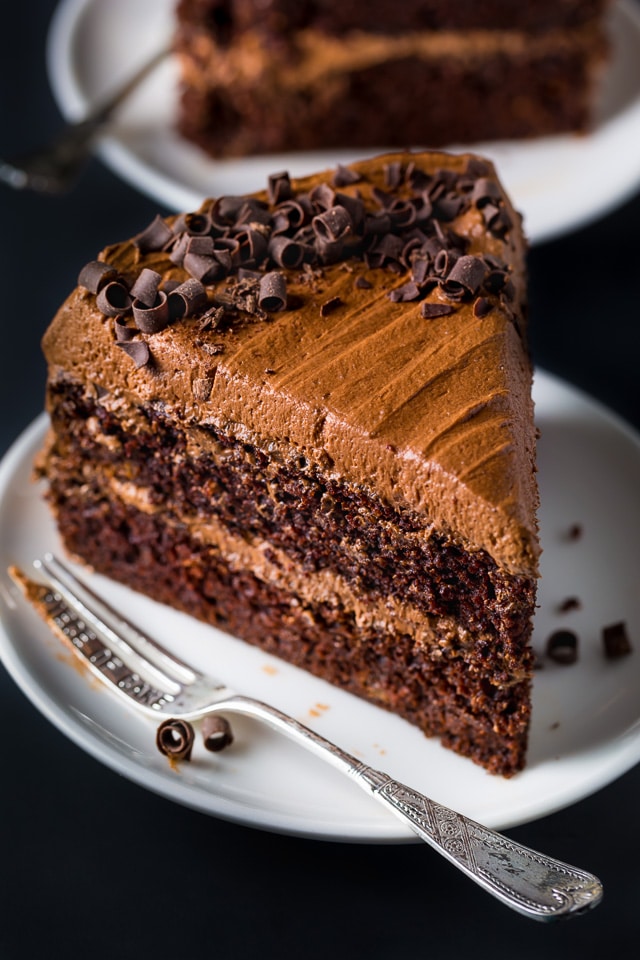 Chocolate Ricotta Cake
Well hello, gorgeous. ♥♥♥ I mean, seriously you guys… how moist and chocolatey and out-of-this-world amazing does this ricotta chocolate cake look?
Hard to believe, but it tastes even better than it appears! So tender each rich, fudgy bite almost melts in your mouth. We can thank the creamy ricotta cheese for that.
I must admit I'm kind of having a moment with ricotta cheese right now. Last week I made you those dreamy one-bowl lemon ricotta cupcakes, and now – this chocolate cake! I just can't stop. If you're a fellow ricotta lover, you know what I'm talking about and why. And if you've never tried baking with it, all I can say is look at that texture ↓↓↓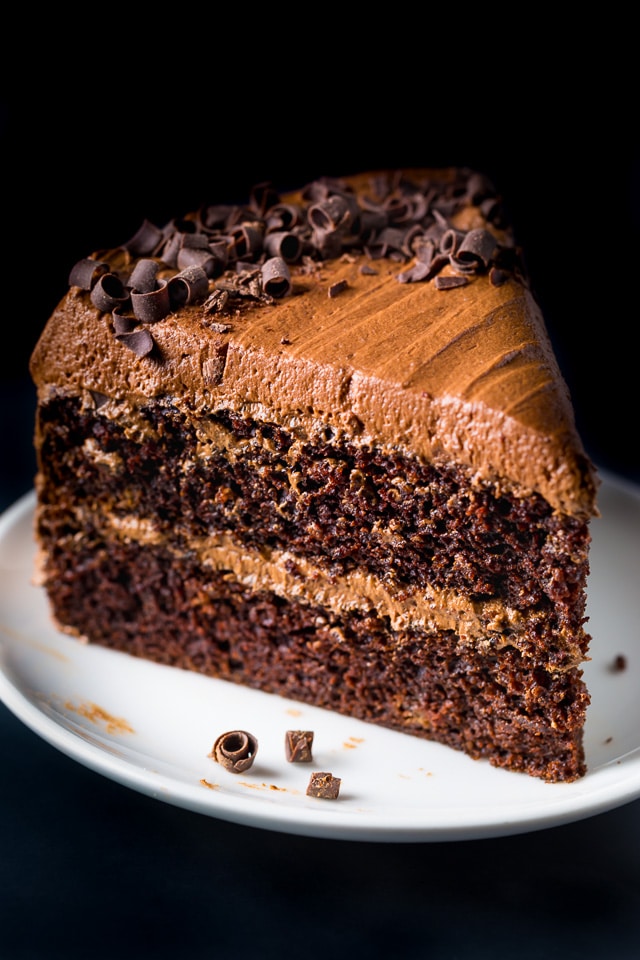 Last week I woke up with a chocolate craving the size of Texas and knew the only solution was a big fat slice of chocolate cake. I was tempted to make this Super Decadent Chocolate Cake with Fudge Frosting, but for the sake of shaking things up (and providing you with some new content!), I decided to get to work developing a new chocolate cake recipe that would satisfy us all 😉 That's where this chocolate beauty comes into the picture. It took me 3 tries to get this cake just right… but on the third attempt I totally nailed it.
For this chocolate cake recipe you're going to need granulated sugar, all-purpose flour, unsweetened cocoa powder, baking soda, baking powder, salt, eggs (and a yolk!), ricotta cheese, oil (vegetable or melted coconut), vanilla extract, and water. I know, it seems like a long list. But I bet you have most of these ingredients on hand right now… am I right?
P.S. Did you know you can make homemade ricotta cheese with just a handful of simple ingredients? Worth checking out if you can't easily find ricotta at your local grocery store.
The silky smooth chocolate frosting is made up of unsalted butter, confectioners' sugar, unsweetened cocoa powder, salt, vanilla, and ricotta cheese. Again, pretty simple ingredients. The key thing to remember when making the frosting is your butter needs to be very soft but not melted. If your butter isn't soft enough, it won't cream properly, and the end result won't be very satisfying. I recommend sitting your sticks of butter out on the counter for an hour or so before you plan on making the frosting.
Pro tip: You can also soften the butter in a microwave if you own one. Here's what you do: place the cold sticks of butter in the microwave and heat them for 6 seconds. If there's still too hard heat them for another 4 seconds. Less is more here because you can always add a few more seconds if they're too solid, but if you melt the butter, you'll have to start over with new sticks. This recipe will not work with melted butter.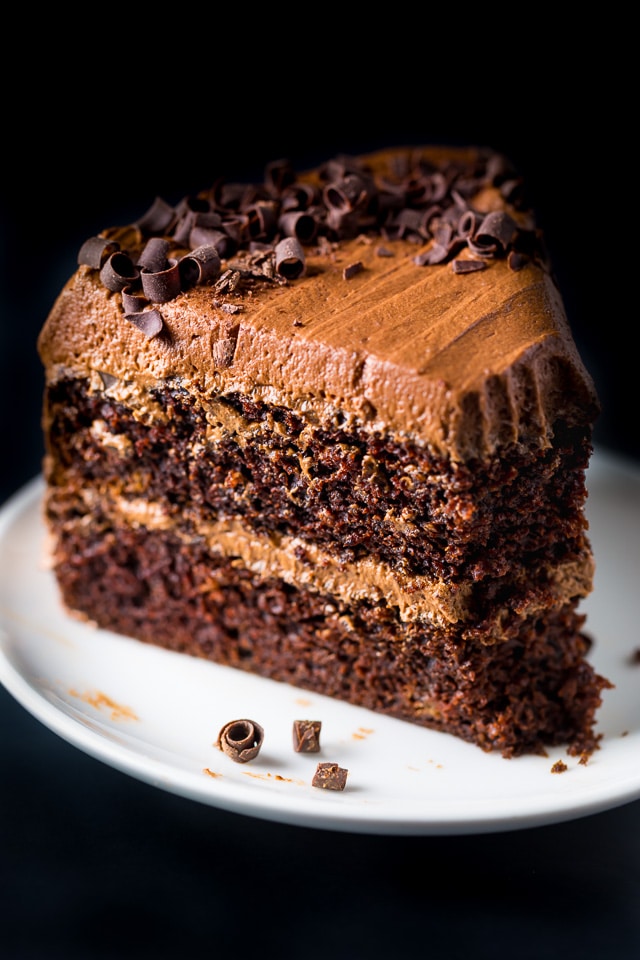 As you can see from my photos this creamy frosting spreads and pipes quite beautifully. I used this angled icing spatula  but I have frosted cakes with nothing more than a butter knife and made it work. So do you when it comes time to frost and decorate 😉
Rich chocolate cake + fluffy chocolate frosting + ice cold milk chaser = H-E-A-V-E-N on earth.
This recipe makes one 9″ layer cake (two layers) and will easily serve 10-12. The frosting recipe also makes just enough to cover the cake and pipe some cute little decoration around the top – if you're into that sort of thing. I used a standard piping bag and this Wilton star tip
to make the not-so-fancy stars on top of this cake. Also, if you're not making this cake for an occasion and want to keep it fresh for a few days, I recommend storing it in an airtight container in the fridge, and letting it come to room temperature before serving/eating. It will stay moist and super delish for up to 4 days. Not that I think it will last you that long 😉


If you've been looking for a cake using ricotta cheese, this is a great place to start! Enjoy!!!
More Ricotta Recipes: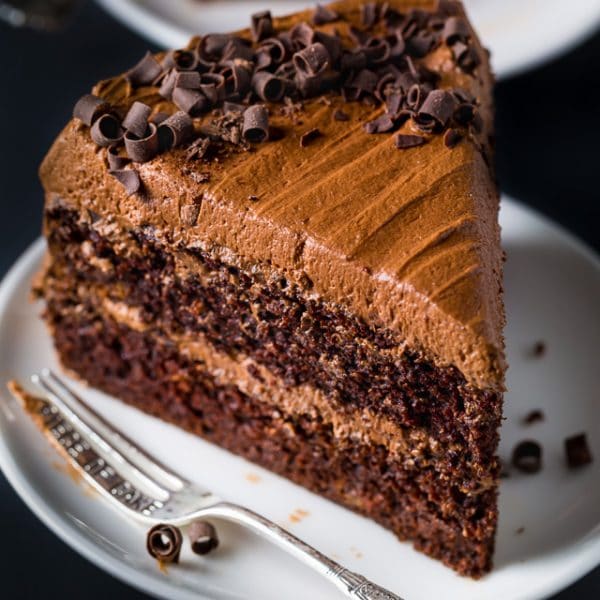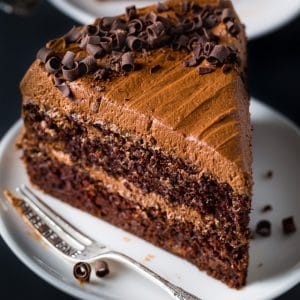 Chocolate Ricotta Layer Cake
Supremely moist and packed with real chocolate flavor, this Chocolate Ricotta Layer Cake is a must for chocolate lovers!
Ingredients
For the chocolate ricotta cake:
2 cups granulated sugar
1 3/4 cups all-purpose flour (not packed!)
1 cup unsweetened cocoa powder
2 teaspoons baking soda
1 teaspoon baking powder
3/4 teaspoon salt
2 large eggs + 1 large egg yolk, at room temperature
1 and 1/4 cups whole milk ricotta cheese
1/2 cup vegetable oil (you may also sub in melted coconut oil)
1 tablespoon vanilla extract
1 cup hot water
For the chocolate ricotta frosting:
1 cup unsalted butter (2 sticks, 8 ounces), softened
3 and 1/4 cups confectioners' sugar, sifted
1/2 cup unsweetened cocoa powder, sifted
2 teaspoons vanilla extract
1/4 teaspoon salt
1/4 cup whole milk ricotta cheese
Instructions
For the chocolate ricotta cake:
Preheat oven to 350°(F). Generously spray two 9-inch round baking pans with non-stick baking spray, set aside. In the bowl of a stand mixer fitted with the paddle attachment or in a large bowl with an electric mixer, combine the sugar, flour, cocoa, baking soda, baking powder and salt; mix on low until dry ingredients are thoroughly combined. In a separate bowl combine the eggs, egg yolk, ricotta cheese, oil and vanilla, mix until completely combined. Pour mixture into the dry ingredients and beat on low until just incorporated. Pour in hot water and continue mixing until completely combined; about 1 minute. The batter will quite thin.

Divide batter evenly into prepared pans.

Bake in preheated oven for 30 to 35 minutes, or until wooden toothpick or cake tester inserted in the center of a cake comes out clean or with just a few moist crumbs attached.

Cool cakes for 10 minutes in the pan before removing from pans and transferring to a cooling rack; cool cakes completely before frosting.
For the chocolate ricotta frosting:
In a stand mixer fitted with the paddle attachment, cream the softened butter on medium-speed until completely smooth; about 3 minutes. Turn the mixer off and sift the powdered sugar and cocoa into the mixing bowl. Turn the mixer on the lowest speed and mix until the sugar/cocoa have been absorbed by the butter; about 2 minutes. Increase mixer speed to medium; add in vanilla extract, salt, and ricotta cheese; beat for 3 minutes. If your frosting appears a little too thin, add a little more sugar; If your frosting needs to be thinner, add additional ricotta cheese, 1 tablespoon at a time.

Frost cooled cakes as desired.
Notes
This recipe should be followed exactly for best results.