This Chunky Manhattan Clam Chowder is loaded with fresh veggies, bacon, corn, and plenty of clams! Unlike New England Clam Chowder which is cream based, this soup is tomato based and not creamy! Everyone loves this soup recipe!
Manhattan Clam Chowder Recipe
I thought I'd pop in one more time today and share with you my latest "real meal" obsession: Chunky Manhattan Clam Chowder. I know… Not the most romantic dish in the world. Especially after gawking at chocolate covered strawberry shortcakes and red wine chocolate bon bons all morning. But it is just the thing for bodies that need warmth, nourishment, and an extra dose of TLC. I have been craving all three of those things like crazy lately. #IsWinterOverYet?!

Hot to Make Red Clam Chowder
This is not your ordinary ho-hum pot of clam chowder. That I promise you! It may also not be quite what you envision when you think of clam chowder. Many of my friends are only familiar with the creamier version of this soup, known as New England Clam Chowder. This version is not creamy at all – but features a rich, flavorful tomato base that's loaded with good for you ingredients like potatoes, carrots, celery, corn, and of course, CLAMS! I used canned clams here because they're quite affordable and easy to locate where I live, but fresh clams may absolutely be used if you're up for it! Just remember – if you're going to use fresh clams, be sure you scrub the HECK out of them. Fresh clams carry a ton of dirt and sand, and the last thing you want to taste when you're taking that first slurp of soup is gritty who-knows-what!
So let's talk about where this soup gets all its flavor from. This soup has a TON of flavor, so I'll start from the beginning. The first step in this soup recipe involves non-other than the KING of flavor – BACON. There are so many benefits to cooking with bacon, and for this particular recipe we'll be taking advantage of both the cooked bacon (nom nom nom) as well as the beautiful bacon fat. You'll actually cook your onions slowly in the bacon fat, creating an incredible aroma (be sure to lean in and take a big whiff) and an incredibly robust flavor profile.
Once the onions have had a chance to really soak up the bacon fat and soften, you'll add in crushed red pepper (for spice!), red bell pepper, carrots, potatoes, and celery. You're going to cook those healthy veggie kids for another few minutes before adding your garlic. It's important to add the garlic last, because it cooks fast, and we definitely don't want burnt garlic in our soup.
When all of the veggies have been tossed into the pot, we'll add our liquids. For this chowder I use crushed tomatoes and clam juice. It's important to note that crushed tomatoes are not the same as diced tomatoes. While diced will work, the texture will not be as pleasant or consistent as it is with crushed. If you're using canned clams, you'll be able to get a good amount of juice right from the cans! This is great because it saves you money and time.
I like to add one or two bay leaves to the broth, and allow the soup to simmer away for at least 30 minutes. This allows the heftier ingredients (I'm looking at you carrots and potatoes) to soften up; it also allows the broth to develop and bloom. I also stir in the corn at the very end of the cooking process, so it doesn't get too soft or mushy. After 45 minutes or so, it should reach its full potential as far as flavor goes.
P.S. This soup is killer the next day – if you happen to have any leftovers. I am known to make a pot on Sunday and live on bowl after bowl until there isn't a lick left anywhere.
You can serve this soup with lemon wedges, hot sauce, and fresh parsley – and if you really want to make it special – why not try serving it in a bread bowl!
More Soup Recipes: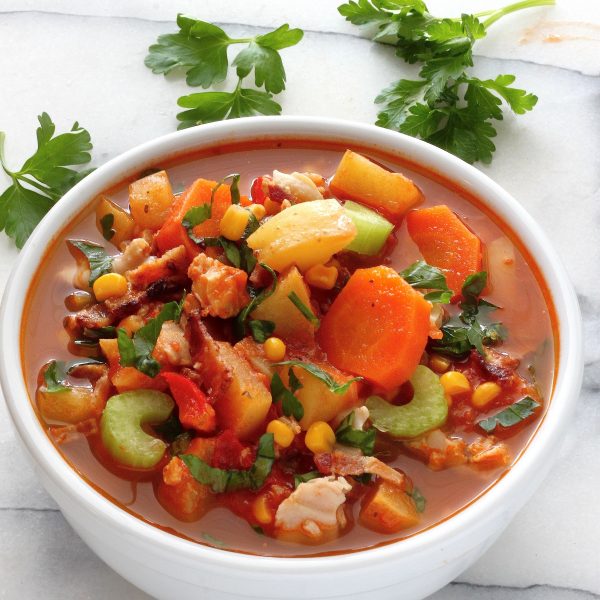 Chunky Manhattan Clam Chowder
Chunky Manhattan Clam Chowder is so flavorful and always a crowd-pleaser!
Ingredients
5 slices thick cut bacon
1 Tbsp olive oil
1 large yellow onion, diced
1/4 teaspoon crushed red pepper
3 large carrots, peeled and sliced into rounds
3 celery stalks, chopped
1 small red bell pepper, seeds and membrane removed, diced
4 large garlic cloves, minced
1 teaspoon Italian seasoning
1/4 teaspoon celery salt
2 bay leaves
(1) 28 ounce can crushed tomatoes
(5) 4 ounce cans of baby clams, juice reserved
8 ounces cup clam juice
1 pound golden potatoes, cut into bite-sized chunks
2 cups frozen corn
1 teaspoon salt (to start)
1/2 teaspoon black pepper (to start)
1/4 cup fresh parsley, chopped
Hot sauce, for serving
Instructions
Place a large soup pot or dutch oven over medium-low heat. Add the bacon slices and slowly cook them until the bacon is brown and crispy. Transfer the bacon to a cutting board, quickly chop it up; set aside.

Increase the heat to medium and add the olive oil and onion to the pan; sauté for 6-8 minutes, stirring occasionally, or until the onion is soft and translucent. Add in the crushed red pepper, carrots, celery and red bell pepper and cook for another 4-5 minutes. Return chopped bacon to the pot; stir well to combine. Lastly add in the garlic and cook for just another minute or so.

Stir in the Italian seasoning, celery salt, bay leaves, crushed tomatoes, ALL reserved clam juice, potatoes, salt, and pepper; stir well to combine all of the ingredients.

Allow soup to come to a rolling boil, then reduce heat and simmer, partially covered, for 35-45 minutes, or until the potatoes are soft and cooked though.

Once the potatoes are tender, stir in the canned clams and corn; simmer for 5 more minutes. Add salt and pepper to taste, top with freshly chopped parsley, and serve with hot sauce and/or lemons.