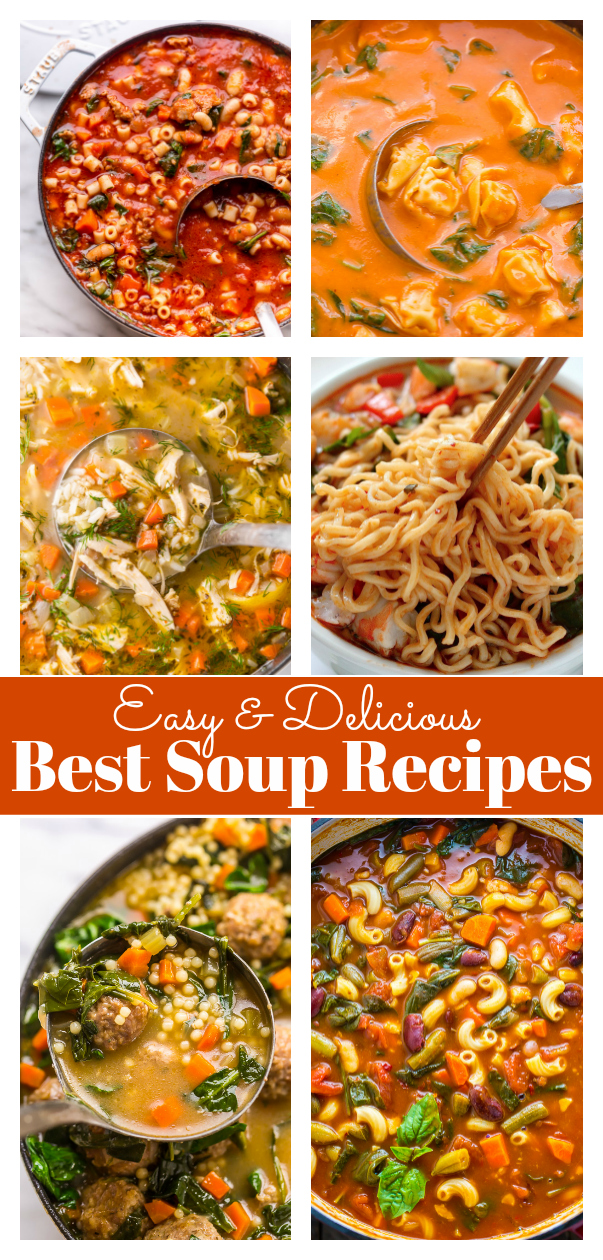 It's that time of year again…
SOUP SEASON! AKA our favorite time of year! There are so many reasons to love soup! It's cozy comfort food! And one pot can easily serve crowd without breaking the bank! So during the chilly Fall and Winter months, you can always find our dutch oven simmering with a hearty soup, stew, chowder, or chili!Here's a list of our favorite soup recipe! Some are ready in less than 30 minute, while others take 45 minutes to an hour! But all of them are 100% worth the time, ingredients, and effort! So whether you're looking to use up a few cans of white beans, hankering for a for a big bowl of tomato soup, or need something gluten free, the list below has you covered!
Best Soup Recipes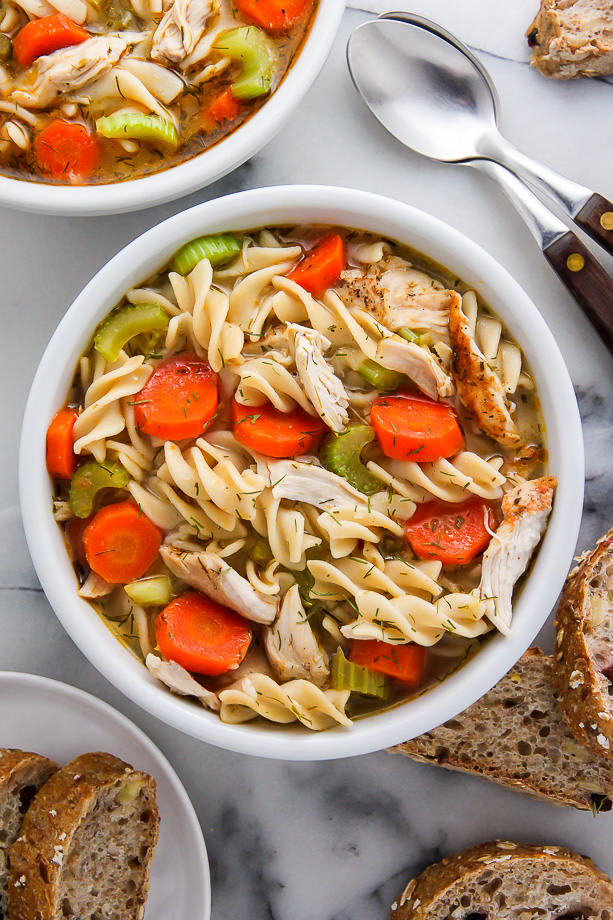 [adthrive-in-post-video-player video-id="9ofd6Yaq" upload-date="2017-09-11T14:15:24.000Z" name="Flu Fighter Chicken Noodle Soup" description="Loaded with healthy ingredients and full of flavor, this Flu Fighter Chicken Noodle Soup will quickly become a Winter staple!" player-type="static"]
This is the ULTIMATE comfort food when you're feeling sick! The secret ingredients are lemon juice and fresh dill, which make this soup is SO flavorful. Even my husband, who doesn't love soup (I try not to hold it against him lol), LOVES this one!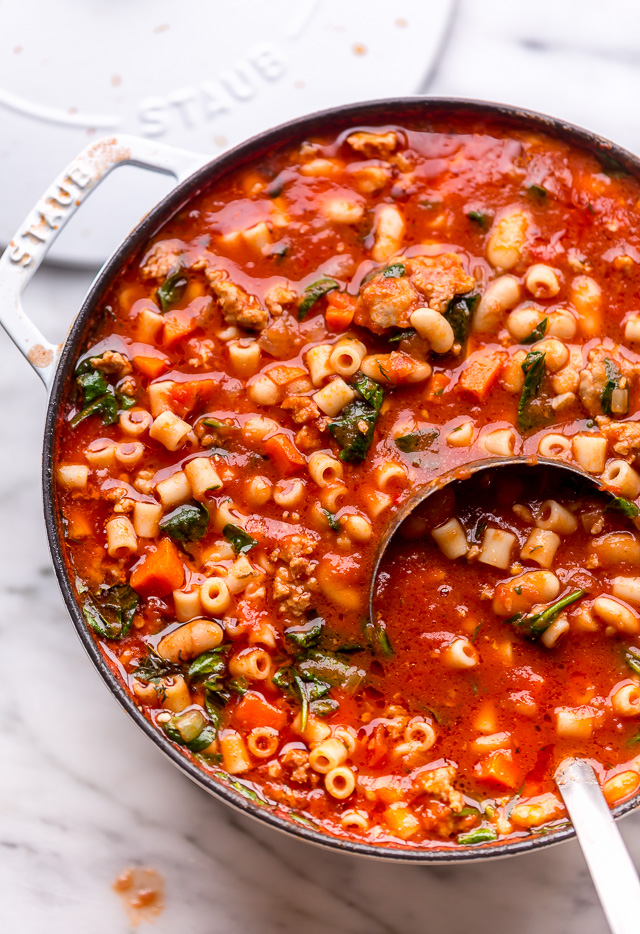 Aka Pasta and Bean Soup! And yes: it's even better than the Olive Garden version. Sorry not sorry! Made with pantry staples, this is a great way to use up stuff you already have on hand!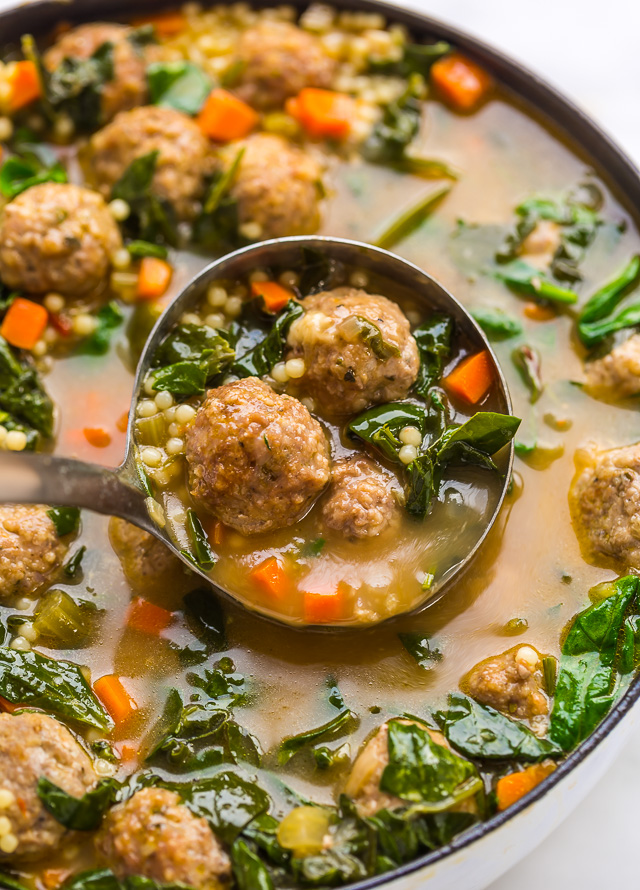 While I can't tell you why this is called Italian Wedding soup, I can tell you it's absolutely delicious! Featuring a hearty flavorful broth, mini meatballs, pasta, and plenty veggies, this one is always a big hit with the family!
[adthrive-in-post-video-player video-id="o0CdG5zR" upload-date="2017-08-28T15:39:31.000Z" name="20-Minute Spicy Sriracha Ramen Noodle Soup" description="An easy recipe for 20-Minute Sriracha Ramen Noodle Soup!" player-type="static"]
Looking to spice up your life? This homemade ramen is for you! Ready in about 20 minutes, this noodle based soup is quick, cheap, and SO delicious. No wonder it has a cult following!
Looking for a tasty gluten free soup recipe? This soul warming chicken and rice soup is here for you! It's hearty, comforting, and so flavorful! You can easily use white rice, brown rice, or even wild rice!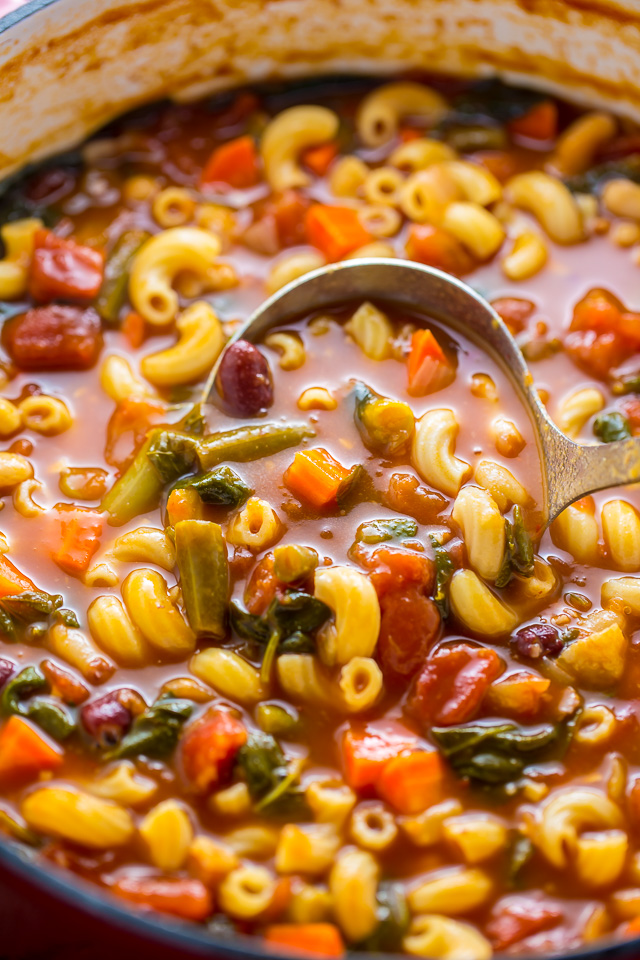 To me, Minestrone is the ultimate Winter soup! It's vibrant red broth is packed with pasta, beans, and tons of nutrient rich veggies! And a sprinkle of Parmesan on top makes it even more yummy! You can easily use gluten free pasta to make this GF.
[adthrive-in-post-video-player video-id="uHLNF5PA" upload-date="2017-10-18T14:54:05.000Z" name="Slow Cooker Turkey Chili" description="This comforting and flavorful Turkey Chili is make in the slow cooker!" player-type="static"]
No one – and I mean NO ONE – will turn down a big bowl of this turkey chili! Bonus: it's made in the slow cooker, so you can make it in the morning and have it waiting for you at dinnertime. To up the deliciousness, top each bowl with sour cream, shredded cheese, cilantro, jalapeños, and avocado slices. Are you hungry yet?!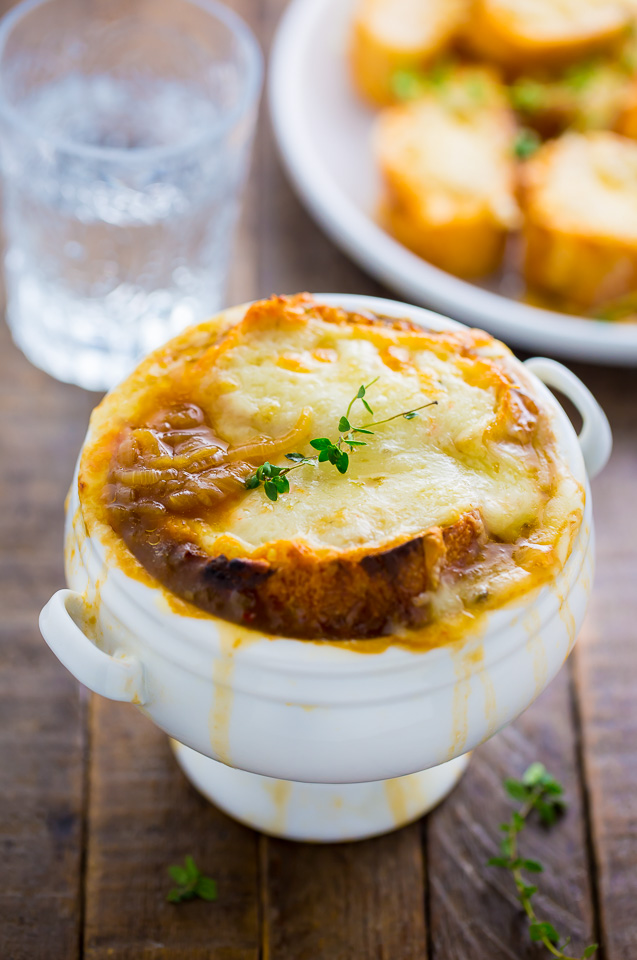 It doesn't get better than a bubbling bowl of French Onion Soup! Featuring sweet caramelized onions, rich broth, toasted bread, and gooey cheese… it's hard to resist having a second bowl of this classic soup! Use gluten free bread to make this one GF.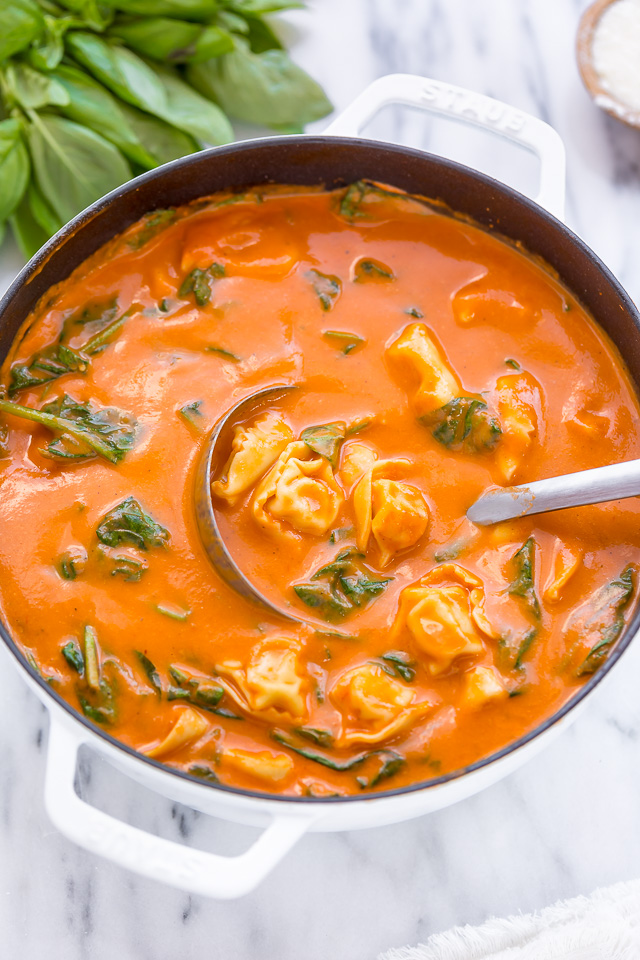 Creamy tomato soup PLUS tortellini? YES PLEASE! This indulgent soup can easily be lightened up by cutting the called for heavy cream amount in half.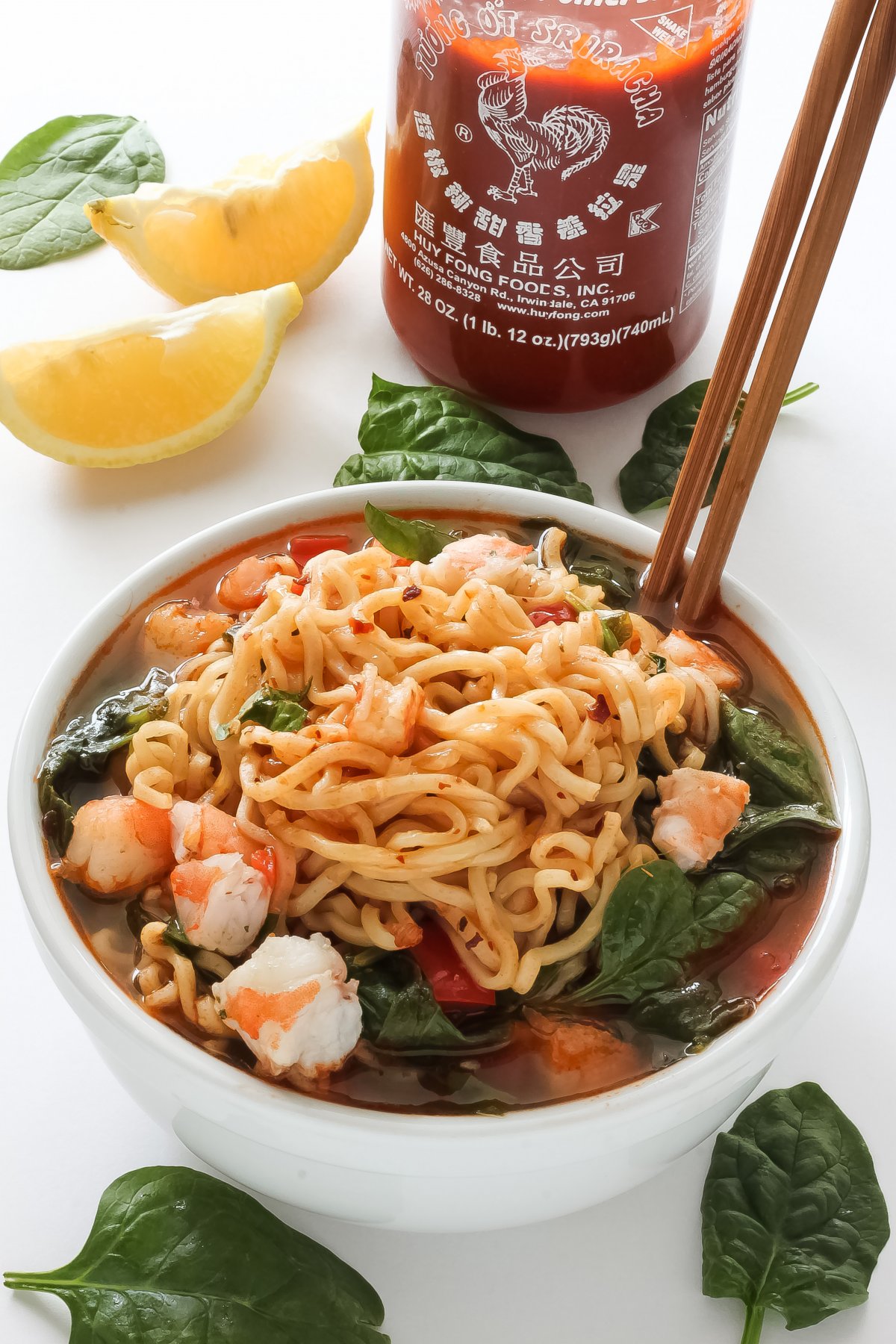 Love shrimp? Love ramen? This soup is for you! Featuring a bright and zippy broth, chewy noodles, and protein packed shrimp, this soup is hearty enough for dinner – no sides needed!
[adthrive-in-post-video-player video-id="wBroGF2Z" upload-date="2018-08-16T16:23:34.000Z" name="Italian Meatball Soup" description="Healthy, hearty, and delicious, this Italian Meatball Soup is perfect for dinner!" player-type="static"]
Meatball soup appeals to soup lovers of all ages… but especially kiddos! Seriously, they LOVE this soup. So it's an easy and affordable dinner option the whole family will love.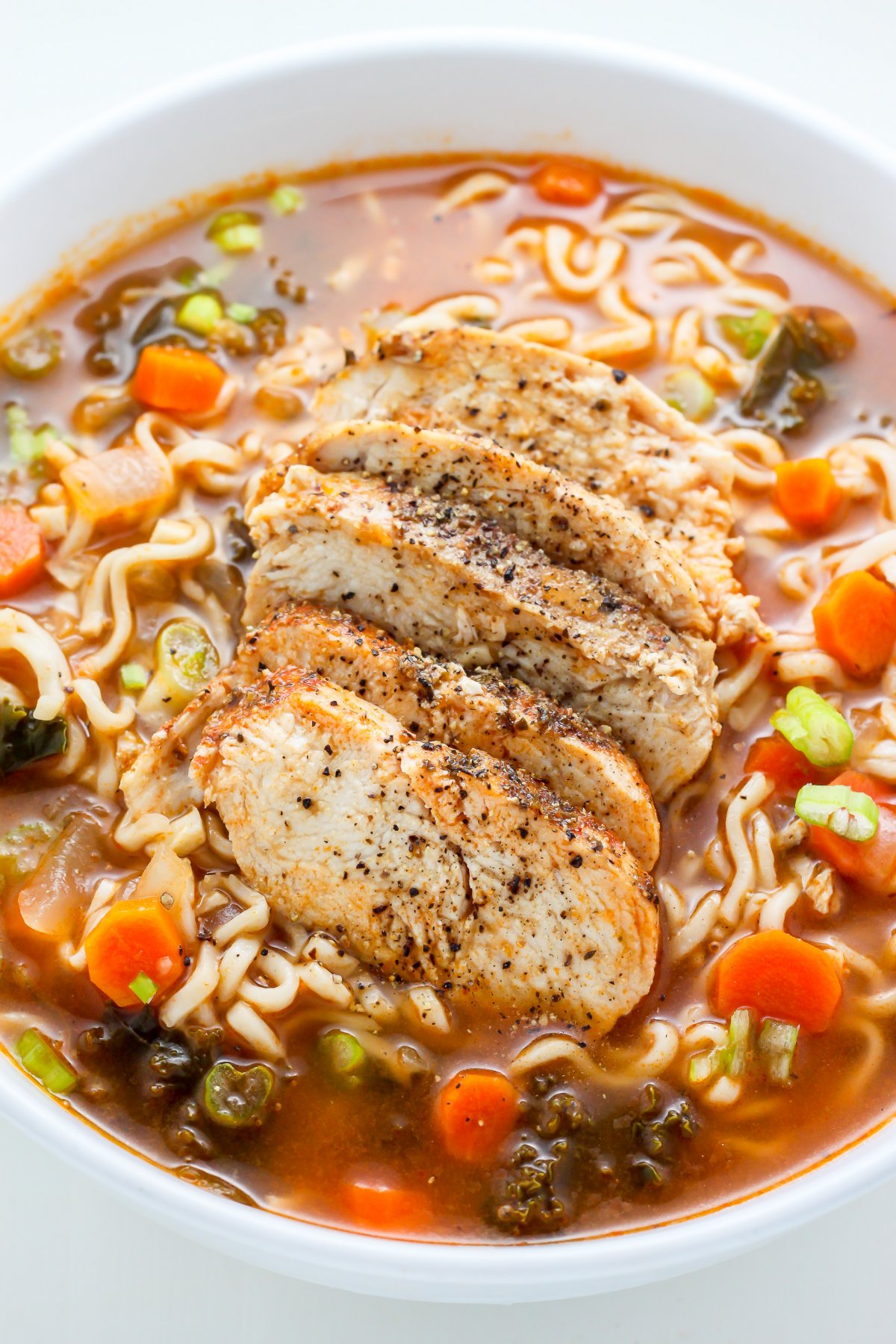 Chicken noodle soup meets Ramen noodle soup in this tasty mashup! Featuring tender chicken, kale, and a hearty broth, this is sure to be an exciting meal!
This is not your ordinary ho-hum pot of clam chowder. And it might not be quite what you envision when you think of clam chowder. Many are only familiar with the creamier version of this soup, known as New England Clam Chowder. This version is not creamy at all – but instead features a flavorful tomato base that's loaded with potatoes, carrots, celery, corn, and of course, CLAMS! So delicious!
So, which easy soup recipe will you try first?!
P.S. This post will be updated with new soups as we add them! So check back for new soup recipes. We have a loaded baked potato soup, white bean soup, lentil soup, and butternut squash soup recipes all coming your way soon!