With toasty, sun speckled days finally becoming the norm in my hood, and a rapidly increasing desire to raid every farmer's market my eyes fall upon – my typically insane urge to bake non-stop has been progressively losing momentum the past few weeks.
It's just a Summer thing – no biggie.
But, yesterday, with sheets of rain plummeting down fiercely from an ominous sky, and not an itch to go anywhere but back to bed, I was delighted to have an afternoon of creation, cake and coffee – the perfect cure for any down in the dumps day.
And thus, in just an hour and a half, Coconut Citrus Cake was born! And, let me tell ya folks, ahem – this baby is gorgeous! I was high five-ing myself all over the place.
It's weird, but true.
Greek yogurt and coconut oil health this cake up!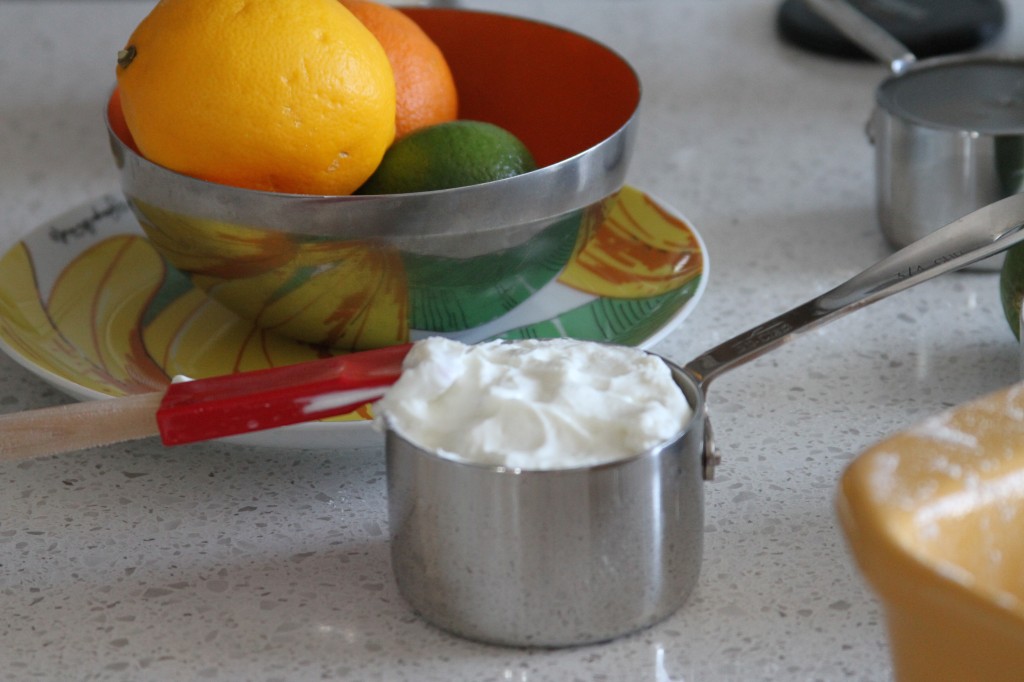 Seriously, coconut oil is so so so so so mind blowing-ly good for your body – I'm obsessed with this stuff – get on it!
Greek yogurt is rich, thick, and makes the loaf tantalizingly tender. The triple threat bright citrus pop in every bite just sends this cake into dreamville!
I placed a dollop of fresh cream and a few delicate raspberries on mine, but the cake alone is enough to transform any face into a smiling one.
Coconut Citrus Cake – adapted from bon appetit
1 1/2 cups all-purpose flour, plus additional flour for dusting pan
2 teaspoons baking powder
1/2 teaspoon kosher salt
1 cup sugar
1 tablespoon finely grated lemon zest
1 tablespoon finely grated lime zest
1 tablespoon finely grated orange zest
6 oz. whole-milk Greek yogurt
1/2 cup coconut oil (melted), plus additional oil for greasing cake pan
2 large eggs
1 teaspoon vanilla extract

Instructions:

Preheat oven to 350°. Coat pan with vegetable oil spray. Dust with flour; tap out excess.

Whisk 1 1/2 cups flour, baking powder, and kosher salt in a medium bowl.

Using your fingers, rub sugar with citrus zests in a large bowl until sugar is moist. Add yogurt, oil, eggs, and vanilla extract; whisk to blend. Fold in dry ingredients just to blend.

Pour batter into prepared pan; smooth top. Bake until top of cake is golden brown and a tester inserted into center comes out clean, 50–55 minutes.

Let cake cool in pan on a wire rack for 15 minutes. Invert onto rack; let cool completely.