These Coffee Cardamom Chocolate Chunk Cookies are thick, chewy, and so flavorful! The best part is they're freezer friendly!!!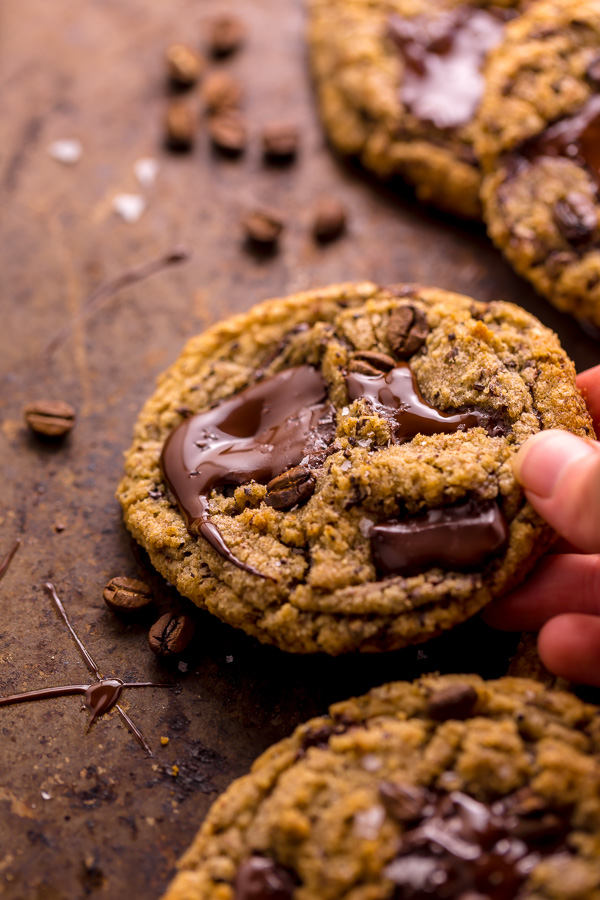 Fellow coffee lovers, meet your new favorite cookie ↓
Yes, I'm talking about these Coffee Cardamom Chocolate Chunk Cookies! And don't let the cardamom scare you off. While it may sound like a strange combination, coffee and cardamom are a deliciously dynamic duo! I actually tested these cookies several times without the cardamom and each time felt they were missing something. But then I did some research on flavors that enhance coffee and found that in many cultures coffee and cardamom are a common flavor pairing. So I decided to give it a try myself and I was blown away with the results!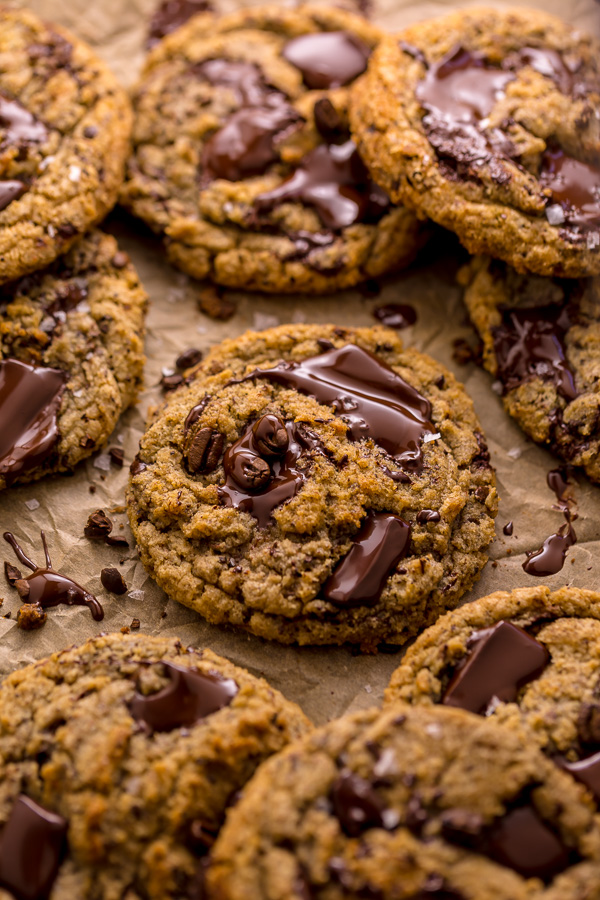 Just a teaspoon of ground cardamom totally brought this recipe to life!! I'm so excited for you to try it because I know after one bite you'll see taste what I mean!
P.S. If you're a new to baking with this spice and don't want to commit to a big bottle, check Target's spice aisle because they carry tiny little jars for less than 3 bucks!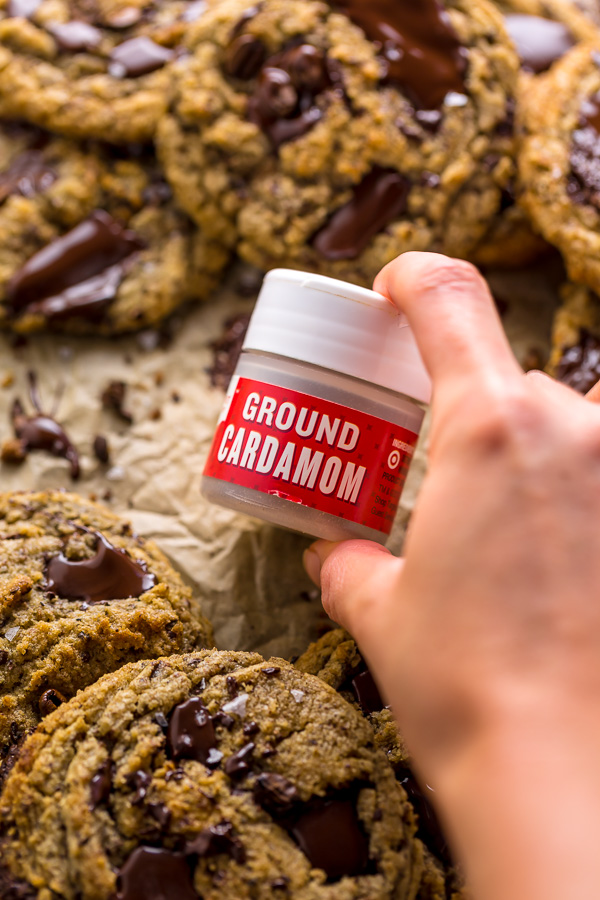 Tips and Tricks for Recipe Success:
These cookies get their fantastic flavor from 5 ingredients: brown butter, ground cardamom, cinnamon, espresso powder, and chopped coffee beans. For best results, you should not omit any of them!
Next, let me ask you a question: do you know how to brown butter? If you do, feel free to skip this lecture. But if you don't, I've got you covered! Browning butter is insanely simple and I'm going to walk you through each step! To brown butter you'll need a skillet or pan, butter, and a little patience. You'll melt the butter as normal, then continue to cook it over medium heat – stirring occasionally – until it reaches a golden brown color. Watch your butter closely as it browns, because it can burn easily! Once it's nice and golden brown, remove it from the heat and pour it into a heatproof bowl – being sure to scrape all of the golden bits off the bottom of the pan. And that's it! Easy, right?
Because the brown butter must come back to room temperature before using it in the cookie dough, you'll want to plan ahead time wise. It will take about 3 hours, so plan ahead!
The good news? Although the butter must chill, the cookie dough does not! You can just roll and bake.
Chopping up the coffee beans by hand can be a bit of a fiasco because they roll around like crazy on a cutting board! So if you have a food processor or blended, use it for this step! You want them pulsed pretty fine.
I suggest using high-quality dark or semi-sweet chocolate in this recipe, but chocolate chips will work in a pinch! I haven't tried white chocolate in this recipe, but I think it would work OK.
And finally, if you love sweet and salty, you can sprinkle these cookies with some flaky sea salt right before serving. It's so good!!!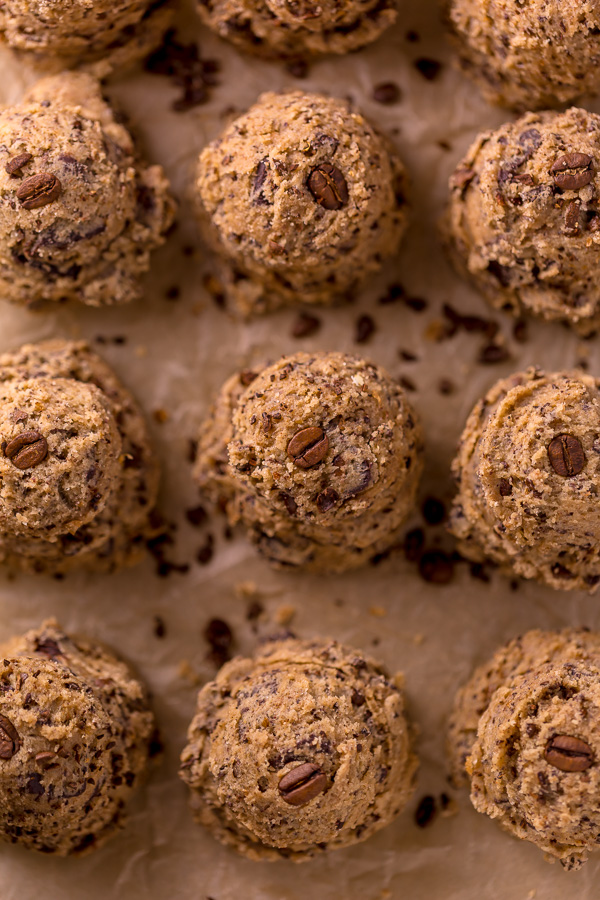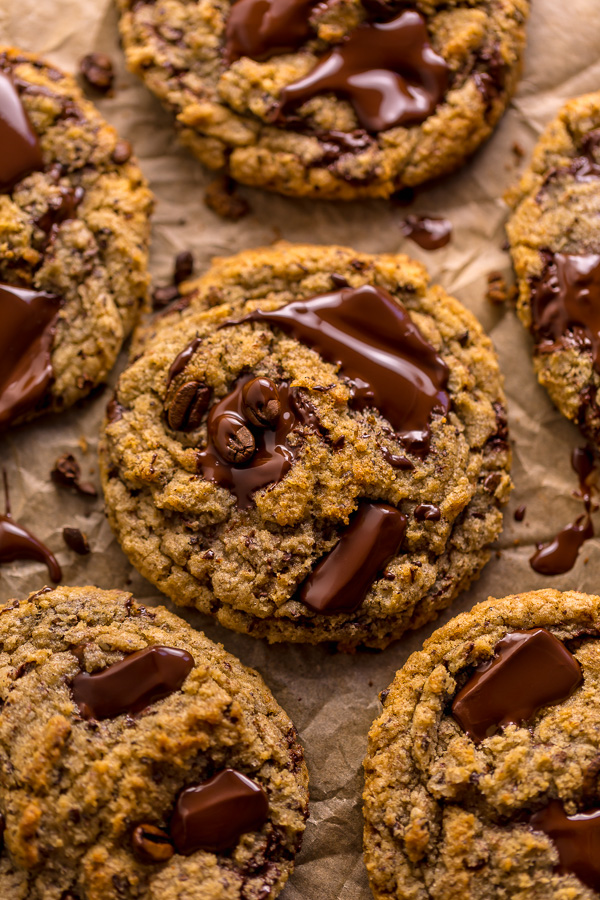 P.S. The cookie dough can be scooped and frozen for up to two months!! Meaning you can bake a coffee cardamom chocolate chunk cookie whenever you get the craving. I can't decide if this is a very good thing or a very bad thing!!! #whatdiet?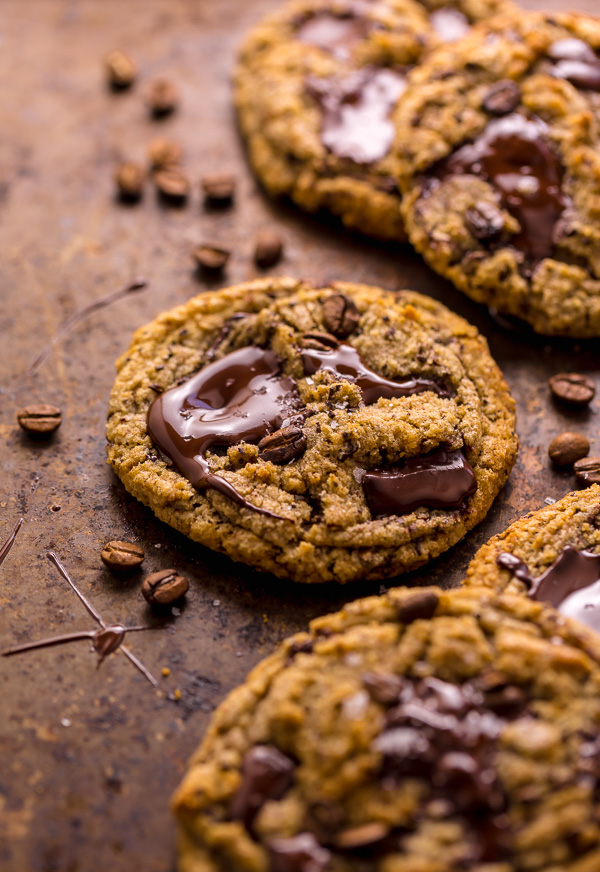 Ultra thick, chewy, and INSANELY flavorful, these might just be the best cookies you ever bake!
But don't take my word for it. Get up close and personal with these beauties so you can judge for yourself ↓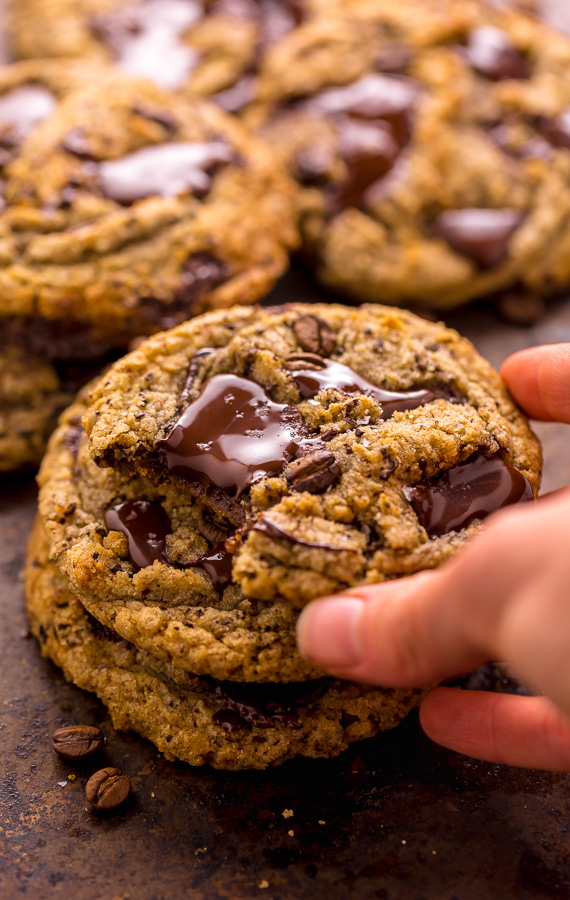 If you try this recipe for Coffee Cardamom Chocolate Chunk Cookies, please let me know what you think! Leave a comment below, and don't forget to snap a pic and tag it #bakerbynature on instagram! Seeing your creations seriously makes my day ♥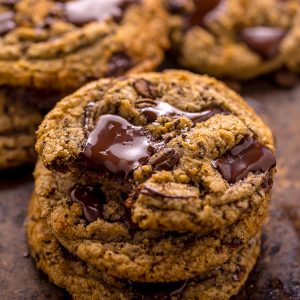 Coffee Cardamom Chocolate Chunk Cookies
These Coffee Cardamom Chocolate Chunk Cookies are thick, chewy, and so flavorful! The best part is they're freezer friendly!!!
Ingredients
8 ounces unsalted butter, melted until browned
2 and 1/2 cups all-purpose flour
1 teaspoon salt
1 teaspoon ground cardamom
1 teaspoon espresso powder
1/4 teaspoon ground cinnamon
1 teaspoon baking soda
1 cup dark brown sugar, packed
1/2 cup granulated sugar
3 teaspoons vanilla extract
2 large eggs, at room temperature
12 ounces semi-sweet OR dark chocolate, roughly chopped into chunks
1/3 cup coffee beans, finely chopped
Instructions
For the Brown Butter:
Place the butter in a small saucepan over medium heat and cook for about 6 to 7 minutes – stirring almost constantly – until the butter has browned. Pour the brown butter into a heatproof bowl, being sure to scrape all of the "toasted" bits into the bowl as well. Place the bowl in the refrigerator for 2 to 3 hours, or until the butter is at room temperature. You'll know the butter is at room temperature when you press a finger into the top and it makes a slight indentation. It should not be liquid at all.

Once the butter is at room temperature, you're ready to get baking!
For the Coffee Cardamom Chocolate Chunk Cookies:
Preheat oven to 375 degrees (F). Line two large baking sheets with parchment paper; set aside until needed. 

In a large bowl combine flour, salt, cardamom, espresso powder, cinnamon, and baking soda; whisk well to combine then set aside until needed.

In a large bowl using a handheld electric mixer, or in the bowl of a stand mixer fitted with the paddle attachment, combine browned butter and both sugars and beat on medium-speed until light and fluffy; about 2 minutes. Add in the vanilla and beat until combined. Add in the eggs, one at a time, beating for 15 seconds after each addition. Turn mixer off. Using a wooden spoon or sturdy rubber spatula, gently fold in the flour, stirring only until the flour begins to disappear. Fold in the chocolate chunks and coffee beans. 

Roll 3 tablespoon sized scoops of dough between your palms to form a ball (they should be big; almost a 1/4 cup), then place on prepared sheets (make sure to leave enough room in between each cookie for inevitable spreading). Continue this process until all the dough has been rolled. 

Place baking sheets in preheated oven, one at a time, and bake for 9 to 10 minutes, or until golden at the edges but still soft in the middle. Repeat with all cookie dough. Sprinkle cookies with sea salt right when they come out of the oven. Let cookies cool for 10 minutes on the baking sheet before transferring to a wire wrack to cool completely.