One of the most popular pasta recipes ever, pasta puttanesca is made with basic pantry staples and ready in 30 minutes! The flavorful puttanesca sauce features anchovy fillets, tons of minced garlic, red pepper flakes, black olives, and capers. Pair with garlic bread, a big salad, and wine for the ultimate Italian dinner.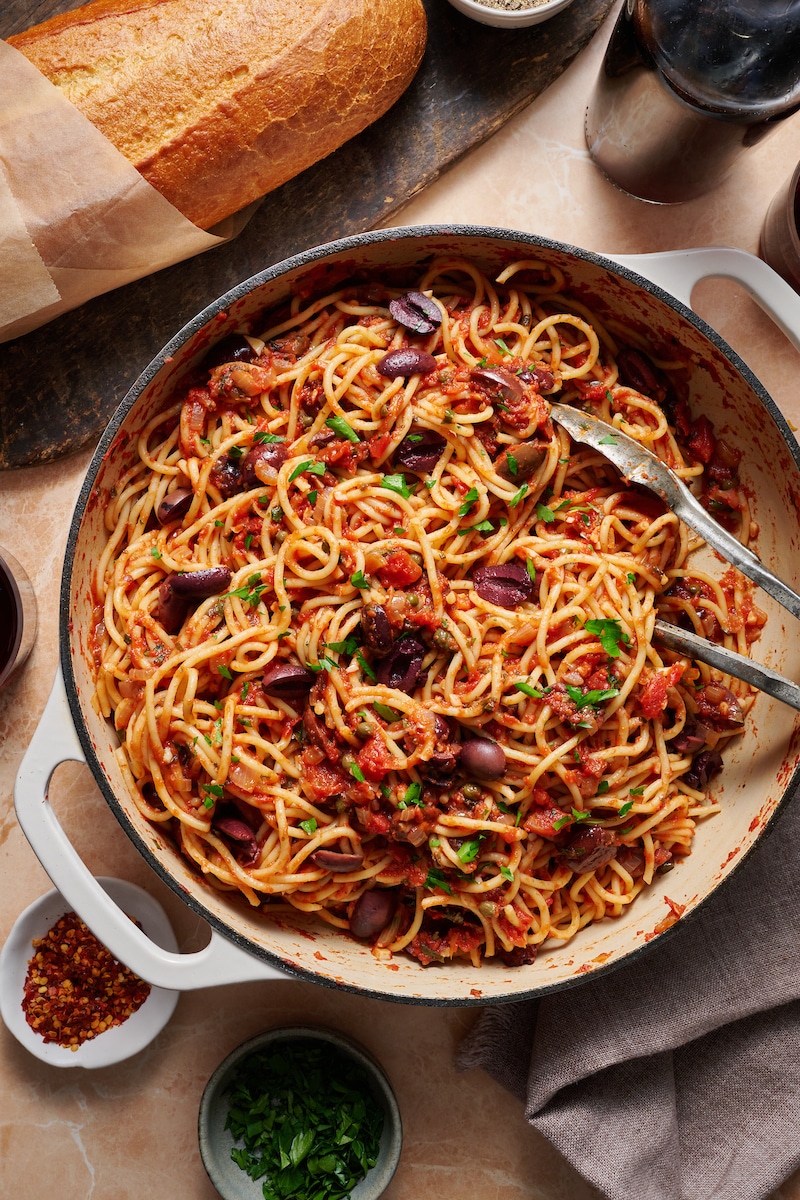 Spaghetti alla Puttanesca
The word puttanesca – short for alla puttanesca – literally translates to "in the style of a prostitute". But don't let that little fact scare you away from making this absolutely delicious Italian pasta recipe! The pasta sauce alone is to-die-for delicious! And comes together quickly – in about the same time it takes to get the pasta water boiling.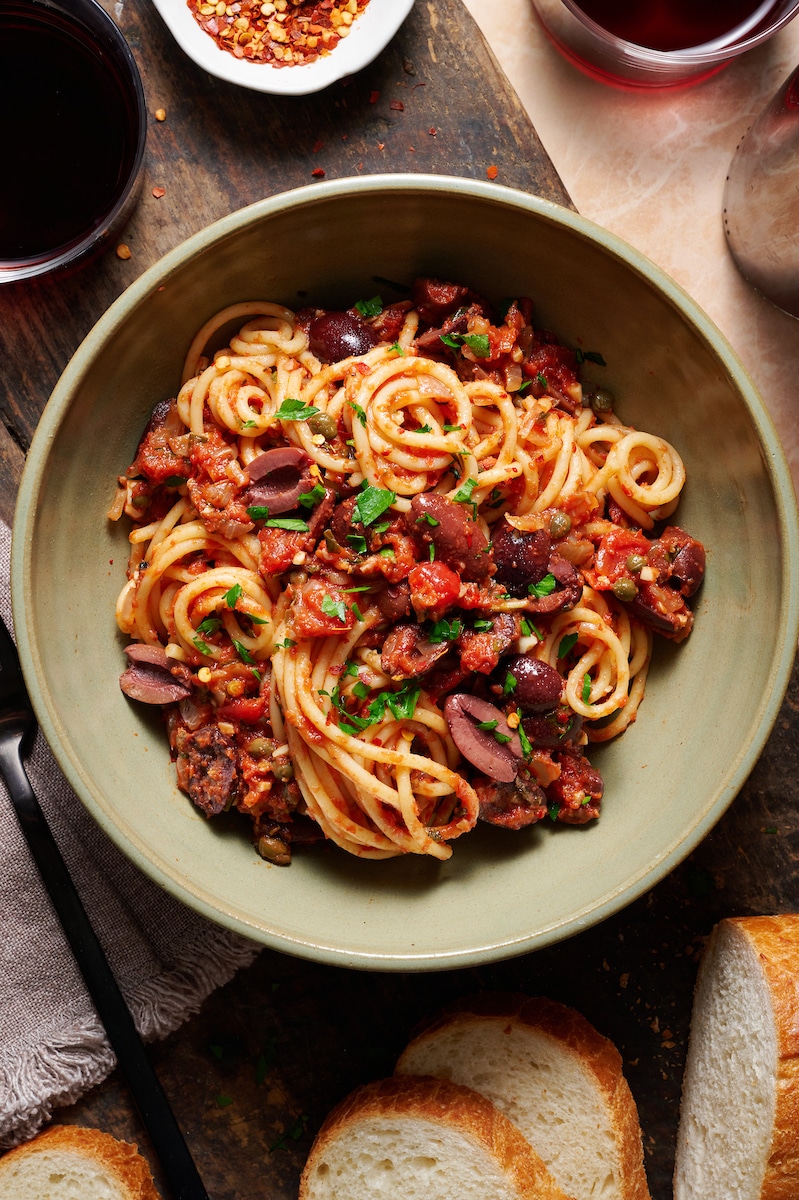 This delicious puttanesca is perfect for weeknight meals, date-night, or your next dinner party! Just don't be surprised if people leave your house begging you for this puttanesca recipe.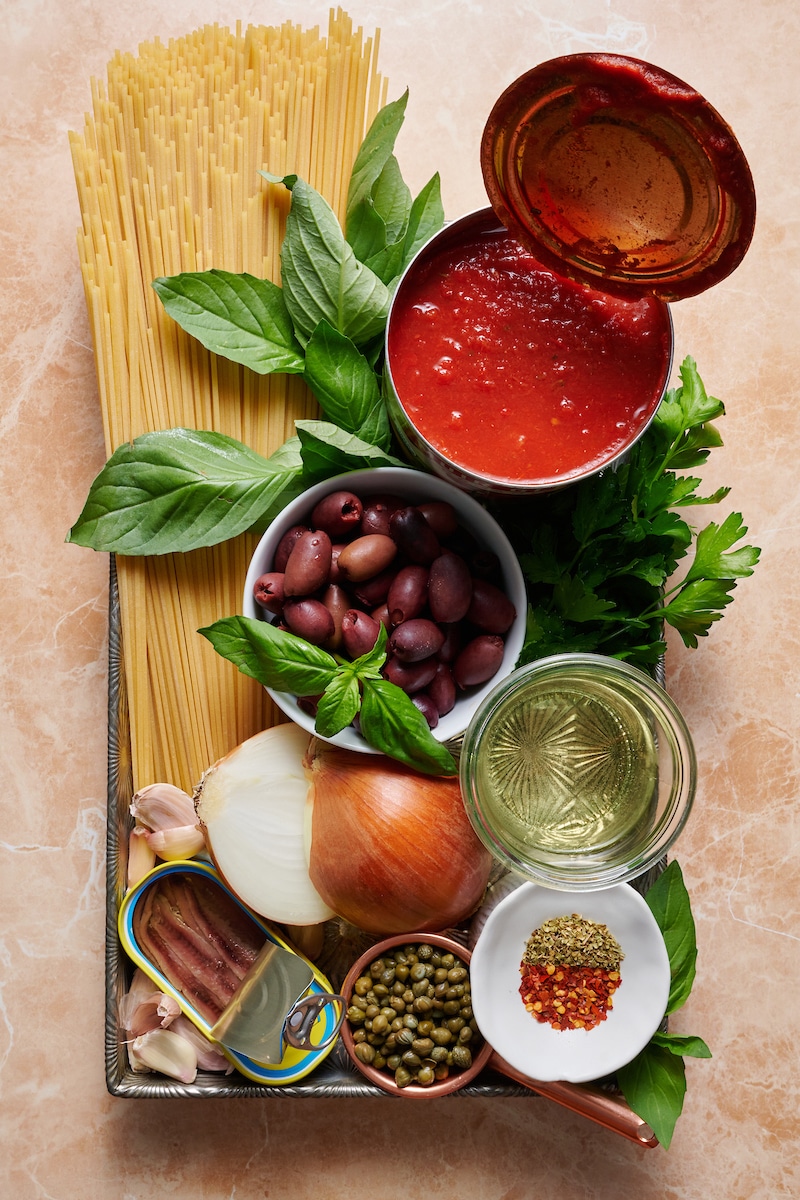 Ingredients for Pasta Puttanesca
Pasta: You'll need 1 pound of pasta and while my preference is a thin spaghetti, almost any variety will work. Penne and thick spaghetti are my second and third favorites.
Extra-Virgin Olive Oil: The large amount of oil may sound odd, but it gives the sauce a delicious richness. I don't suggest using any other variety of oil.
Yellow Onion: A white onion or even shallots will work in a pinch!
Anchovy Filets: Please don't fear this delicious – and essential – ingredient! Garlic and anchovies are what makes this sauce so flavorful.
Dried Oregano: If you have fresh oregano on hand, feel free to use it!
Red Pepper Flakes: Use less for a mild heat and more for a spicer puttanesca sauce. The amount called for will give you a medium heat.
Garlic: I know 8 cloves sounds like a lot of minced garlic, but this large amount builds the flavor.
Kalamata Olives: I don't suggest subbing any other variety of black olives in this recipe. For ease, be sure to buy the ones already pitted.
Capers: Be sure to drain them well, and give them a quick rinse, if you prefer a less salty sauce.
Dry White Wine: Chicken broth makes a fine substitute for the wine.
Crushed Tomatoes with Basil: Do not sub whole plum or diced tomatoes here.
Salt and Pepper: I suggest starting light with the salt, and adding more to taste. That's because a lot of the ingredients – like the anchovy fillets, black olives and capers – are already quite salty.
Chopped Basil: Be sure to use fresh herbs! And buy enough to garnish with, if desired.
Chopped Parsley: Ditto what's said above. Never use dried herbs in this recipe. The results will not be the same.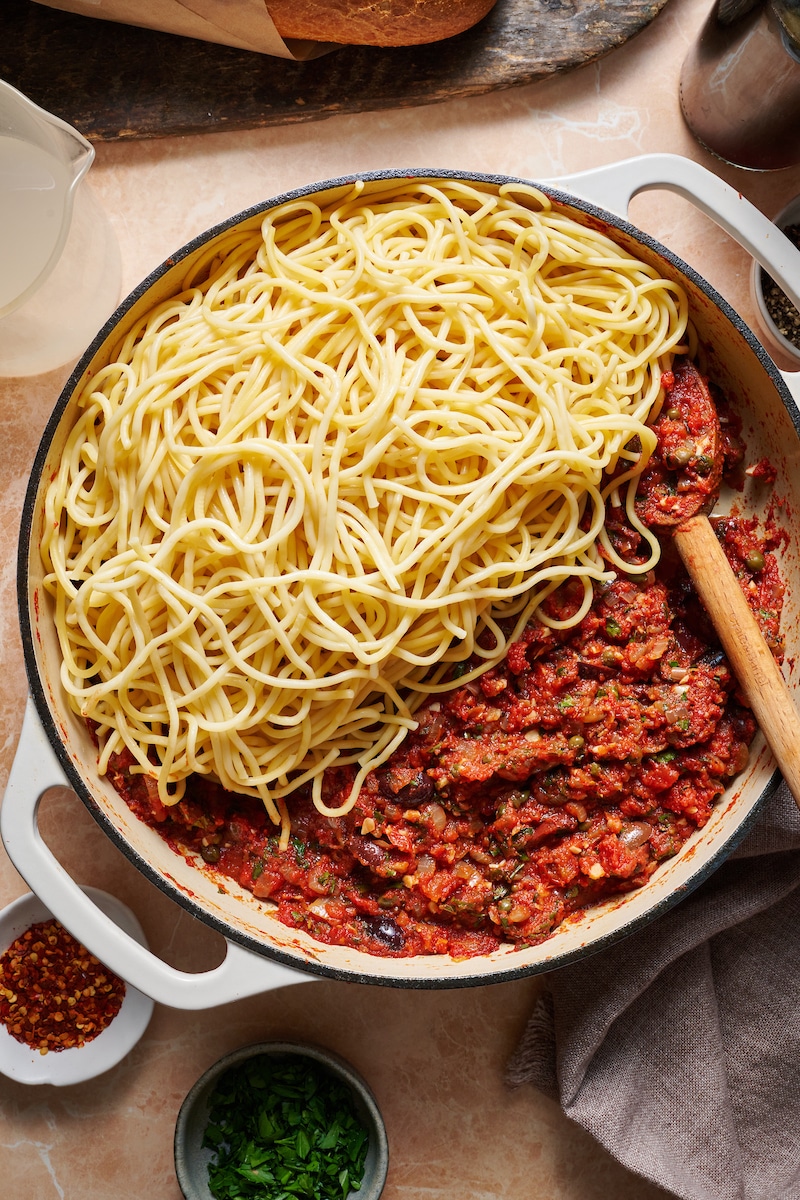 How to Make Spaghetti alla Puttanesca
Prep the Pasta Water: To save you time later, I suggest bringing a large pot of water to a boil while you're making your sauce. That way it's ready when you are. Add a dash of salt to the boiling water before you add the pasta.
Make the Puttanesca Pasta Sauce: The sauce comes together quickly! I like to let it simmer for about 15 to 20 minutes. You don't want to let it cook so long it becomes dry. But if you do, you can always save it with some reserved pasta water.
Boil the Pasta: You'll want to cook your pasta until it's al dente. This means it still has a little bite to it. Check the pasta package for their suggested "doneness" and set a timer for 1 minute earlier than they suggest.
Drain Pasta: When the pasta is finished cooking, reserve at least 1 cup of the pasta water, then drain the pasta well. The reserved water will help thin the pasta sauce and adds great flavor.
Combine: Add the cooked pasta to the sauce and stir to coat the noodles. Slowly drizzle in the reserved pasta water, mixing as you add it, and letting it fully absorb before adding more. Add as much as you want, until the sauce is the thickness you desire.
Serve: Remove from heat and divide the pasta among shallow pasta bowls. I suggest serving pasta puttanesca with red wine, garlic bread, and extra crushed red pepper flakes. And of course, a simple side-salad never hurts!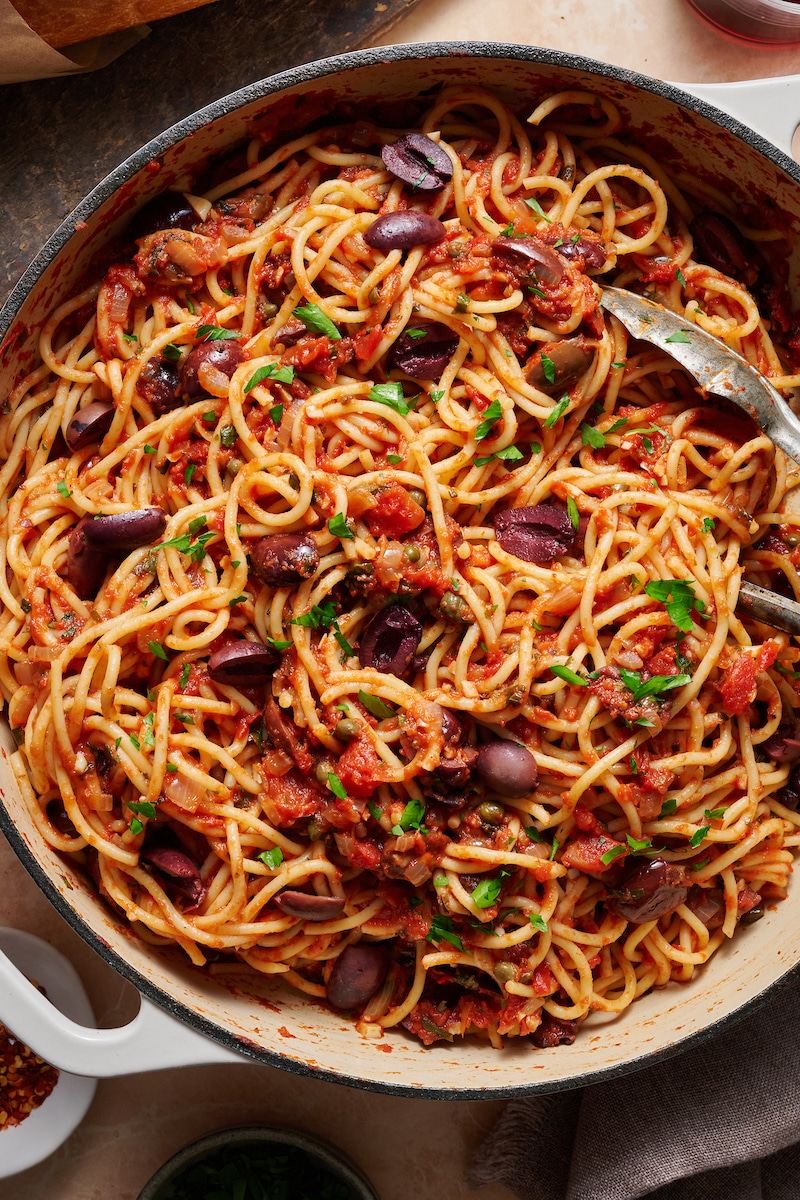 Can I Make Pasta Puttanesca in Advance?
If you want to save time, you can always make the puttanesca pasta sauce in advance. Simply let it fully cool, then transfer it to an airtight container, and store in the refrigerator for up to 48 hours. When you're ready to eat, reheat the sauce on the stovetop or in the microwave, and combine with freshly cooked pasta.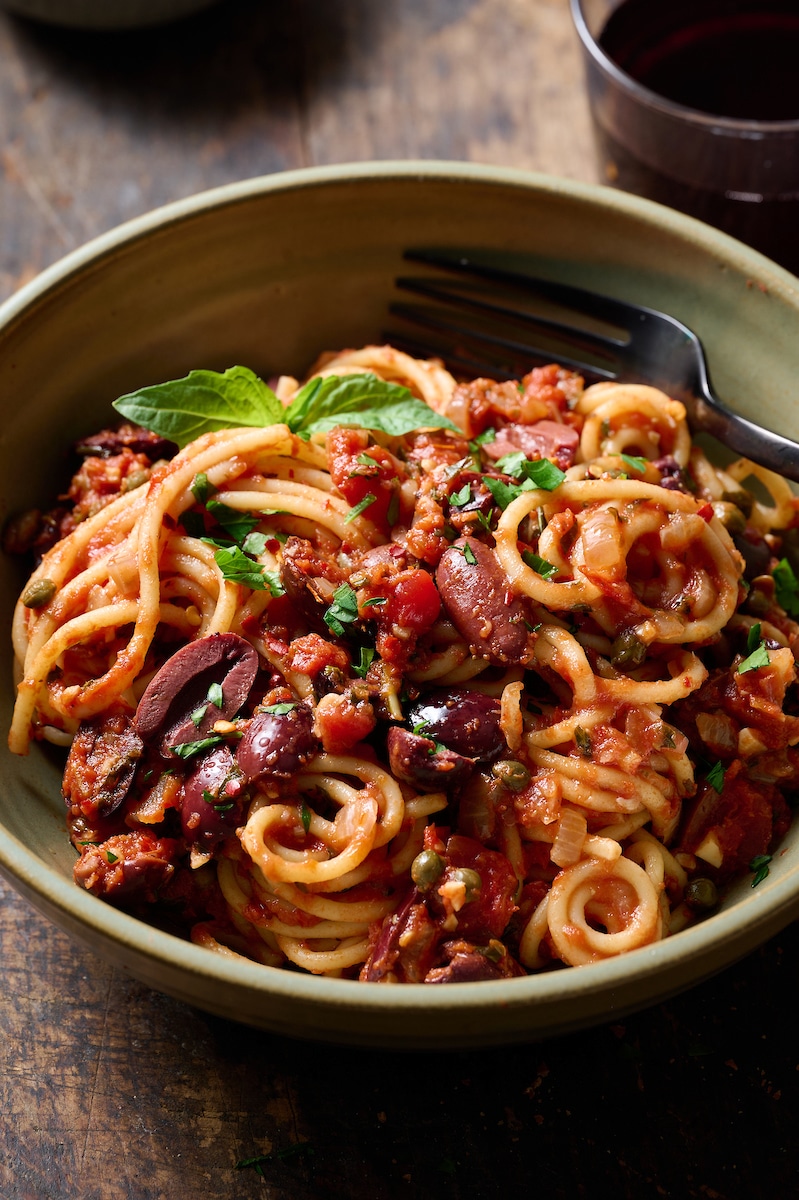 More Puttanesca Recipes:
Pasta Puttanesca
Pasta Puttanesca is one of our favorite date night dinners! The ultra flavorful sauce is made with anchovies,capers, olives, garlic, and crushed red pepper flakes! You can use any variety of pasta you have on hand, but we love this sauce best with spaghetti or penne!
Ingredients
1 pound (16 ounces) dried pasta
1/4 cup extra-virgin olive oil
1/2 cup yellow onion, diced
8 cloves garlic, minced
(1) 2 ounce tin flat anchovy fillets in olive oil, drained
1/2 teaspoon dried oregano
1/2 teaspoon crushed red pepper flakes
1/2 cup pitted Kalamata olives, roughly chopped
3 tablespoons capers, drained
1 (28-ounce) can crushed tomatoes
1/2 cup dry white wine
1/4 teaspoon black pepper
1/4 cup flat-leaf parsley, chopped
1/2 cup fresh basil, roughly chopped
1/4 teaspoon salt, more if needed
Instructions
Warm the oil in a large saucepan over medium-heat. Add the onion and cook, stirring occasionally, until softened, about 6 minutes. Add in the garlic, anchovies, oregano, and crushed pepper to skillet and saute the mixture until the anchovies have dissolved entirely and the garlic is slightly golden, about 2 minutes.

Add olives, capers, tomatoes, white wine, black pepper, and parsley. Bring sauce to a boil, then reduce heat, and allow to simmer for about 20 minutes. Toss in the basil and salt and cook for another 5 minutes. Taste and adjust seasonings as needed. 

While the sauce simmers, cook your pasta. 

Bring a large pot of water to a rapid boil, add a dash of salt then add in the pasta and cook according to package instructions. 

When the pasta is finished cooking, drain well then add it to the sauce and toss to combine.

Plate and top with cheese, if desired.