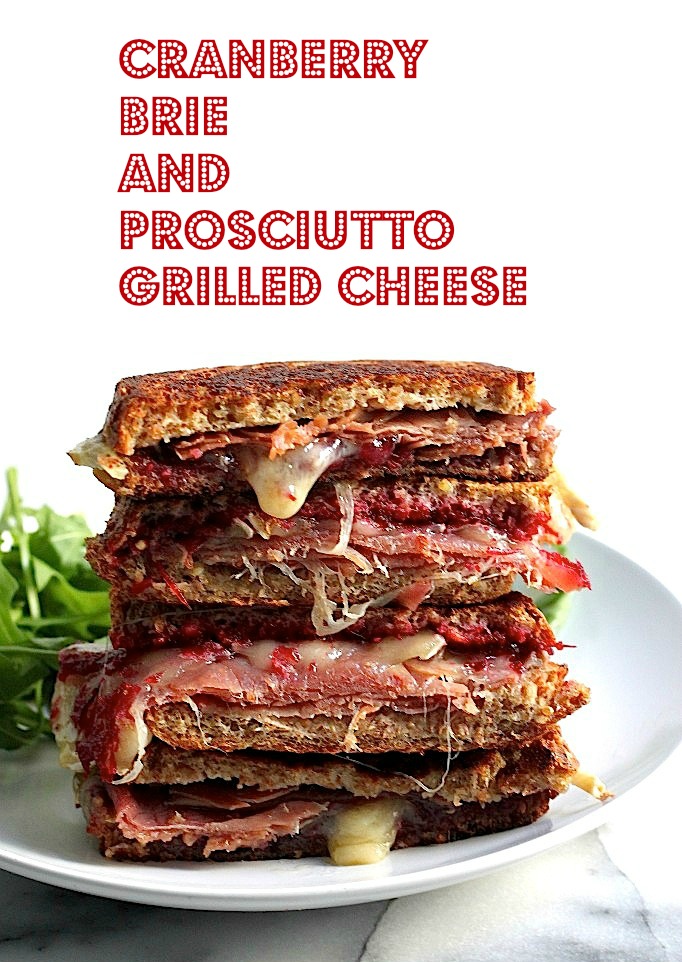 Hi guys!
Today we have a super easy cranberry, brie, and prosciutto grilled cheese that's simple enough for a busy weekday lunch, yet fancy enough for the dinner table. We love a grilled cheese any season because it's so quick and versatile, and I found this version really celebrates winter and all its lovely warmth… but that could just be the melty brie talking.
I'm a total sucker for melty brie.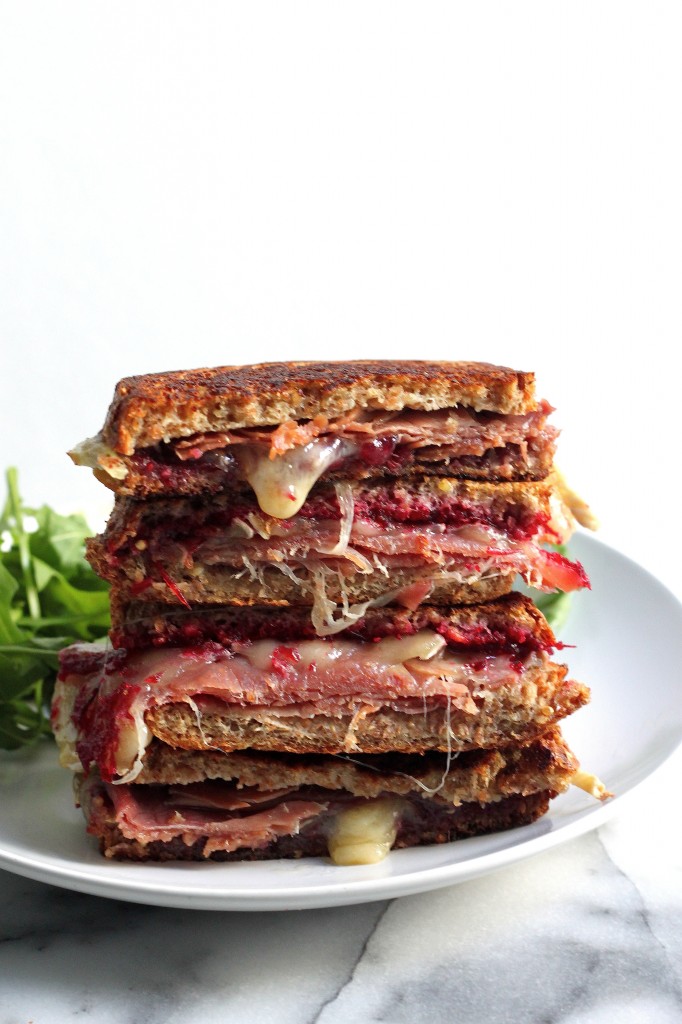 This sandwich consists of only a few ingredients, but let me tell you… piled up and grilled together… they're magic. Pure grilled cheese magic, I tell you!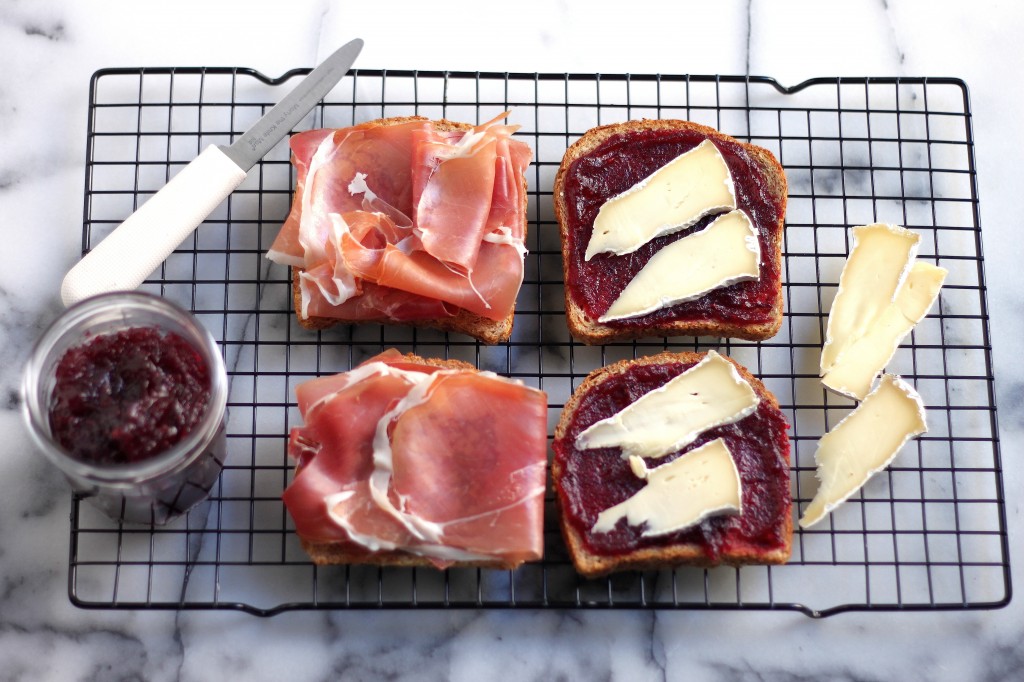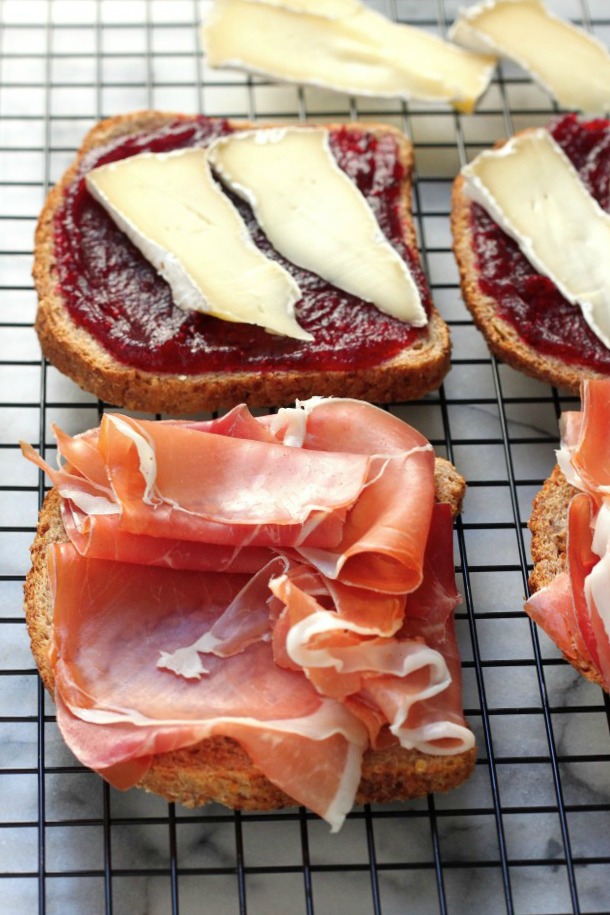 The cranberry jam is sort of the "good marriage glue" between the salty prosciutto and the intense brie, but if you can't find any, I think raspberry could be a good sub. Or make your own! I'll be sharing our recipe at some point this week 😉 But there are tons of great recipes out there if you can't wait!
Cranberry, Brie, and Prosciutto Grilled Cheese – Baker by Nature
Makes 2 sandwiches
Ingredients:
4 slices of bread
4 tablespoons unsalted butter, cut into 1 tablespoon chunks and allowed to soften
4 tablespoons of cranberry jam
(1) 4 oz package of prosciutto
4 oz brie, thinly sliced
Extra butter for the pan; if needed
Instructions:
Heat a large pan or griddle over medium-heat. Place bread on a clean surface, then spread one tablespoon of jam onto each slice of bread. Layer 1/2 of the cheese on one side, and 1/2 of the prosciutto on the other side; repeating for all the slices of bread.
Slather each side of bread with one tablespoon of butter, then place sandwich in the prepared pan and grill on each side for about 3 minutes each, or until the bread has thoroughly crisped and the cheese has begun to melt.
Transfer to a clean plate, and eat at once!