Tomato and Tarragon Soup
Meet my new favorite soup! This easy, flavorful creamy tomato and tarragon soup comes together in just 30 minutes. AND! It's good for you. Full of rich tomato flavor, and made creamy with protein packed Greek yogurt – it's rich, satisfying, and on a chilly day, just downright good for the soul. Topped with a savoy black pepper and parmesan biscotti – it just doesn't get any better!
Well hello there friends! I hope you all had a happy Easter. Or, at least a happy weekend 🙂 We had a blast in Philly! Lots of eating, drinking, and running around to see everyone. It's always fun to go home and visit. But it was also pretty great to crawl in our own bed last night. Sometimes there is no better feeling than bed!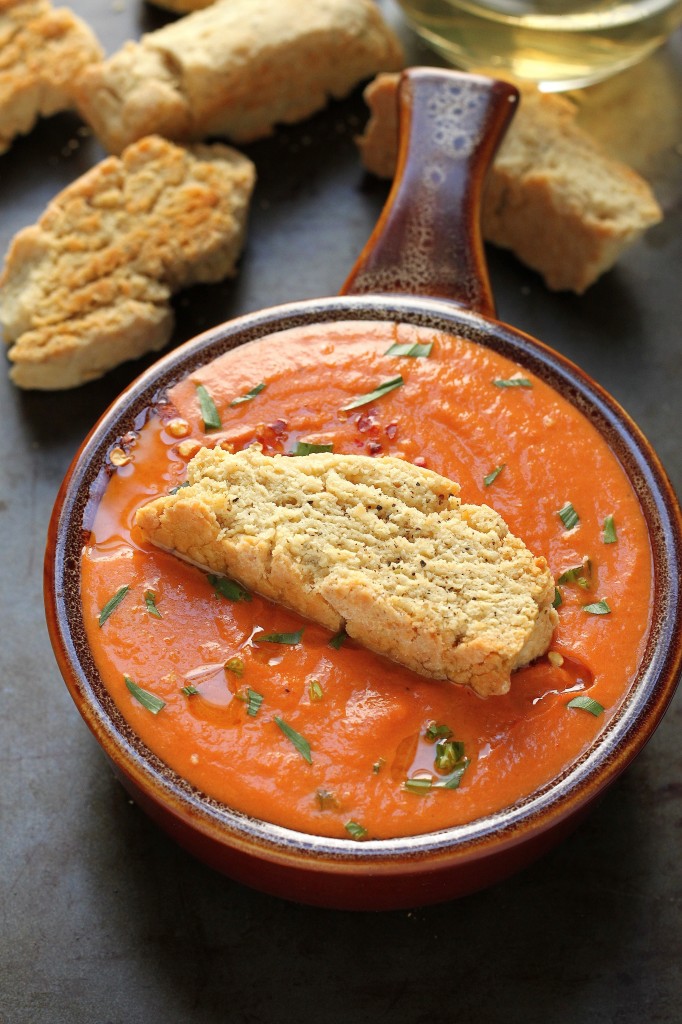 So let's talk weather for a minute. What's it like where you are? Here it's been a bright and pretty start to Spring. Oh… and a cold one. We did have one one tease day where I wore a tank top beaming with happiness (look mom, no sleeves!), but that was swiftly replaced with freezing rain and all the joys that come with that. I have my Winter jacket right next to my flip flops, because who knows which one I'll need next. Such a roller coaster!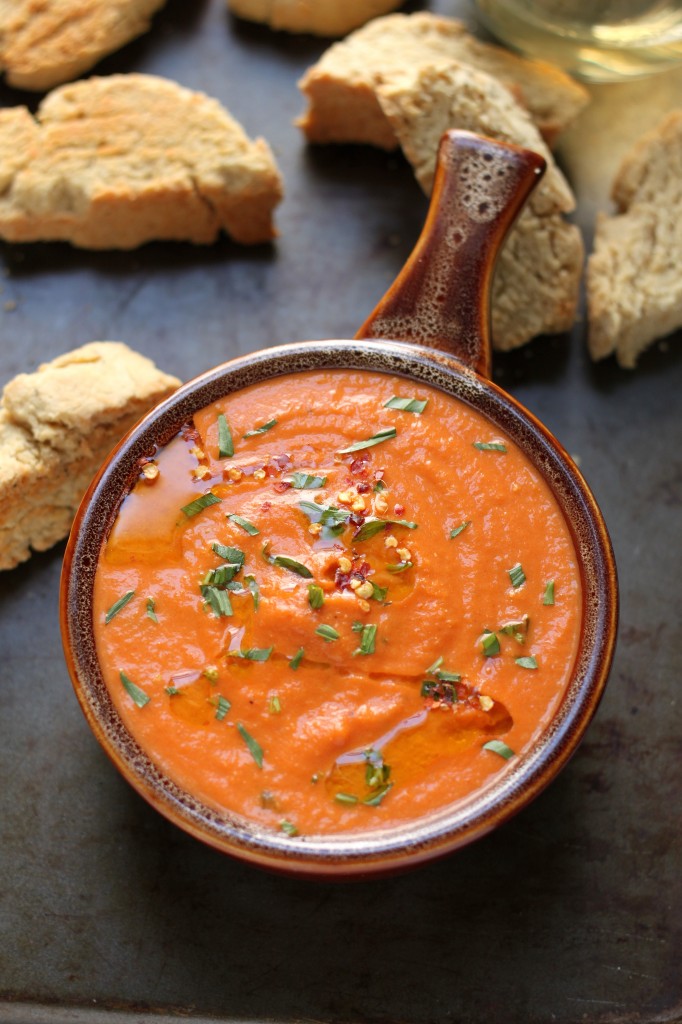 The solution to these damp, dreary days is obviously soup. But not just any soup! A light, vibrant creamy soup packed with bright tomato and tarragon flavor. It's a beauty! 
Since tomatoes aren't taking over the markets just yet, I used a can of organic whole peeled tomatoes. They're easily available and pretty cheap! Two of my favorite things when it comes to ingredients 😉
The rest of the cast consists of two onions, a hearty handful of garlic, fresh tarragon, and a splash of vegetable stock. So simple!
There's also a small dollop of Greek yogurt added right at the end! It makes everything niiiiiice and creamy. Yum!
Happy Monday, friends! xoxo
*The biscotti recipe is from epicurious and you can find it here.
*This soup freezes wonderfully! I'm going to California for a week and I've already made a few batches for C. Freezer meals can be such a life saver!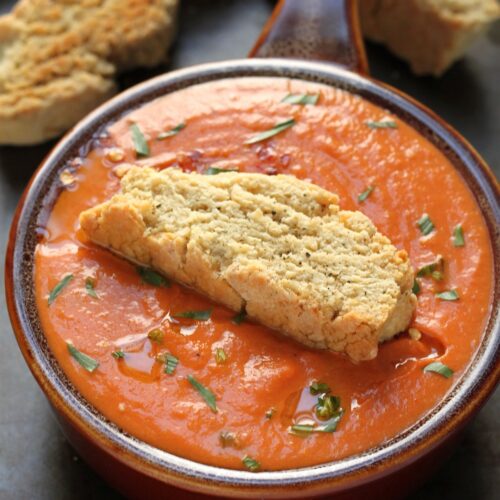 Creamy Tomato and Tarragon Soup with Black Pepper Parmesan Biscotti
Ingredients
3 tablespoons olive oil
2 medium onions, diced
3 cloves garlic, minced
(1) 28 oz. can whole plum tomatoes tomatoes
12 ounces vegetable stock (you can use chicken if you prefer)
2 teaspoons salt, plus more to taste (if needed)
1 teaspoon fresh ground black pepper
1/2 teaspoon crushed red pepper flakes (optional)
1/4 - 1/2 cup Greek yogurt (I recommend starting with 1/4 cup then adding more after tasting it)
1 tablespoon fresh tarragon, chopped
Instructions
Add olive oil to a large soup pot or dutch oven. Bring oil to a light simmer over medium-high heat.

Add onions and sauté until soft; about 6 minutes. Stir in garlic, cook for a minute or two - or until fragrant.

Add the tomatoes with all their juices and lightly break the large tomatoes up with a wooden spoon.

Add the vegetable stock and bring to simmer.

Add the salt, black pepper, and crushed red pepper.

Reduce heat to low and simmer for 20 minutes, then puree using either a blender or an immersion blender directly in the pot.

Add the soup back to the pot and return to a light boil over low heat (this should only take a minute or two). Stir in the Greek yogurt and tarragon.

Garnish each bowl of soup with a dollop of sour cream and a little tarragon, if desired.

*Link for biscotti recipe in post 😉