This recipe for Flu Fighter Chicken Noodle Soup is the ultimate comfort food when you're feeling sick! Loaded with tender chicken, carrots, celery, onion, and a flavorful broth, this is the best chicken noodle soup for colds!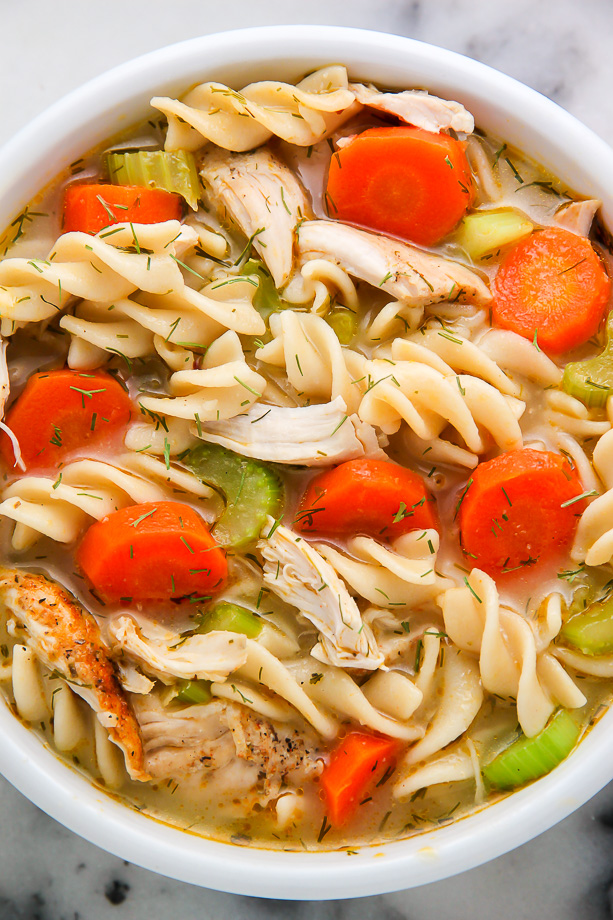 Flu Fighter Chicken Soup Recipe
Loaded with good for you ingredients and full of flavor – this absolutely delicious Flu Fighting Chicken Noodle Soup is winner all around!!!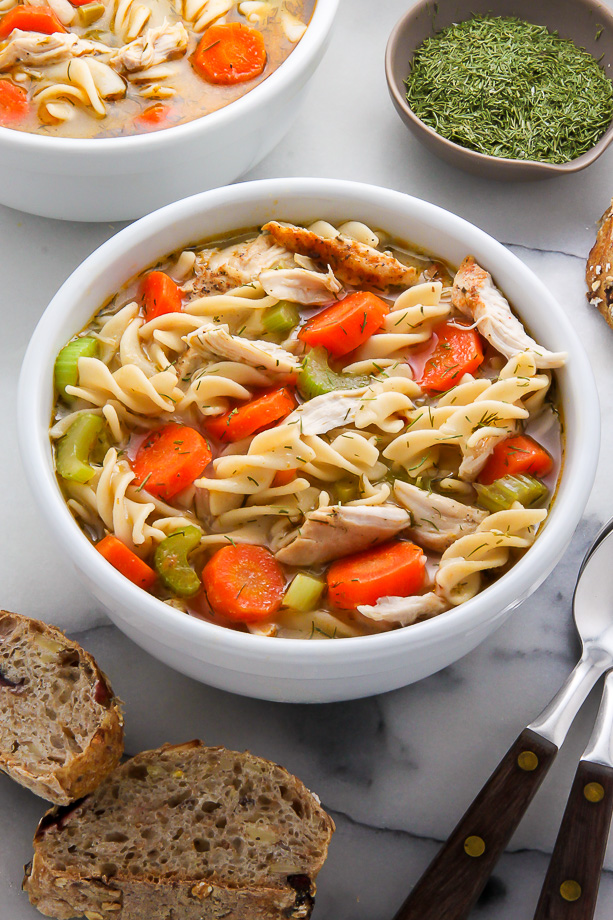 When it comes to soup, I'm kind of an old pro. I grew up an avid a soup lover. I have my mother to thank for that. The instant I displayed even the slightest symptom of a cold, she was there, with tea and toast; or gatorade and pizza (she swore by this for upset stomachs!); or my favorite, ginger ale and chicken noodle soup. I grew to love this soup and soda ritual so much that I brilliantly (ha) began to fake random illness just to get the royal treatment.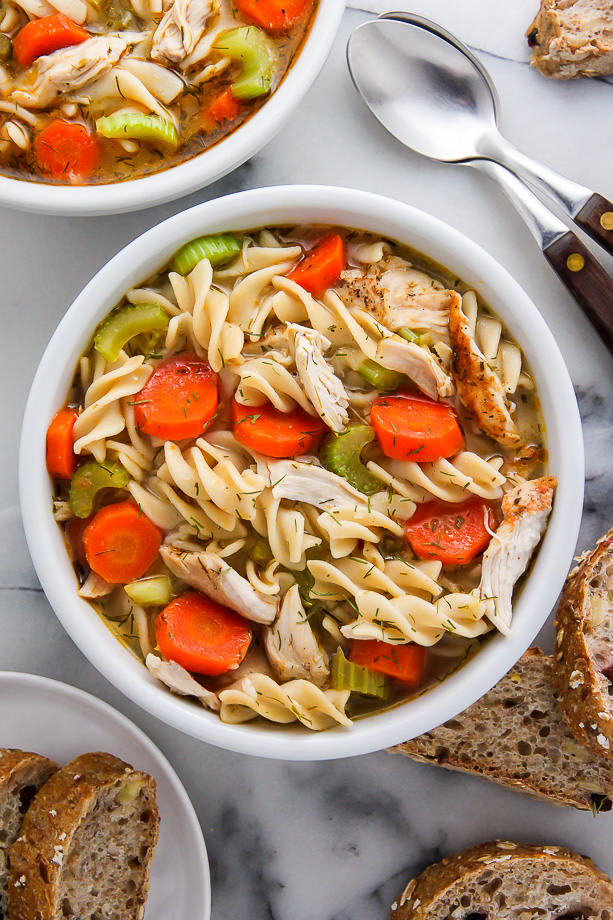 It worked about twice before she caught onto my little theater charade and, after a firm talking to, taught me to make the soup my damn self. Best gift ever.
I still appreciate a good chicken noodle soup loaded with all of the classic ingredients, but as I've grown, so has my creativity in making it. I stopped poaching my chicken in the broth a few years ago, and that opened a whole new door of flavor I never could have imagined possible for a humble pot of soup. The chicken is roasted in olive oil, spices, and herbs, then shredded right before diving into the pot of garlicky broth. The roasting… It makes all the difference. I swear. ↓
Healing Chicken Soup
This soup is so healthy, bold, and flavorful I could truly be content eating a heaping bowl for lunch every single day. To be honest, most Winter afternoons, I do. It's a great way to get my daily dose of meat and veggies and comfort in one convenient, cozy bowl.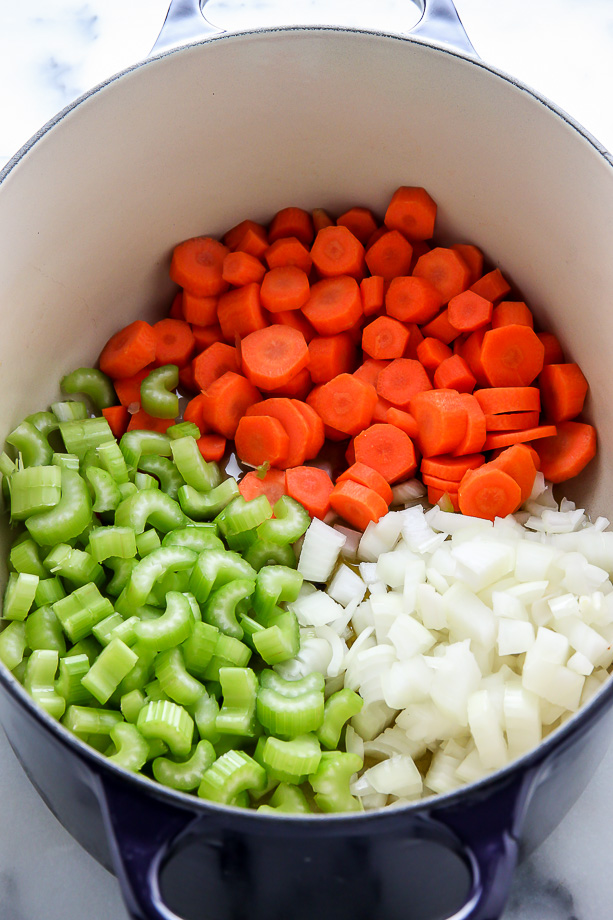 I like my soups to be nice and chunky, with a bold, flavorful broth. Sounds easy… right? But alas, achieving the perfect broth is an art that can take many a' pots of soup to perfect. I finally found mine in this soup. I use a combination of (store-bought) chicken stock and water, and it really turns out lovely.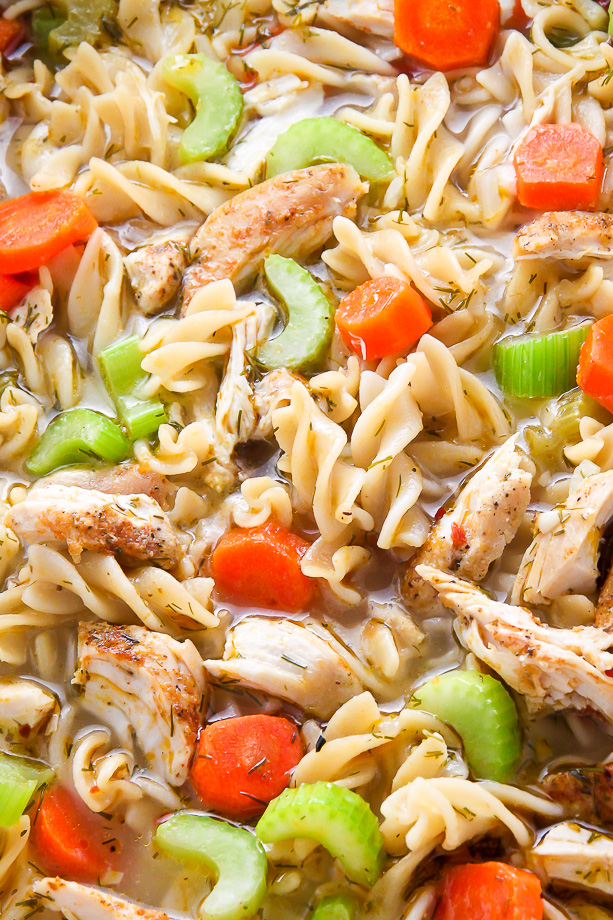 Now, you may be thinking how in the world does stock and water make a dreamy broth… right? Well, that's where our veggies, citrus, and herbs enter the story. Garlic, onion, fresh dill, and the juice of a whole lemon. They make this soup sing. I know the dill may seem a bit oddball for chicken noodle soup, but trust me, chicken+lemon+dill —> they are meant to be together!!!
I used 100% whole grain pasta noodles, farmers market fresh carrots, and a handful of celery we've had hidden in the back of the fridge for who knows how long. The results? A soup that knocked the last bit of flu out of my life for good. This Flu Fighter Chicken Noodle Soup is powerfully delicious.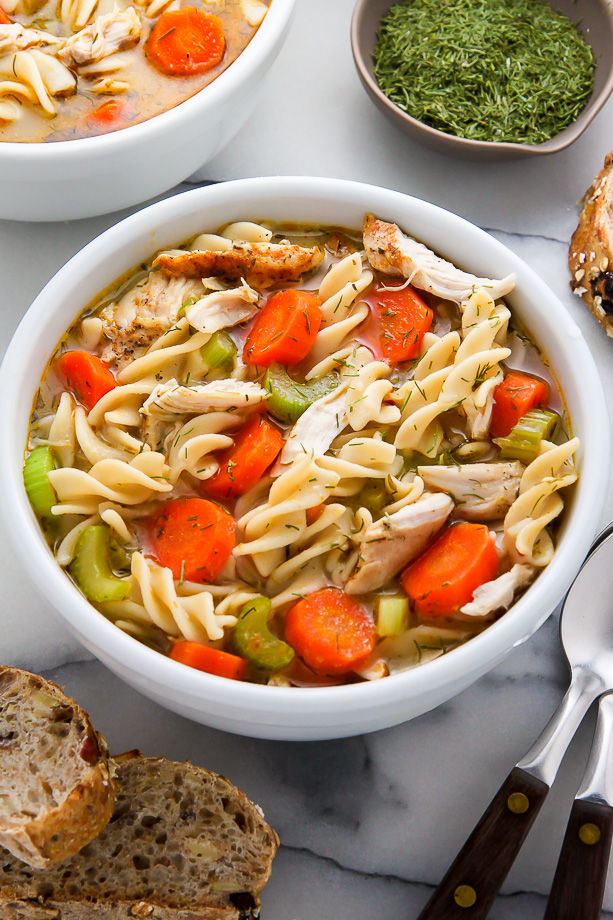 More Soup Recipes: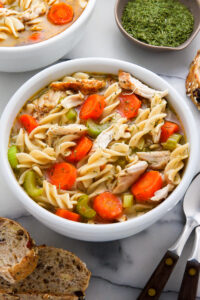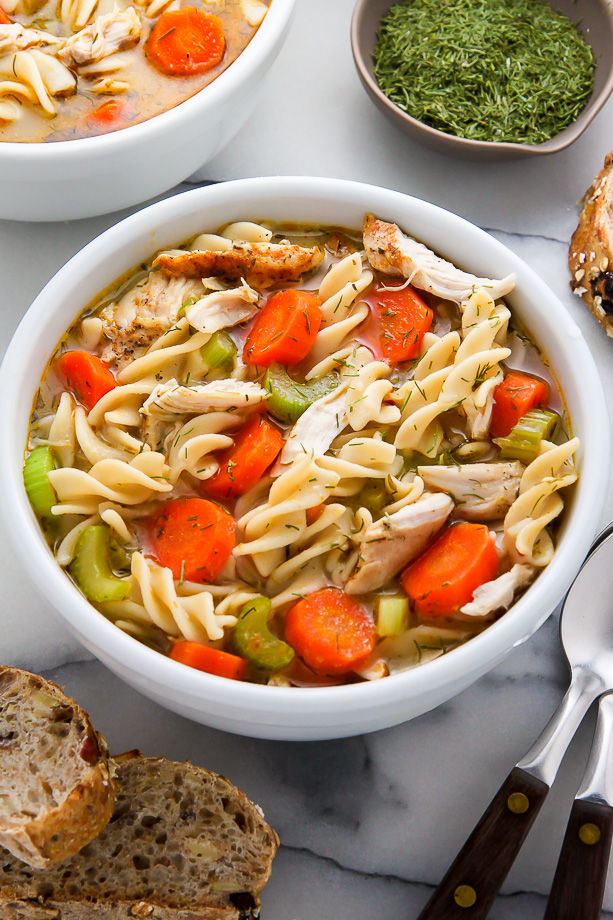 Print
Flu Fighter Chicken Noodle Soup
Yield 8 bowls
Got a cold? Then you need to try this Flu Fighter Chicken Noodle Soup! It's packed with healthy ingredients and it's absolutely delicious!
Ingredients
For the chicken:
1 pound skinless, boneless chicken breast tenders
2 tablespoons olive oil
1 teaspoon garlic powder
1 teaspoon ground cumin
1/2 teaspoon chili powder
1/2 teaspoon cayenne pepper
1/2 teaspoon dried oregano
3/4 teaspoon salt
3/4 teaspoon ground black pepper
For the soup:
3 tablespoons olive oil
3 large carrots, peeled and diced
3 stalks celery, diced
1 very large onion, finely diced
8 cloves garlic, minced
Big pinch of salt
32 ounces of chicken stock (or chicken bone broth)
4 cups water
1 bay leaf
2 cups noodles of your choice (I suggest using a smaller noodle like elbows or egg noodles)
Juice of 1 lemon, plus more for serving
1/4 cup to 1/2 cup fresh dill, chopped
Instructions
Preheat oven to 375 degrees (F). Place chicken tenders in a large baking dish lined with parchment paper. Drizzle with 2 tablespoons of oil and sprinkle with spices. Place in the oven and bake for 25 minutes, flipping the chicken at the half way point. Once cooked, pull into small chunks using two forks.
While the chicken is roasting, prepare the soup.
Heat olive oil in a large, heavy bottomed soup pan over a medium flame. Add carrots, celery, and onion, and cook - stirring occasionally - for 8-9 minutes. Add garlic and salt and cook for another minute before adding the bay leaf, water and chicken stock. Increase heat to high, bring soup to a boil, then reduce heat to medium-low, stir in noodles, and simmer for 10 - 15 minutes, or until the vegetables are soft and the pasta al dente. Stir in cooked chicken, dill, and lemon juice. Taste soup to adjust seasonings, then serve at once.
Courses Dinner
Cuisine Soup