Baked – not fried – these double chocolate cake donuts are topped with a thick, creamy chocolate ganache frosting and rainbow sprinkles!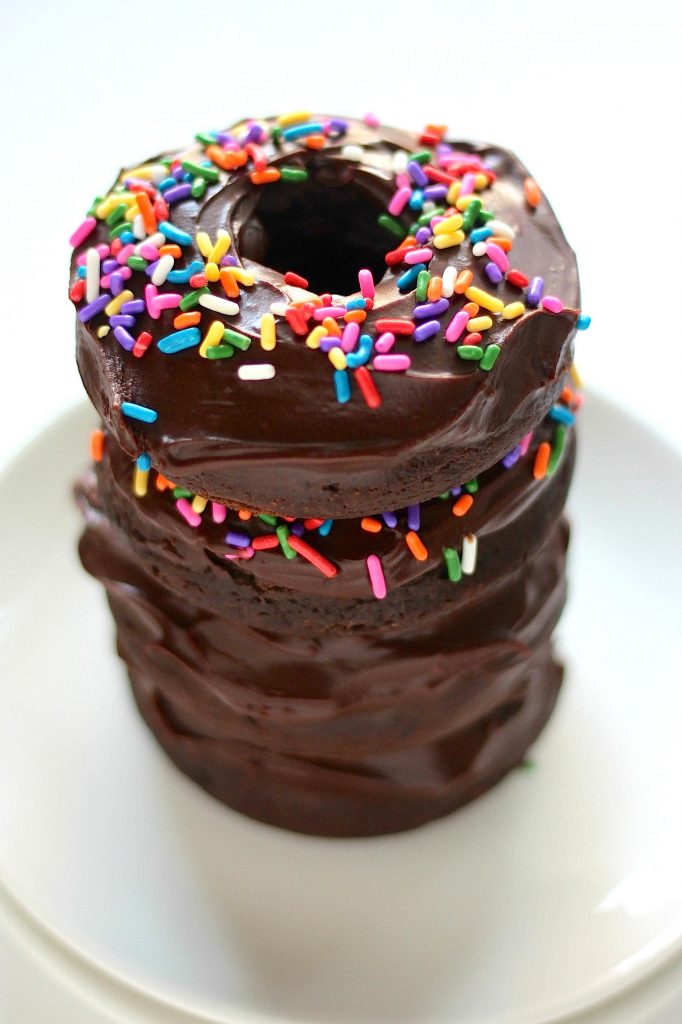 Happy Friday, everyone! After a looooong week of juicing (yes, as in, like… drinking green and orange and purple liquids for meals), studying (more on that later…), and developing a few killer recipes I cannot wait to share with you next week (really… you're going to love them!), I am so ready for Friday night bliss, baby! To me that bliss can be found in one extra large cheese pizza… two cold beers… ALL of the double chocolate cake donuts… and season 4 of Treme.
What are you guys doing this weekend? 
These donuts were born out of my love and commitment to making more donuts in 2015. Don't worry – it won't be all donuts ALL the time (although that doesn't sound like too bad of a situation, does it?). Just more of them! Baked. Fried. Stuffed. And slathered in ganache. We're going to do it big this year.
But for today let's just focus on the donuts at hand, shall we? Double Chocolate Cake Donuts! These babies are perfect for a party… an afternoon snack… or your Friday night dessert.
The best part? They're so so simple. I'm talking silly simple, friends! If you have two bowls, a whisk, and an attention span of 20 minutes – these can be on your table! How exciting is that?

Double Chocolate Cake Donuts
Ingredients
1 cup all purpose flour
1/2 cup dark brown sugar
1/2 teaspoon salt
1/4 cup cocoa powder
1 teaspoon baking powder
1 teaspoon vanilla extract
1 large egg, at room temperature
3 tablespoons unsalted butter, melted
1/2 cup milk (I used chocolate almond milk, but regular cow's milk will work fine)
For the Ganache:
1 cup confectioners' sugar
1/4 cup cocoa powder
1/4 cup heavy cream (more if needed)
Pinch of salt
1/2 cup rainbow sprinkles
Instructions
Preheat oven to 350 degrees (F).

Lightly grease a doughnut pan; set aside.

In a large bowl whisk together the dry ingredients. In a separate bowl whisk together the wet ingredients, then gently pour them into the dry ones. Fold ingredients together until just combined.

Spoon mixture into prepared doughnut pan, and bake for 10-11 minutes, or until the doughnuts spring back when lightly pressed. Be careful not to over bake here!

Allow doughnuts to cool a few minutes in the pan before transferring to a doughnut pan to cool completely.

While your doughnuts are cooling, make your ganache!

Sift together the sugar, salt, and cocoa powder. Add cream and whisk until smooth, adding more cream - one tablespoon at a time - if needed to reach a thick but spreadable consistency.

Using a butter knife spread the ganache generously over the tops of each donut, then top with sprinkles. EAT!