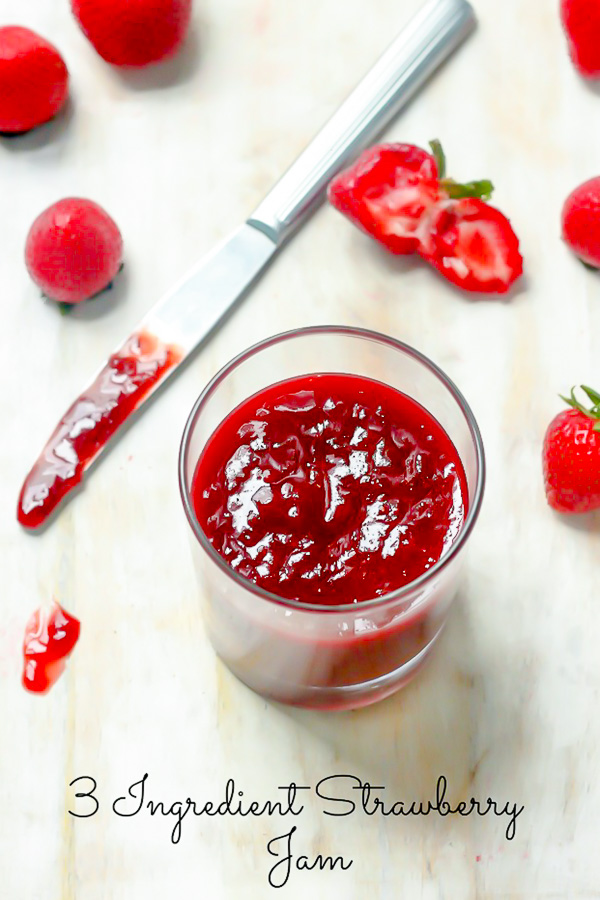 Without question, strawberry is my favorite flavor when it comes to jam. It's so wonderfully sweet and fruity, and I love spreading it thick on a crispy slice of toast – it's snack perfection! Bonus: It's so easy to make! All you need is 3 ingredients and 30 minutes, and you'll have a batch all for yourself!
The ingredients are very basic: sugar, lemon juice, and fresh strawberries.
I try to use the freshest strawberries I can get my hands on, but I have made this with frozen berries in the Winter and had pretty good results. So feel free to use any strawberries you have available; just keep in mind you may need to alter the sugar if your berries aren't too sweet. I recommend adding an extra tablespoon of sugar to the recipe if using out-of-season OR frozen berries.
If you want to can this jam, be sure to follow any canning procedures that may be necessary. We always use this jam up within a few days, so there's never a need to seal the jars 😉 But for those of you who'd like to preserve them, I do know my aunt has canned this recipe many times with success. Enjoy! xoxo
Easy 3-Ingredient Strawberry Jam
Ingredients
2 pounds fresh strawberries, hulled
1 1/2 cups white sugar
1/4 cup lemon juice
Instructions
Place strawberries in the body of a blender or food processor and pulse (in batches, if necessary) until you have 4 cups of mashed berries.

In a VERY large heavy bottomed saucepan, combine the strawberries, sugar, and lemon juice. Stir over low heat until the sugar is completely dissolved. Increase heat to high, and bring the mixture to a full rolling boil (be careful as it does splatter…). Boil, stirring frequently, for 25 minutes; the jam will have thickened and by the end will be boiling ferociously (this is why a tall pan is very important). Transfer to clean heatproof jars, leaving 1/2 inch headspace, and let come to room temperature before placing the lid on top. If canning, follow proper canning procedures.