Moist and fluffy Gingerbread Latte Cupcakes!!! Adorable gingerbread sprinkles are from here.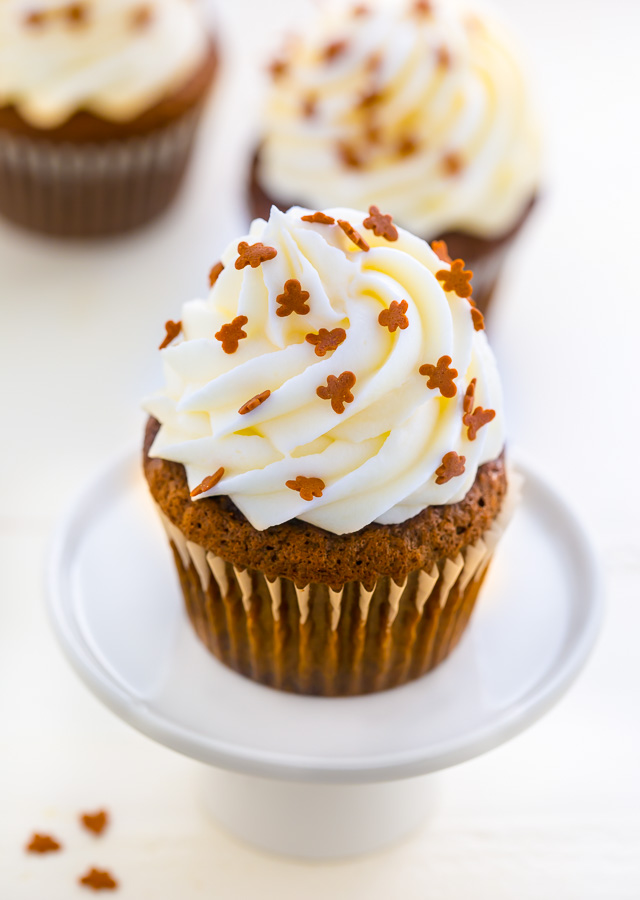 Gingerbread Latte Cupcake Recipe
Hello and happy Monday! How was your weekend? Did you do anything fun? Bake anything delicious? I've had friends in town since Thursday, so it's been an especially great few days. We've been day tripping, wine tasting, holiday shopping, and of course… eating. So much eating!
I also had my first holiday latte of the season. A gingerbread latte to be exact! One sip and I was hooked. Rich mocha, warm ginger, a kick of cinnamon… what's not to love? Being the crazy baker I am, I knew I wanted to take those wonderful warm and cozy flavors and turn them into a cupcake. It definitely took a few tries (luckily my friends are more than happy to taste test) but I finally nailed it! These gingerbread latte cupcakes are moist, not too sweet, and perfectly spiced. The cream cheese frosting is thick, fluffy, and flavored with just a kick of fresh lemon. They're going to be the hit of your holiday party!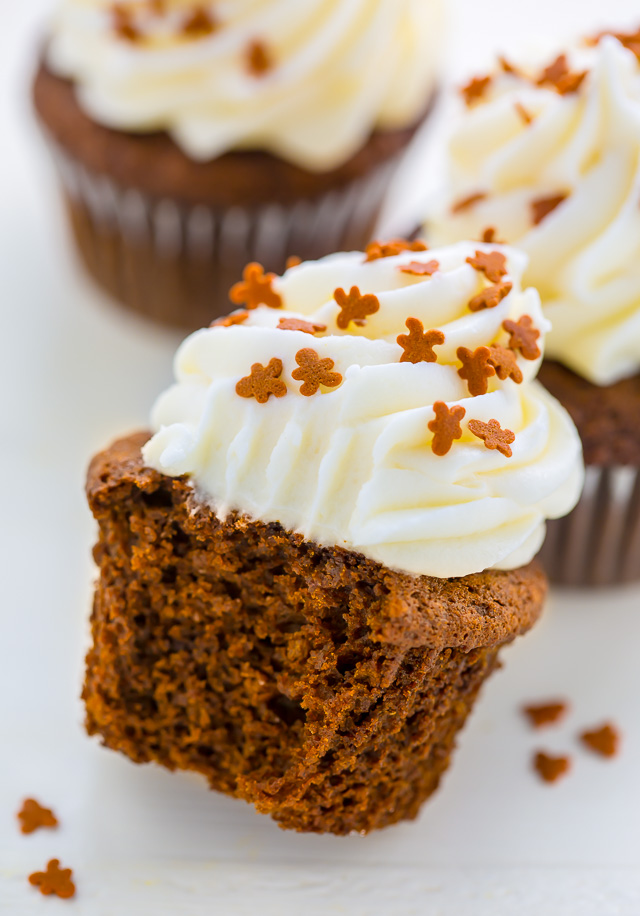 Let's Make Gingerbread Cupcakes 
For the best flavor I suggest using hot, fresh brewed, strong coffee. I like to use a flavored coffee for these cupcakes, like vanilla or caramel, but any variety will work.
Don't skip the fresh ginger! This ingredient is such an important part of the flavor profile.
Be sure not to open the oven until the cupcakes are done baking. If you do, your cupcakes will most likely sink in the middle.
You can find the super cute gingerbread sprinkles you see in my photos here.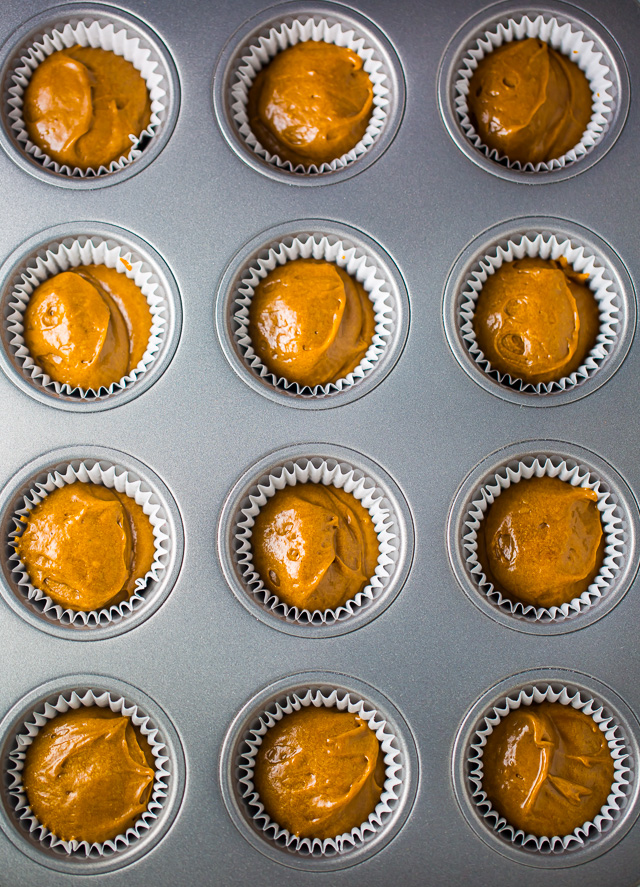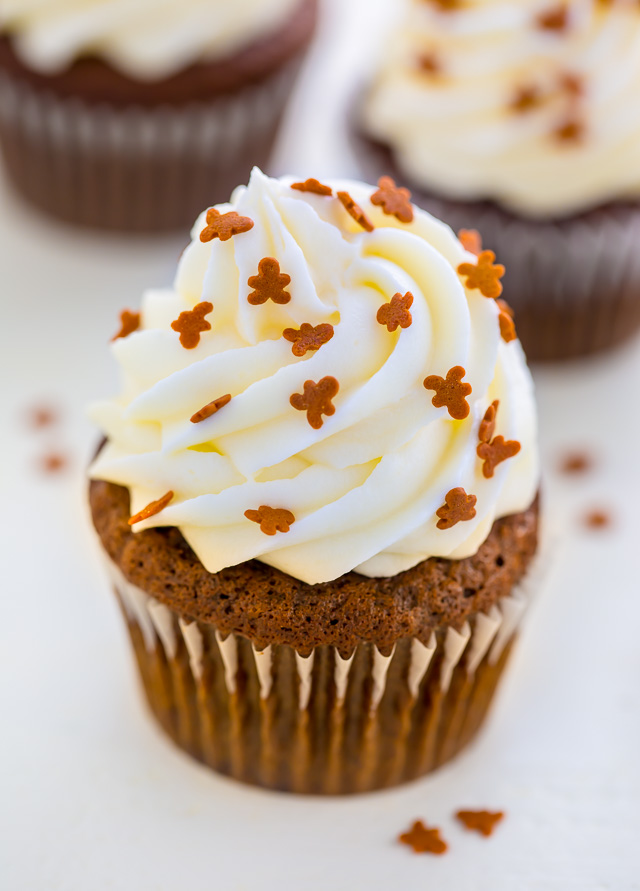 If you try these Gingerbread Latte Cupcakes, let me know! Leave a comment below and don't forget to snap a pic and tag it #bakerbynature and #holidaybakingbonanza on instagram!


More Gingerbread Recipes: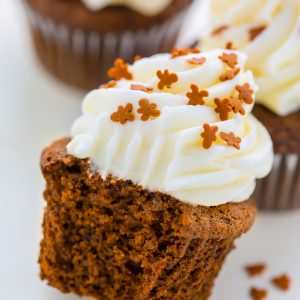 Gingerbread Latte Cupcakes
Moist and fluffy Gingerbread Latte Cupcakes!
Ingredients
For the Gingerbread Latte Cupcakes:
1 and 3/4 cups all-purpose flour
1 teaspoon baking powder
1/2 teaspoon baking soda
2 and 1/2 teaspoons ground ginger
3/4 teaspoon ground cinnamon
1/4 teaspoon ground nutmeg
1/4 teaspoon ground cloves
1 stick (4 ounces) unsalted butter, melted
2 tablespoons fresh ginger, grated
1/2 cup hot coffee
1/2 cup unsulphured molasses
3/4 cup light brown sugar, packed
1 large egg plus 2 egg yolks, at room temperature
For the Cream Cheese Frosting:
(1) 8 ounce block full-fat cream cheese, very soft
1 stick (4 ounces) unsalted butter, very soft
3 and 1/2 cups confectioners' sugar, more if needed
1/4 teaspoon salt
3 teaspoons fresh squeezed lemon juice
1 teaspoon lemon zest
Instructions
For the Gingerbread Latte Cupcakes:
Preheat oven to 350 degrees (F). Line a muffin tin with paper liners; set aside.

In a medium-sized bowl sift together the flour, baking powder, baking soda, ginger, cinnamon, nutmeg, and cloves; set aside. In the bowl of a stand mixer fitted with the paddle attachment combine the melted butter, fresh grated ginger, and hot coffee on low speed. Add in the molasses and brown sugar and beat smooth. Add the egg and yolks and beat for 30 seconds. Add in the flour mixture slowly, beating on low speed just until combined. Spoon batter into prepared cupcake liners, filling each cup about 3/4 full (the batter rises quite a bit as they bake). Bake for 14 to 16 minutes, or until a toothpick inserted in the center comes out clean. Cool in the pan for 5 minutes before carefully transferring the cupcakes to a cooling rack to cool completely.
For the Cream Cheese Frosting:
In the bowl of a stand mixer fitted with the paddle attachment beat the cream cheese and butter until smooth and creamy, about 4 minutes. Reduce the mixer speed to low and gradually add the confectioners' sugar. Add in the salt, lemon juice, and lemon zest and beat smooth. Once all of the ingredients have been incorporated, increase the speed to medium-high and beat for 2 minutes.

If the frosting appears too thick, add a little more lemon juice; if the frosting appears too thin, add a little more confectioners' sugar. Pipe or spread frosting onto cooled cupcakes.
Notes
Cupcakes are best served the day they are made.