Hi guys! Today I'm super excited to be sharing a sweet little cookie recipe that has not only stolen my heart (and made my jeans stretch to sizes one should never disclose) but also converted a certain boy on this side into an oatmeal cookie lover! I think it's 100% thanks to the rosemary… but we'll touch on that in just a minute.
Have you guys tried the raisin rosemary crisps they sell at Trader Joe's? They're SO good, and combine raisins, rosemary, and sunflower seeds into a crispy little cracker that is exactly a million times more addicting than you could ever imagine. We LOVE them over here (no, I don't work for trader joe's!) and if you're a cracker snacker, I definitely recommend trying them out.
Point of that whole cracker ramble —————-> those crackers inspired these cookies.
Thanks T Joe's!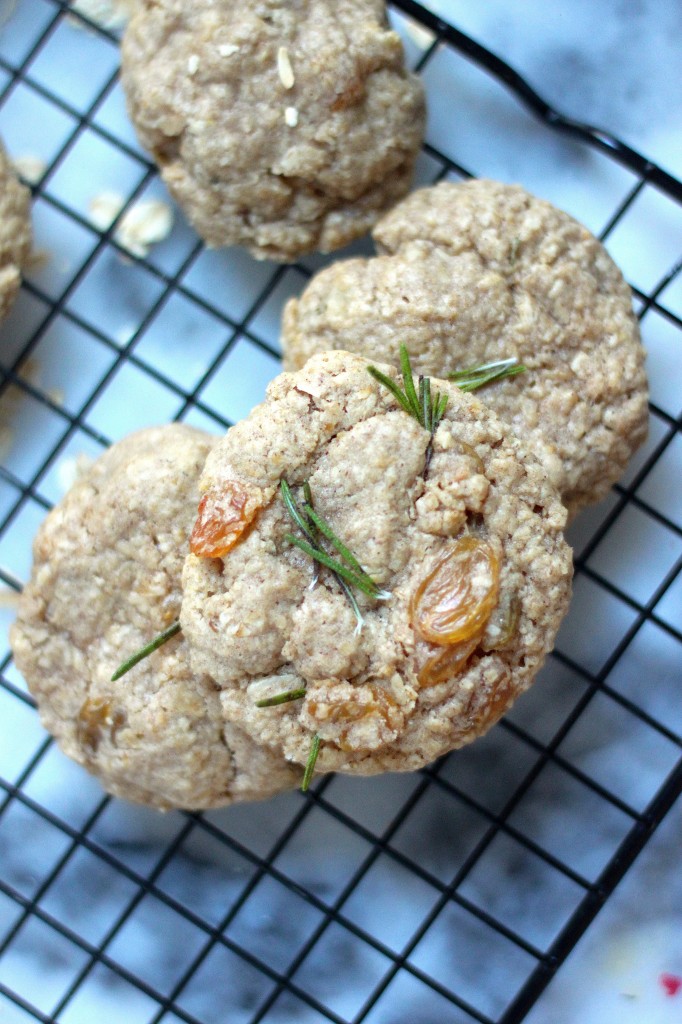 Since I knew I wanted these cookies to be a bit more delicate than the crackers which I was using as my muse, I left out the sunflower seeds, amped up the fresh rosemary (by just a touch), and traded the standard purple prunes for some gorgeously plump golden raisins.
These cookies also boast a soft, oat studded brown sugar body that definitely leans these cookies over to the sweet side. The rosemary is just a subtle highlight that gives the cookies a special touch, not a savory flavor.
All good things, my friends!
If you're worried about the rosemary being overpowering, I promise you – it isn't! It actually counterbalances the sweetness of the brown sugar and golden raisins and adds a je ne sais quoi that will have you reaching for just-one-more…
yeah right 😉
Golden Raisin Rosemary Oatmeal Cookies – Baker by Nature
Makes 16 – 18 cookies
Ingredients:
1/2 cup (1 stick) butter, softened
3/4 cup light brown sugar, packed
1 large egg + 1 egg yolk
3/4 cup (95 grams) all-purpose flour
1/2 teaspoon baking soda
3/4 teaspoon ground cinnamon
1/2 teaspoon salt
1 3/4 cups rolled oats, lightly pulsed in a blender or food processor
1 cup golden raisins
1 tablespoon fresh rosemary, finely chopped
Instructions:
Preheat oven to 350 degrees (F).
Pulse oats in the body of a blender or food processor for 5-10 seconds, just to break them down a bit. Set aside.
In a large bowl, cream together the butter, brown sugar, egg, and egg yolk until smooth.
In a separate bowl, whisk the flour, baking soda, cinnamon and salt together. Stir this into the butter/sugar mixture. Stir in the oats, golden raisins, and rosemary.
At this point you can choose to chill the dough for a bit in the fridge or bake them right away, but they'll end up slighly less thick if baked right away.
Scoop 2-tablespoon sized mounds of cookie dough onto the prepared baking sheet, leaving two inches between them.
Bake them for 10 to 12 minutes, removing them from the oven when they're golden at the edges but still a little undercooked-looking on top.
Allow them to sit on the hot baking sheet for five minutes before transferring them to a rack to cool completely.