Super thick and buttery Chocolate Chunk Cookies made with a secret ingredient… Greek Yogurt!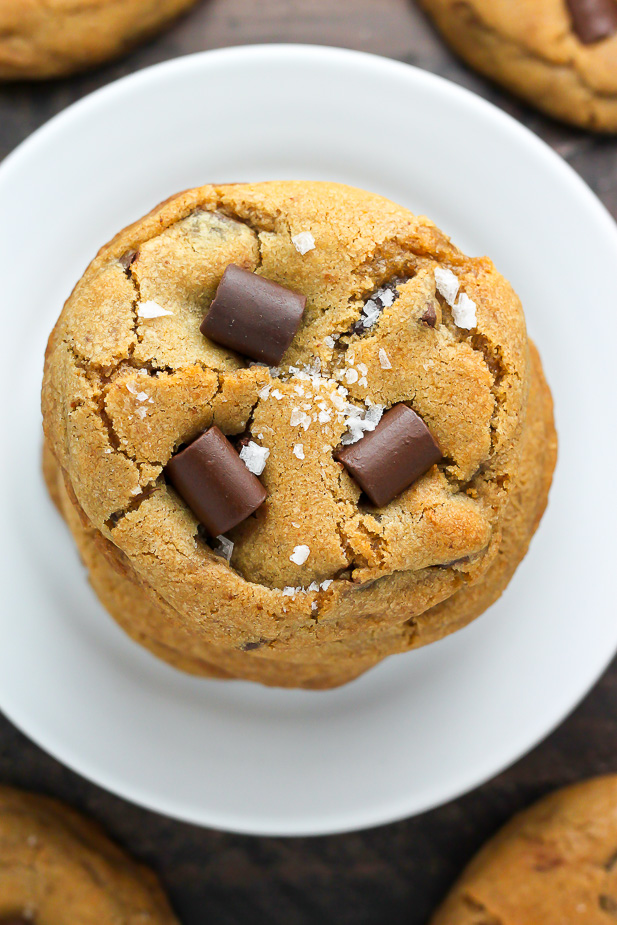 Alright my friends, say it with me… TGIF! <—– Seriously. This week has felt extraordinarily long and I cannot wait to just kick back and chillllllaxx this weekend. So tell me – what are your weekend plans? We're supposed to get a ton of rain here which is 100% fine by me. I have a full fridge, cookies for days, a few bottles of wine, and this book
book to devour. Weekend life is good.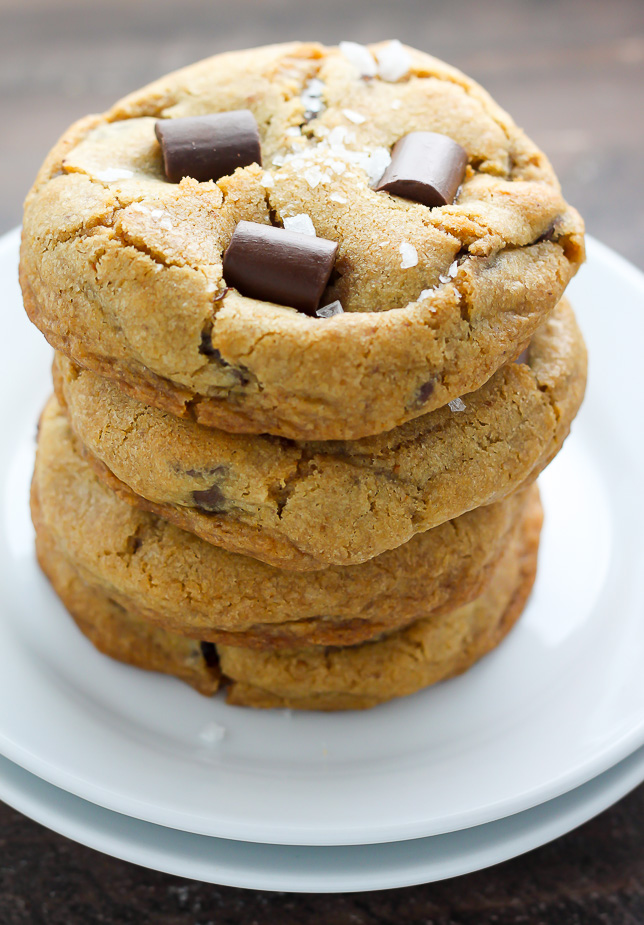 I simply couldn't let allow this week to pass by without sharing with you this ultra decadent chocolate chunk cookie recipe!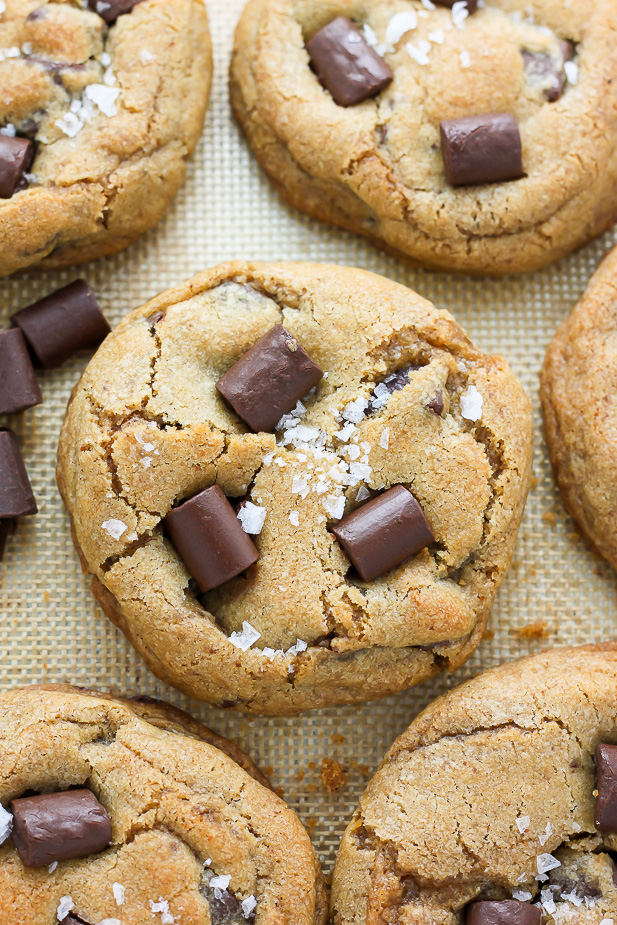 If you're thinking this recipe sounds very familiar, you my friend, are right on the money.
A few months ago I posted a recipe for Greek Yogurt Chocolate CHIP Cookies. They're thick and chewy; gooey and ultra rich; and made with healthy(ish) ingredients you would never guess are hiding in your delicious dessert.
Fast forward to last week and a reader (hello, Jane from Arizona) emailed me to let me know she made said cookies, but changed quite a few things in the process. Instead of chocolate chips, she added chocolate CHUNKS; instead of coconut oil, she used butter (a girl after my own heart); and to balance everything out, she topped each cookie with a fat pinch of flaky sea salt. <—- You know I had to try those changes out myself, right…?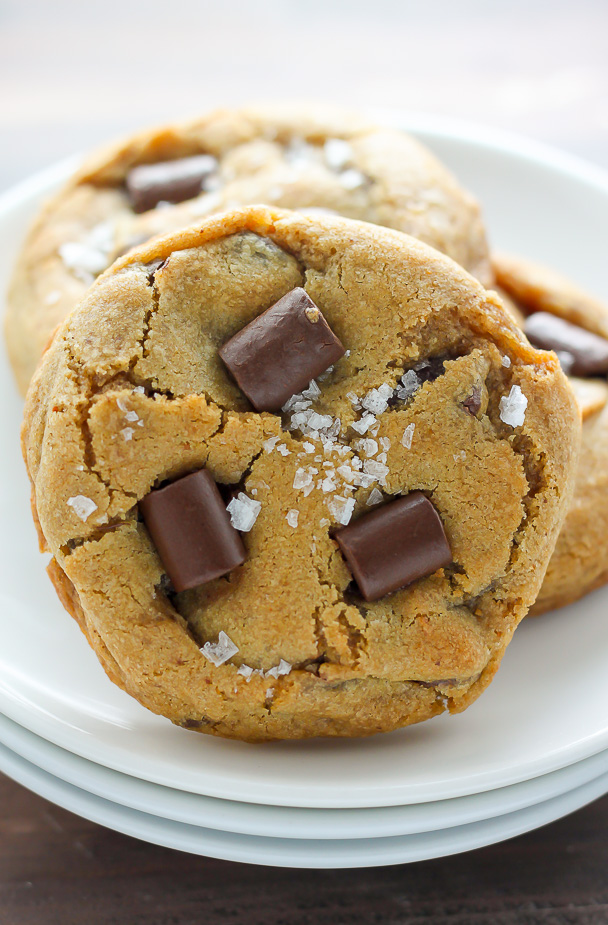 The results? Oh. My. Sweet Chocolate Chunk Cookies! How incredibly decadent do these babies look? Spoiler alert: they taste EVEN better than they look. Hard to believe; totally true.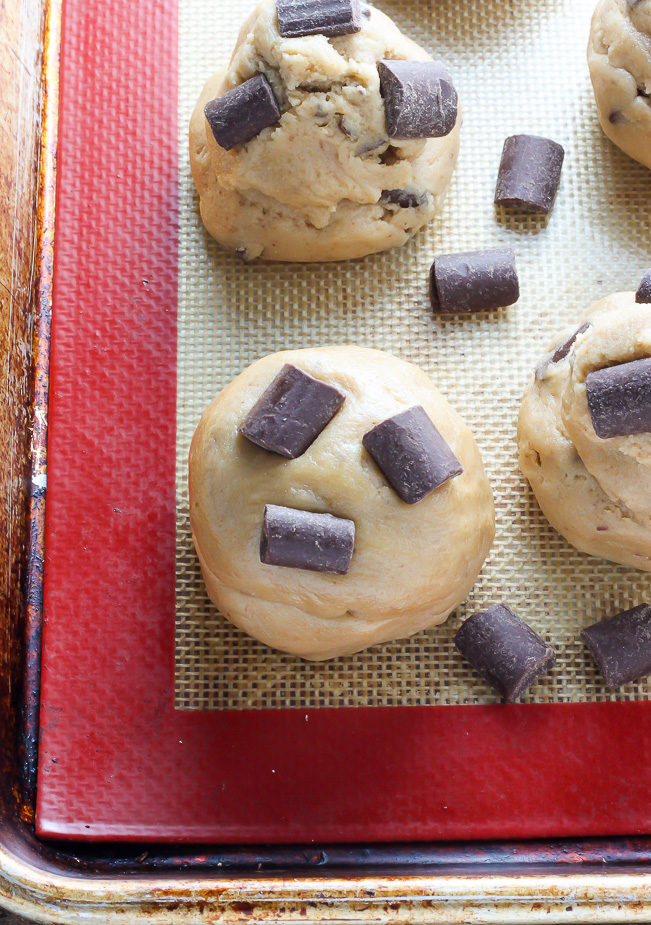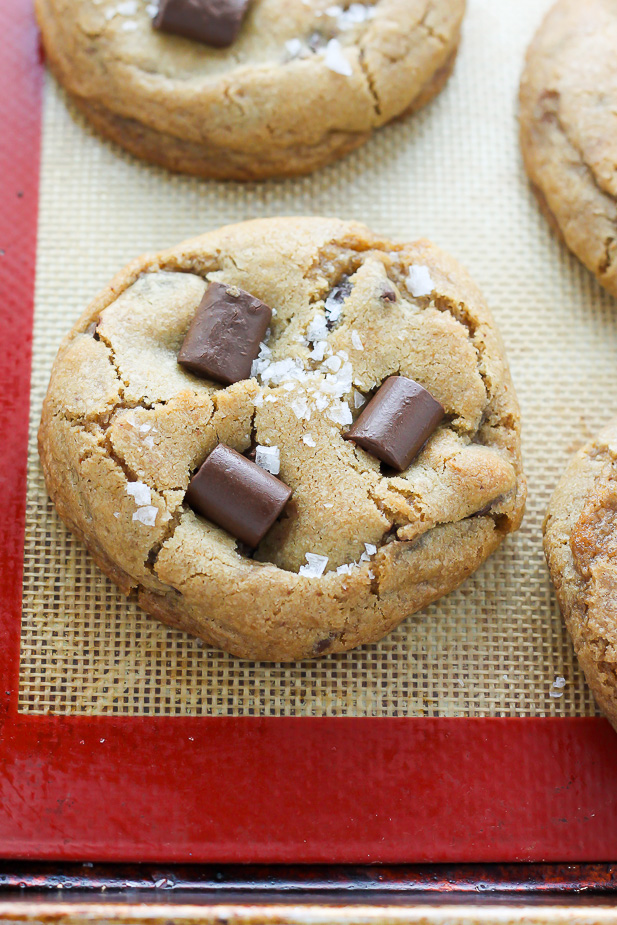 This delectable cookie dough comes together really quickly and is so simple even a novice baker should have no problem getting it done right. The one step I must stress is the chilling process. These cookies MUST chill for at least 3 hours. Since we're using less butter in this recipe, and adding in Greek yogurt as another source of fat, the batter will initially be a bit loose (gooey, soft, etc). Once it chills in the fridge it will firm up quite nicely and be ready for rolling and baking. You can actually make this cookie dough up to 24 hours in advance, just keep in mind the dough may be quite firm when you pull it out of the fridge. Simply let the cookie dough sit out on your counter for 15-20 minutes, then scoop and roll.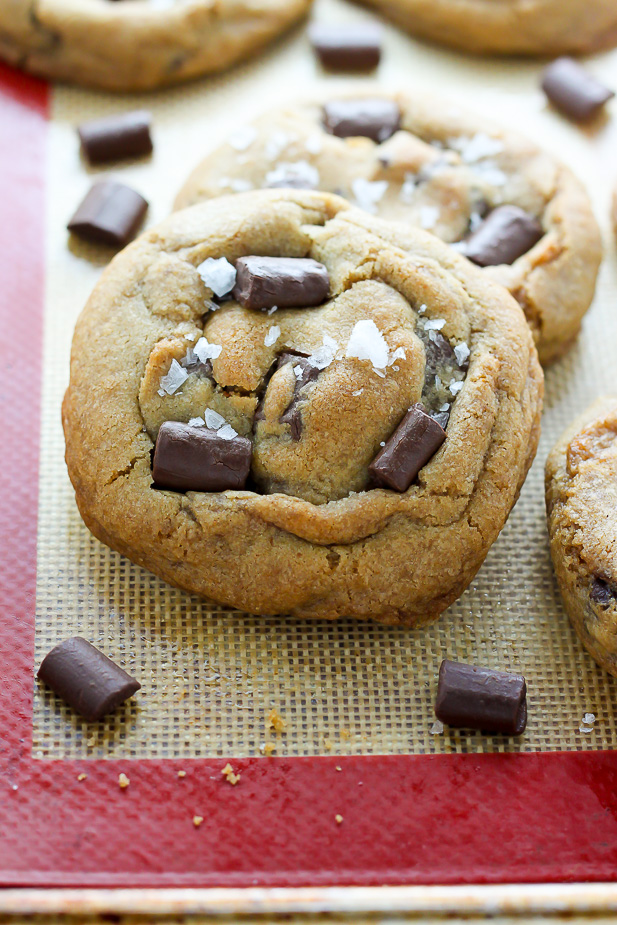 For an extra pretty // extra chocolatey batch of cookies, press a few extra chocolate chunks on to the tops of each cookie right when they come out of the oven. I do this every-single-time, but you know me when it comes to chocolate… gimme gimme more;)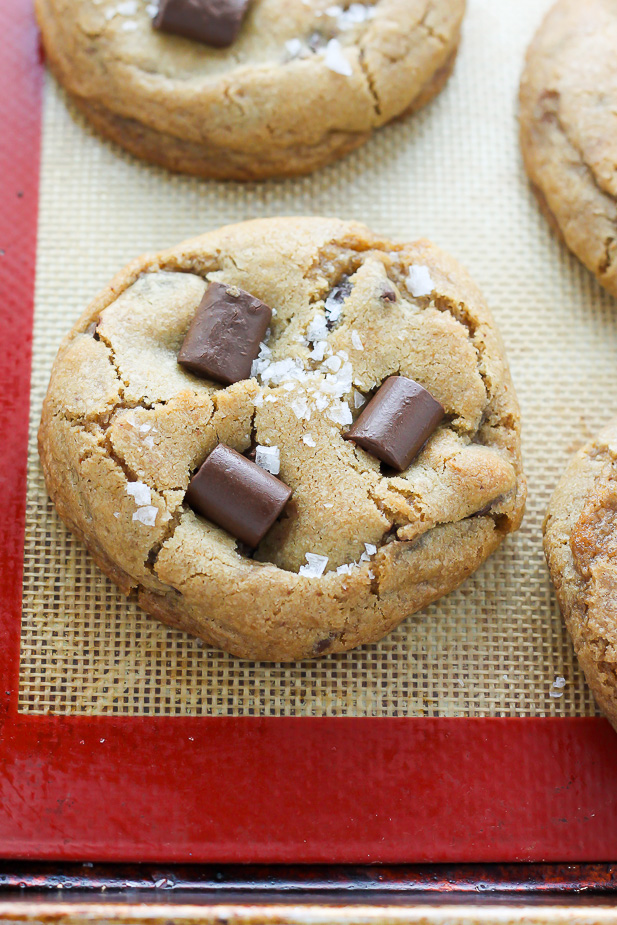 If you're looking for a new cookie recipe to get cozy with this weekend, here you go. You can thank me later 😉 xoxo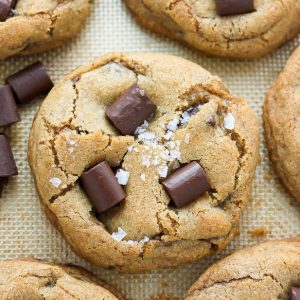 Greek Yogurt Chocolate Chunk Cookies
Thick, chewy, and loaded with chocolate chunks, these Healthier Greek Yogurt Chocolate Chunk Cookies are a keeper!
Ingredients
1 and 1/4 cups whole-wheat flour
1 and 1/4 cups all-purpose flour
1 teaspoon baking soda
1/2 teaspoon salt
4 ounces (1 stick) unsalted butter, at room temperature
1 cup firmly packed dark brown sugar
1/2 cup granulated sugar
2 teaspoons vanilla extract
2 large eggs, at room temperature
1/2 cup *full-fat Greek yogurt
2 cups dark or semi-sweet chocolate chunks
Flaky sea salt, for sprinkling, optional
Instructions
In a medium-sized bowl combine the flours, baking soda, and salt; whisk well to combine; set aside.

In the body of a stand mixer fitted with the paddle attachment or in a large bowl using a handheld electric beater, beat the butter, sugars, and vanilla on medium-speed until light and fluffy; about 2 minutes.

Add in the eggs, one at a time, beating well after each addition, and scraping down the sides as necessary. Add in the Greek yogurt, beating just until incorporated. Reduce the mixer speed to low and add in the dry ingredients, beating just until combined.

Turn the mixer off and stir in the chocolate chunks with a wooden spoon.

Cover the bowl with a piece of saran wrap and refrigerate for at least 3 hours - up to 24 hours (allow the dough to slightly come to room temperature if in the fridge longer than 3 hours; just until it's easy to scoop).

30 minutes prior to baking, preheat your oven to 375 degrees (F). Line two large baking sheets with parchment paper; set aside.

Using a large spoon or melon baller (preferred), scoop out 3 tablespoon sized rounds of dough; using your hands roll the dough into a ball, then place on the prepared baking sheet. Repeat with all of the cookie dough, spacing them 2 inches apart on the baking sheet.

Bake cookies - one sheet at a time - for 11-15 minutes, or until golden brown. Sprinkle warm cookies with sea salt (if using).

Allow cookies to cool for 5 minutes on the baking sheet, then transfer to a wire rack to cool completely.
Notes
This recipe requires FULL-Fat Greek Yogurt; using a lower fat variety will not yield the same results.
For thick and chewy cookies it is important to chill the dough for a minimum of 3 hours.
If you refrigerate your dough longer than 3 hours it may be too hard to scoop at first. Simply allow the dough to sit at room temperature for 15 minutes before scooping and baking.