These Lemon Cupcakes with Fresh Blueberry Buttercream are a MUST bake this Summer! The blueberry frosting is so pretty and tastes divine!!!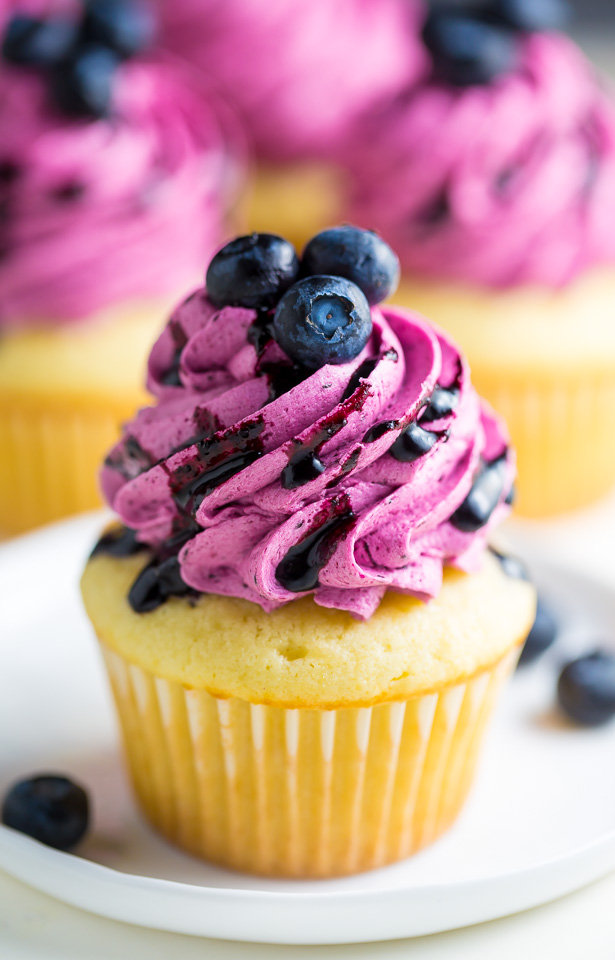 Lemon Cupcakes with Blueberry Frosting
I wrote a Summer Baking Bucket list waaaaay back in June and I'm finally starting to check some things off! What can I say…? With distractions like beach weekends, best friend reunions, birthday parties, ice cold beers and baseball games, it's easy for a girl to fall into the rabbit hole of procrastination.
But August? August is all about making things happen. August is all about making making magic happen. In our kitchens and on our tables!
… and maybe just a few more beach days. But first: CUPCAKES!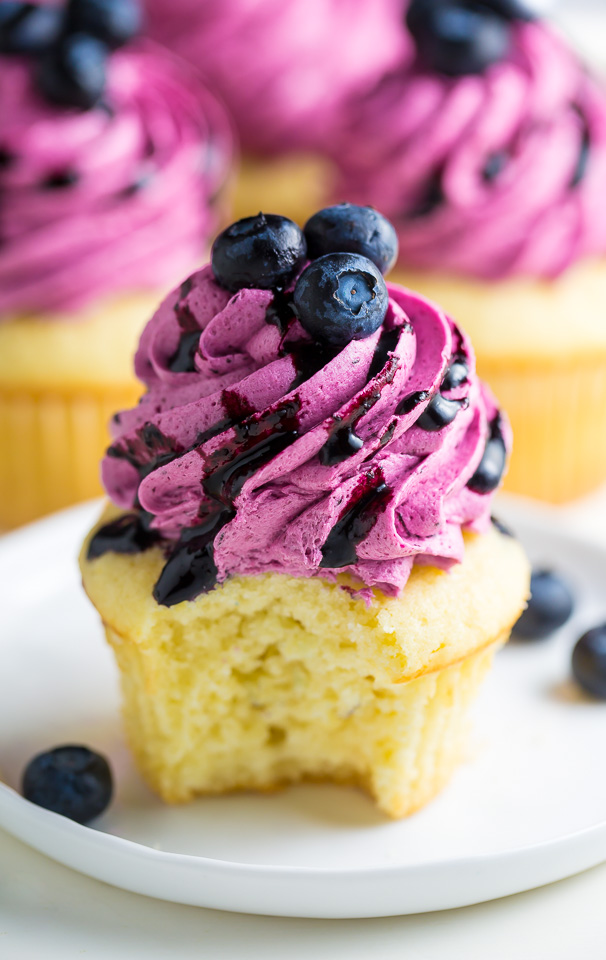 These Lemon Cupcakes with Fresh Blueberry Buttercream have been a dream of mine for months now. They're lucky #7 on my baking bucket list, and they're EVERYTHING a blueberry loving gal (or guy) could ask for. The fluffy cupcakes are bright and perky thanks to fresh lemon juice, zest, and lemon extract… and the blueberry frosting?! It's amazing AF. It's sweet, beautiful, and colored 100% naturally with fresh blueberries. No food coloring here, thank you very much!
If you really wanna get fancy double the blueberry puree and drizzle some ON the frosting. It's pretty, tasty, and super impressive. Top with a few fresh blueberries to make them a triple threat.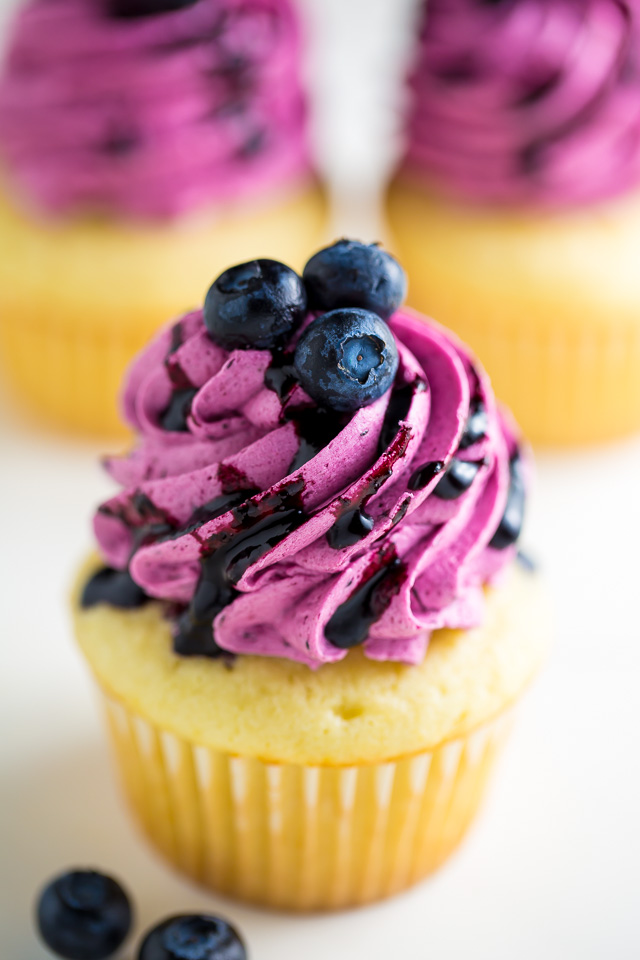 WARNING: Loads of reading below! This recipe is a little more complex than most cupcake recipes I post, so I highly suggest reading over all of the information I've provided, as well as the ingredient list and recipe, before getting started 😉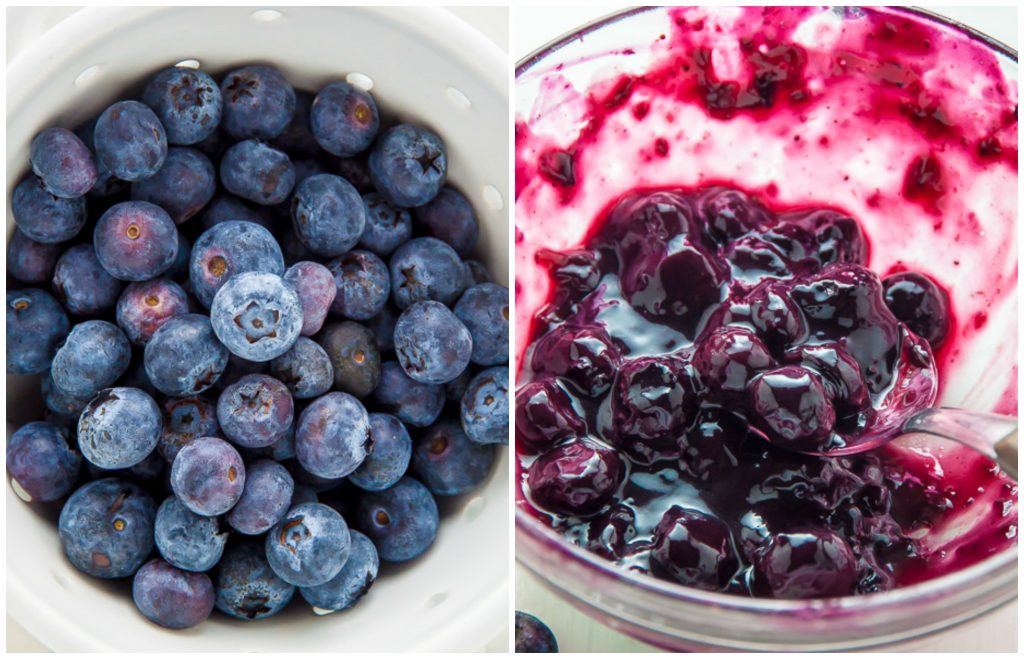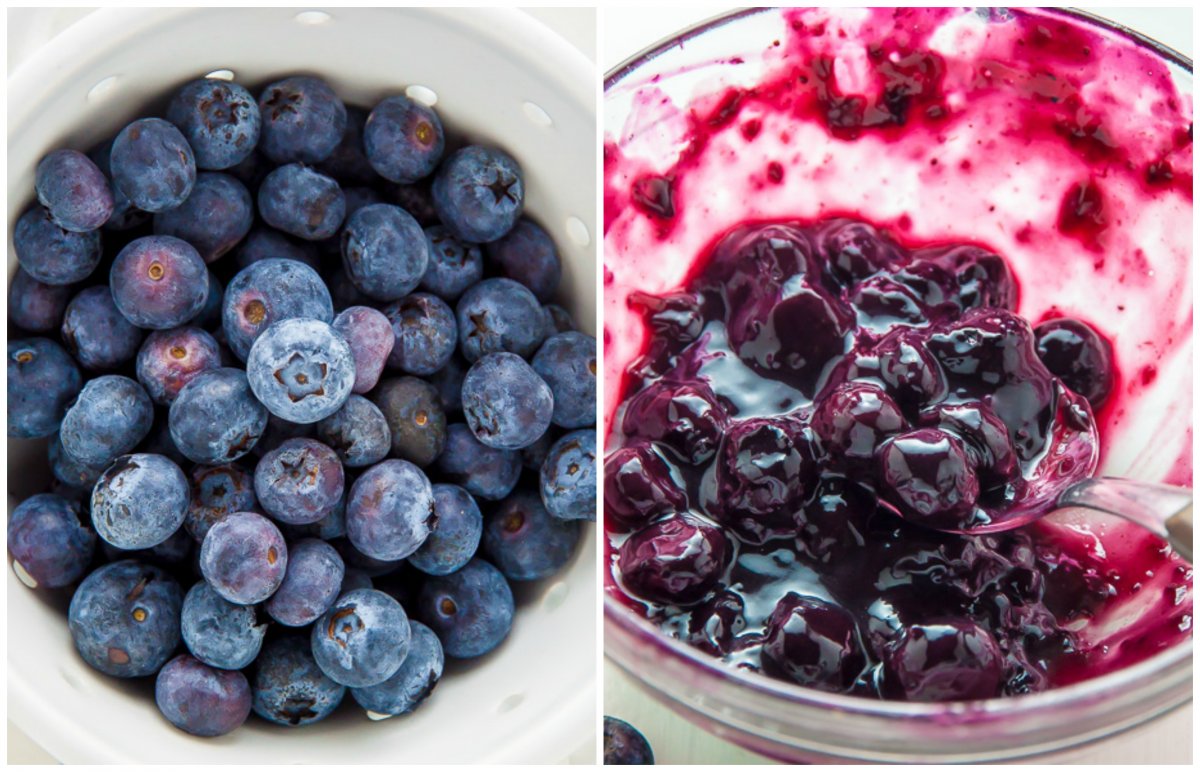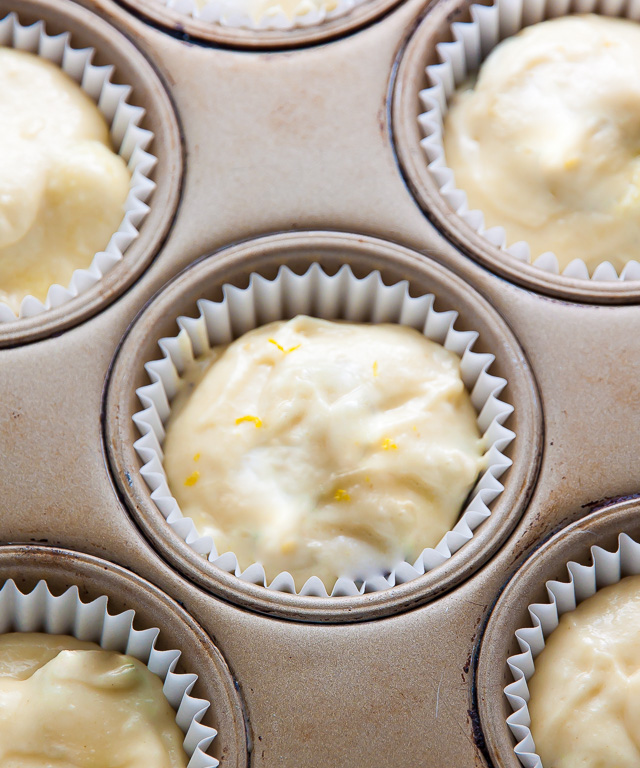 Tips and Tricks for Recipe Success:
To make the the beautiful fresh blueberry frosting you'll need to first make a blueberry puree. You'll begin with one and a half cups of blueberries and cook them down until the mixture has reduced to a 1/3 cup. If you'd like to drizzle fresh blueberry sauce on top of the cupcakes (like you see in my photos), make a double batch of the blueberry puree.
You'll need a fine-mesh strainer to make the blueberry buttercream! You'll place the strainer over a small bowl and push the puree though. You're only going to use the liquid in the bowl. You should have about 1/4 cup of liquid in your bowl. Discard any skins/seeds left in the strainer.
Please make sure your blueberry puree is completely cool before adding it to the buttercream. If the puree is even a little warm when you add it to the butter it will throw off the consistency of the frosting, leaving you with a gloppy, grainy mess. The puree typically takes 30 minutes to cool (in the fridge), and can be made ahead of time – and stored, covered, in the fridge – if needed. If you plan to drizzle some on top of the cupcakes and it's too thick to spoon, simple add a 1/2 teaspoon of lemon juice to loosen it up.
To reach the proper buttercream consistency you'll want to make sure your butter is very soft before beginning. I suggest setting your two sticks of butter out on the counter for at least an hour before unwrapping them and getting busy; your butter may soften faster or slower depending on the temperature of your house. You'll know your butter is soft enough when you can press your finger into the top and an indentation is effortlessly made. Cold butter as well as melted butter should never be used when making this buttercream; it will not work.
Once all of the confectioners' sugar has been added to the frosting, be sure to beat it on medium-high for the FULL 2 minutes. Beating the frosting on high makes it SUPER luscious and fluffy. You will need to use a stand mixer or handheld electric mixer for this step.
If your frosting appears too thin, simply add a little more confectioners' sugar, one tablespoon at a time until desired consistency is reached; if your frosting appears too thick, add a touch of cream.
I pipped the frosting on using this closed star tip.
If you're going to decorate your cupcakes with fresh blueberries, I suggest using the tiniest ones you can find. They look cuter and don't weigh down the frosting as much. Farmers markets typically have better options for this than grocery stores. If you can only find jumbo blueberries just use one on top instead of 3.
Sorry for all that buttercream nerd talk. I just want it to work beautifully for you!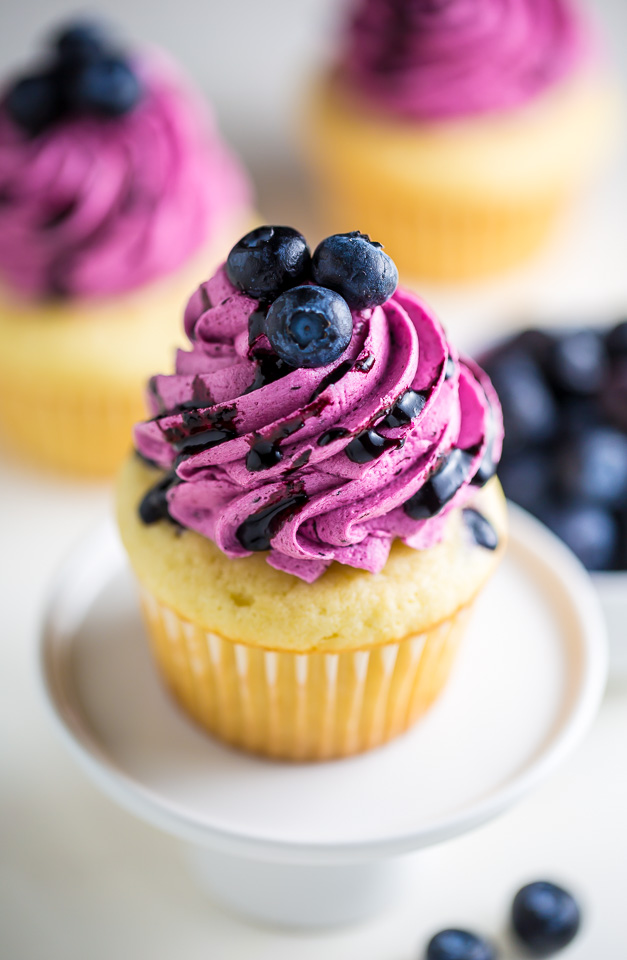 You may have noticed in all that gabbing above I didn't talk about the actual cupcakes. That's because they're really easy! Just be sure you bring your ingredients to room temperature (butter, eggs, sour cream), don't pack your flour (lightly spoon it into the measuring cup and level it off with the back of a knife), don't over bake, don't over mix, and be sure you allow your cupcakes to cool completely before icing them. Oh! And use FRESH lemon juice. That bottle junk just isn't the same.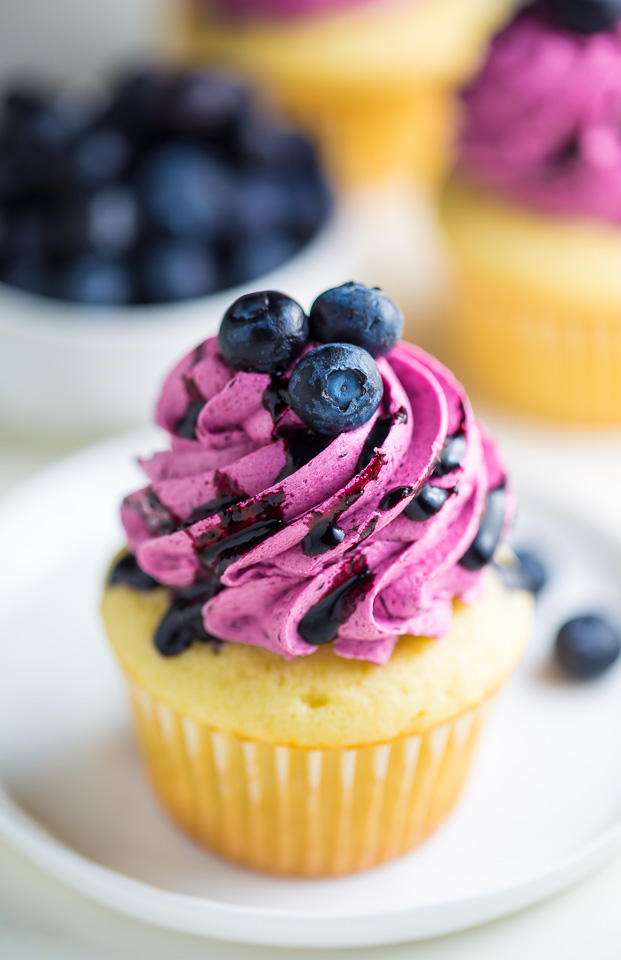 Hope you get a chance to bake these beeeeeeautiful blueberry cupcakes real soon! xo
If you try this recipe, let me know what you think! Leave a comment below, and don't forget to snap a pic and tag it #bakerbynature on instagram! Seeing your creations makes my day ♥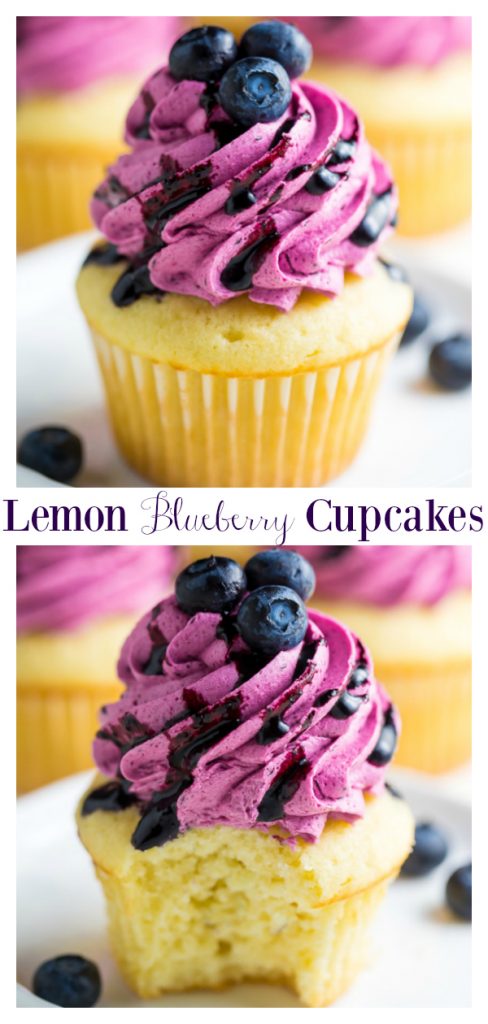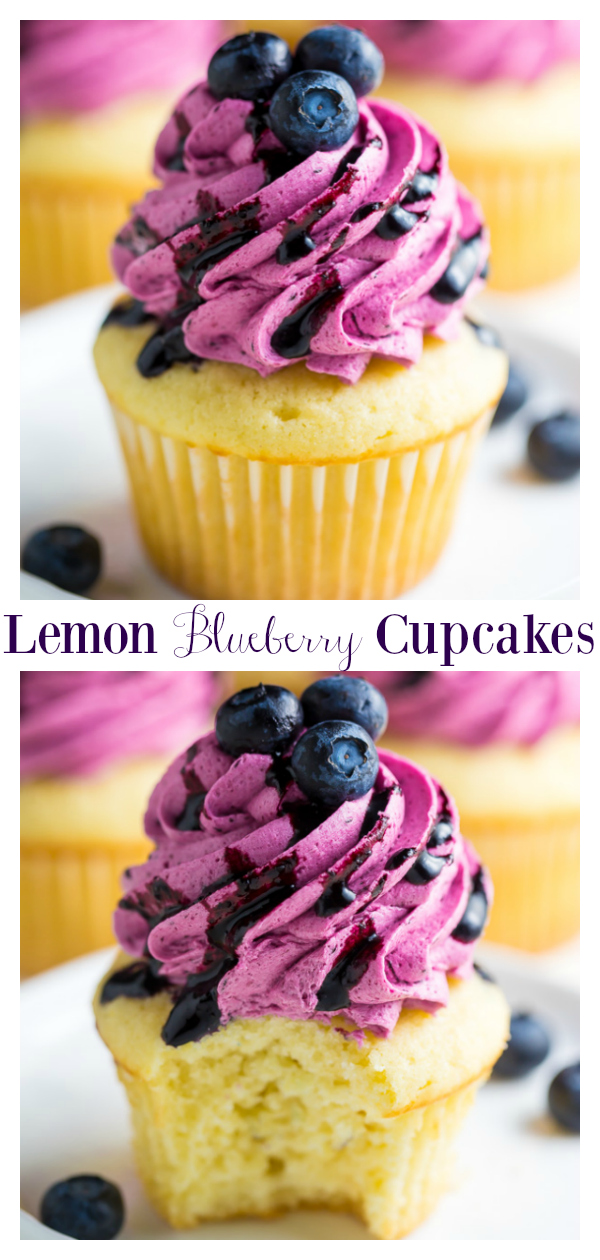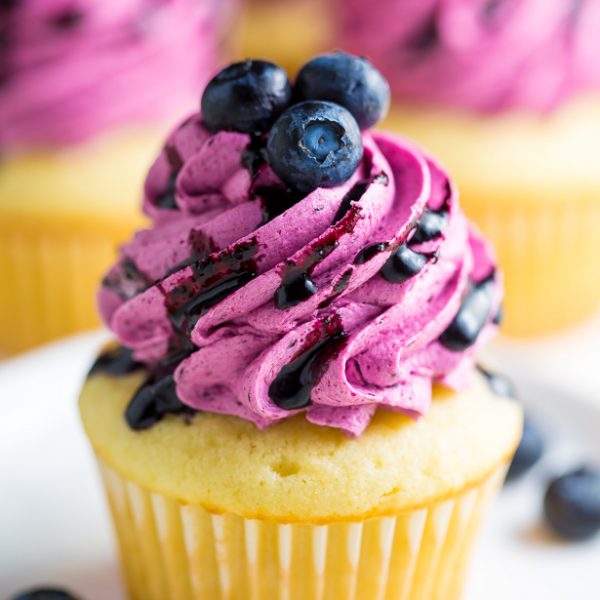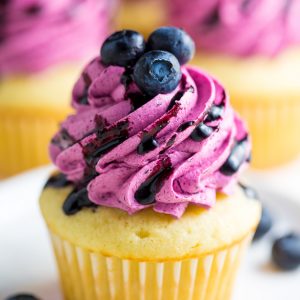 Lemon Cupcakes with Fresh Blueberry Buttercream
These Lemon Cupcakes with Fresh Blueberry Buttercream are a must bake this Summer!
Ingredients
For the Lemon Cupcakes:
1 and 3/4 cups all-purpose flour
1 teaspoon baking powder
1/2 teaspoon baking soda
1/4 teaspoon salt
1 cup full-fat sour cream
1/2 cup (1 stick) unsalted butter, at room temperature
3/4 cup granulated sugar
1/2 teaspoon lemon extract
2 teaspoons finely grated lemon zest
1 large egg plus one egg yolk, at room temperature
1 and 1/2 tablespoons fresh lemon juice
For the Fresh Blueberry Buttercream:
1 and 1/2 cups blueberries, fresh or frozen, if using frozen don't thaw
2 tablespoons lemon juice
2 sticks (8 ounces) unsalted butter, VERY soft
1/2 teaspoon salt
3 1/2 cups confectioners sugar (more if needed), sifted
1 tablespoon heavy cream (more if needed)
1/4 cup fresh blueberries, for decorating (optional)
Instructions
For the Lemon Cupcakes:
Preheat oven to 350 degrees (F). Line a 12 mold cupcake tin with paper liners and set aside.

In a medium bowl combine the flour, baking powder, baking soda, and salt; whisk well and set aside.

In a large bowl using a handheld electric mixer, or in the bowl of a stand mixer fitted with the paddle attachment, beat the butter on medium speed until smooth and creamy, about 30 seconds. Add in the sugar, lemon extract and lemon zest and beat until well combined. Add in the egg and egg yolk and mix well, scraping down the sides of the bowl as needed. Reduce the mixer speed to low. Add in 1/2 of the flour mixture and mix until just combined (this should take about 5 seconds). Add 1/2 of the sour cream and mix until just combined. Repeat with remaining flour and sour cream, being sure to mix on low until just combined. Turn mixer off. Using a rubber spatula, quickly fold in the lemon juice.

Divide the batter evenly among the prepared muffin cups, filling them 3/4 of the way full. Bake for 16 to 18 minutes, or until a toothpick inserted in the center comes out clean. Allow cupcakes to cool in the pan for 5 minutes before transferring them to a wire rack to cool completely. Once cupcakes are cool, frost and decorate. The cupcakes may also be frozen, unfrosted, and stored in a freezer safe bag, for up to 2 months.
For the Fresh Blueberry Buttercream:
In a small saucepan combine blueberries and lemon juice; bring to a simmer over medium heat and cook, stirring constantly and gently smashing the blueberries smooth, until thickened into a deep, dark blueberry reduction, about 10 minutes. Remove from heat. Place a fine-mesh strainer over a small bowl and push the puree though, leaving any skin/large chunks behind. Allow mixture to cool completely before using. If you'd like to have enough blueberry puree to drizzle on the cupcakes, double this recipe and set half aside for decorating.

Once the blueberry puree has cooled, place the softened butter in a large bowl or in the body of a stand mixer. Using a handheld mixer, or with the paddle attachment on your stand mixer, beat butter on medium-high (scraping down the sides as needed) until completely smooth; about 2 minutes.

Add in a 1/4 cup of the blueberry puree and beat until completely combined; about 1 minute (don't worry if the mixture looks weird at this point).

Add in the confectioners sugar, one cup at a time, on low speed. Once all of the sugar has been added, add in the cream and salt, then beat on high-speed for a full 2 minutes - this thickens up the frosting and makes it nice and fluffy.

Frost cooled cupcakes as desired.
Notes
Store cupcakes in an airtight container, in the fridge, for up to 3 days. Bring to room temperature before serving.