Lemon Raspberry Cupcakes. Very similar to this Lemon Raspberry Cake… but cuter!
Lemon Raspberry Cupcake Recipe
TGIF! What are your weekend plans? Are you doing anything fun and Summery?!
Because I leave for Paris in 6 days, it's a work weekend for this girl. My goal is to shoot 6 new recipes and hopefully even get a little editing done. That way I have plenty of new stuff to tempt you with while I'm eating my way through the city of light (or as I like to call it, the city of wine and cheese). Did I tell you I'm even taking a baking class over there? I can't wait to come home and share what I learn with you.
I also need to start packing… but knowing me I'll leave that for last minute and then have a complete meltdown.  C'est la vie!

MY RECENT VIDEOS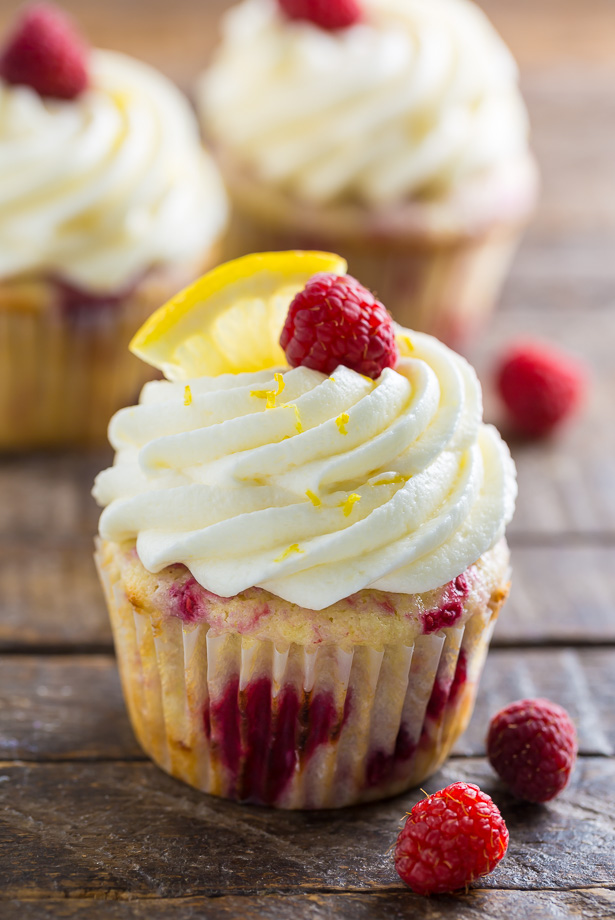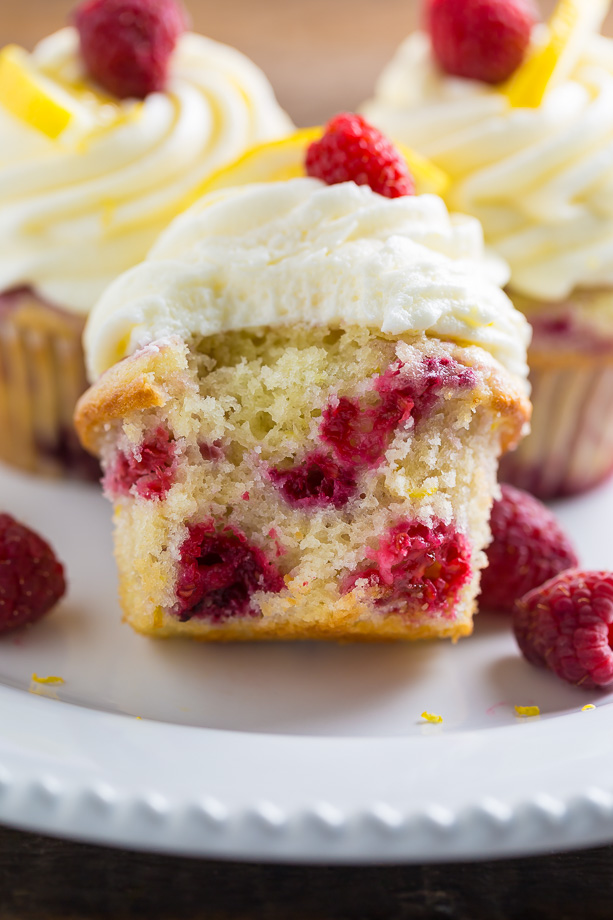 But let's talk about why you're really here: dessert! More specifically, these luscious lemon raspberry cupcakes. They're sweet, tangy, and bursting with juicy berries in every bite. I love them! And I know you will, too.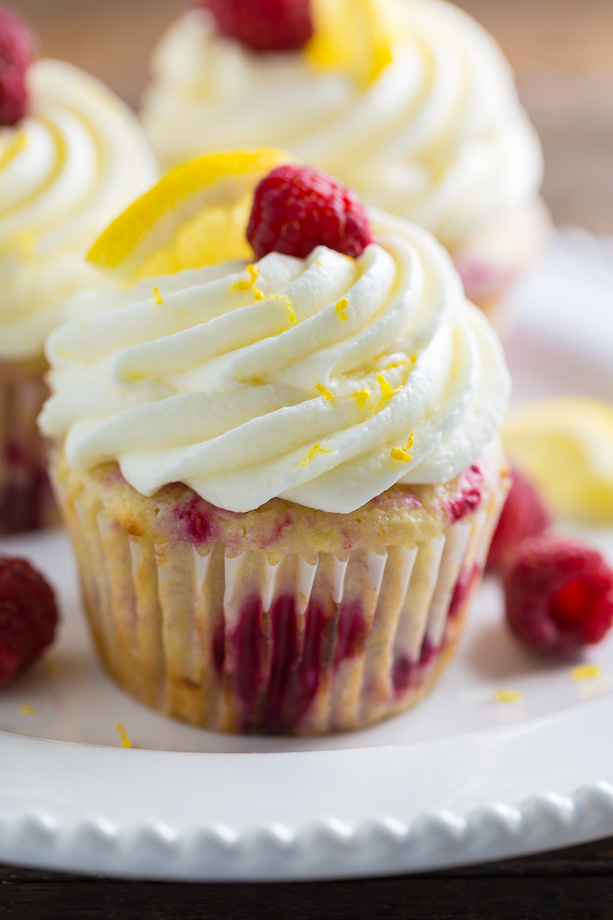 Tips and Tricks for Recipe Success:
Because we want the moistest cupcakes possible, this recipe calls for cake flour. Cake flour is extra finely ground and gives the cupcakes their extra soft texture. In most grocery stores, you'll probably find cake flour in the baking aisle. You can also buy it online here.
When you measure your cake flour, be sure you're not packing it into the measuring cup. Packed flour yields dense and dry cupcakes.
You must toss the raspberries in flour before adding them to the batter. This dusting of flour helps keep the berries afloat during the baking process, and ensures you won't bite into a cupcake full of sunken berries.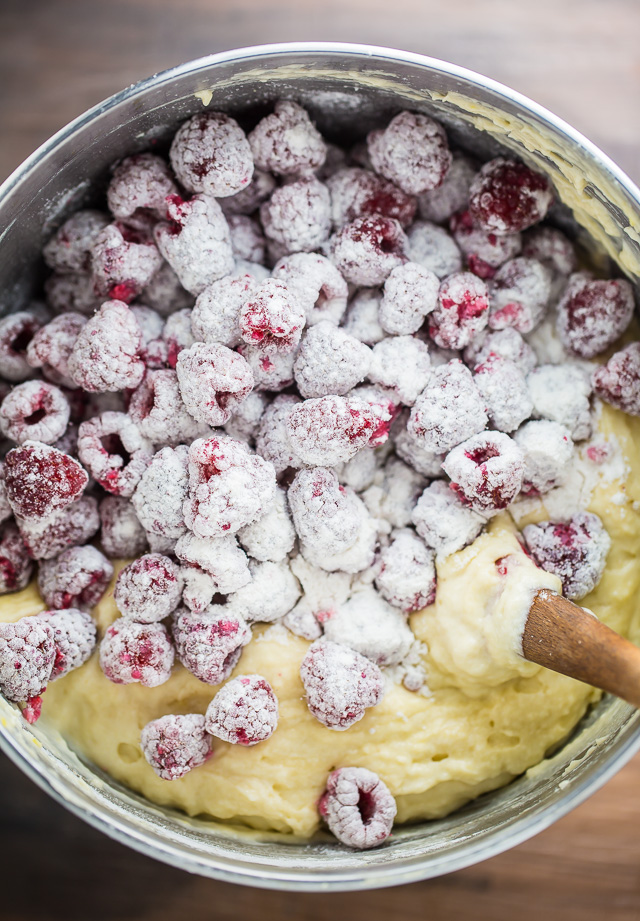 Feel free to use fresh or frozen raspberries for this recipe. If you use frozen, don't thaw them first.
I don't recommend using extremely large berries, which can cause the cupcakes to collapse or sink in the middle. So if you see any gigantic ones, just set them aside for another use.
Also, don't add more berries than called for. This too can cause the cupcakes to sink.
Before you begin baking, make sure your butter, eggs, sour cream, and milk have all come to room temperature. Cold ingredients do not bond!
For the lemon cream cheese frosting, you'll want to make sure your butter and cream cheese are both VERY soft before you make it.
Because I wanted a potent lemon flavor, I call for lemon zest, lemon juice, and lemon extract in this recipe. I love Watkins pure lemon extract because it's 

100% natural, doesn't contain any

artificial flavors, colors, or additives,

and just tastes like pure lemon.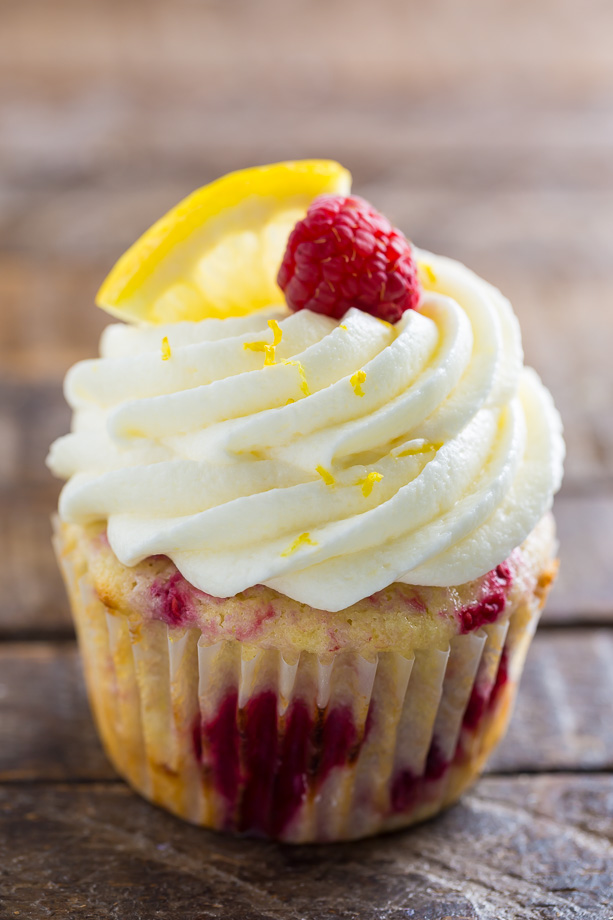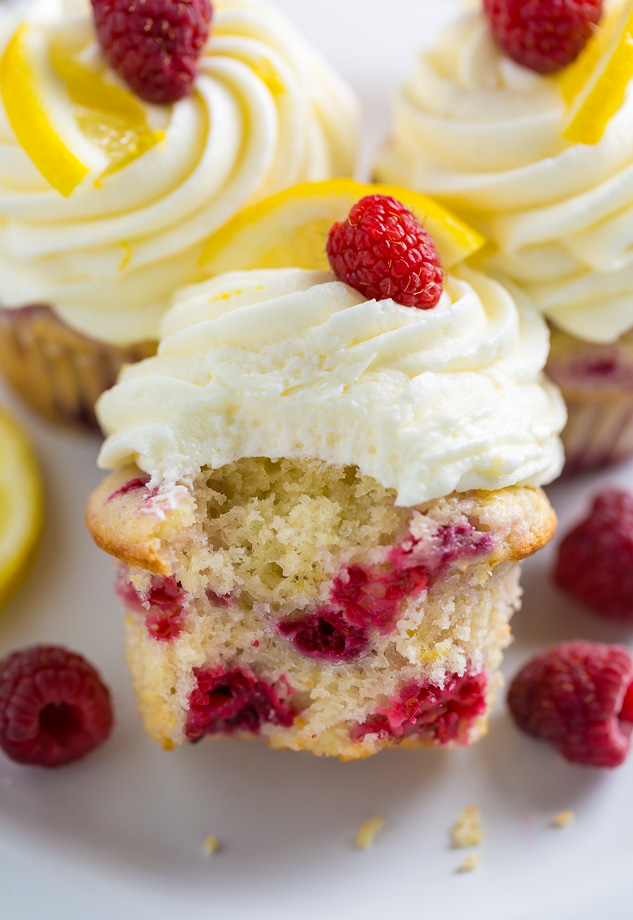 If you try this recipe for Lemon Raspberry Cupcakes, let me know what you think! Leave a comment below, and don't forget to snap a pic and tag it #bakerbynature on instagram! Seeing your creations makes my day ♥

Lemon Raspberry Cupcakes
Yield 24 cupcakes
Moist and fluffy Lemon Raspberry Cupcakes!
Ingredients
For the Lemon Raspberry Cupcakes:
2 sticks (8 ounces) unsalted butter, at room temperature
1 teaspoon vanilla extract
1/2 teaspoon lemon extract
2 cups granulated sugar
2 teaspoons lemon zest
4 large eggs, at room temperature
1 cup full-fat sour cream
1/2 cup whole milk
3 and 1/4 cups plus 3 tablespoons cake flour, divided
1 and 1/2 teaspoons baking powder
1/2 teaspoon baking soda
3/4 teaspoon salt
1 and 1/2 cups raspberries, fresh or frozen, if using frozen don't thaw first
For the Lemon Cream Cheese Frosting:
12 ounces cream cheese, VERY soft
1/2 cup unsalted butter, VERY soft
1/2 teaspoon lemon extract
4 and 1/2 cups confectioners' sugar, sifted, more if needed
2 tablespoons fresh lemon juice
1 teaspoon fresh lemon zest
Instructions
For the Lemon Raspberry Cupcakes:
Preheat oven to 350 degrees (F).
Line 2 cupcake tins with paper liners; set aside. In the bowl of a stand mixer fitted with the paddle attachment, or in a large bowl using a handheld electric mixer, beat the butter, vanilla extract, lemon extract, sugar, and lemon zest on medium-speed until light and fluffy, about 2 minutes. Add in the eggs, one at a time, beating well after each addition. On low speed, beat in the sour cream, then the milk. Turn mixer off. Add in 3 and 1/4 cups of the cake flour, baking powder, baking soda, and salt. Use a fork to lightly toss the dry ingredients together. Using a rubber spatula, gently fold the dry ingredients into the batter, mixing just until combined. Be sure not to over mix here or your cupcakes will be dense! Set aside. In a small bowl combine the remaining 3 tablespoons of flour with the raspberries; toss to coat. Using a rubber spatula, gently fold the raspberries and any excess flour into the batter, stirring just until combined. Spoon batter into prepared cupcake tins (filling each mold 3/4 of the way). Bake one pan at a time, for about 22 minutes, or until a cupcake tester inserted in the center of a cupcake comes out clean, or with just a few moist crumbs attached. Cool in the pan for 10 minutes then transfer cupcakes to a cooling rack. Cool completely before frosting.
For the Lemon Cream Cheese Frosting:
In the bowl of a stand-mixer fitted with the paddle attachment, or in a large bowl using an electric handheld mixer, beat the cream cheese, butter, and lemon extract on medium-high speed until completely smooth; about 2 minutes. Reduce the speed to low and gradually add the sifted confectioners' sugar. Add in the lemon juice and zest. Once incorporated, increase speed to medium-high and beat for 1-2 minutes. Once the cupcakes have completely cooled, spread or pipe the frosting on top of the cupcakes. Decorate with fresh raspberries and a lemon slice, if desired.
Storage:
Cupcakes are best the day they are made, but will keep, covered and stored in the fridge, for 3 days. Bring to room temperature before serving.
Courses Dessert
Cuisine Cupcakes