This Loaded Everything Bagel & Lox Pizza is brunch perfection!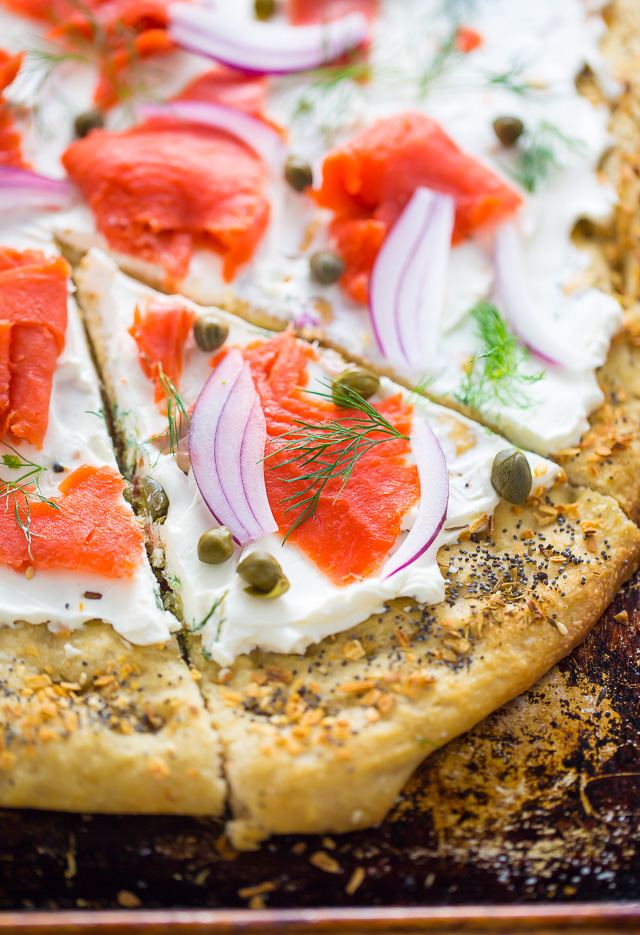 Hello brunchkins! I hope you guys are enjoying this long weekend as much as we are. It was actually close to Summer weather here yesterday, and today looks like it's shaping up to be another beauty. I'm so excited to get out there and play! What are y'all up to?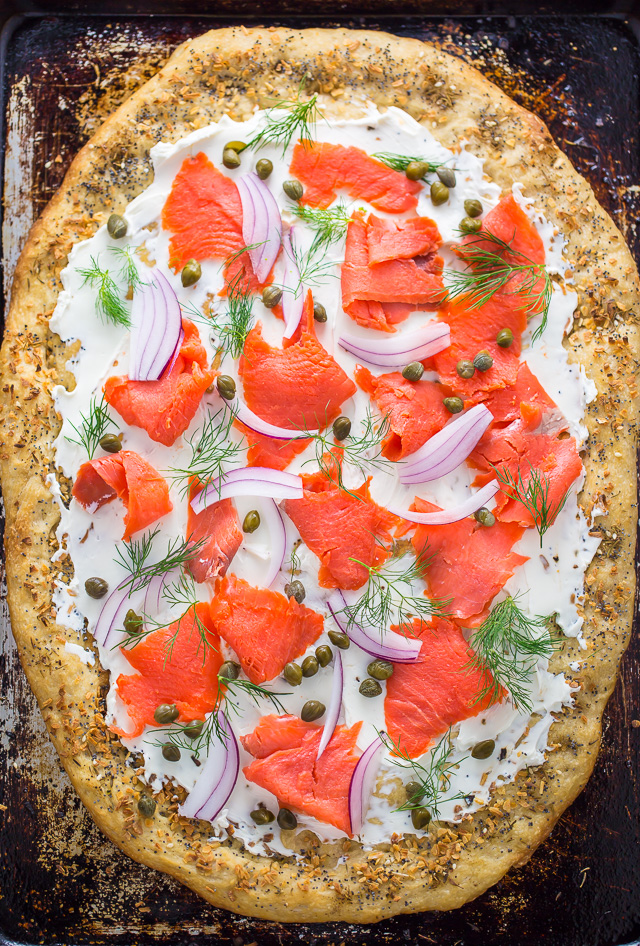 That being said, I hope you'll understand why today I'm getting straight to the point – Loaded Everything Bagel & Lox Pizza!!! It's all the goodness of an everything bagel with lox, but in pizza form. Do I need to say more?!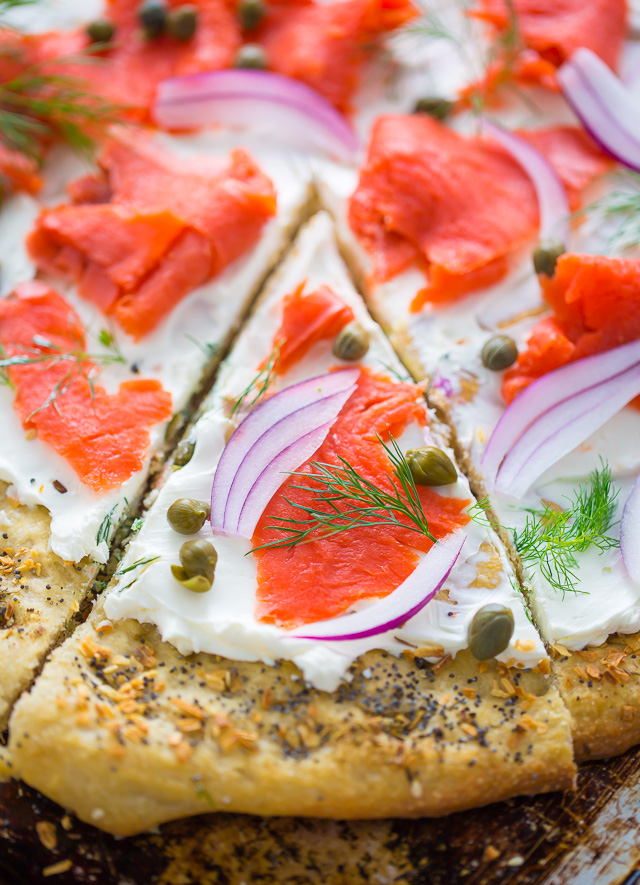 This pizza is so simple to put together, and it's a lot more fun and creative than just throwing some bagels and cream cheese on the table for your guests. Plus, it's very pretty! Even my very hungry boyfriend stopped to admire it's good looks before tearing it apart!
Ya know what we call a pizza that's pretty, easy, and brunchalicious? A total WINNER!
Happy weekend, friends!
If you try this recipe, let me know what you think! Leave a comment below, and don't forget to snap a pic and tag it #bakerbynature on instagram! Seeing your creations makes my day.
Loaded Everything Bagel & Lox Pizza
Loaded with smoked salmon, capers, red onions, and dill, this is the ultimate brunch pizza!
Ingredients
For the Crust:
3 and 3/4 cups bread flour
1 and 1/4 teaspoons sugar
1 envelope active dry yeast
2 teaspoons kosher salt
1 and 1/2 cups water, 110 - 115 degrees (F)
3 tablespoons plus 2 teaspoons olive oil, divided
1/2 teaspoon dried onion flakes
1/2 teaspoon poppy seeds
1/2 teaspoon garlic powder
1/2 tablespoon sesame seeds
For the toppings:
(1) 8 oz package cream, at room temperature
Handful fresh dill, chopped
6 ounces lox or smoked salmon
1/4 cup thinly sliced red onions
2 tablespoons capers
Instructions
For the Crust:
In the bowl of a stand mixer fitted with the dough hook, combine the bread flour, sugar, yeast and salt; stir to combine.

Turn mixer on low speed and add the water and 2 tablespoons of the oil; beat until the dough forms into a ball around the hook. If the dough is super sticky, add additional flour, 1 tablespoon at a time, until the dough comes together in a solid ball. If the dough is too dry, add additional water, 1 tablespoon at a time.

Scrape the dough onto a lightly floured surface and gently knead into a smooth, firm ball.

Grease a large bowl with 2 teaspoons of olive oil, add the dough, and cover the bowl with plastic wrap. Place the bowl in a warm area and let it double in size, about 90 minutes.

Turn the dough out onto a lightly floured surface and divide it into 2 equal pieces. Wrap one dough well in saran wrap and place in the freezer for a later use.

Place the dough you'll be using on a piece of plastic wrap and let it rest for 10 minutes.
Assembly:
Preheat oven to 450 degrees (F). Lightly oil pizza pan and set aside. Roll dough out to desired shape. Brush the dough with the remaining 1 tablespoon of olive oil, then sprinkle with onion flakes, poppy seeds, garlic powder and sesame seeds. Use a fork to piece the crust lightly (this helps prevent bubbling),then bake for 12-14 minutes, or until the crust is golden brown.

While the crust is baking, make your scallion cream cheese! In a the body of a blender or stand mixer beat cream cheese until light and fluffy, about 2 minutes. Add dill and beat for another minute or so.

Cool cooked pizza dough for at least 5 minutes, then spread the dill cream cheese evenly on top, leaving a one inch boarder as the crust. Layer the smoked salmon evenly around the pizza, then add onions, capers, and a few sprigs of dill. Cut into pieces, and serve at once! Keep pizza chilled if not serving right away.