This Mexican Chopped Tostada Salad is loaded with fresh and healthy ingredients! Kind of like crunchy tacos… but in salad form! Always a crowd-pleaser!
Mexican Tostada Salad
This salad is so fresh, filling, and flipping fantastic!
Isn't is amazing how healthy food can be so damn good sometimes!? Seriously. I see you rolling your eyes. It's cool. Go on and don't believe me… I can take it! But I promise – this salad is a total babe. And when you make, you won't be sorry! I pretty much shoveled all 3 pounds of it down in seconds. Not pretty. Totally true.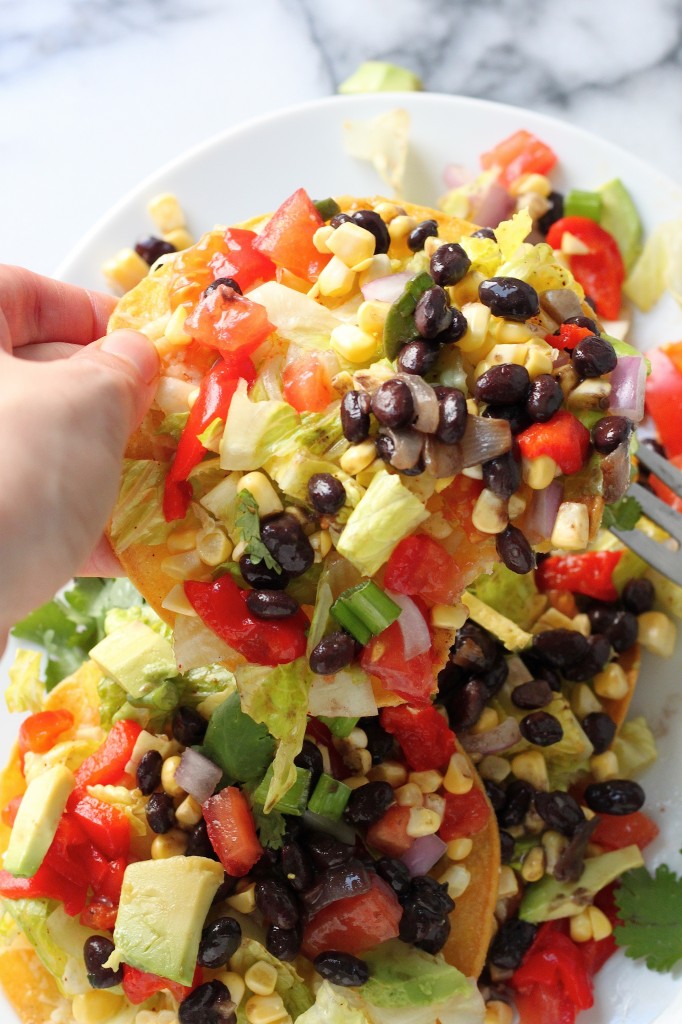 This salad begins with crispy, cheesy, utterly indulgent tortillas. You should easily be able to find corn tortillas in your local grocery store, and all you do to turn them into crunchy cheesy wonders is bake them up in the oven for about 12 minutes – covered in cheese, of course! I used manchego, which I love. But I think cheddar would be scrumptious, too. Feel free to get adventurous here!
On top of the tostadas goes a giant, gorgeous mound of veggies! Eating a mountain of veggies just feels good. The fact that it also tastes good is a major life win.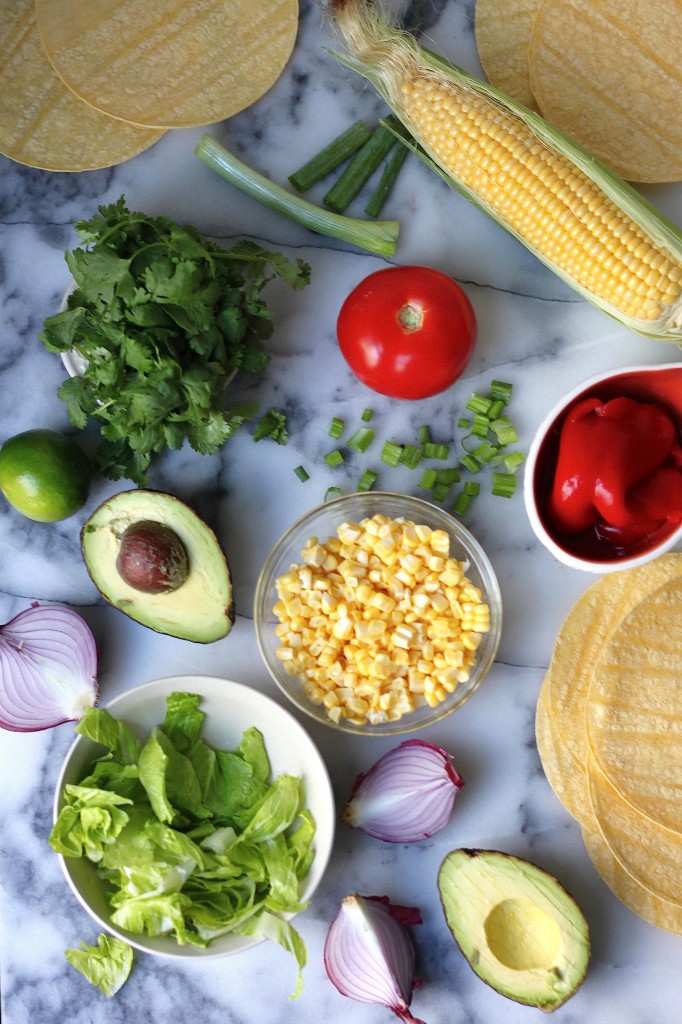 The veggies consist of shredded lettuce, chopped tomatoes, red onion, cilantro, freshly shucked corn, creamy avocado, and roasted piquillo peppers. So bright! And full of taste and texture. I especially love the corn // avocado contrast. Creamy meets crunchy… it's a dream.
The final step in this salad adventure is our beans. I love black beans, and I quickly cooked these with a little onion, garlic, and jalapeño pepper. The results? Flavor that won't stop! These may be the best beans ever. I suggest piling them on!!!
As you may have noticed this salad does not, as written, contain any real dressing. The lettuce is simply tossed in lime juice, olive oil, and a dash of chili powder, and the other vegetables have such natural beauty I didn't want to mask them with other flavors. However if you're really into dressing, I think a little drizzle of sour cream could be lovely! Just be sure to taste it as is first. There's a whole lot of awesome already happening 😉 xoxo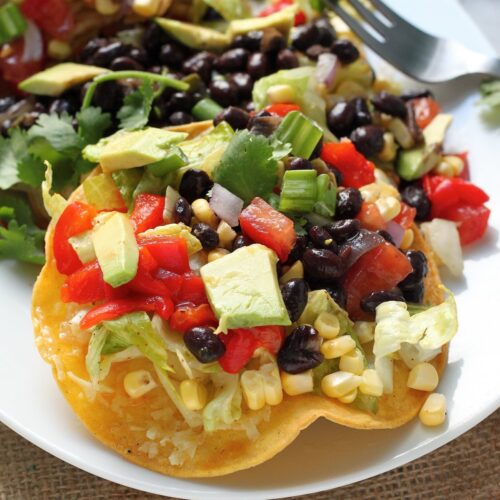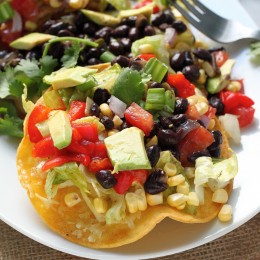 Mexican Chopped Tostada Salad
This Mexican Chopped Tostada Salad is loaded with fresh and healthy ingredients! Kind of like crunchy tacos... but in salad form! Always a crowd-pleaser!
Ingredients
6 corn tortillas
3 tablespoons olive oil; divided
1 cup manchego cheese, shredded (feel free to sub whatever kind of cheese you like here, or leave it out for a vegan salad)
1 small head romaine lettuce, shredded
1/4 teaspoon chili powder
1 small lime, juiced
1 small tomato, diced
1 medium red onion, diced; divided
2 piquillo peppers, diced
1 large ripe avocado, pitted and diced
1/2 cup cilantro, 3 full springs and the rest finely chopped; divided
2 ears corn, shucked and chopped
(1) 15 ounce can black beans, NOT drained (you want those juices!)
1/2 jalapeño pepper, minced
2 cloves garlic, minced
Salt and pepper, to taste
2 scallions, chopped
*Sour cream, optional
Instructions
For the tortillas:
Preheat oven to 400 degrees (F). Line a large baking sheet with parchment paper; set aside.

In an even layer spread tortillas on prepared baking sheet, and brush both sides light with olive oil.

Place in the oven to bake for 10 minutes. While they're baking, grate your cheese!

Remove pan from oven, and evenly distribute the shredded cheese over the tortillas. Return to the oven to bake for 3-4 minutes, or until the cheese is melted and bubbling.
For the salad:
In a large bowl toss the romain lettuce with 1 tablespoon of olive oil, lime juice, and chili powder. Add salt and pepper to taste.
For the black beans:
In a small saucepan heat 1 tablespoon of olive oil over medium flame. Add 1/2 of the diced onion and the jalapeño and sauté for 5 minutes. Add the garlic and cook for another minute, or until fragrant. Add beans with their liquid and 3 sprigs of cilantro. Cook on low for another 5 minutes. Season with salt and pepper.
Assembly:
Place tortillas on a large serving platter, or individual plates. Top each tortilla with a little lettuce, tomato, red onion, pepper, avocado, cilantro, and corn. Top the salad with warm black beans and scallions. Serve at once!