Say goodbye to boring salads and hello to this big Italian chopped salad recipe! Simply add the chopped salad ingredients into a large bowl, drizzle with homemade Italian vinaigrette, and toss. So easy, this makes a great main course or side salad!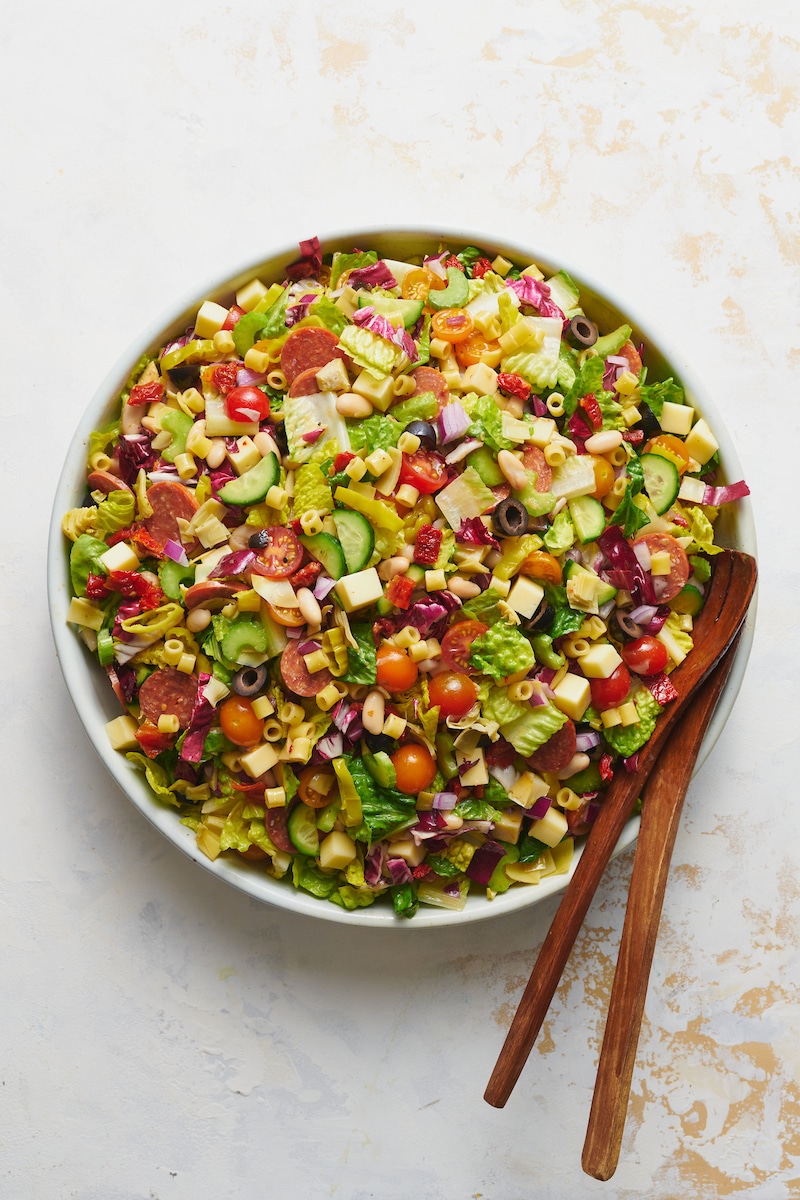 Italian Chopped Salad
Everyone needs a go-to salad recipe, and this is mine! It's crunchy, fresh, and couldn't be easier. You literally just chop up all of the ingredients and mix them with the homemade Italian dressing and viola! You have the most delicious crowd-pleasing Italian salad ever!
Seriously… this is so flavorful and satisfying you kind of forget you're even eating a salad. Which is always a good thing, right?!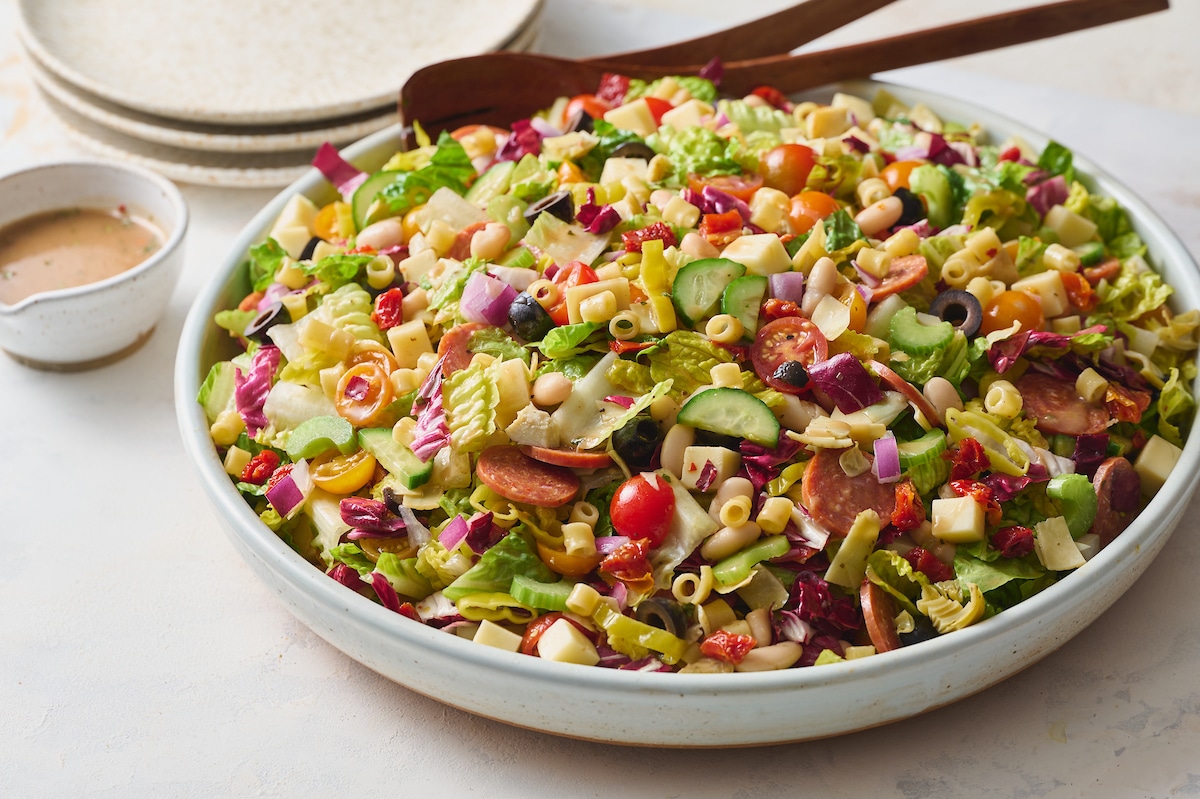 Unlike 99.9% of the recipes I share, this one is pretty adaptable! So while the salad will taste best made with all of the recommended ingredients, feel free to adapt to suit your tastes. You can even make some additions if you want.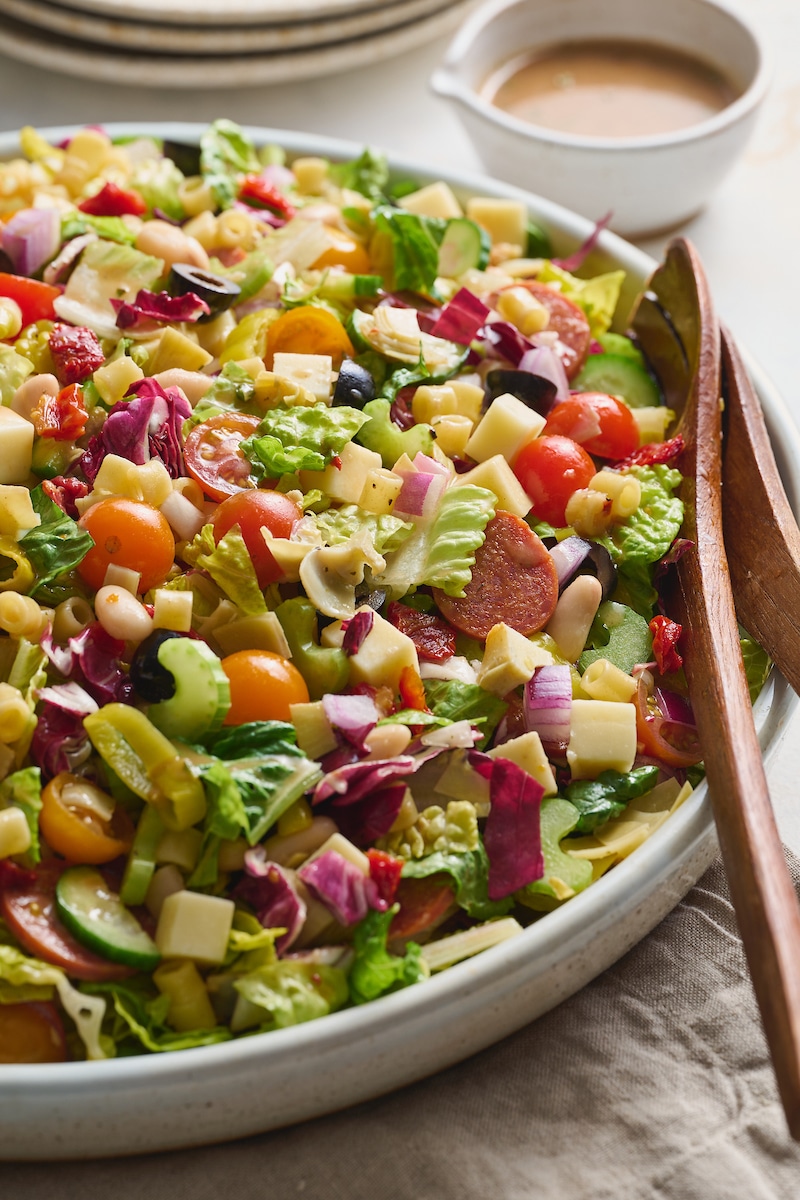 Craving more crunch? Try adding diced bell peppers or a handful of homemade croutons. Want more cheese? Add grated Parmesan cheese! No pepperoni? Swap it for salami.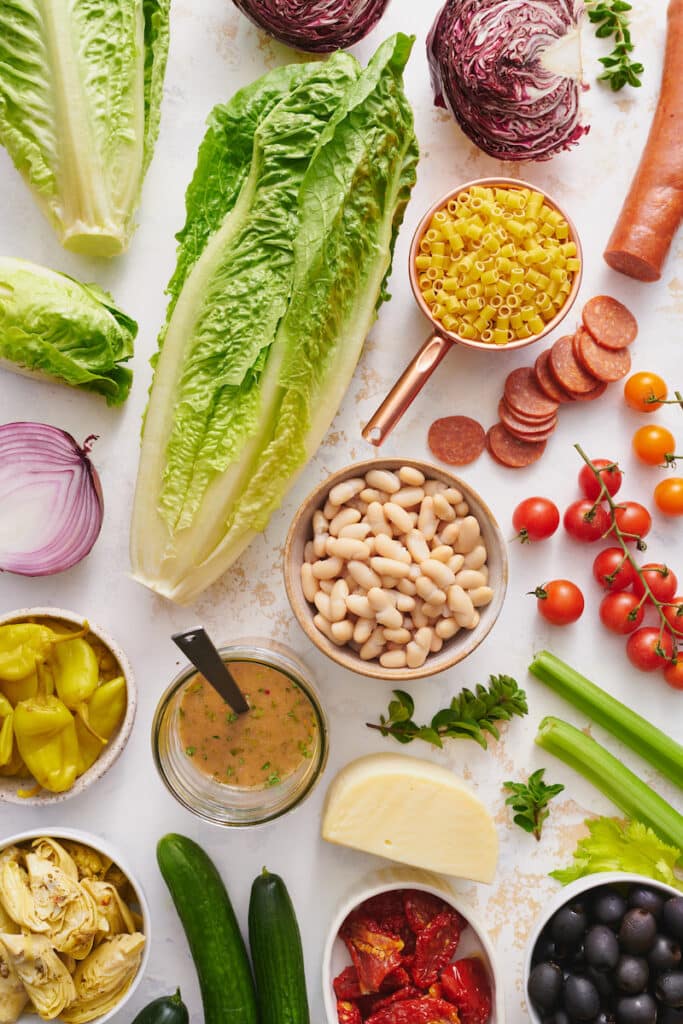 Ingredients for Italian Salad
Lettuce: Romaine lettuce hearts and radicchio make up our crunchy, fresh, delicious salad base. Not a fan of radicchio? Leave it out and add an extra romaine heart!
Pasta: This is NOT a pasta salad. But a small amount of pasta adds an unexpected texture! And makes this salad hearty enough to be a meal on its own. We love ditalini, but orzo will also work fine.
Celery: Thinly sliced, this adds crunch and a subtle sweet freshness you'll absolutely love. May be omitted if desired!
Cherry Tomatoes: Look for juicy ones! Dry tomatoes are the bane of my existence and should never be used in a salad.
Red Onion: But if you prefer another variety of onion, go for it!
Cannellini Beans: Be sure you drain these well, give them a good rinse, and then pat them dry before adding them into the salad. If you can't find this variety of bean, try another variety of white beans.
Sun-Dried Tomatoes: These add so much delicious flavor and texture! Just be sure to use the oil marinated variety, which work best here.
Marinated Artichoke Hearts: You don't need to pat the oil off of these, just chop and toss them right in! Not a fan? Feel free to leave them out.
Black Olives: Another great options is castelvetrano olives, which are more mild and buttery than black olives!
Pepperoncini Peppers: Salty, pickled, and crunchy… these add so much to this salad. Banana peppers would make a fine replacement if need be.
Pepperoni: I like to use a stick of pepperoni and cut it into chunks, but feel free to cut ribbons with deli pepperoni or use salami instead.
Sharp Provolone Cheese: If you can't find this, feel free to use chunks of fontina, crumbled gorgonzola, or those yummy marinated mini mozzarella balls.
Cucumber: I like to use English or Persian cucumbers here for extra crunch and freshness, but a regular cucumber (peeled) will work.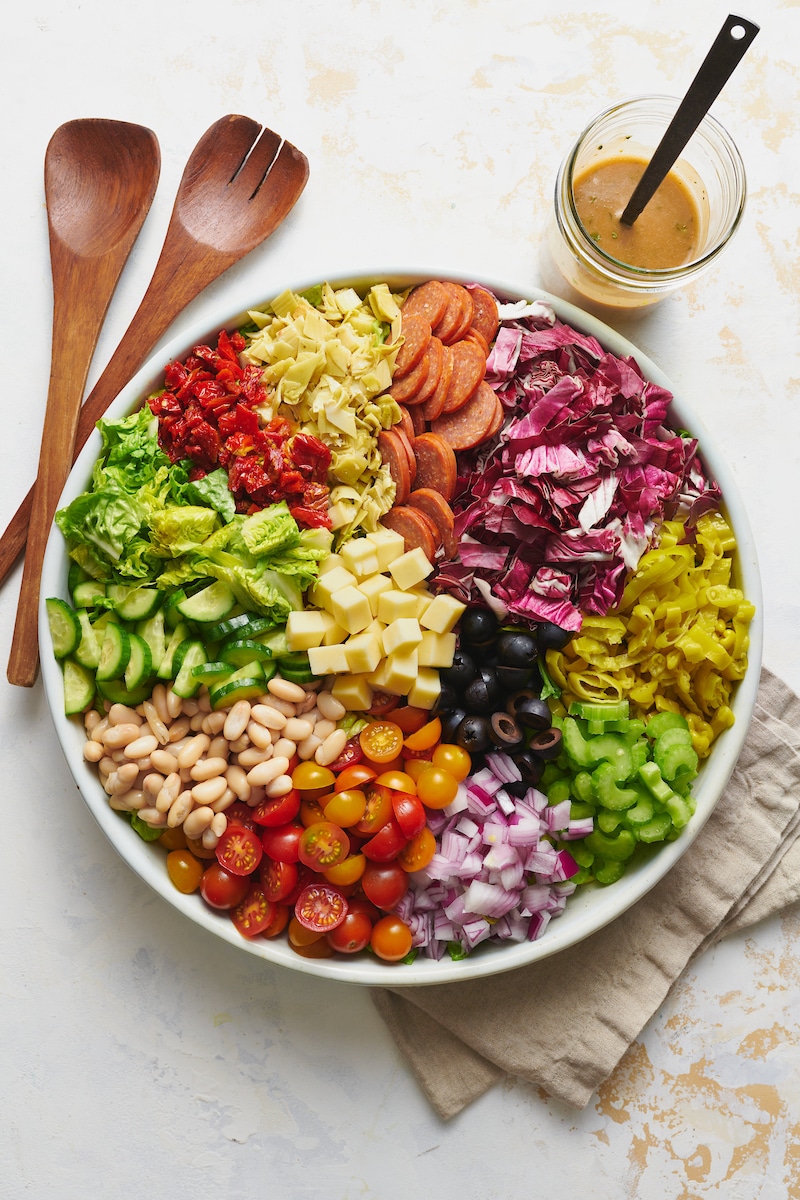 Can I make this ahead of time?
Absolutely! Although "making" this recipe is very easy, chopping up all of the ingredients can be time consuming. So you may absolutely pre-chop everything and toss, then place in the fridge for up to 4 hours. DO NOT ADD ANY SALAD DRESSING!
You'll want to wait to add the dressing until right before you plan on serving. And even then I suggest adding part of the dressing, then drizzling on more if desired. Because while everyone loves a well dressed salad… almost no one loves a soggy one.
Make the Dressing!
This is literally our "house salad dressing" because it's so easy, delicious, and adaptable. Simply combine olive oil, red wine vinegar, honey, mustard, garlic, oregano, salt, pepper, and pepper flakes and mix until well combined.
I really don't suggest using dried oregano in place of fresh, but if you must, reduce the amount to 1/4 teaspoon! Do not sub garlic powder for fresh garlic.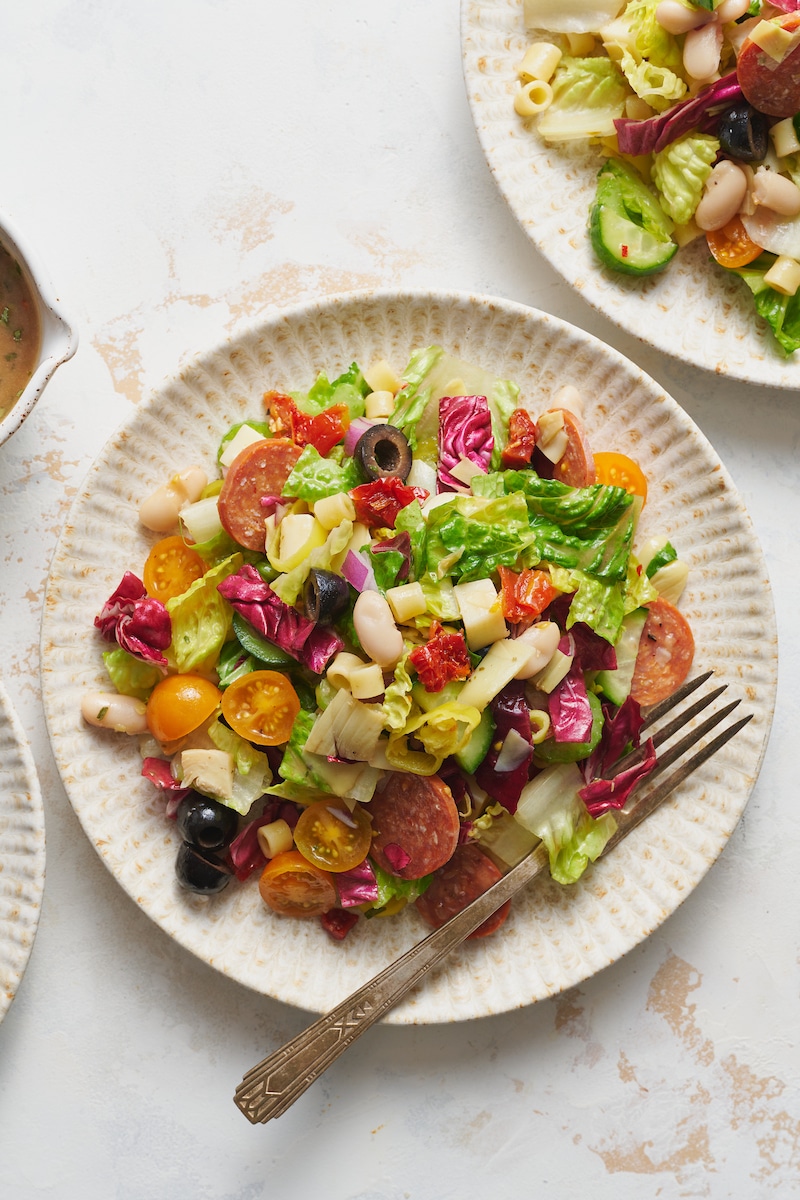 Classic Italian Recipes to Serve it With: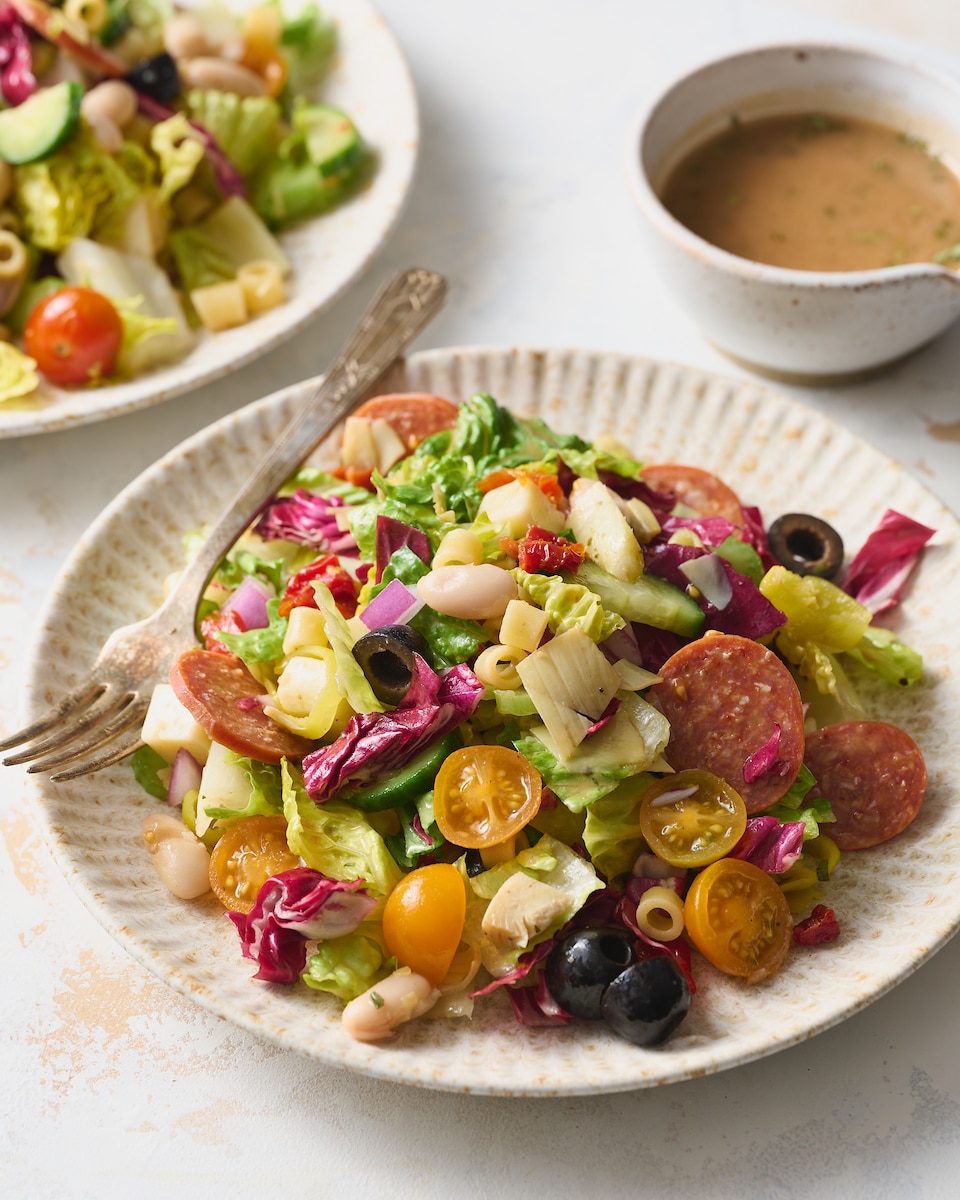 More Italian Salad Recipes: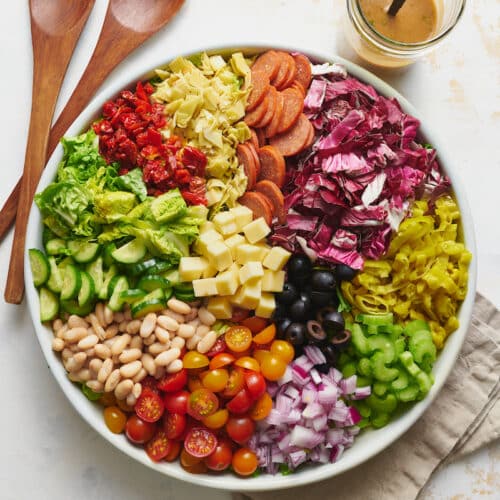 Big Italian Chopped Salad
You won't believe how easy and delicious this Italian salad recipe is! Simply toss all of the chopped salad ingredients in a large bowl, drizzle on some of the insanely delicious homemade Italian vinaigrette, toss, and serve. Serve as a main course or as a side salad!
Ingredients
For the Italian Dressing:
1/2 cup (113ml) Italian olive oil
1/3 cup (76ml) red wine vinegar
1 and 1/2 Tablespoons (38ml) honey
2 teaspoons dijon mustard
2 cloves garlic minced
1 teaspoon fresh oregano minced
1 teaspoon fine sea salt more to taste
1/2 teaspoon freshly cracked black pepper
1/4 teaspoon crushed red pepper flakes optional
For the Salad:
1 cup ditalini pasta cooked to al dente and cooled
2 hearts romaine lettuce chopped
1 small radicchio chopped
2 celery ribs thinly sliced
1 pint cherry tomatoes cut in half
1 small red onion diced
1 15 ounce can cannellini beans drained, rinsed, and patted dry
1 cup oil-packed sun-dried tomato halves drained and chopped
1 6.5 ounce jar marinated artichoke hearts drained and chopped
1/2 cup black olives cut in half
1/2 cup pepperoncini sliced into rings
8 ounces pepperoni cut into rounds
8 ounces sharp provolone cheese cut into bite-sized cubes
1 cup chopped cucumber
Instructions
For the Italian Dressing:
In a medium bowl, combine the oil, vinegar, honey, mustard, garlic, oregano, salt, pepper, and pepper flakes. Vigorously whisk until well combined.
For the Salad:
In a large salad bowl combine all of the ingredients.

 Pour 3/4 of the dressing over the salad and toss until well coated. Add more dressing as desired. Serve at once!