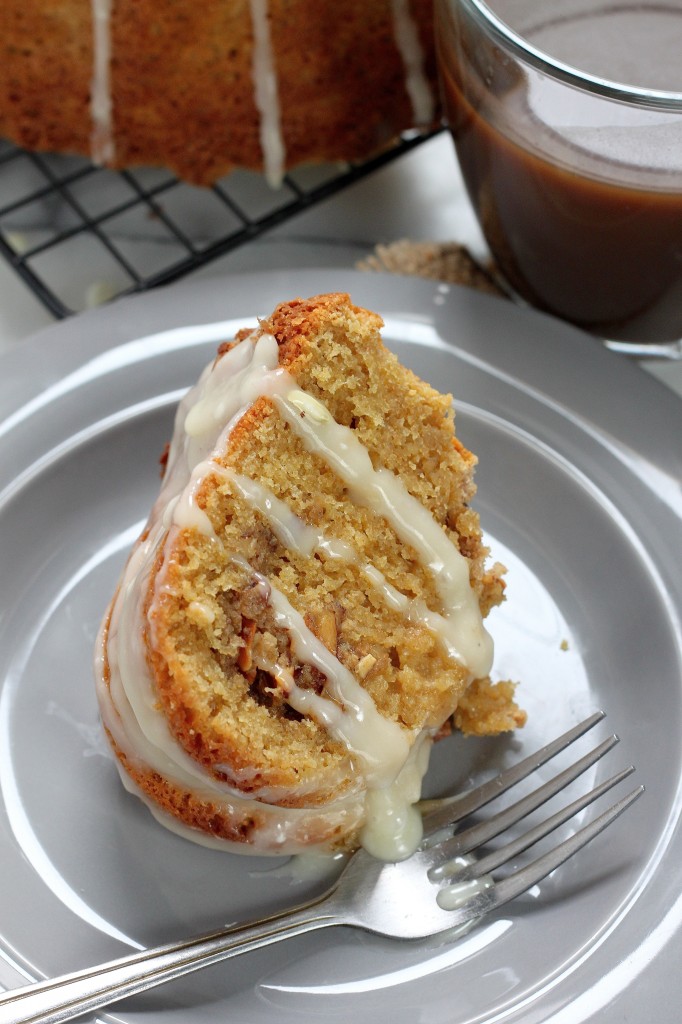 You guys, the beginning of this month was a doozy! First, there was the foot incident. Then that whole pneumonia thing swept in and took over. And on top of it all, I had some major Spring cleaning to attend to. Have, actually. I have some major Spring cleaning to attend to. Our closet… you don't even wanna know. But you know what the great thing is about roadblocks and hard times? They totally make you see the small but shining silver linings! And I'm so grateful for them. And you. Yes. You! You guys have totally made these tough few weeks feel like gravy. Thank you for that!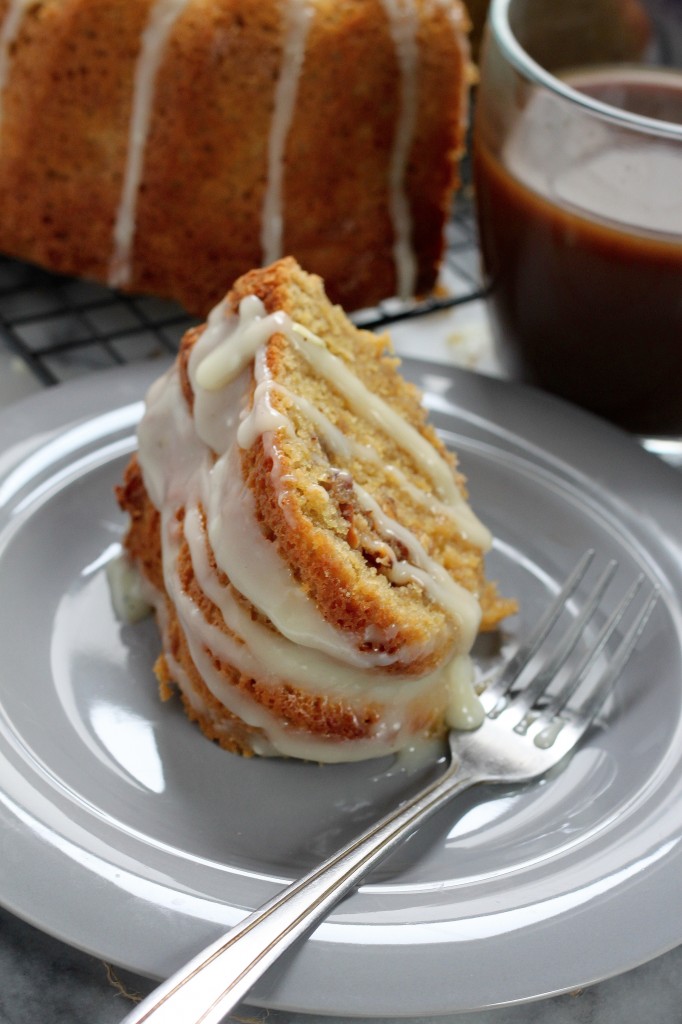 And since words are only words, I also made you a little something something to show my appreciation 🙂 CAKE! Of course. A sweet little Meyer Lemon Coffee Cake that's been lightened up and made with whole wheat flour… so it can be extra naughty and rock a white chocolate glaze! The glaze = to die for. I may or may not still be licking it off my fingers as I type this. TMI…?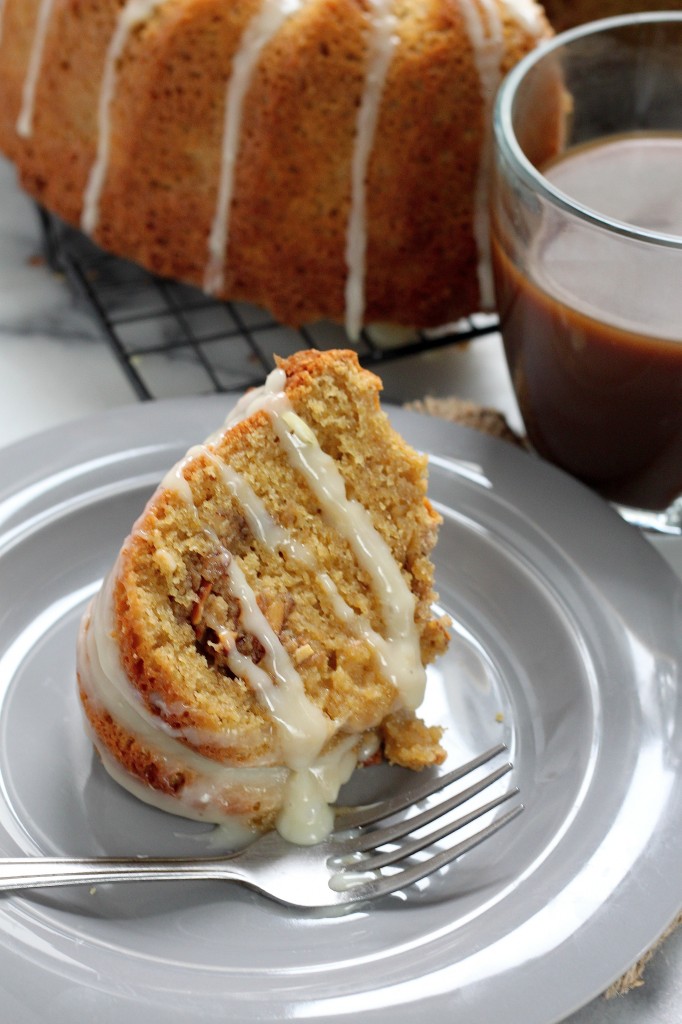 This cake is moist, tender, and made completely with whole wheat flour! The batter is also laced with meyer lemon zest and a gorgeous brown sugar – pecan swirl. Swoon!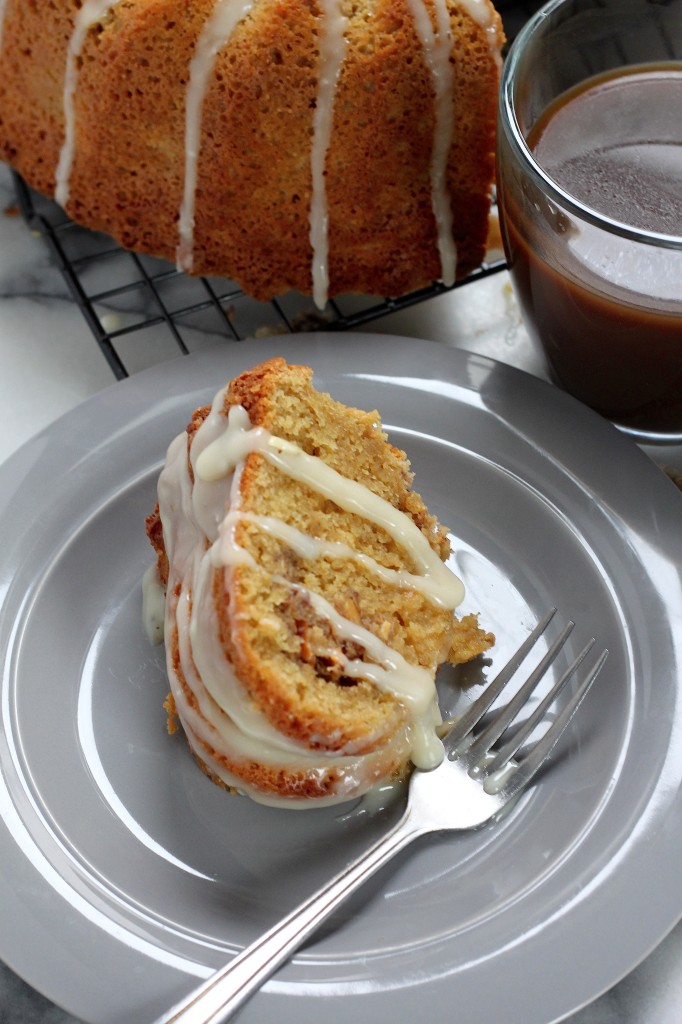 Once baked and cooled (your kitchen smells amazing at this point), all you need to do is refrain from eating it a few more minutes (SO hard) and drizzle on that light and lovely white chocolate glaze! It's just a simple combination of white chocolate chips and meyer lemon juice, but it works wonders.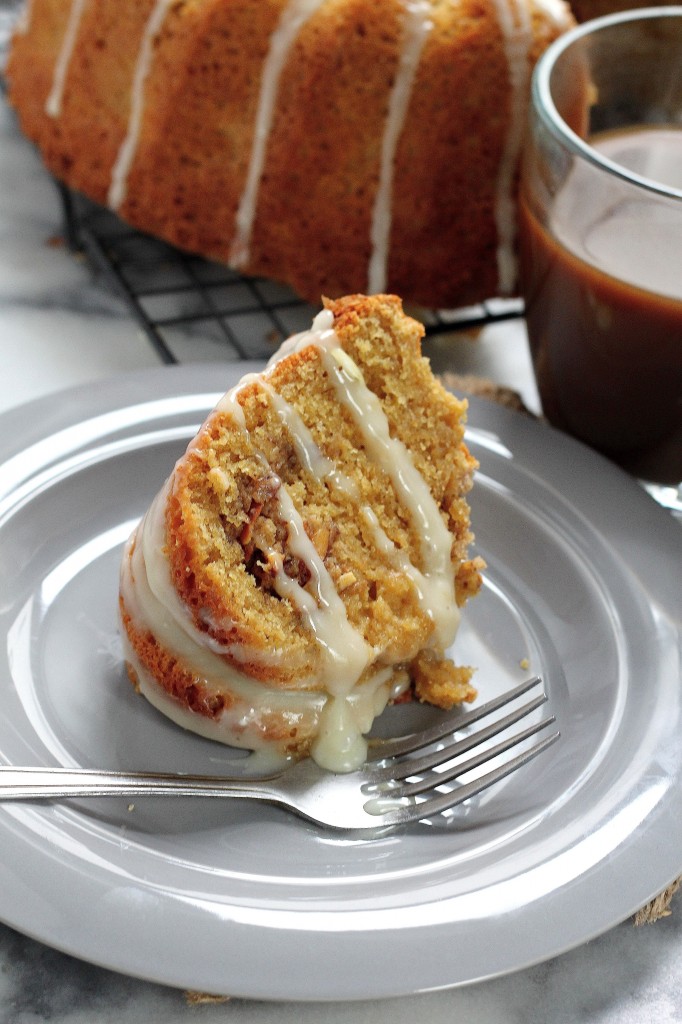 This vibrant Spring cake would be gorgeous on any dessert table, but I think it would be especially wonderful for Easter or a fancy brunch! And of course, if you're a coffee lover, you must have a fresh cup with your slice. Which reminds me… I need coffee and cake like 5 minutes ago 😉 See y'all later xoxo
Meyer Lemon Coffee Cake
Ingredients
12 tablespoons (1 1/2 sticks) unsalted butter, at room temperature
1 cup granulated sugar
1/2 cup brown sugar
1 teaspoon meyer lemon zest
4 large eggs at room temperature
2 teaspoons pure vanilla extract
1 1/4 cups sour cream
2 1/2 cups whole wheat flour
2 teaspoons baking powder
1/2 teaspoon baking soda
1 teaspoon kosher salt
For the streusel:
1/4 cup light brown sugar, packed
1/2 cup whole wheat flour
1/2 teaspoons ground cinnamon
1/2 teaspoon ground ginger
1/4 teaspoon kosher salt
3 tablespoons cold unsalted butter, cut into pieces
3/4 cup chopped pecans
For the glaze:
1/2 cup white chocolate chips
2 tablespoons meyer lemon juice
Instructions
Preheat the oven to 350 degrees (F). Grease and flour a bundt pan.

In the bowl of an electric mixer fitted with the paddle attachment cream the butter, sugars, and lemon zest together for 4 to 5 minutes, or until light and fluffy.

Add the eggs 1 at a time, then add the vanilla and sour cream.

In a separate bowl, mix together the flour, baking powder, baking soda, and salt. With the mixer on low, add the flour mixture to the batter until just combined. Finish stirring with a spatula to be sure the batter is completely combined and there are no large pockets of dry ingredients.
For the streusel:
Place the brown sugar, flour, cinnamon, ginger, salt, and butter in a bowl and lightly pinch together with your fingers until it forms a crumble. Mix in the walnuts.
Assembly:
Spoon half of the batter into the prepared pan and spread it out with a spatula. Sprinkle 3/4 cup of the streusel on top. Spoon the remaining batter into the pan, spread it out, and scatter the remaining streusel on top. Bake for about 60 minutes, or until a cake tester comes out clean.

Let cake cool a few minutes in the pan, then on a wire rack for at least 30 minutes.

When ready to serve, carefully transfer the cake, streusel side up, onto a serving plate.

Combine the white chocolate chips and lemon juice in a small bowl and melt in the microwave on low until chips and lemon juice can easily be whisked together. Using a fork drizzle over cake before serving.