Coffee lovers will go crazy for these Espresso Chocolate Chunk Brownies! They're thick, fudgy, and loaded with rich chocolate espresso flavor. One of our favorite brownie recipes and always a crowd-pleaser!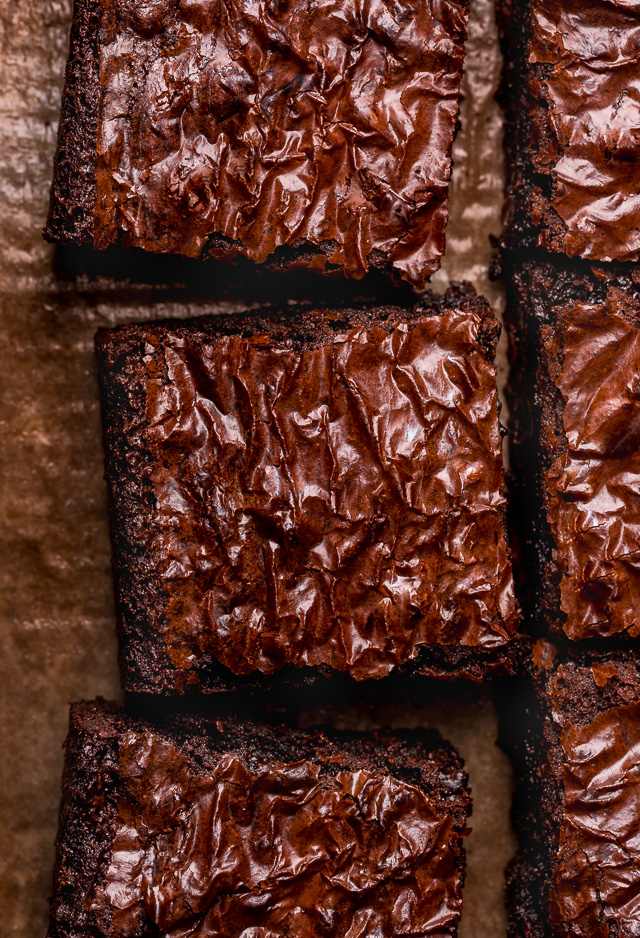 Espresso Brownies
I'm combining two of my favorite things today: espresso and CHOCOLATE. Or maybe I should say three… because BROWNIES!!!
These Espresso Chocolate Chunk Brownies are insane! They're chewy at the edges, gooey in the middle, LOADED with chocolate chunks, and spiked with a good dash of espresso powder. These brownies are basically love in a baking pan! Especially if coffee and chocolate are your love language.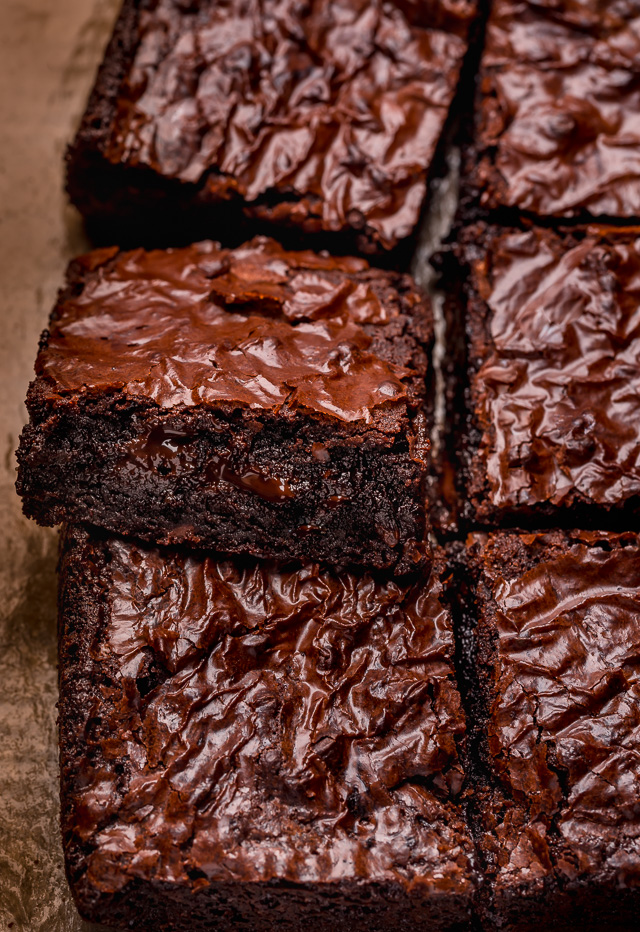 Tips and Tricks for Recipe Success:
Don't skip the espresso powder! It helps enhance the flavor of the chocolate without adding an intense coffee flavor. If you're on the market for a new jar, I highly recommend King Arthur Flour Espresso Powder, which is what I use in all of my chocolate desserts.
I recommend using high-quality chocolate for this recipe. Since there are only a few ingredients, each one really shines through. I used Lindt 70% chocolate, but use any brand you know and trust. Just be sure not to use chocolate chips, which have inferior flavor and texture for a recipe like this.
You can buy chocolate chunks in the baking aisle at most grocery stores, or you can buy bars of chocolate and chop them into chunks for yourself.
Be sure you don't over bake the brownies! They should not be liquid when you pull them out of the oven, but don't be afraid if they have a little jiggle in the middle. The brownies will firm up as they cool. Over baked brownies will not be fudgy.
Allow your brownies to cool COMPLETELY IN THE PAN before slicing. This takes about 2 hours. Sorry for the shouting, but this step is so important. Annoying… but important!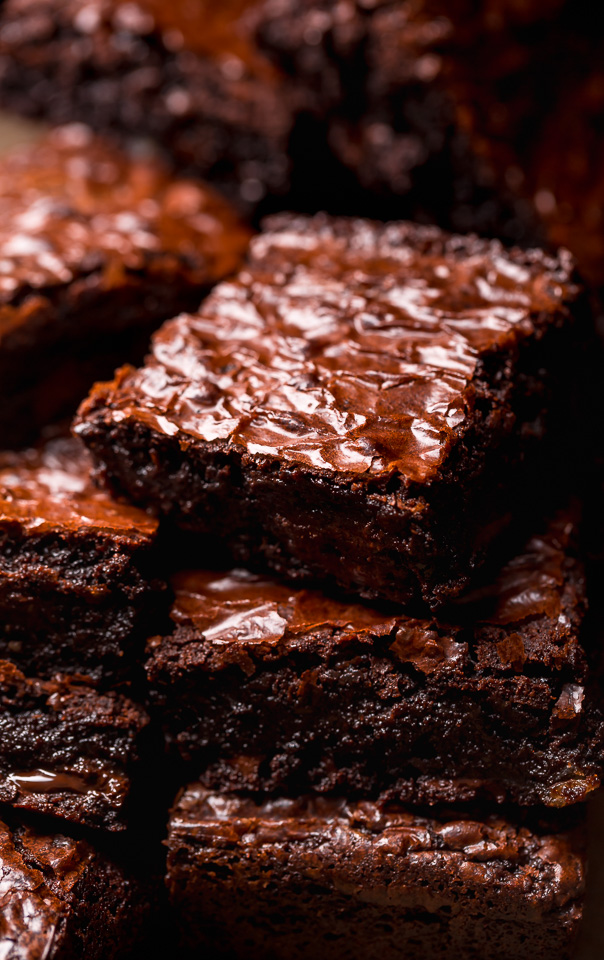 Nothing compares to the intoxicating smell of freshly baked brownies! Give these espresso chocolate chunk brownies a try and let me know what you think 🙂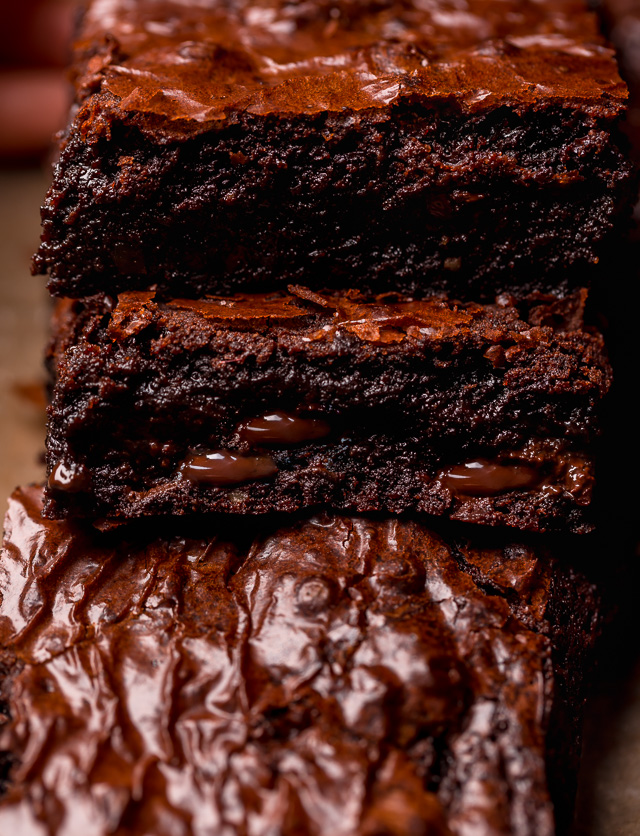 More Brownie Recipes:
And if you try these Espresso Chocolate Chunk Brownies, let me know what you think! Leave a comment below, and don't forget to snap a pic and tag it #bakerbynature on instagram! Seeing your creations makes my day ♥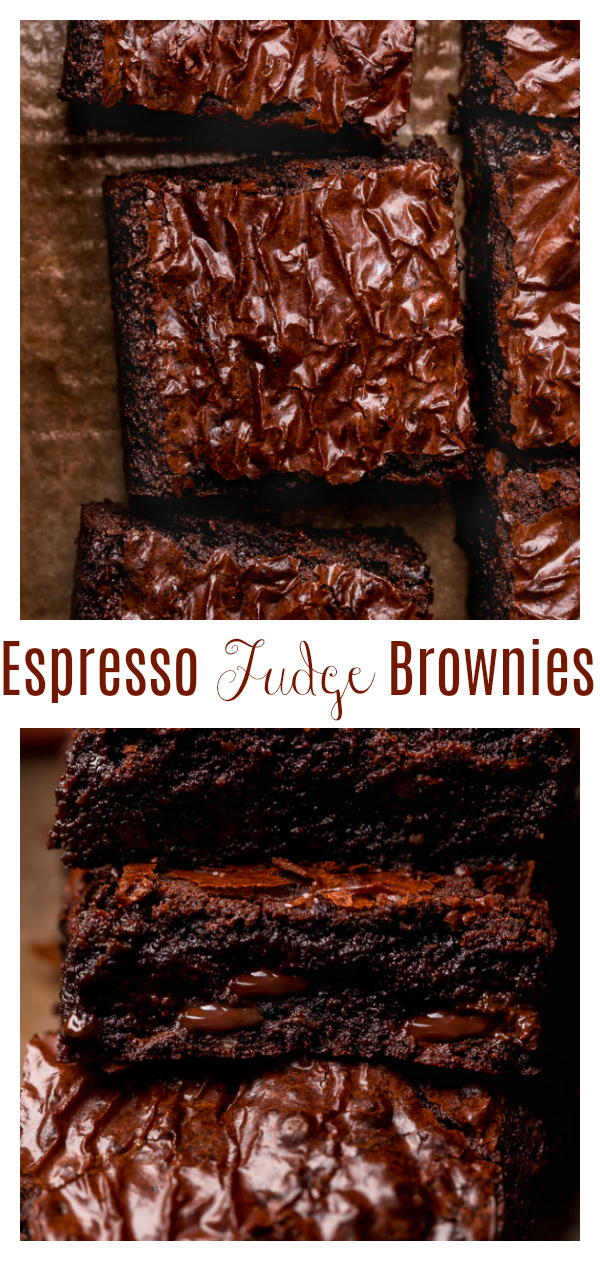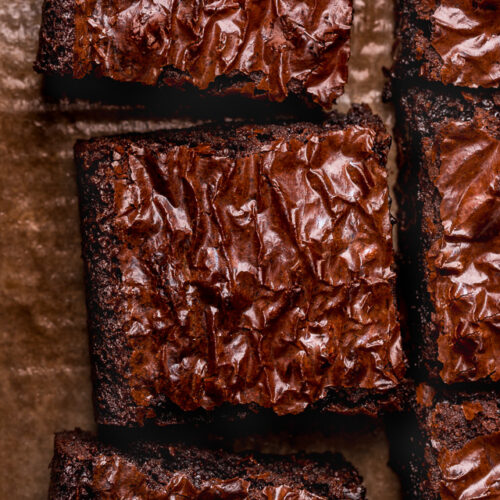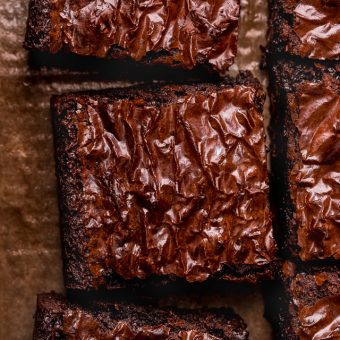 Espresso Chocolate Chunk Brownies
Coffee lovers will go crazy for these Espresso Chocolate Chunk Brownies! They're thick, fudgy, and loaded with rich chocolate espresso flavor. One of our favorite brownie recipes and always a crowd-pleaser!
Ingredients
1 and 1/4 cups all-purpose flour
1/4 teaspoon salt
2 and 1/2 tablespoons unsweetened cocoa powder
12 ounces semi-sweet chocolate, roughly chopped
1 cup unsalted butter, cut into small cubes
3 teaspoons instant espresso powder
2 cups granulated sugar
5 eggs, at room temperature, lightly beaten
1 tablespoon vanilla extract
2 cups chocolate chunks
Instructions
Preheat oven to 350 degrees (F). Line a 9×13-inch baking pan with parchment paper and lightly spray the paper, and any exposed pan, with non-stick baking spray. You can also butter the paper and pan if need be. Set aside.

In a medium bowl, combine the flour, salt, and cocoa powder; whisk well and set aside.

Place the semi-sweet chocolate, butter and instant espresso powder in a large bowl and set it over a saucepan of simmering water, stirring occasionally, until the chocolate and butter are completely melted and smooth. 

Turn off the heat, keeping the bowl over the water and add the sugar. Whisk until completely combined, then remove the bowl from the pan. The mixture should be room temperature.

Add the beaten eggs into the batter and whisk until just combined. Add in the vanilla. Do not overbeat the batter at this stage or your brownies will be cakey. Sprinkle the flour mixture over the chocolate mixture. Using a rubber spatula (not a whisk), fold the flour mixture into the chocolate until just a bit of the flour mixture is visible. Fold in the chocolate chunks.

Pour the batter into the prepared pan and smooth the top. Bake in the center of the oven for 30 to 35 minutes, rotating the pan halfway through the baking time, or until a toothpick inserted into the center of the brownies comes out with a few moist crumbs sticking to it.

Let the brownies cool completely in the baking pan, then lift them out of the pan using the parchment paper. Cut into squares and serve.
Notes
Store at room temperature in an airtight container or wrap with plastic wrap for up to 3 days.