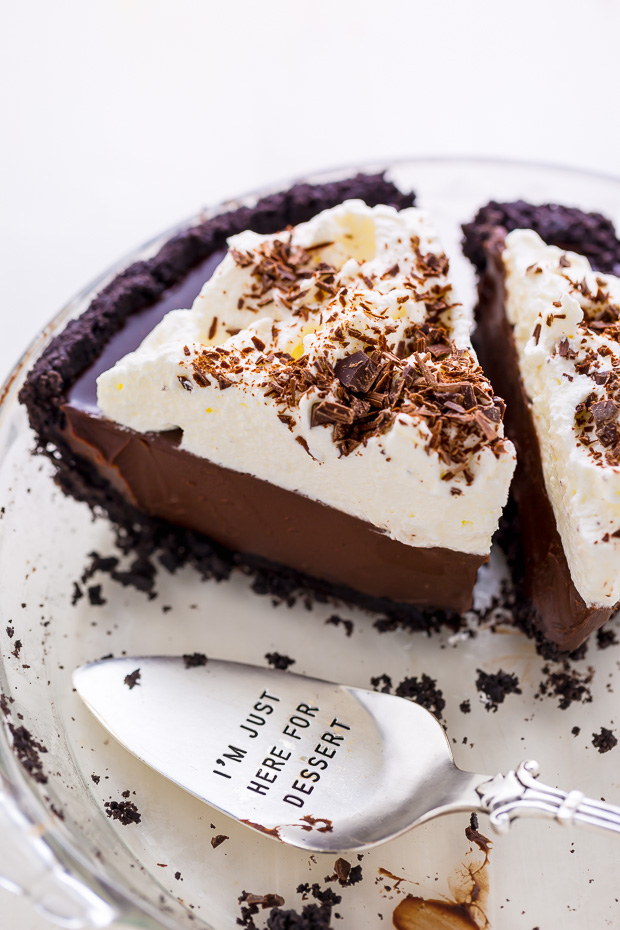 No-Bake Chocolate Cream Pie
Yield 9" Pie
Silky smooth No-Bake Chocolate Cream Pie! This insanely easy recipe can be made ahead of time and frozen for 2 months.
Ingredients
For the Oreo Cookie Crust:
(1) package Oreo cookies, crushed into crumbs (see post for more info on this)
8 tablespoons unsalted butter, melted
For the Chocolate Ganache Filling:
16 ounces semi-sweet chocolate, finely chopped
2 and 1/4 cups heavy cream
1/2 cup (1 stick) unsalted butter, at room temperature, cut into cubes
For the Whipped Cream Topping:
1 and 1/2 cups heavy cream
1/4 cup confectioners' sugar, sifted
Instructions
For the Oreo Cookie Crust:
In a large bowl combine Oreo cookie crumbs and melted butter, mix well to combine. Press the crust into a 9" pie plate, pressing it in the middle and up the sides. Place crust in the freezer for 30 minutes.
For the Chocolate Ganache Filling:
Add chopped chocolate to a large heatproof bowl; set aside.
In a small saucepan over medium-heat, bring the cream to a low simmer then remove from heat. Pour the warm cream on top of the chopped chocolate and set aside for 1 minute. Using a whisk, stir the chocolate and cream together, whisking until the the melted chocolate and cream are completely combined; about 2 minutes.
Add in the butter and use a spatula to stir until the butter is completely melted. The mixture should be smooth and glossy. Set aside until needed.
For the Whipped Cream Topping:
In a large bowl using a handheld mixer, or in the bowl of a stand mixer fitted with the whisk attachment, beat together the heavy cream and confectioners' sugar until soft peaks are formed.
Assembly:
Remove the Oreo cookie crust from the freezer.
Carefully pour the chocolate ganache inside the crust. The crust will be 90% full!
Very carefully, place the chocolate pie in the fridge to set; about 2 hours.
When ready to serve, dollop the whipped cream in the center of the pie and top with chocolate shavings, if desired.
Slice and serve at once!
Notes
Whipped cream should be made right before serving!
Courses Dessert
Cuisine American
Amount Per Serving
% Daily Value
Recipe by Baker by Nature at https://bakerbynature.com/no-bake-chocolate-cream-pie/