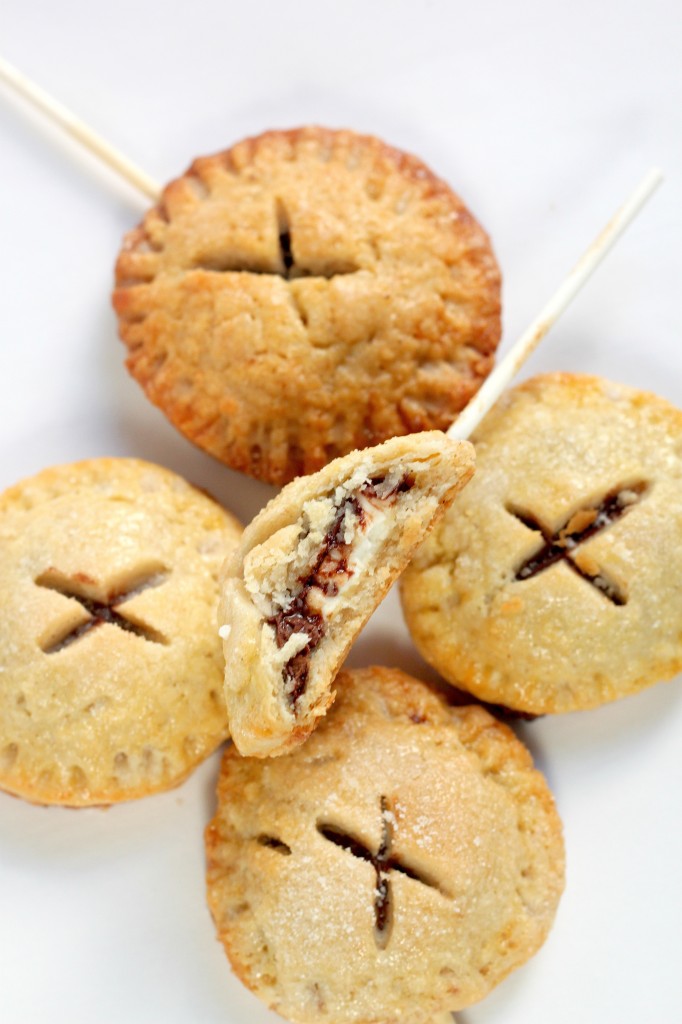 PI DAY! Let's do this. Because a mini pie stuffed with nutella and cream cheese don't wait for nobody.
…
I said a mini pie stuffed with nutella and cream cheese don't wait for nobody! You ready?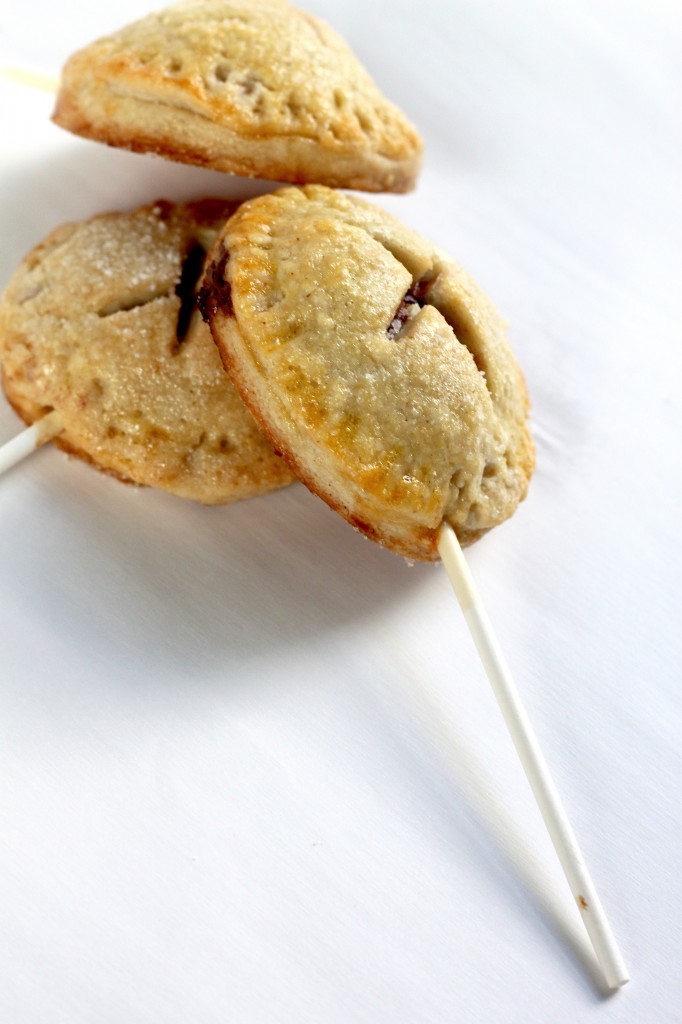 Whew. Good. Alright. So… where to begin? I suppose the crust is a good a place as any. And what a crust it is! Flaky, buttery, and lightly speckled with a small shake of cinnamon – it's a dream! This crust is also made with cream cheese, so it melts in your mouth. I repeat – it's a dream.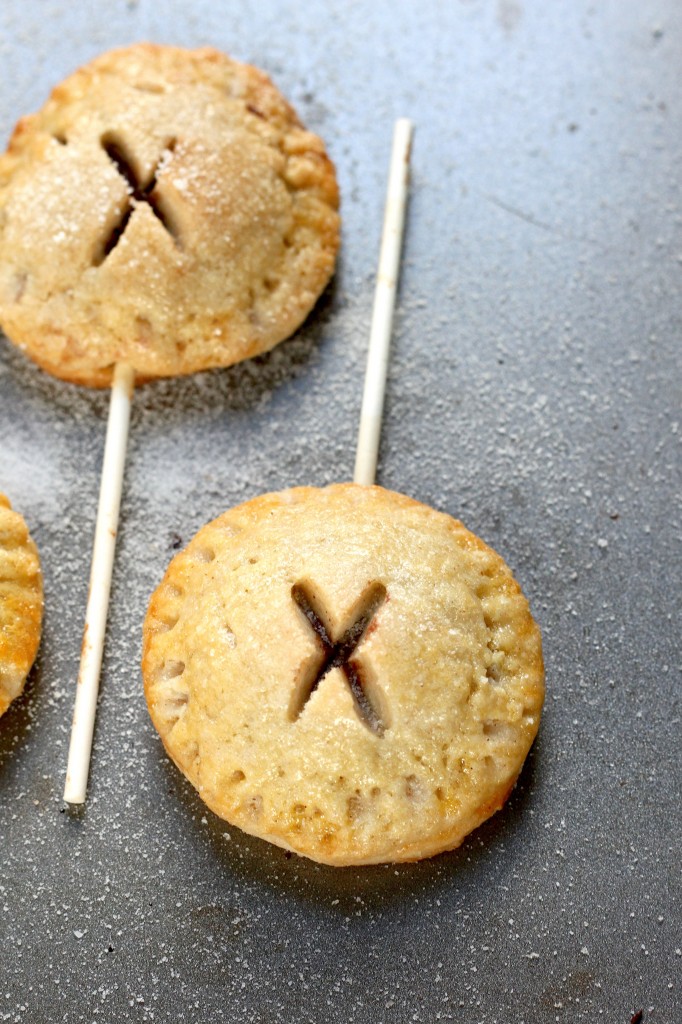 The filling for these pie pops couldn't be easier! A dollop of nutella meets a dollop of cream cheese – that's it.
They get sealed together between two dreamy sheets of crust before getting slathered in an egg wash and sprinkled with sugar. Then you just carefully poke that cake pop stick in, and they're ready for the oven.
See? Easy-as-pie.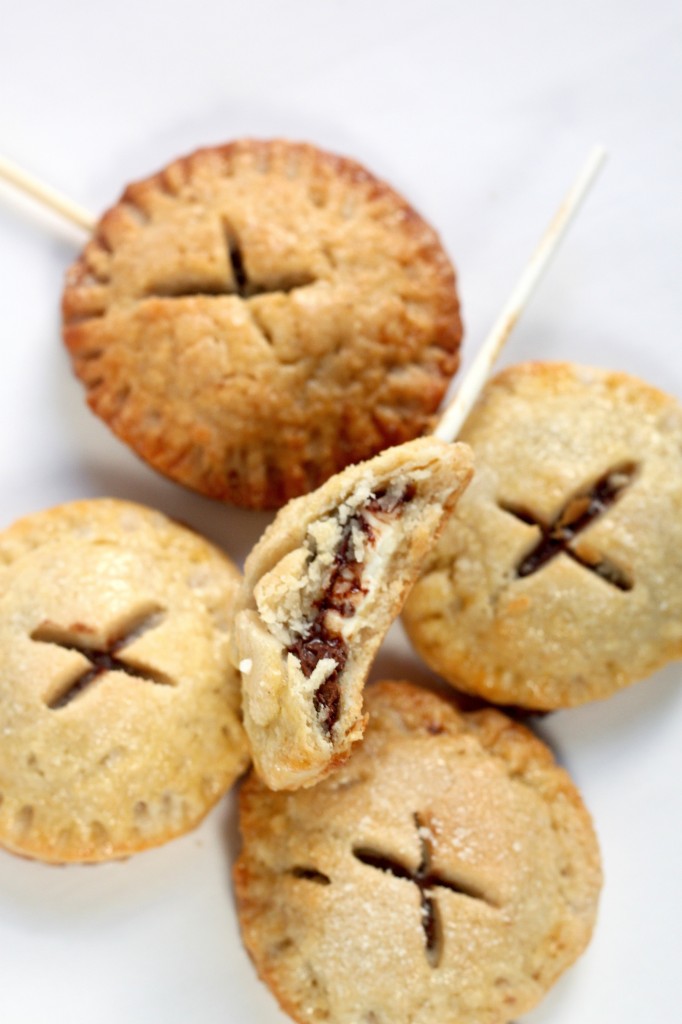 Because these are pie pops and they're tiny, you must be sure not to over bake! I made three different batches of these at varying temperatures and bake times, and the one listed below will result in golden, flaky pie perfection. But a few extra minutes in the oven and they come out dark and well, way less flaky. Moral of the story: Keep an eye on the timer! Or else they'll come out like below.  Not bad… just a little too dark for my tastes 😉
Happy Pi day, friends! And have a great weekend.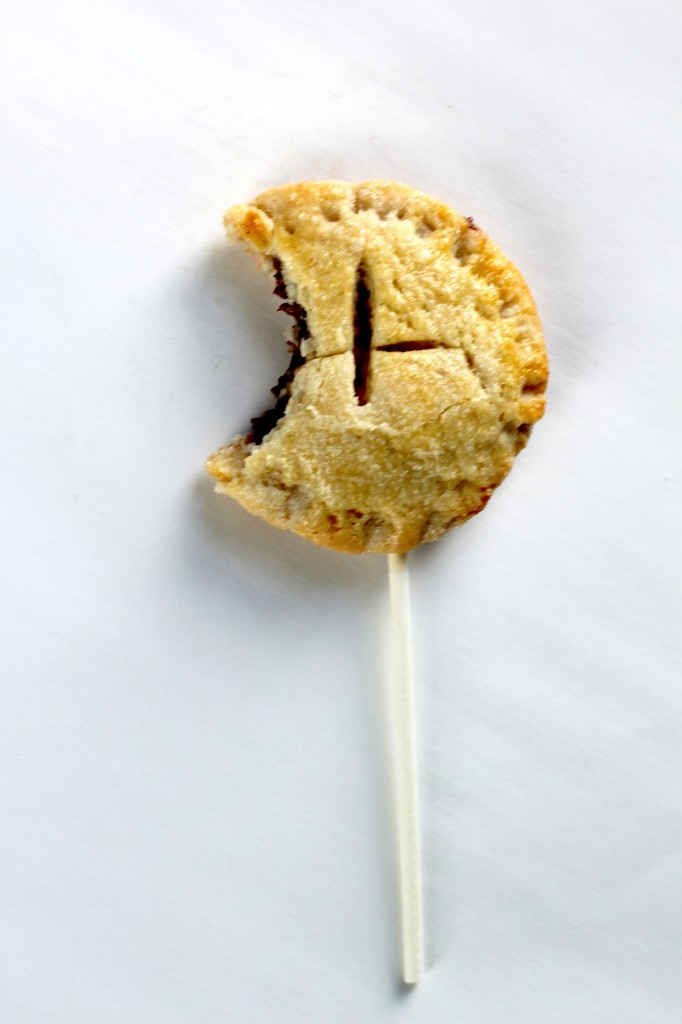 *The pie dough may crumble or break apart while you're working with it – don't fret – just use your fingers to gently "mush" it back together.
*Pie dough needs to be COLD. If at any point it gets too warm, pop it back in the fridge for 15-20 minutes.
Nutella & Cream Cheese Pie Pops
Ingredients
For the Pie Crust:
2 cups Unbleached All-Purpose Flour
1/2 teaspoon salt
1/2 teaspoon baking powder
1/4 teaspoon cinnamon
1 cup (16 tablespoons) cold unsalted butter
1/2 cup cream cheese, cut into tiny cubes
For the Filing:
4 ounces cream cheese
4 ounces Nutella or other hazelnut spread
For the Coating:
1 egg, beaten
Sugar for sprinkling
Instructions
For the Pie Crust:
Whisk together the flour, salt, baking powder, and cinnamon. Add the butter and cream cheese, working it in to make a coarse/crumbly mixture, leaving most of the butter and cream cheese in large, pea-sized pieces.

Turn the dough out onto a floured work surface, and bring it together with a few quick kneads.

Pat the dough into a rough 10" log, flour the top lightly, then roll it into an 10" x 10" rectangle. Dust both sides of the dough with flour, then fold it in three like a letter.

Flip the dough over, sprinkle lightly with flour, then roll it again into an 8" x 10" rectangle. Fold it in three again. Wrap the dough, and chill for at least 1 hour before using.
Once the dough is ready:
Preheat oven to 375 degrees (F).

Roll the dough out into a 16" x 16" square; it should be about 1/4 inch thick. Using a small round cutter (I used a 2 1/2 inch wide biscuit cutter), cut out as many rounds as possible, making sure you keep an even number.

Place about 1/2 teaspoon of nutella and a 1/2 teaspoon of cream cheese on half of the cut-outs, leaving about 1/4 inch boarder so there's no leaking while they bake.

Place a lollipop stick in the center of each filled shape, making sure the top of the stick is secure and not poking through the dough.

Using a pastry brush wet the edges of each filled pie crust with a small amount of the egg wash. Then repeat the process with the unfilled cut-outs, just lightly coating the edges with egg wash before gently pressing it on top a filled one. Use a fork to crimp the edges. Repeat until all the dough shapes have been filled and sealed.

Place the pie pops on a large baking sheet, then add a light coating of egg wash to each pie before sprinkling with sugar. With a small sharp knife make a tiny x on each pie.

Bake for 15-18 minutes, until the pies are light golden. Cool for about 5 minutes on the baking sheet, then transfer to a cooling rack to cool completely. Once cool, store in an airtight container or package in individual cellophane bags.