Healthy and wholesome Pecan Pie Energy Bites are sweet, chewy, and made with real ingredients you can feel good about.
This post is sponsored by naturally delicious Fisher Nuts. ♥♥♥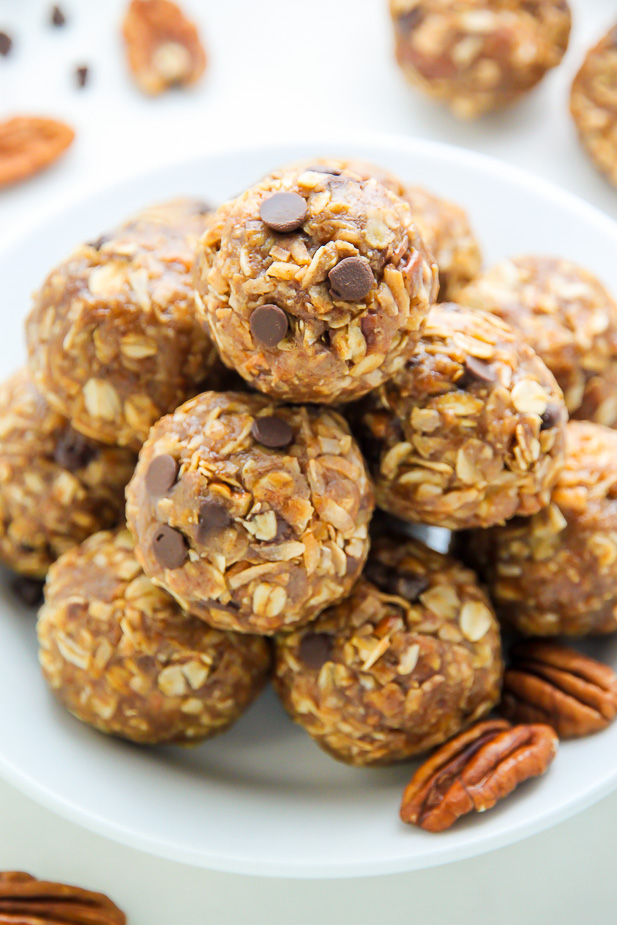 So yesterday was pretty awesome, you guys. I woke up, hopped the train to NYC, and had dinner at Butter with my friend Lauren. They really went all out for us! Bringing us endless items off of their exclusive Fisher menu tasting. Every dish featured Fisher nuts! Fisher nuts have incredible flavor and texture and make a wonderful addition to sweet or savory dishes. I use them for all of my baking because they're fresh, delicious, and preservative free.

We even got to meet Chef Alex Guarnaschelli. Can you tell I'm having a major fan girl moment?!? ↓↓↓
Ok, time to get down to the recipe.
I'm leaving for vacation in just a few days, so in an effort to look and feel my best on our big trip I've been attempting to keep my sweets light and healthy.
These Pecan Pie Energy Bites are a new favorite! Inspired by this chocolate pecan coconut pie, these sweet, chewy bites are bursting with flavor. I've made them twice already this week.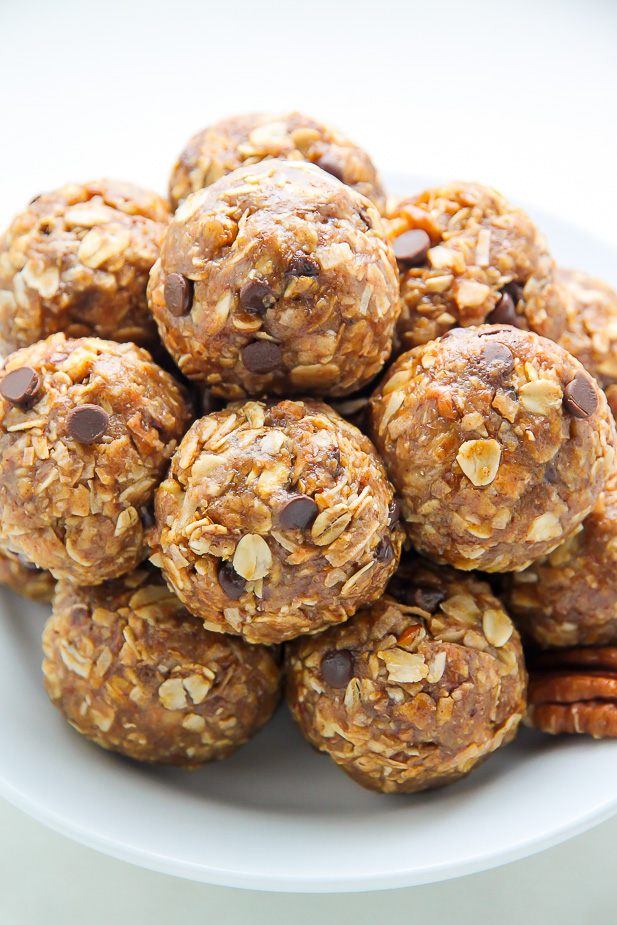 To make these energy bites you'll need pecan butter. Never seen pecan butter at the store before? Me either. That's why we're making our own. It's so simple!!!
You'll just throw some pecans into a food processor…
and pulse until smooth and creamy. ♥♥♥
This step does take about 15 minutes. The pecans will look very gritty at first, but just keep on blending – scraping down the sides and stirring occasionally – until you have a silky texture.
Once the pecan butter is done, the rest is a piece of cake.
You'll combine the pecan butter, brown rice syrup, vanilla, and molasses and whisk smooth. Toss in the oats, wheat germ, pecans, and chocolate chips, stir it all together, and roll the dough into 1 inch balls. It's really that easy!!!
Make a double batch and store them in your fridge for an easy, on-the-go, sweet snack.
Pecan Pie Energy Bites
Healthy energy bites that taste like pecan pie!
Ingredients
1/2 cup sweetened shredded coconut, toasted and slightly cooled
2 and 1/4 cups pecan halves, divided
1/2 teaspoon ground cinnamon
1/3 cup brown rice syrup
1 teaspoon vanilla extract
1 tablespoon molasses (original - not blackstrap)
1 cup old-fashioned oats
1/2 cup wheat germ
3 tablespoons mini chocolate chips (add more if you'd like, but I found this was plenty for us!)
Instructions
To toast the coconut:
Preheat oven to 325°(F). Sprinkle the shredded coconut onto a baking sheet and use your hands to move it into a thin layer. Bake in preheated oven for 5-7 minutes, or until lightly golden.

Stir the coconut once or twice to help ensure even color. Set aside to cool.
To make the pecan butter:
Place the pecans in the bowl of a food processor (or very powerful blender) and pulse for 10-15 minutes, stopping occasionally to scrape down the sides with a spatula. The mixture is going to be quite grainy at first, but it will eventually blend into a very creamy mix. Just keep stirring and pulsing! It took me exactly 13 minutes, so it may take you more or less time depending on your appliance.
To make the Pecan Pie Energy Bites:
In a large mixing bowl combine 1/2 cup plus 2 tablespoons of the pecan butter, brown rice syrup, vanilla extract, and molasses; whisk smooth. Add remaining ingredients and stir until evenly coated. Using you hands, gently shape the dough into 1-inch balls. Store in the refrigerator in an airtight container.
This is a sponsored conversation about my experience dining at Butter and sampling the Fisher tasting menu written by me. The opinions and text are all mine.