This pumpkin bundt cake is moist, dense, and loaded with pumpkin flavor! Topped with maple pumpkin spice cream cheese frosting and glazed pecans, this is the best pumpkin cake you'll ever bake!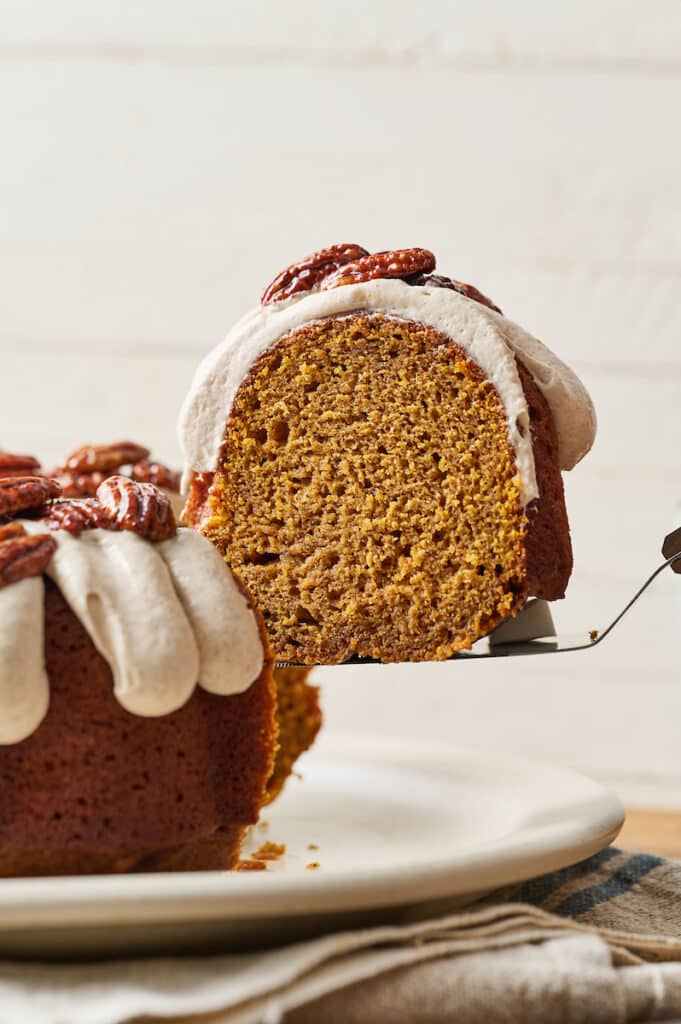 Best Pumpkin Cake
I don't about you… but I'll take pumpkin cake in pretty much any form! Pumpkin cupcakes? Yes, please! Pumpkin coffee cake? Heck, yes! Pumpkin pancakes? Pile them on my plate!
But Pumpkin Bundt Cake might just be my favorite version of pumpkin cake! It's one of those easy dessert recipes that looks fancy enough to serve for special occasions like Thanksgiving or Christmas. And, it pairs so well with coffee and tea that you could easily serve this for breakfast or brunch, too. It's versatile and the perfect pumpkin cake for all of your fall baking needs!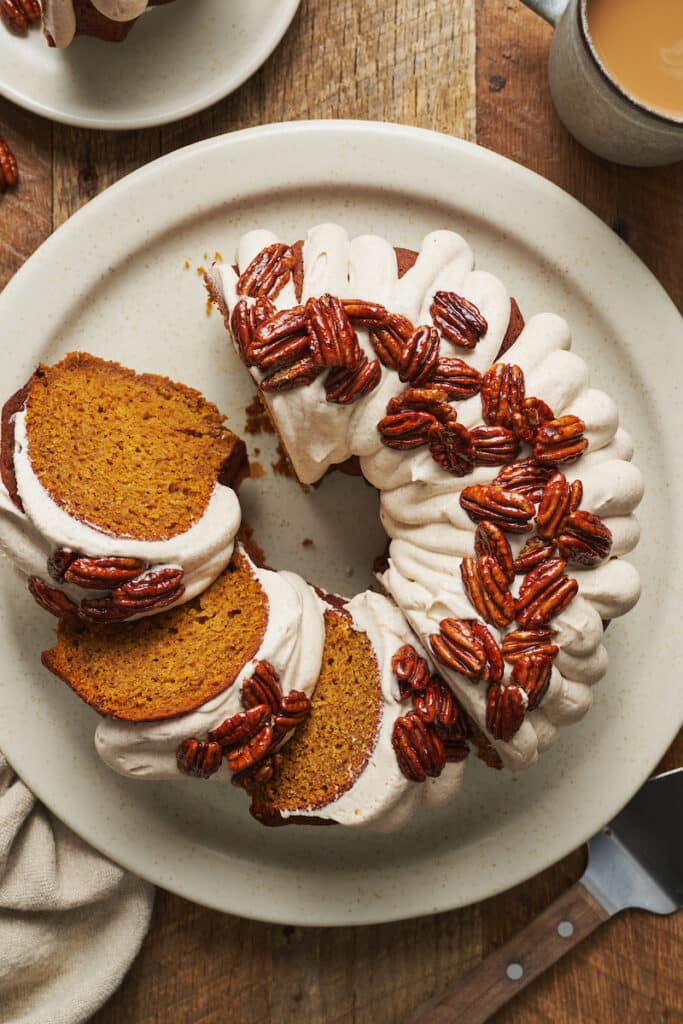 Moist, dense, and exploding with pumpkin flavor in every bite, this is the ultimate pumpkin cake recipe! I dive into the ingredients below and have notes for substitutions where applicable. Feel free to read my tips and tricks below or jump right to the recipe and get baking.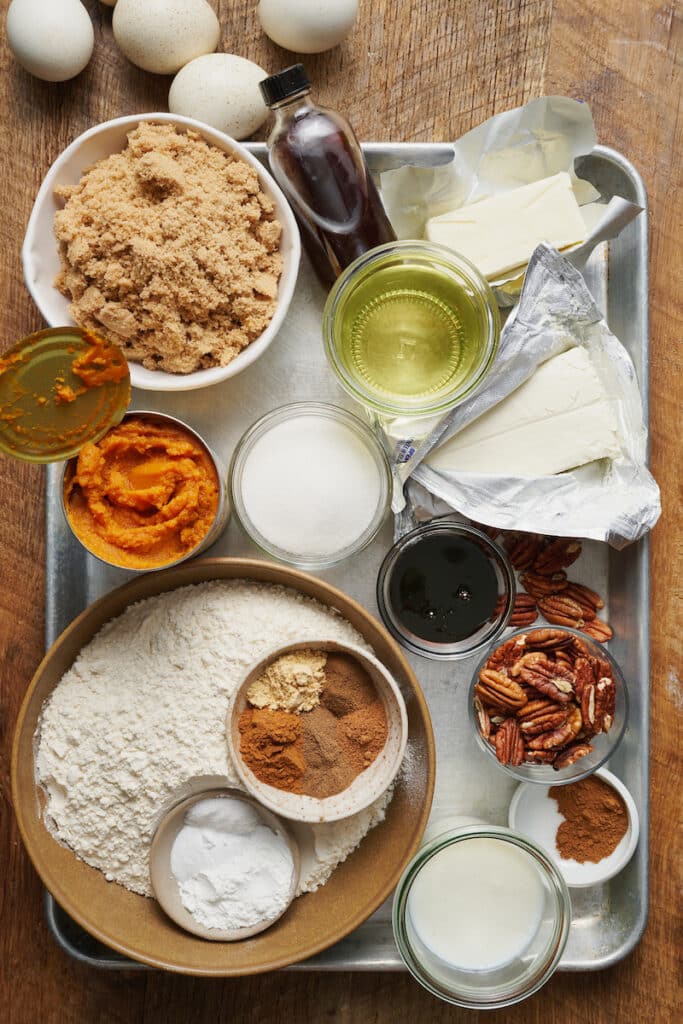 Ingredients for Pumpkin Bundt Cake
Eggs: This recipe calls for 5 large eggs, which helps give the cake it's dense and moist texture. Be sure they eggs are at room temperature and add the eggs one at a time.
Sugar: You'll use brown sugar and granulated sugar in the cake, and confectioners sugar for the frosting. Be sure to use the correct sugar called for in each part of this recipe.
Pumpkin: Look for canned pumpkin puree aka packed pumpkin, not pumpkin pie mix. Because homemade pumpkin purees all contain different amounts of moisture, I don't recommend them for this recipe.
Molasses: This is my secret ingredient for making the pumpkin cake taste EXTRA pumpkin-y. I suggest using regular molasses, not blackstrap.
Vanilla Extract: Adds sweet vanilla flavor and helps enhance the other flavors in the recipe.
Oil: I use vegetable oil, but canola oil or melted coconut oil will also work.
Buttermilk: I use full-fat buttermilk, and do not recommend homemade versions as their results are not consistent. But in a pinch, you can try subbing your own homemade buttermilk.
Flour: I suggest using all-purpose flour for this recipe. I have not tested this recipe with other types of flour and they may not work. I HIGHLY suggest weighing your flour using a digital kitchen scale. Or very lightly spoon it into the measuring cup.
Rising Agents: Use fresh baking powder and baking soda to ensure your cake spreads and rises properly.
Spices: This recipe uses ground cinnamon, ginger, cloves, allspice, nutmeg, salt, and pumpkin pie spice. To simply your ingredient list, sub a Tablespoon of pumpkin pie spice in the cake instead of the individual spices.
Cream Cheese: Be sure to use full-fat cream cheese and bring it to room temperature before use. I do not recommend subbing any other ingredient for cream cheese! Philadelphia brand tastes best in my opinion.
Butter: I always use unsalted butter, but in a pinch, salted butter will work. Just omit the salt called for in the frosting. And be sure your butter is at room temperature before use.
Maple Syrup: You don't need to use fancy maple syrup, but I suggest using real maple syrup and not pancake syrup.
Milk: Just a tiny splash helps thin the cream cheese frosting. I suggest using whole milk aka full-fat milk, but in a pinch, a lower-fat milk will work fine.
Pecans: I love decorating this pumpkin cake with sweet and crunchy pecans! Buy glazed pecans from the grocery store or make your own candied pecans with this recipe!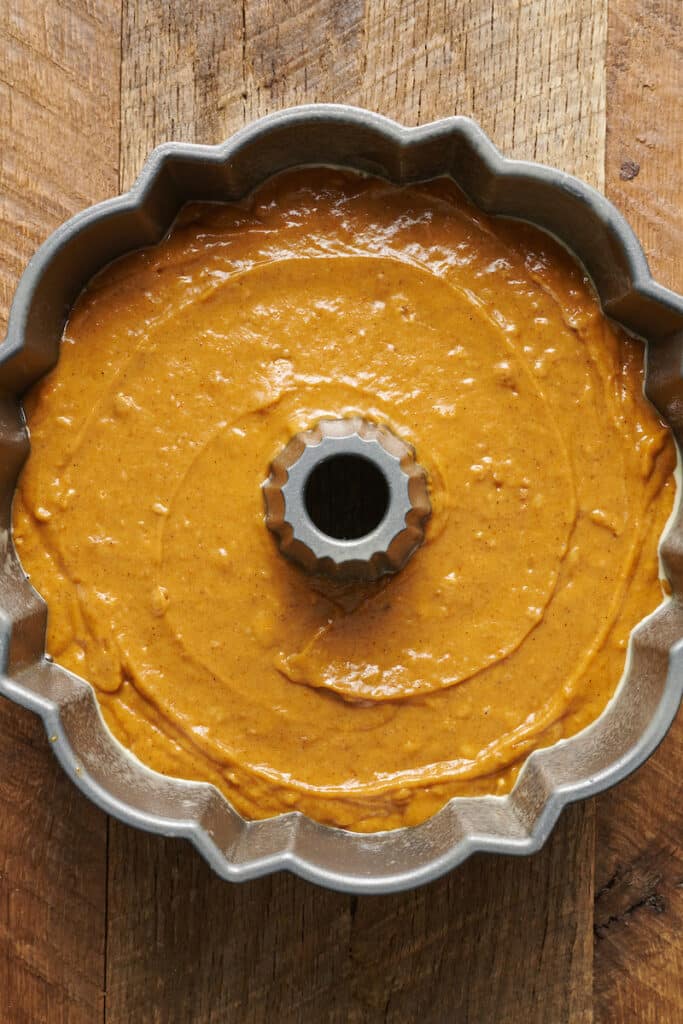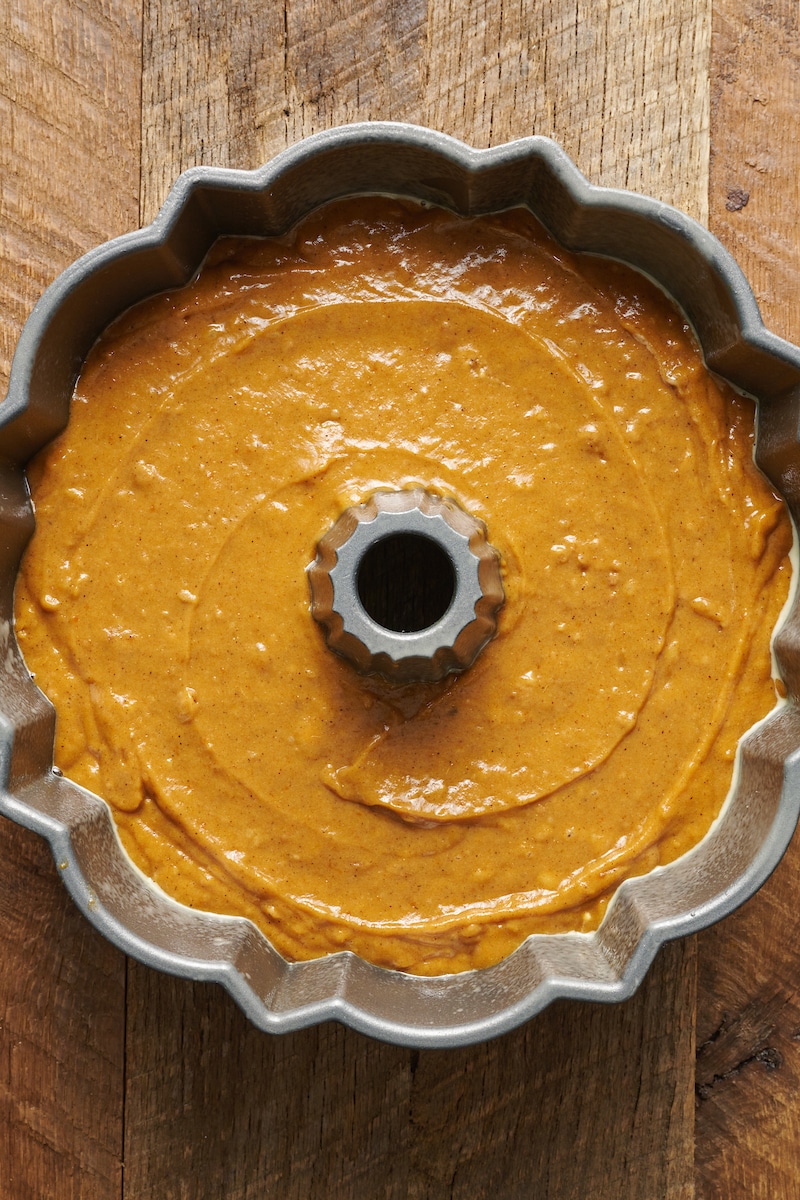 How to Make Pumpkin Cake
Preheat the oven: This is a large and heavy cake. So to ensure it bakes evenly, we'll bake it for a longer time, at a lower temperature, of 325 degrees (F).
Make the Cake Batter: In a large bowl, combine all the ingredients, mixing just until combined. Be sure that once you've added the dry ingredients, you don't over mix. Over mixing causes a dry cake.
Prep your Bundt Cake Pan: Use nonstick baking spray to generously spray every nook and cranny. Pour the batter into the cake pan and smooth the top.
Bake your Cake: Place the pan in the preheated oven and bake until a toothpick comes out clean. This usually takes around 55 to 60 minutes to bake, depending on your oven and baking pan.
Cool the Cake: Place the bundt pan on a wire rack and cool for exactly 12 minutes. Then invert the cake onto the wire rack and cool the pumpkin cake completely. Be patient, this takes about 2 hours. Do not attempt to decorate a hot or even warm cake!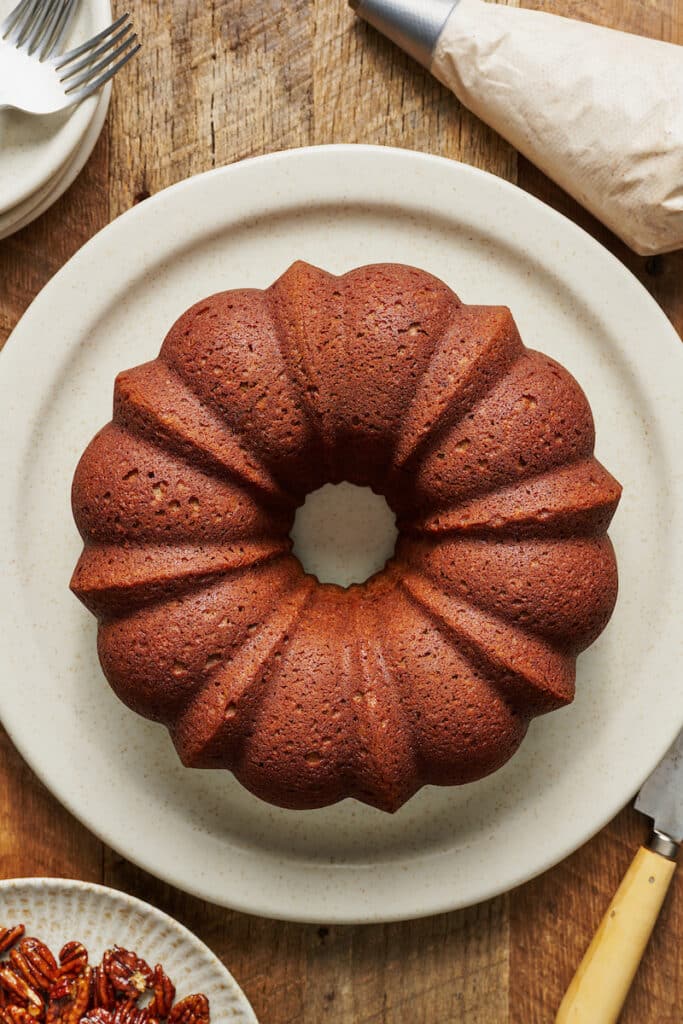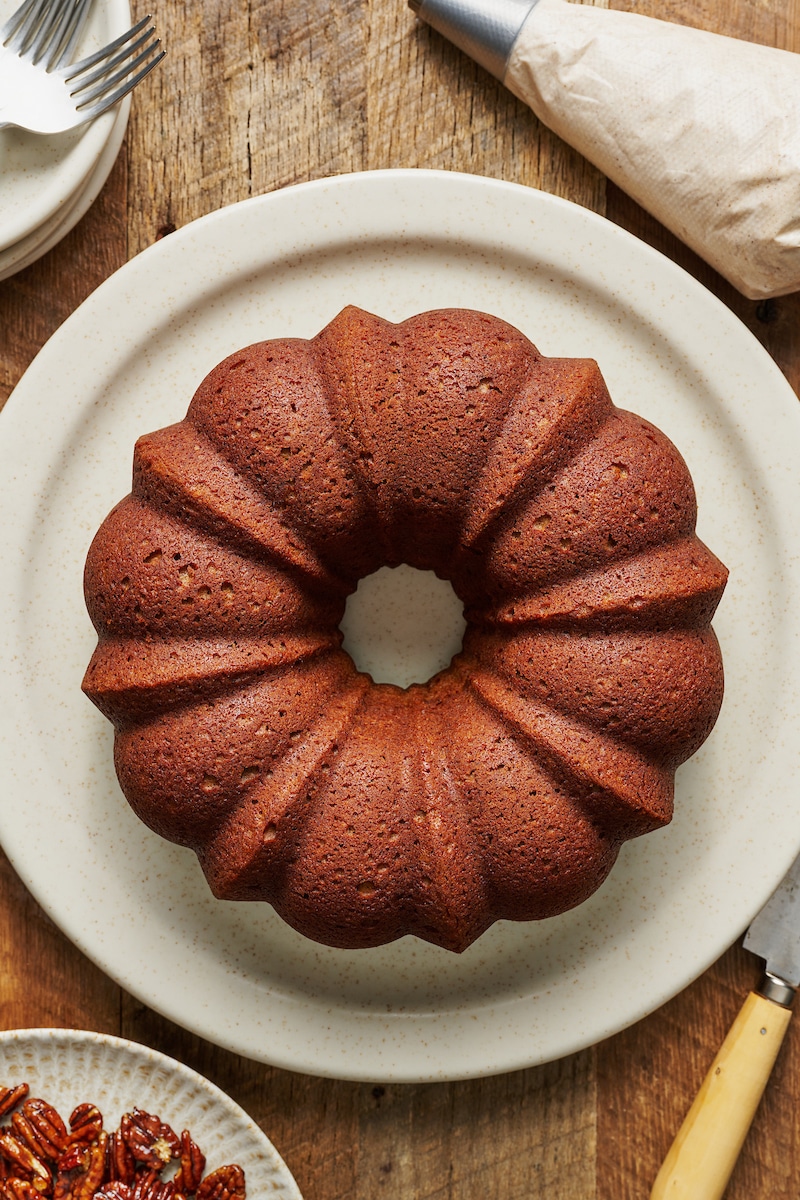 How to Decorate Pumpkin Cake
Want to copy the way I decorated my pumpkin Bundt Cake? You can easily do so with a few tips and tools:
Make sure the frosting is the proper consistency! It should be smooth and creamy, but not drippy at all. If it appears too thin, add more confectioners' sugar.
Scrape the frosting into a piping bag fitted with an open round piping tip. Then zigzag the frosting in lines on top of the cake.
Top the frosting with plenty of glazed or candied pecans. You could also use fall colored sprinkles or pumpkin candies instead.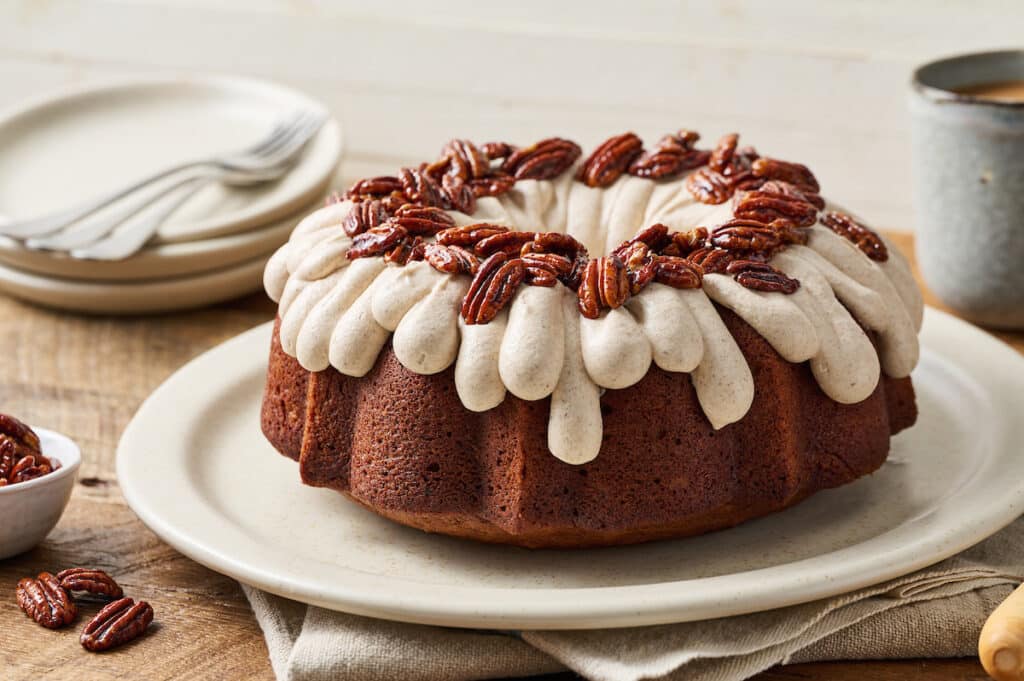 Equipment Needed: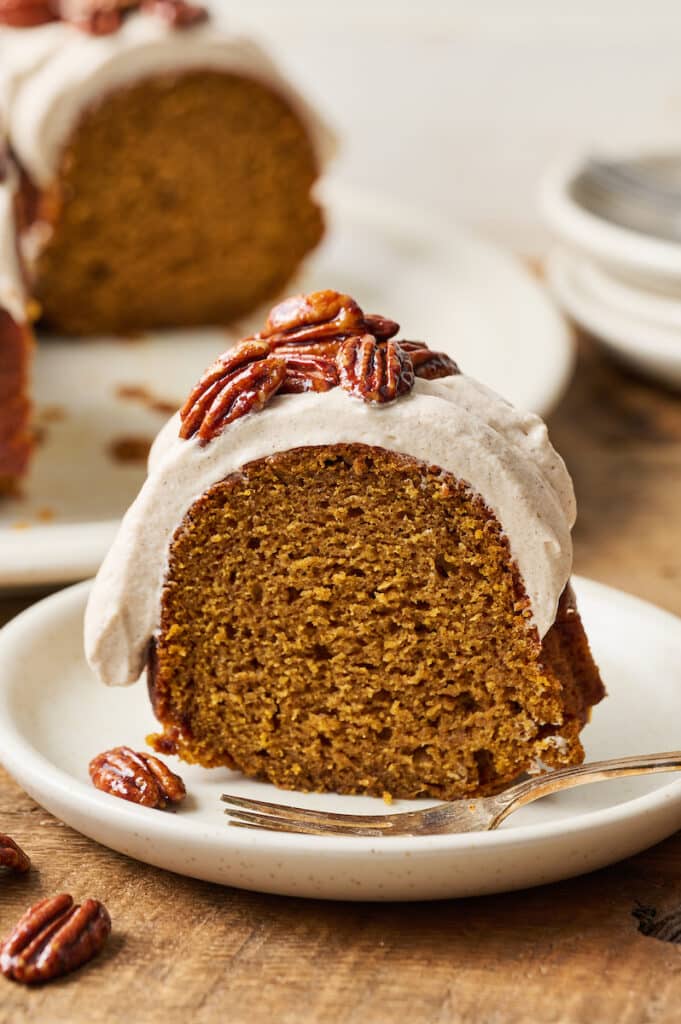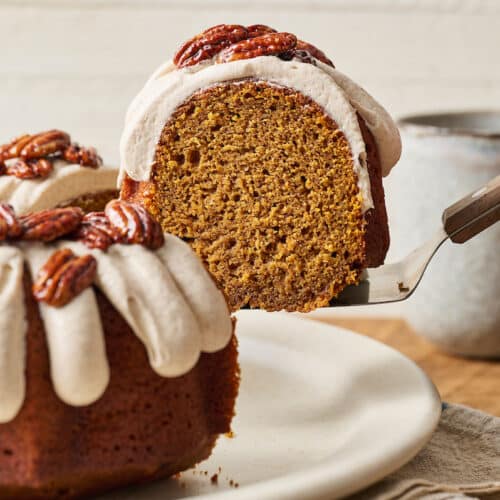 Pumpkin Bundt Cake with Cream Cheese Frosting
This pumpkin bundt cake is moist, dense, and loaded with pumpkin flavor! Covered in maple pumpkin spice cream cheese frosting and topped with glazed pecans, it's the best pumpkin cake you'll ever try.
Ingredients
For the Pumpkin Bundt Cake:
5 large eggs room temperature
1 and 1/2 cups (319g) light brown sugar packed
1/2 cup (99g) granulated sugar
(1) 15 ounce can pure packed pumpkin NOT pumpkin pie filling
3 Tablespoons (42ml) molasses
2 teaspoons vanilla extract
1 cup (227ml) vegetable oil
3/4 cup (170ml) buttermilk room temperature
3 cups (360g) all-purpose flour
2 teaspoons baking powder
1/2 teaspoon baking soda
3 teaspoons ground cinnamon
2 teaspoons ground ginger
1 teaspoon ground cloves
1/2 teaspoon ground nutmeg
1/2 teaspoon ground all-spice
1/2 teaspoon salt
For the Pumpkin Spice Cream Cheese Frosting:
1/2 cup (113g) cream cheese room temperature
1/4 cup (57g) unsalted butter room temperature
2 cups (228g) confectioners' sugar sifted, more if needed
1 teaspoon vanilla extract
1 teaspoon pumpkin pie spice (or cinnamon)
1/8 teaspoon salt
2 teaspoons pure maple syrup
2 teaspoons milk
1 cup glazed pecans for decor, optional
Instructions
For the Pumpkin Bundt Cake:
Preheat the oven to 325 degrees (F). In a large bowl, whisk the eggs until well combined.

Add in the sugar, pumpkin puree, molasses, vanilla, oil, and buttermilk, and whisk until well combined. Set aside until needed. 

In a medium bowl, whisk together the flour, baking powder, baking soda, spices, and salt until well combined.

Using a rubber spatula, fold the dry ingredients into the wet ingredients, mixing just until combined. Set aside. 

Using nonstick baking spray, generously spray every nook and cranny of a 10-cup Bundt Cake pan. 

Scrape the batter into the pan and smooth the top. Bake in the preheated oven for 55 to 60 minutes, or until a toothpick inserted in the center comes out clean. 

Cool cake, in the bundt pan, placed on a wire cooling rack, for 12 minutes (set a timer). Then invert the cake onto the rack and cool completely, about 2 hours. 
For the Pumpkin Spice Cream Cheese Frosting:
In the bowl of a stand mixer fitted with the paddle attachment, or in a large bowl using a handheld electric mixer, beat the cream cheese and butter on medium-speed until completely smooth. 

Reduce the speed to low and gradually add in the confectioners' sugar, beating until all of the sugar is completely combined. 

Add in the vanilla, pumpkin spice, and salt, and beat smooth. Beat in the maple syrup and milk. 

Once all of the ingredients have been incorporated, increase the speed to medium-high and beat for two minutes, or until fluffy. 

If the frosting looks too thin, beat in more confectioners' sugar, a 1/4 cup at a time. If the frosting looks too thick, beat in more milk, 1 teaspoon at a time, until desired texture has been reached.

Frost the cake as desired. To achieve a similar look to how the cake is decorated in the photos, scrape the frosting into a large frosting pipe that's fitted with a round open piping tip. Then pipe the frosting in lines, back and forth, around the top of the cake. Top the frosting with glazed pecans, if desired. Slice and serve!