Homemade Chocolate Coconut Pecan Pie is crunchy, creamy, and chocolatey! Just one bite will have you hooked. Perfect for Thanksgiving or Christmas dessert!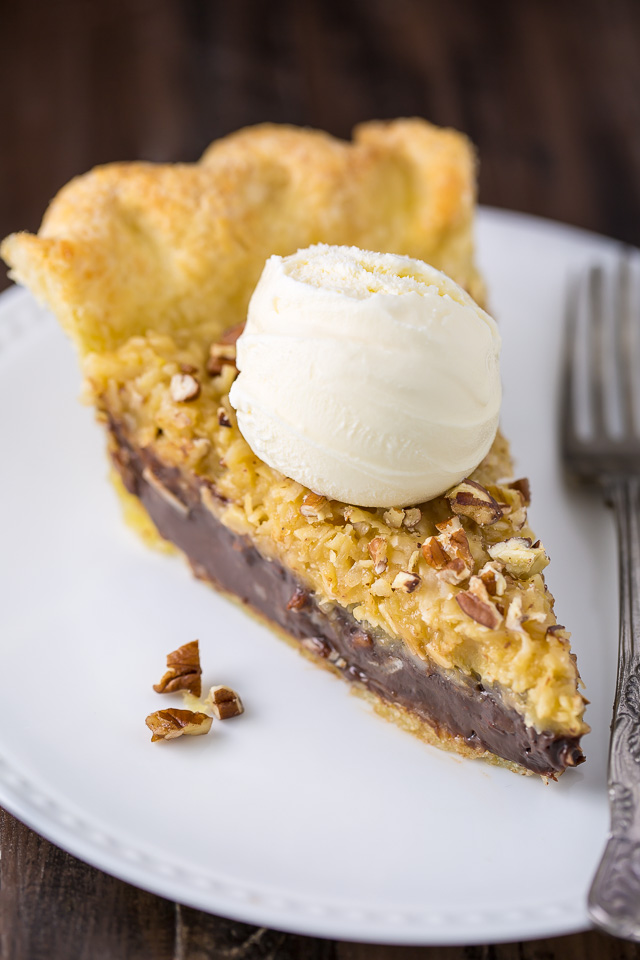 Coconut Chocolate Pecan Pie
Let's cut to the chase – Thanksgiving is less than 3 weeks away and we've got some major baking to do! So, without further ado, allow me to introduce you to a new holiday favorite: Chocolate Coconut Pecan Pie.
This tried and true recipe features a creamy chocolate filling, crunchy pecans, and melt-in-your mouth coconut cream… all on top of a flaky butter crust! It's like 3 desserts in one… and it's 100% amazing.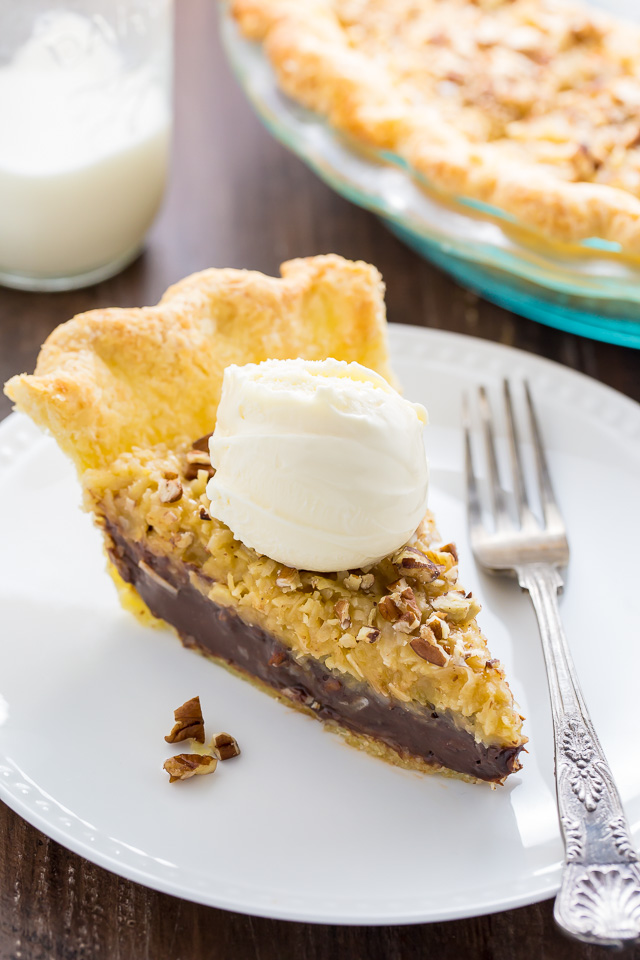 Tips and Tricks for Recipe Success:
Although I've included a recipe for homemade pie crust below, you may use your favorite pie crust recipe in its place… or buy one from the store! #Idontjudge
You must blind bake the pie crust before filling it. For this step you'll need pie weights, rice, or dried beans. All 3 will work fine, so it's really just a question of what you have on hand.
If you have a nut allergy, this pie can be made without the pecans. Simply leave them out!
Be sure to cool your pie completely before digging in! If you try slicing the pie while it's still warm the chocolate will ooze all over the place and make a huge mess. If you need to speed up the cooling process, place the pie in the fridge for a few hours.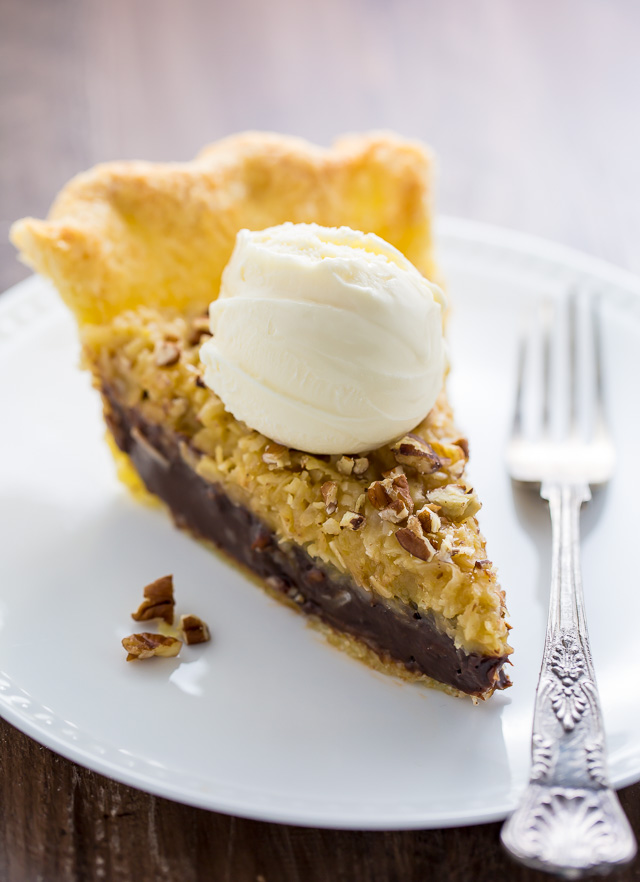 If you try this recipe, let me know! Leave a comment below and don't forget to snap a pic and tag it #bakerbynature on instagram! Seeing your kitchen creations makes my day.
More Pecan Pie Recipes:
Chocolate Coconut Pecan Pie
Ingredients
For the crust:
2 1/2 cups all purpose flour
2 tablespoon sugar
1/2 teaspoon salt
1 cup very cold unsalted butter, cut into tiny cubes
1/2 cup ice water (you probably won't use it all)
For the chocolate filling:
4 ounces 70% bittersweet chocolate, chopped
2 ounces unsweetened chocolate, chopped
(1) 14 ounce can of sweetened condensed milk
1 large egg + 4 large egg yolks, at room temperature
1 1/2 teaspoons vanilla extract
1/2 teaspoon salt
3/4 cup pecans, chopped
For the coconut filling:
1/2 cup packed light brown sugar
1/2 cup half and half
2 ounces SALTED butter, cut into tiny pieces
2 egg yolks
(1) 7 oz bag sweetened shredded coconut
1 teaspoon vanilla extract
1/4 cup pecans, chopped
Instructions
For the crust:
Mix flour, sugar, and salt in a food processor or blender. Add butter and pulse until a coarse meal forms. Slowly blend in just enough ice water to form moist clumps. Gather the dough into a ball and divide in half (you can use a kitchen scale if you want them to be perfectly even). Form dough into 2 balls and gently flatten into disks. Wrap each disk in plastic and place in the refrigerator to chill for at least 2 hours.
For fillings and assembly:
Preheat oven to 400 degrees (F).

On a generously floured surface roll dough out and into a large circle; about 1/8″ in thickness. Carefully fold in 4 and transfer to a 9-in. pie plate; unfold and fit it into the plate. Trim the edges to about a 1/2 inch over the rim of the plate, then fold or flute the edges to your liking.

Line the pie crust with a double layer of aluminum foil, then fill with pie weights or uncooked rice.

Bake for 8-10 minutes or until bottom is lightly golden brown. Remove foil and weights and bake for 5 minutes longer. Cool on a wire rack. Reduce oven setting to 375 degrees (F).

In a microwave or double-boiler, melt chocolates in a large heat-proof bowl; stir until smooth. Cool to room temperature, then whisk in milk, egg, egg yolks, vanilla, and salt. Fold in pecans.

Pour chocolate filling into the crust and bake for 15 – 18 minutes, or until center is set. Cool for at least 30 minutes on a wire rack.

While the pie is cooling, make your coconut topping!

In a small heavy saucepan, combine brown sugar, half and half and butter. Bring to a boil over medium heat, whisking constantly to dissolve sugar. Remove from heat.

Place egg yolks in a small bowl, whisk a small amount of hot cream mixture into the yolks to temper the mixture, then return everything to the pan, whisking constantly. Cook 2-3 minutes over medium heat, stirring constantly; the mixture will thicken during this time. Remove from heat. Stir in coconut and vanilla; cool 10 minutes.

Pour coconut mixture over chocolate filling and sprinkle with pecans. Refrigerate for at least 4 hours before cutting into slices and serving.