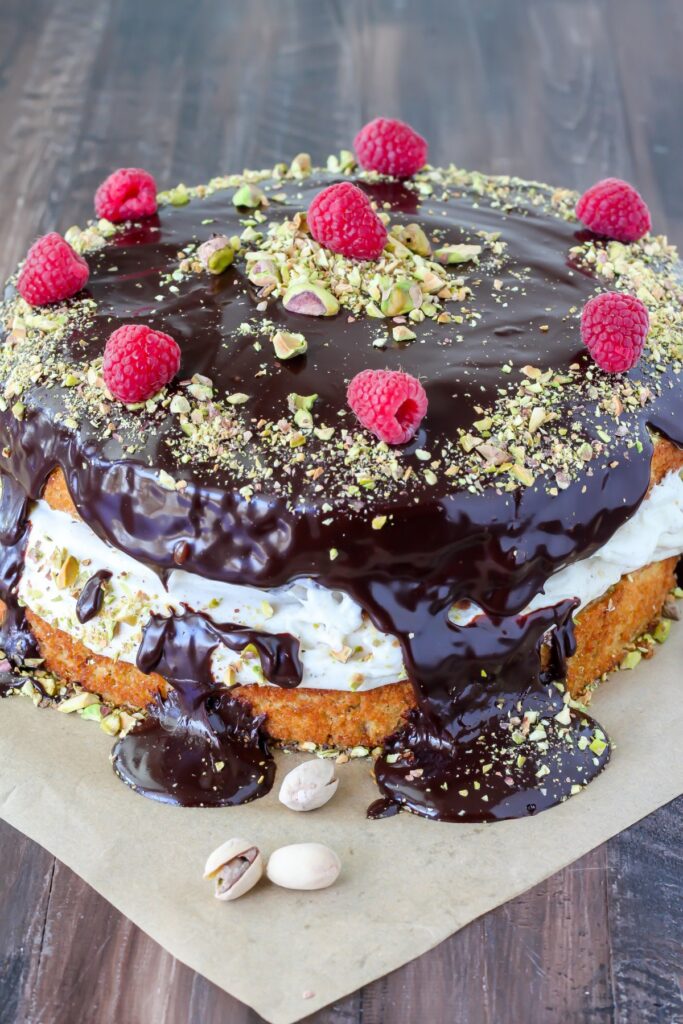 Pistachio Cake
Welcome to another day of giveaways, my friends! Today I'm sharing with you this gorgeous recipe for Pistachio Cream Cake with Chocolate Ganache. It's from Jessica Merchant's new cookbook SERIOUSLY DELISH… and let me tell you something – this cake 100% lives up to that title claim. Jessica is my go-to girl when I need a recipe I know is going to work, and her brilliant food brain never ceases to amaze me. I plan on cooking pretty much everything in this book, and since sharing is caring, I'm giving you guys a chance to win a copy so you can do the same! In addition to this fabulous book, I'll be giving away a Simply Calphalon Nonstick 6-Piece Bakeware Set
, so be sure to read more on how to enter below!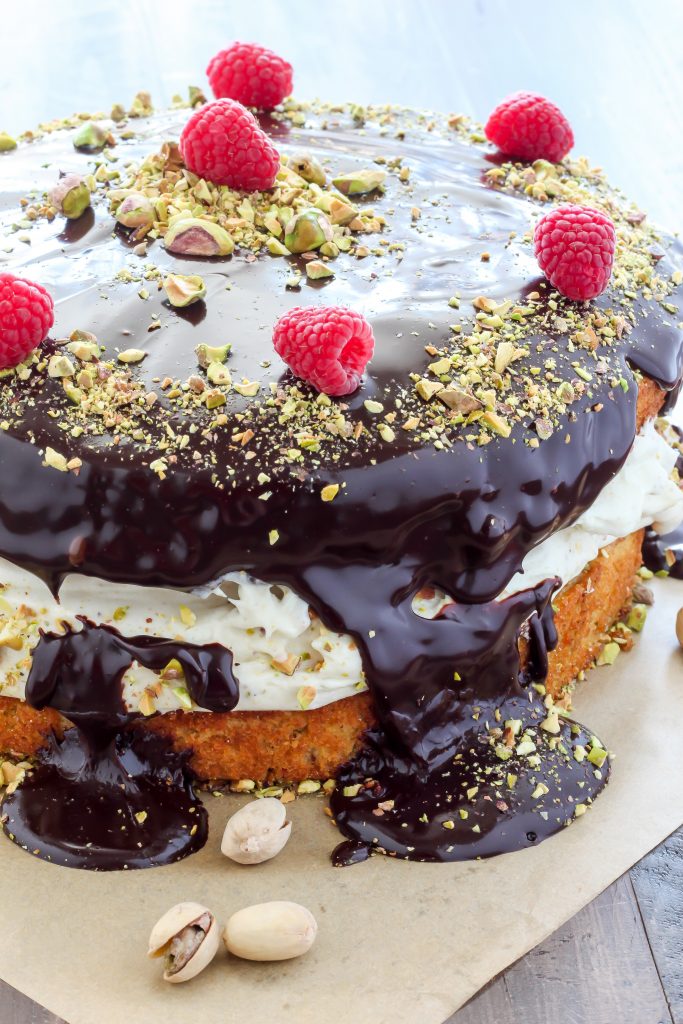 Alright, let's talk about the cake on today's menu! Two layers of rich, buttery pistachio cake; dreamy mascarpone filling; a luxurious robe of chocolate ganache; and an extra handful of chopped pistachios because they're salty, pretty, and delicious. Yes. All of those things in one cake! It's money.
The dry cake ingredients are made up of simple pantry items like flour, sugar, salt, and baking powder. The two ingredients you may need to pick up ahead of time are the pistachios and cake flour. After shelling almost two cups of pistachios for this cake, I highly suggest seeking out pistachio kernels that have already been shelled for you. Not only will you save about 30 minutes of prep time, but you'll save your fingers and nails a whole lot of hassle. I need a manicure like whoa!
The wet ingredients are super simple and basic, too. Milk, butter, eggs, and vanilla. I bet you have all of those in your kitchen right now…. don't you!?
The batter for the cakes comes together very quickly, and just so you're prepared, it will be quite thick. This is a denser cake (but not dry!), so don't panic if the batter is a little thicker than what you're use to. I promise it's going to bake up like a champ!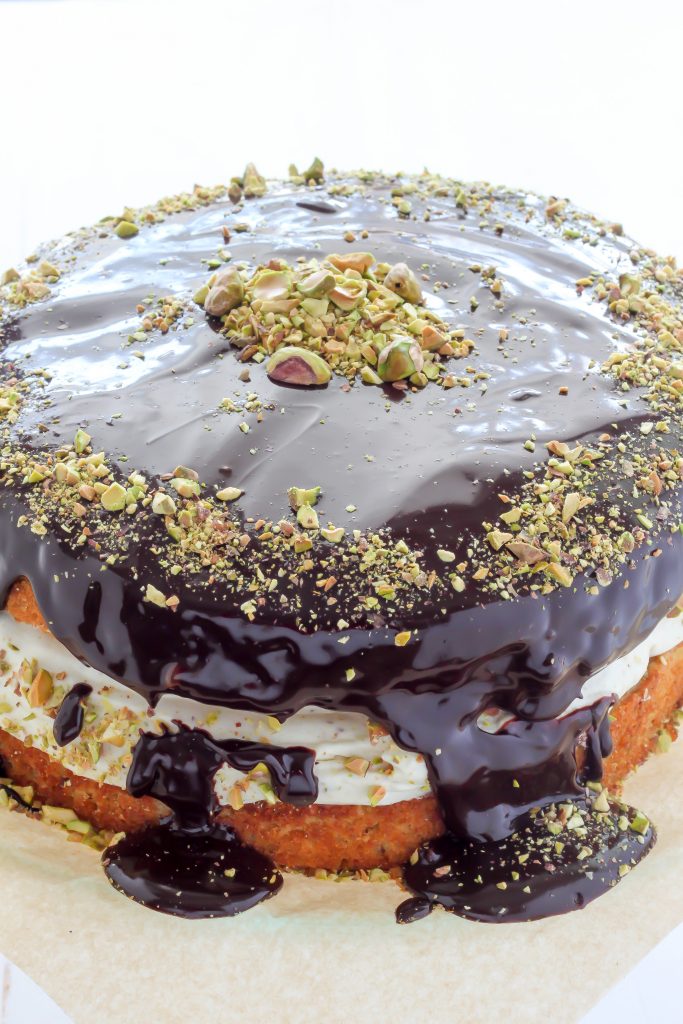 Now that we've covered the cake details, let's move onto the filling. This filling is incredibly creamy, light, and flavorful, without being cloyingly sweet. I love that. It calls for mascarpone cheese, which can easily be found at most major grocery stores. Wanna know a little trick in case you can't find mascarpone cheese in your location? Mix together a VERY soft 8 oz block of cream cream and a 1/4 cup of heavy cream and beat the heck out of it until it's completely combined and viola – you've got a passable stand-in.
The pistachio cream gets spread on top of one cake, then topped with the second cake. Oh and the second cake? That one gets drenched in a gorgeous robe of chocolate ganache. It's like heaven.
I topped our cake with tons of chopped pistachios and a few fresh raspberries because, well —> pretty! I had no issue polishing off my photo shoot slice in 2 minutes flat, and I'm already dreaming of dessert later tonight. I think this cake would be just gorgeous on your dessert table for Easter… or Mother's Day… or um, just because you love cake!
So friends, do you want to know how you can enter for a chance to win the Seriously Delish Cookbook and the Simply Calphalon Nonstick 6-Piece Bakeware Set
? It's easy! Pop over to Jessica's gorgeous blog and check it out, then pop back over here and leave me a comment (that includes your email!) letting me know what recipe of hers you'd love to make first! She has so many incredible recipes I know picking one will be easy! A winner will be selected, at random, April 1st, 2015. USA residents only (sorry!!!). (GIVEAWAY HAS CLOSED)
More Cake Recipes: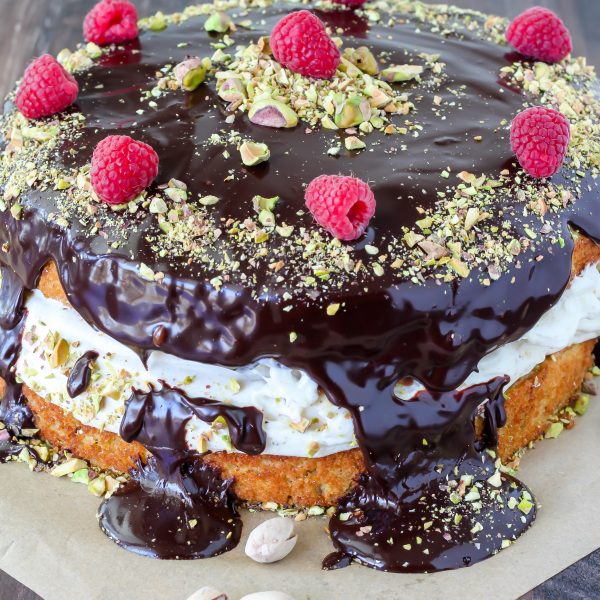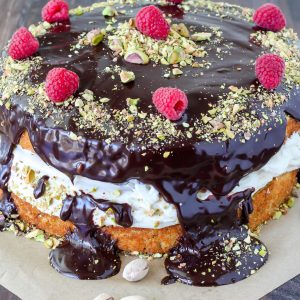 Pistachio Cream Cake with Chocolate Ganache
This all-from-scratch Pistachio Cake is stuffed with a creamy Mascarpone Filling and topped with decadent Chocolate Ganache. Perfect for any occasion!
Ingredients
For the Cake:
1 1/3 cups unsalted pistachios, shelled
1 1/3 cups cake flour
1 1/3 cups all-purpose flour
3 teaspoons baking powder
1/2 teaspoon salt
1 cup (2 sticks) unsalted butter, at room temperature
1 1/4 cups granulated sugar
4 large eggs, at room temperature
2 teaspoons pure vanilla extract
1 cup whole milk
For the Filling:
2/3 cup mascarpone cheese, at room temperature
2 tablespoons unsalted butter, very soft
1 1/2 cups granulated sugar
1 1/2 teaspoons whole milk
For the Chocolate Ganache:
8 ounces semi-sweet chocolate, chopped
1/2 cup heavy cream
Instructions
Preheat the oven to 350 degrees (F). Generously spray two 9" cake pans with non-stick spray. Cut two rounds of parchment paper and place them on the bottom of each pan; spray again with non-stick spray; set aside.

Add 1 cup of the shelled pistachios to a food processor or high-power blender; pulse until only very small crumbs remain.

Measure out 1/4 of the pistachio crumbs and set them aside for the filling.

Place the remaining crumbs in a small bowl.

In a large bowl combine the flours, baking powder, and salt; mix well.

In the body of an electric mixer or in a large bowl using a handheld mixer, beat the butter and sugar on high-speed until light and fluffy; about 3 minutes. Reduce the speed to medium, then add the eggs, one at a time, beating well after each addition. Add in the vanilla and pistachio crumbs; beat until incorporated. Reduce the mixer speed to low and gradually add in half of the dry ingredients. Add in the milk, mixing until combined. Add in remaining dry ingredients and beat just until the batter comes together, scraping down the sides of the bowl as needed.

Divide the batter into the prepared pans. Bake the cakes until the tops are lightly golden and set; about 25-28 minutes. Allow the cakes to cool in the pans for 20 minutes, then carefully invert the pans and remove the cakes; transfer them to a cooling rack to cool completely.

In the meantime, make your filling!
For the filling:
In the bowl of a mixer or in a large bowl using a handheld mixer, beat the mascarpone cheese and butter together on high-speed until nice and creamy. Add in the reserved crushed pistachios; beat until combined. Gradually beat in the sugar, then add in the milk. Once all of the ingredients have been combined, turn the mixer speed up to high and beat for 2 minutes, scraping down the sides as needed.

When the cakes have cooled, place on layer on a large plate or cake stand. Spread the filling over the top of the cake, then place the other cake on top of the filling. Set aside and make your ganache.
For the ganache:
Add the chocolate to a large, heatproof bowl; set aside.

Heat the cream in a small saucepan over medium-heat just until it begins to bubble around the edges; about 2 minutes. Remove the cream from heat and pour it over the chopped chocolate. Let the chocolate and warm cream stand untouched for 1 minute, then whisk it together until the chocolate melts and a smooth ganache forms; about 2 minutes. Pour the warm ganache over the cake. Chop the remaining pistachios and sprinkle them on top of the wet chocolate ganache.

*This cake will stay fresh for 1-2 days, if kept at room temperature and wrapped in plastic wrap or covered with a cake dome. You can also store this in the fridge, and it will keep for 3-4 days.
Notes
*It is very important to line the bottoms of your cake pans with parchment paper AND spray them with non-stick spray. Skipping this step will most likely result in half of your cake sticking to the bottom of the pan post-baking... trust me on this one! *Shelling pistachios is a labor of love. You may want to find pistachio kernels (pistachios that have already been shelled for you), to make that step much easier. *This recipe was created by Jessica Merchant, and extracted from her beautiful Cookbook SERIOUSLY DELISH. The recipe is written in my own words, but the ingredients and methods are exactly the same. *I am in no way being paid or compensated for this giveaway. All words and opinions are my own, and I'm giving away these prizes simply because I want to! xo