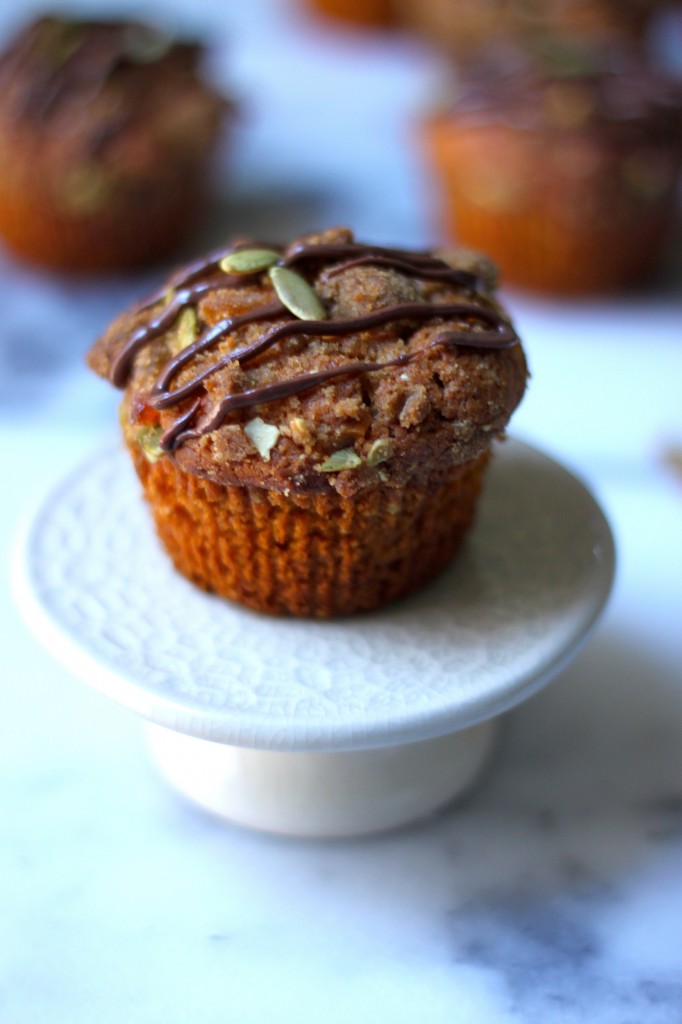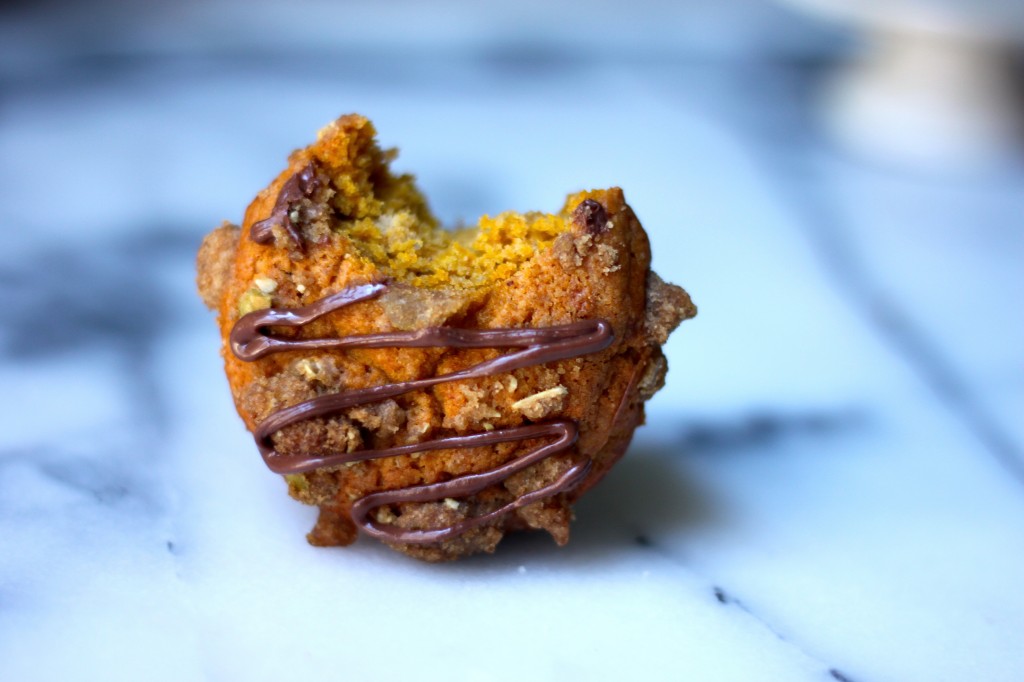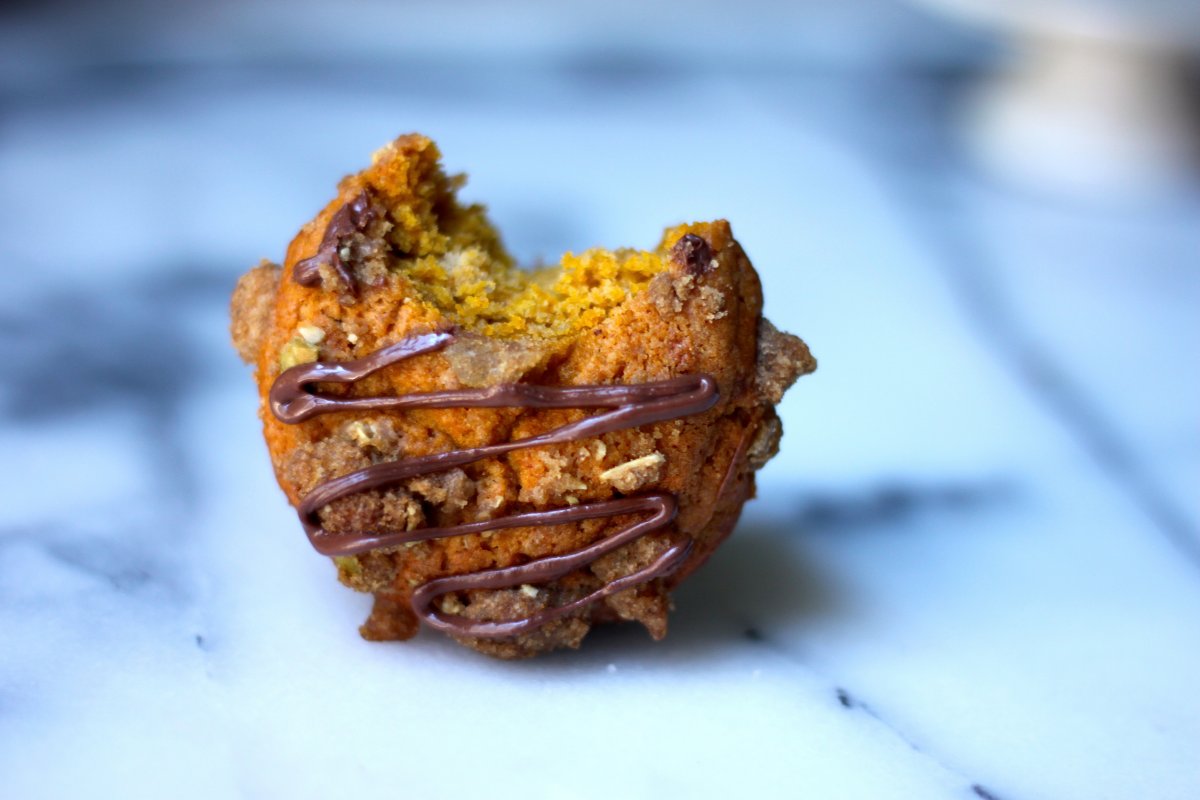 As much as I love eating in the morning – and always – I'm so not the girl on her weekday breakfast game. I'm typically scrambling, screaming, or utterly freaking out over something (normally it's "where are the damn keys?!" or "who moved my computer charger again!?") so, it ends up that most mornings over here are muffin mornings.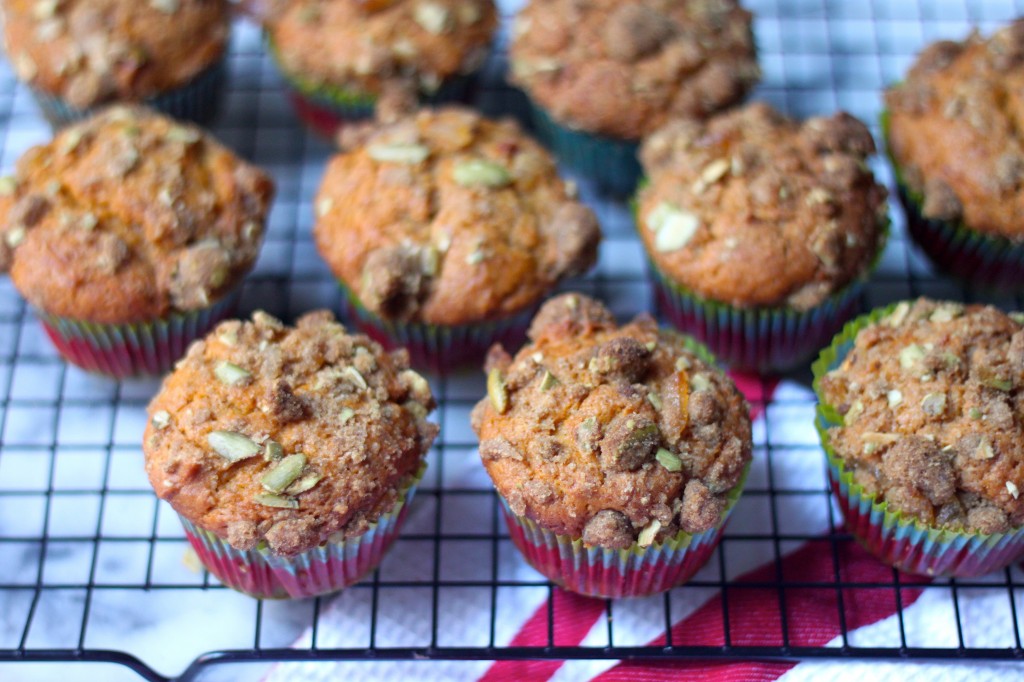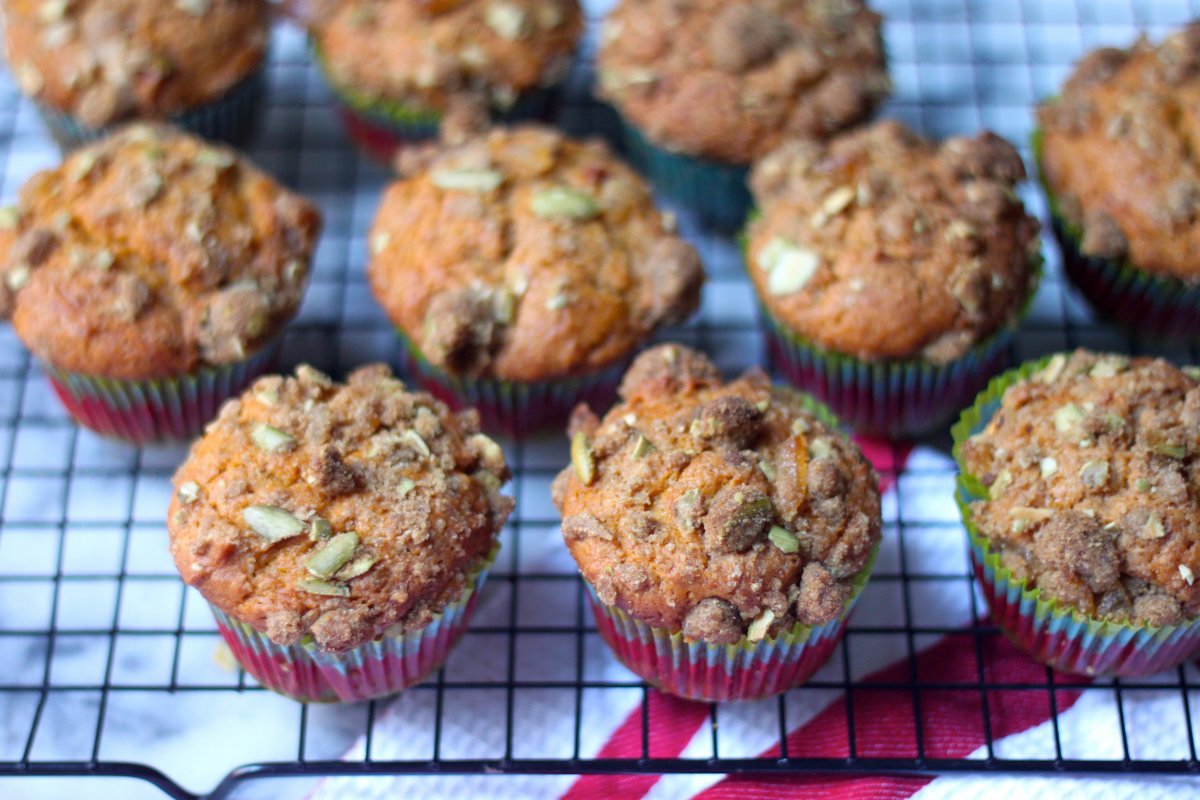 But ya know what? We kind of love it! There's something to a muffin and a coffee in the wee hours of the day that just works.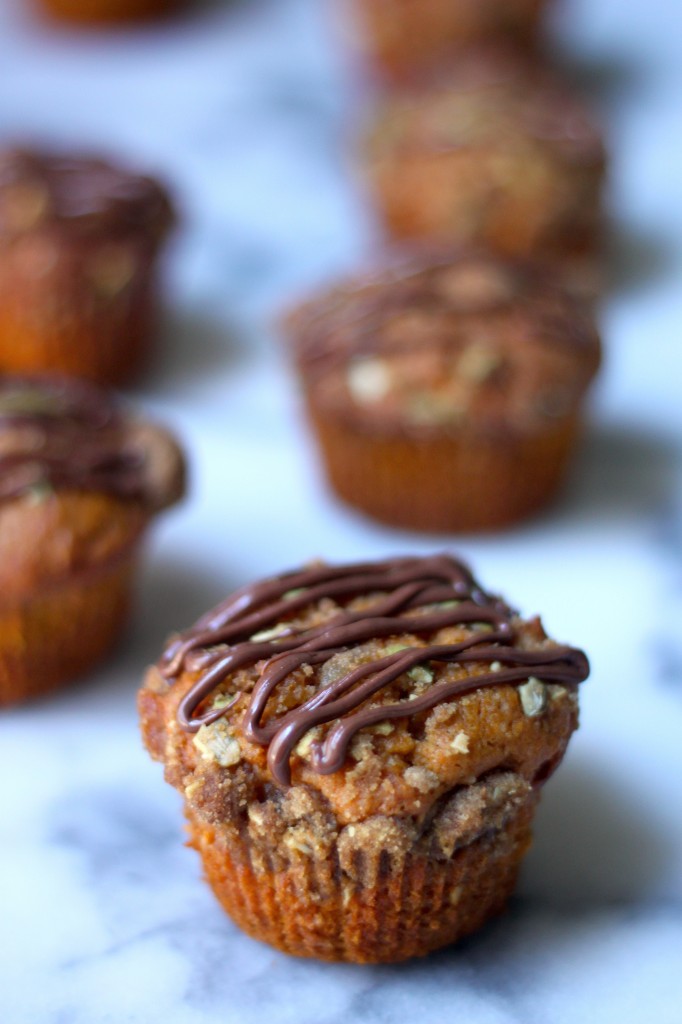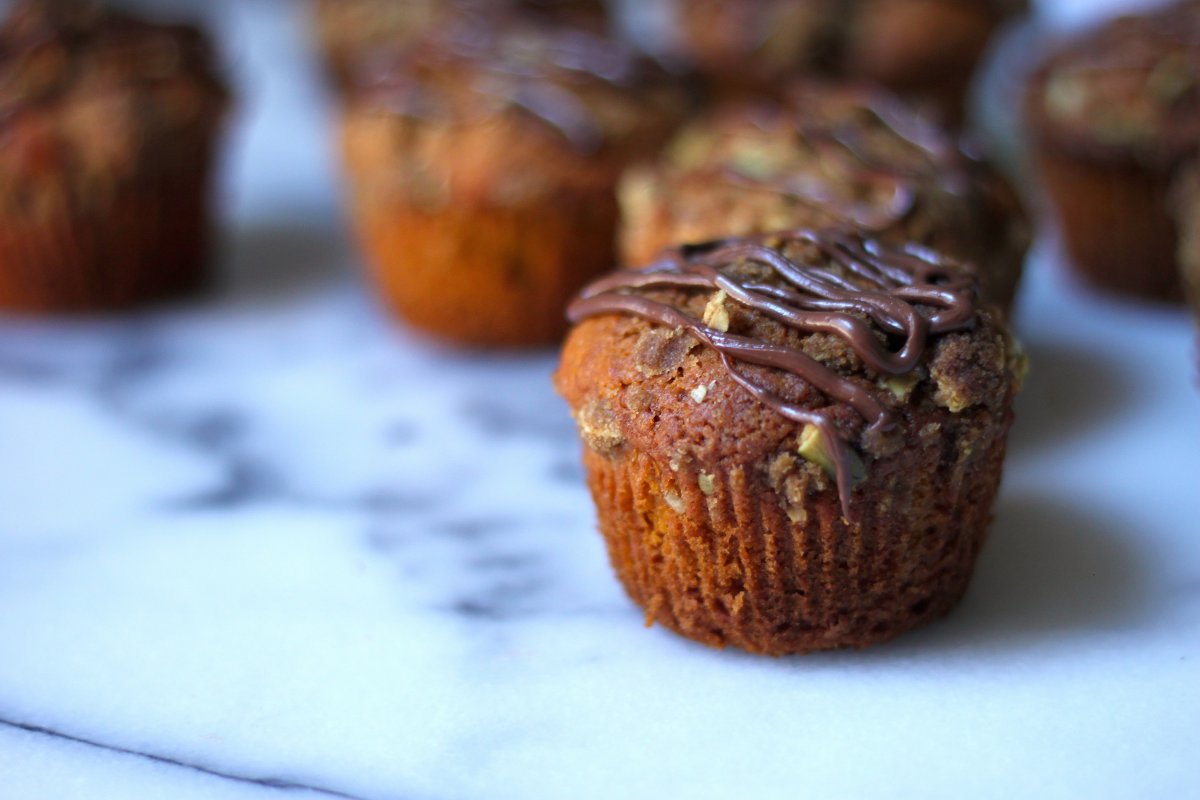 Sticking with our pumpkin theme (Yes, it's pumpkin week here at baker by nature!), I smashed some of the orange stuff in these muffins along with a banana and some olive oil and then added a crystalized ginger & pepita seed crumble (that also has olive oil in it) on top. And then I went ahead and drizzled a sweet little nutella zig zag on top of that! Because… well, nutella is awesome 😉 That's why!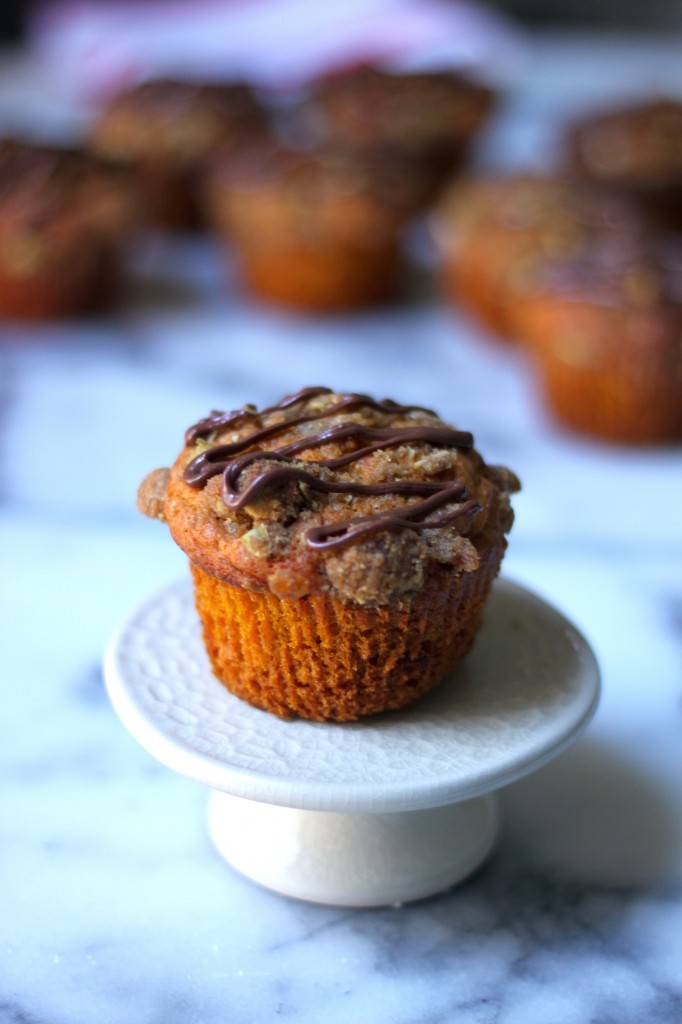 The crumble really baked in beautifully to the tops of these muffins, and it added just a touch of spice from the ginger. Ginger + pumpkin = total lovers. The muffins themselves were subtly sweet, totally pumpkin-y, and p-p-p-packed with moisture (oooh, I know you hate that word, but it's important in a muffin). The nutella on top was just extra decadence.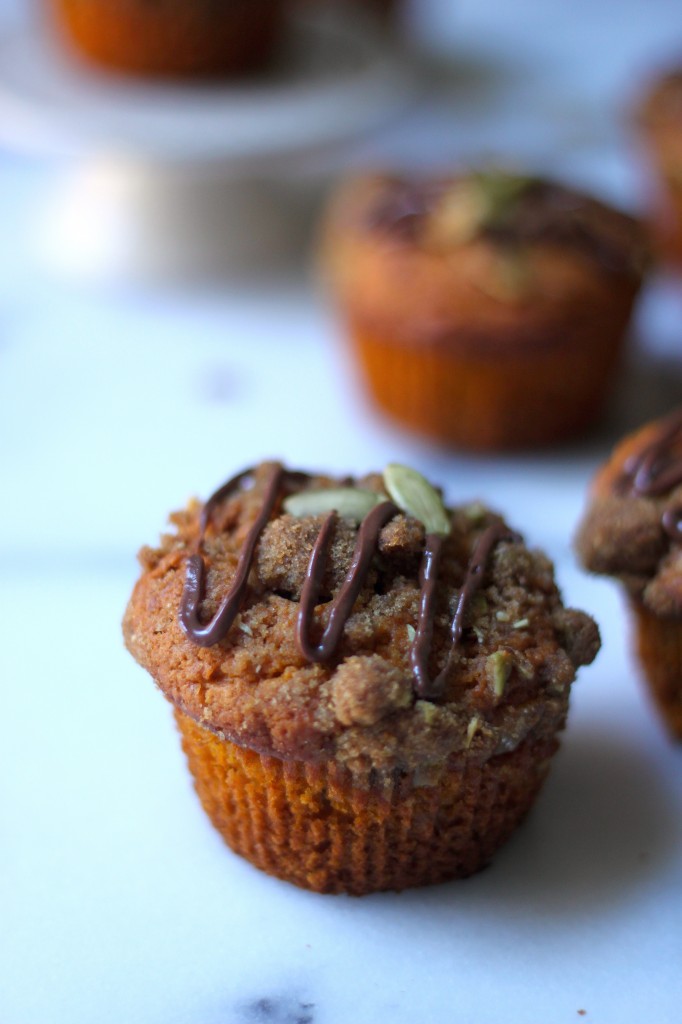 Now… I'm off to find my dang keys! Have a great day, peoples. xo
Pumpkin Olive Oil Muffins with Crystalized Ginger & Pepita Crumble – Baker by Nature
Makes about 18 muffins
Ingredients
For the muffins:
3 cups all purpose flour
1 tablespoon baking powder
1/2 teaspoon baking soda
1/2 teaspoon salt
1 teaspoon ginger powder
1/2 teaspoon cinnamon
1/8 teaspoon cloves
1/8 teaspoon nutmeg
3/4 cup sugar
1/4 cup brown sugar
1 cup olive oil
1 teaspoon vanilla
2 large eggs, at room temperature
1/2 cup whole milk
1 cup pumpkin puree
1 large very ripe banana, smashed
For the Crystalized Ginger Pepita Crumble:
1/3 cup flour
1/3 cup brown sugar
2 heaping  tablespoons crystalized ginger, chopped
1/4 cup pepita seeds, roughly chopped
2 tablespoons olive oil
For the Nutella Drizzle:
1/4 cup nutella
1 tablespoon coconut oil
Instructions
For the Crystalized Ginger Pepita Crumble:
In a small mixing bowl stir together the flour, sugar, ginger, and pepita seeds. Pour in oil and gently mix mixture with your hands until a crumble forms; don't over mix. Place mixture in the freezer until needed.
For the Nutella Drizzle:
In a small microwaveable mixing dish whisk together the nutella and coconut oil. Microwave for 30 seconds. Place warm mixture in a small zip lock bag, snip a teeny tiny corner off one end, and drizzle over muffins when ready.
For the muffins:
Preheat oven to 400 degrees (F). Line a muffin tin with paper liners, and set aside.
In a large medium sized mixing bowl whisk together the flour, baking powder, baking soda, salt, and spices.
In a separate mixing bowl whisk together the oil and sugars until smooth, then beat in the eggs and vanilla; mix well.
Pour half of the dry mixture into the wet mixture and mix until just combined. Add milk and stir once, then add the rest of the dry mixture and mix again until just combined. Fold in the pumpkin puree and smashed banana, and mix until the color is a uniform light orange; this should take 4 to 5 good turns with a large spatula.
Scoop batter into prepared muffin tin, filling the molds 3/4 of the way full.
Top each muffin with 1 tablespoon of the crystalized ginger pepita crumble.
Place muffins in oven and bake for 20 – 22 minutes, or until a cake tester comes out clean and the crumble on top of the muffins is lightly golden.
Let the muffins cool in the tin for at least 10 minutes before transferring to a wire rack to cool completely. Once cool, drizzle with nutella and eat.
*Muffins – while always best the first day –  will keep for up to 48 hours (without the nutella drizzle) in an air tight container.