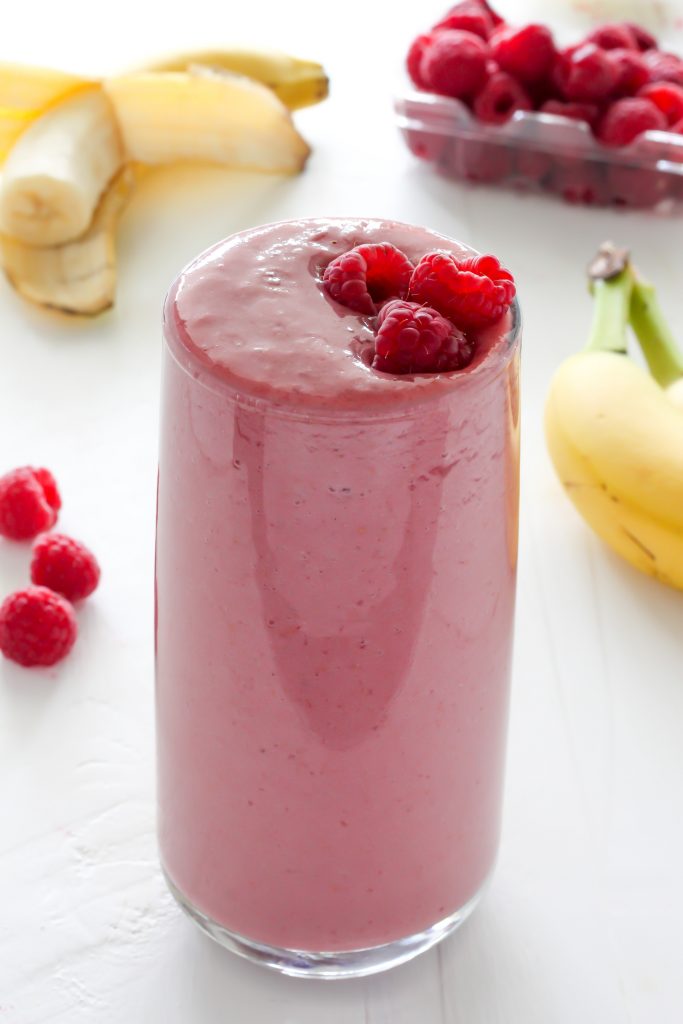 This deliciously refreshing Raspberry Banana Smoothie is made with simple ingredients and takes just minutes to prepare! Perfect for busy mornings or afternoons.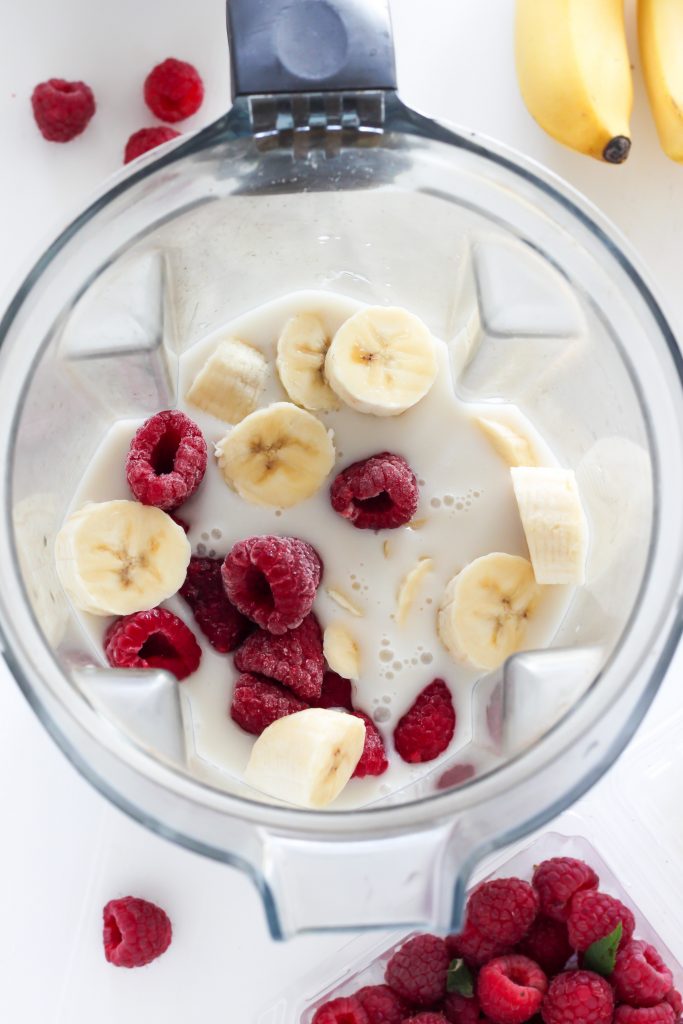 Are you a smoothie fan? Me…? Ooooooh heck yesss. And lately I've been sipping one down every-single-morning after yoga. Fresh, fruity, and fast – what's not to love?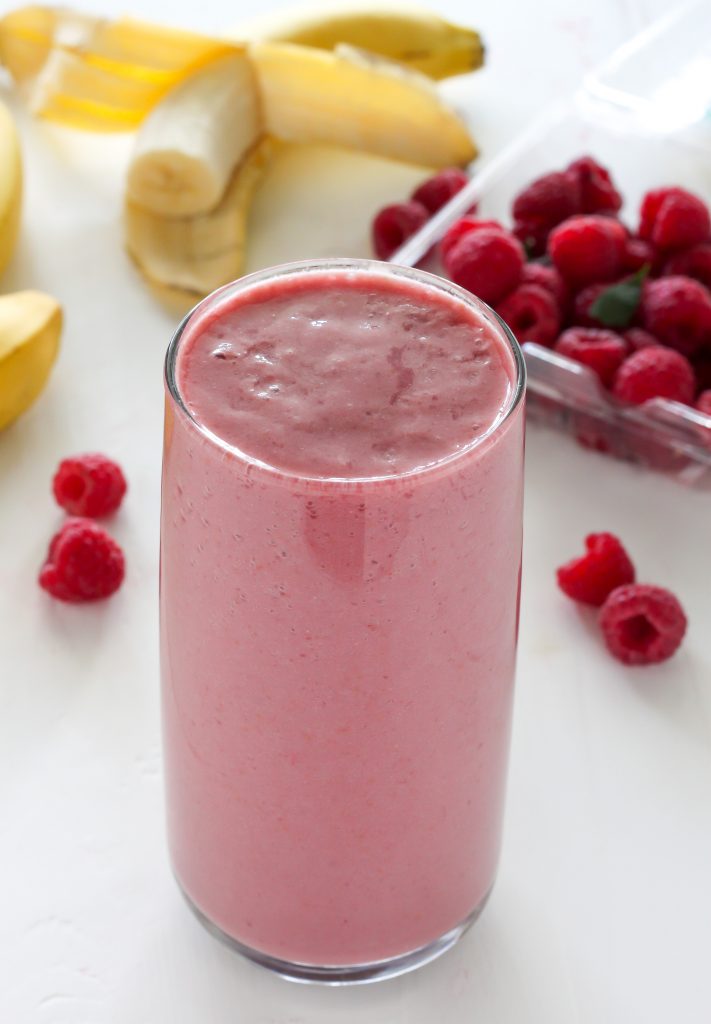 This Raspberry Banana Smoothie is a must-try recipe! Why? Well, let's break those reasons down right now 😉
1) The ingredients are simple and fresh. All you need to make this smoothie dream a reality is a banana, some frozen raspberries, a splash of orange juice, Silk Almond Milk, and honey. I bet you have some of these ingredients – if not all of them – already in your kitchen!
2) This recipe is FAST! I'm talking 3 minutes all together fast. Gotta love that!
3) Delicious, creamy, and so flavorful!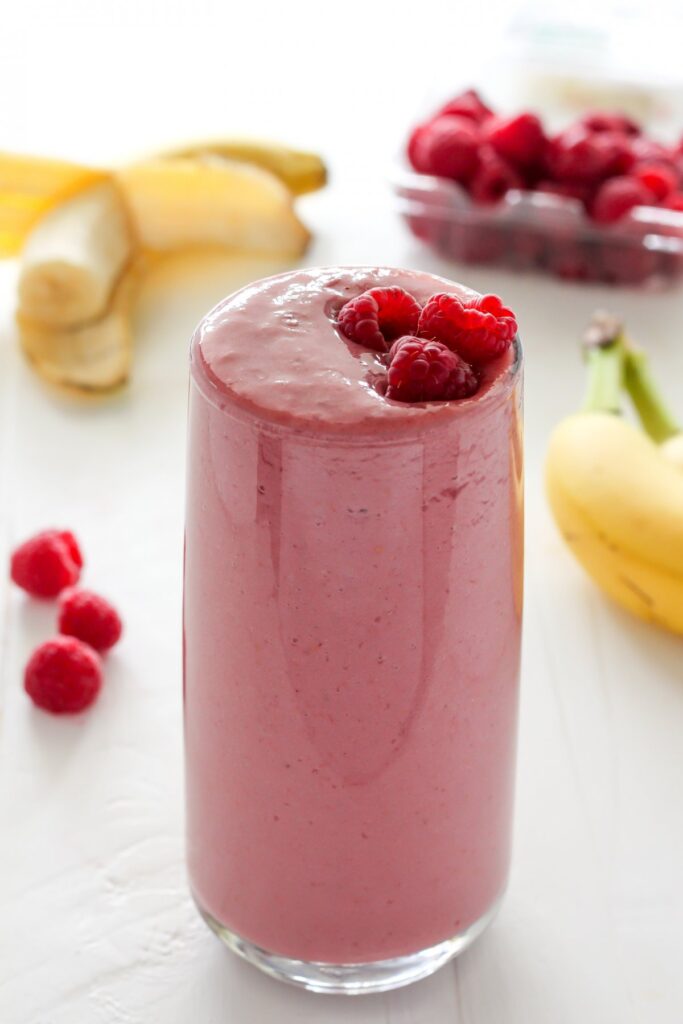 Now, a few quick notes on the ingredients!
For the liquid in this smoothie I chose to use almond milk. I love using Silk Almond Milk in all of my smoothies as it's lower in calories than dairy based products and gives a much smoother consistency to smoothies than using water or ice.
*Have you tried almond milk yet? It's surprisingly delicious and has become a go-to for us, from smoothies to cereal! Let me know how you like it if you give it a try 😉
*If you're vegan and would like to try this smoothie, feel free to leave out the honey and use maple syrup or agave in its place.
*I highly recommend using frozen raspberries and bananas for the creamiest texture. If you don't want to buy them frozen from the store, simply pop freshly sliced bananas and berries in the freezer until solid.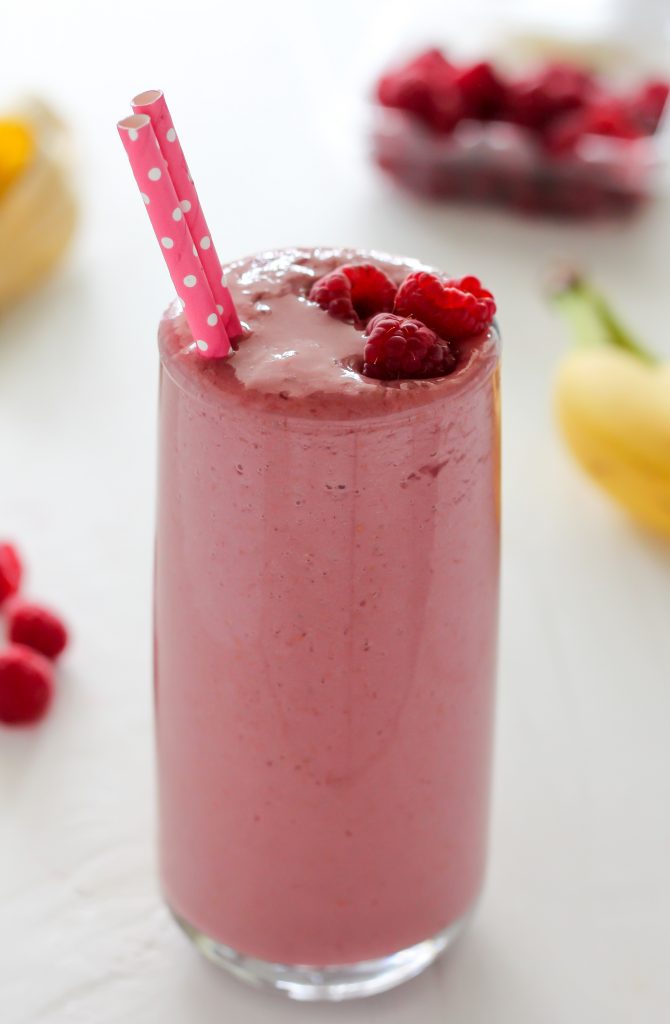 And that's that. I just threw a whole lot of smoothie info your way, so um… go get your sip on, friend. xoxo
Raspberry Banana Smoothie
Yield 4 Smoothies
Thick and Creamy Raspberry Banana Smoothie!
Ingredients
3 very ripe bananas, cut into chunks, frozen
1 cup frozen raspberries
1 cup SILK almond milk
1/2 cup fresh orange juice (preferably no sugar added)
2 tablespoons raw honey (more to taste, if desired)
Instructions
Place all of the ingredients in a blender and pulse until smooth, about 30 seconds. Serve right away!
Courses Breakfast
Cuisine American

This conversation is sponsored by Silk. The opinions and text are all mine.