Raspberry Truffles Brownies feature a fudgy brownie base and raspberry truffle frosting! So decadent! And a must try for anyone who loves the combination of chocolate and raspberries!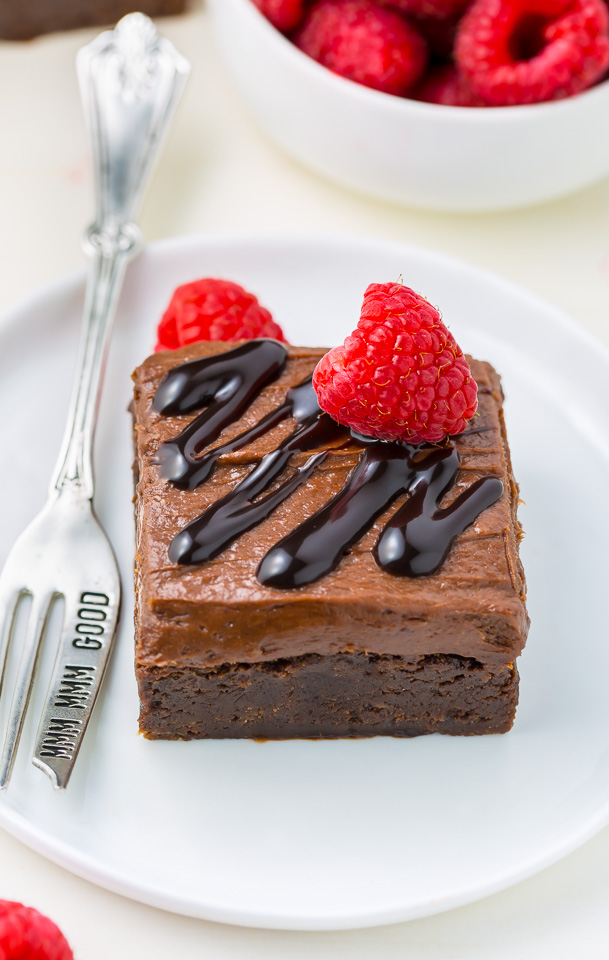 Raspberry Brownie Recipe
Popping in on this Saturday morning because it feels like FOREVER since we've talked and I've miss you! And I'm bringing you raspberry truffle brownies to prove it! But first, let's catch up. How are you spending the weekend? Any grand plans? Or big baking adventures? I have family heading into town later this afternoon, so I'll be in my happy place: playing host, preparing meals, and treating everyone to seconds of dessert. I should probably get dressed, clean my apartment, and go grocery shopping at some point…
But first! Let's dive into these brownies together.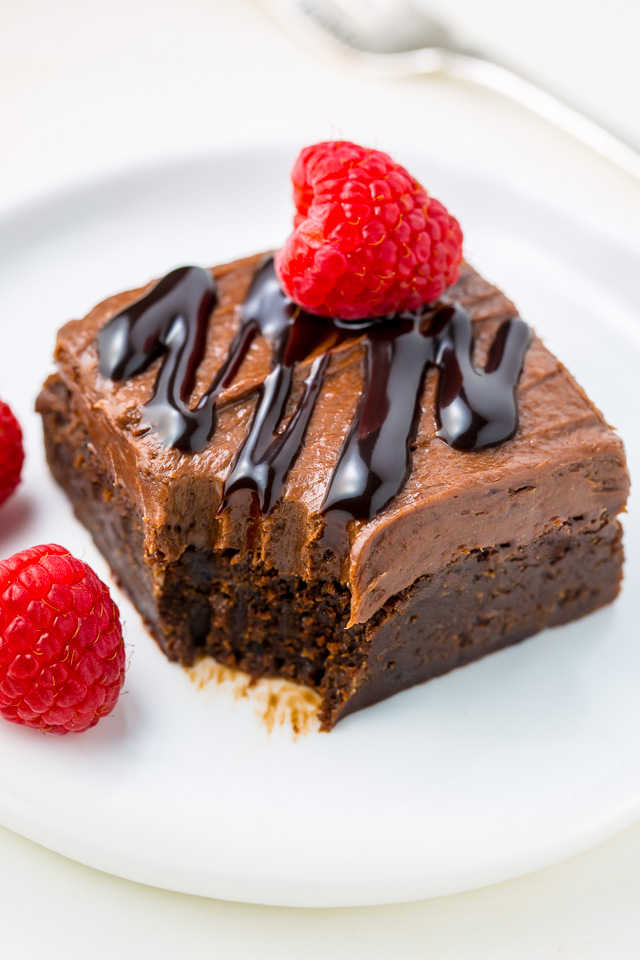 So let's break these brownies down layer by glorious layer: first we have our fudgy brownie base; followed by our raspberry truffle frosting; finished off with a chocolate drizzle and a fresh raspberry! Does that not sound like the dreamiest combo ever?! (I assure you it is!)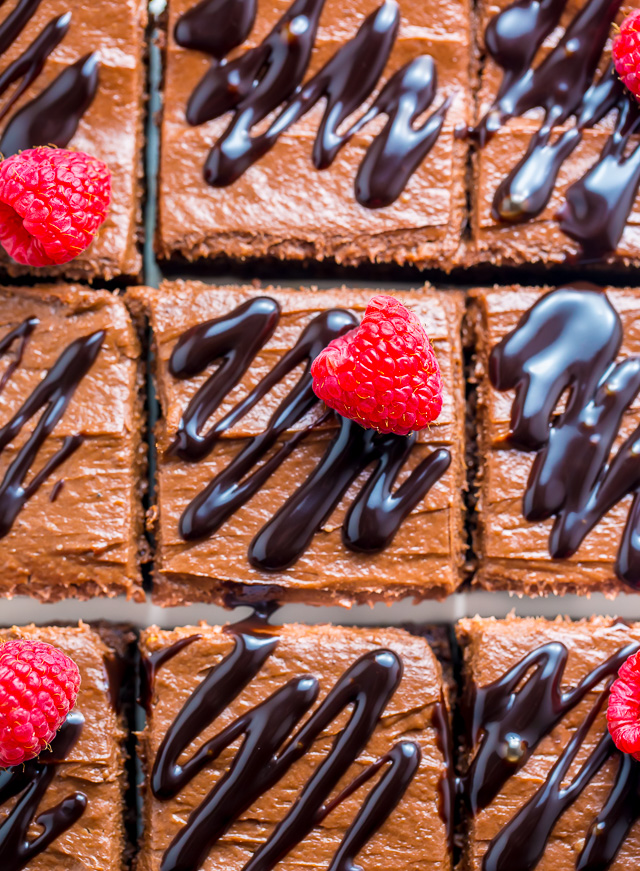 Tips and Tricks for Recipe Success:
You'll want to start with the brownie base. The brownies will need to bake for 30 minutes and cool COMPLETELY before getting dressed up in that luscious raspberry frosting. If you try to frost warm brownies… you'll have a hot mess on your hands! I speak from personal experience. So if you want to speed up the cooling process, pop the tray of brownies in the fridge.
Be sure you don't over bake the brownies! They should not be liquid when you pull them out of the oven, but don't be afraid if they have a little jiggle in the middle. The brownies will firm up as they cool. Over baked brownies will not be fudgy.
All three layers in this recipe call for chopped chocolate. I highly recommend using quality chocolate you know melts well and tastes good. I love Lindt 70% cocoa bars for this recipe! Whatever brand you choose, just be sure you're using real chocolate bars, and not chocolate chips. You know I love chocolate chips – just not for this recipe! They don't melt well and are inferior in taste.
Bring your cream cheese to room temperature before using it in your frosting recipe. It needs to be very soft! Otherwise it will seize up when you beat it and leave little cream cheese chunks throughout the frosting.
Finally, be sure to chill the finished brownies for at least 30 minutes before slicing and serving. This step allows the frosting and drizzle set and slice neatly.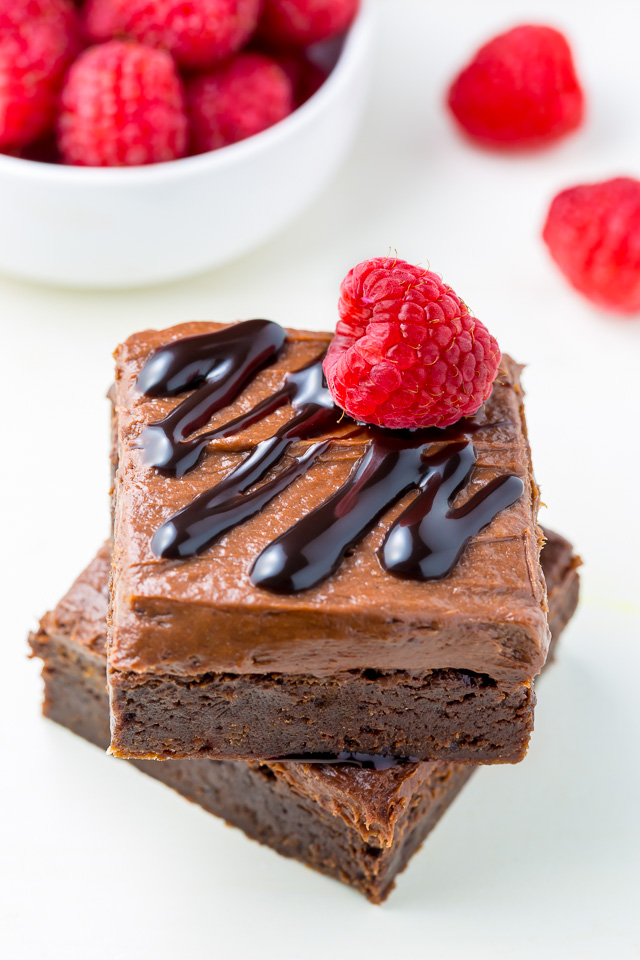 For an extra pretty presentation top each brownie with a raspberry or two right before serving. I'm so excited for you to make these! And even more, eat these! Raspberry truffle brownies for everyone ♥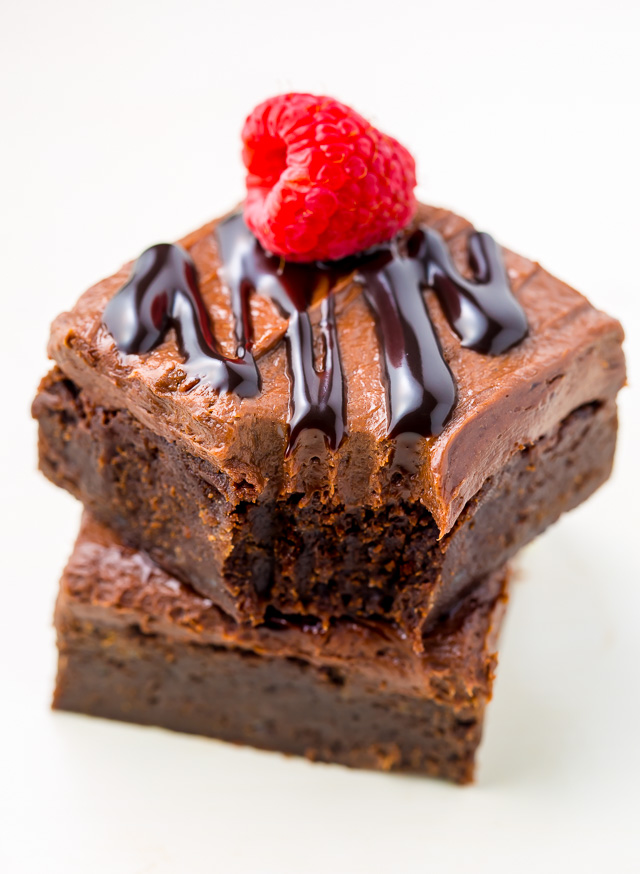 More Chocolate Raspberry Recipes:
If you try this recipe for Raspberry Truffle Brownies, let me know! Leave a comment below and don't forget to snap a pic and tag it #bakerbynature on instagram! Seeing your kitchen creations makes my day. ♥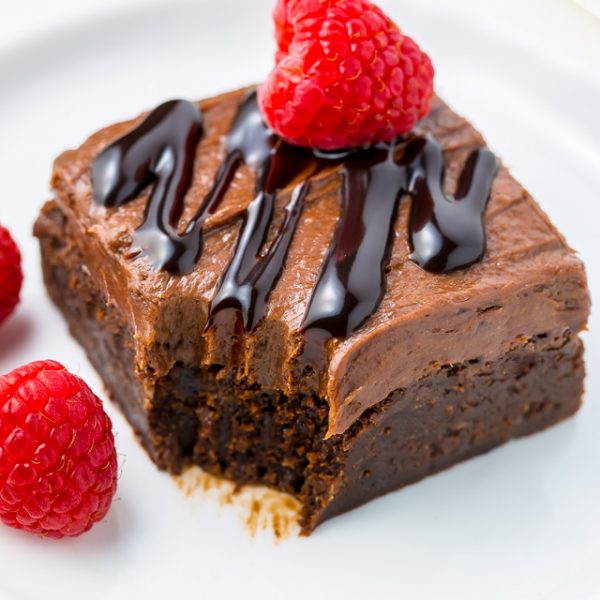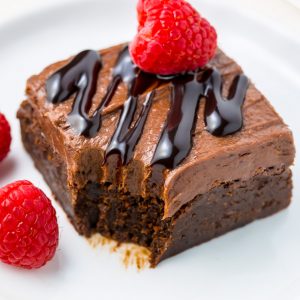 Raspberry Truffle Brownies
Raspberry Truffle Brownies feature a thick and chewy brownie base, chocolate raspberry frosting, and a chocolate drizzle!
Ingredients
For the Brownies:
1 and 1/4 cups all-purpose flour
1 teaspoon salt
2 tablespoons unsweetened cocoa powder
12 ounces semi-sweet chocolate, chopped
1 cup unsalted butter, cold and cut into cubes
2 cups granulated sugar
5 large eggs, at room temperature
For the Raspberry Truffle Frosting:
8 ounces semi-sweet chocolate, chopped
(1) 8 ounce block of cream cheese, at room temperature
1/3 cup confectioners' sugar
1/3 cup seedless raspberry jam
1/8 teaspoon salt
For the Chocolate Glaze:
4 ounces semi-sweet chocolate, chopped
1 teaspoon canola oil
Instructions
For the Brownies:
Preheat oven to 350 degrees (F). Line a 9×13-inch baking pan with parchment paper; spray parchment paper and any exposed pan with non-stick baking spray and set aside.

In a medium bowl add the flour, salt, and cocoa powder; whisk well to combine and set aside.

In a large bowl combine the chopped chocolate and butter; set the bowl over a saucepan of simmering water and melt, stirring occasionally, until the chocolate and butter are completely melted.

Remove from heat and carefully remove the bowl from on top of the water. Add the sugar and whisk smooth. Add 3 eggs to the chocolate mixture and whisk until combined. Add the remaining eggs and whisk until combined. Be sure not to over beat the batter here!

Add the flour mixture into the chocolate mixture. Use a rubber spatula (not a whisk), to gently fold the flour mixture into the chocolate until just a bit of the flour mixture is visible.

Pour the batter into the prepared pan and smooth the top. Bake in the center of the oven for 30 minutes, rotating the pan halfway through the baking time, or until a toothpick inserted into the center of the brownies comes out with a few moist crumbs sticking to it. Cool completely in the pan, then lift them out of the pan using the parchment paper. Spread raspberry truffle frosting evenly over the brownies, then drizzle with the chocolate glaze. Chill for at least 30 minutes before cutting.

Cut into squares and top with fresh raspberries right before serving, if desired.
For the Raspberry Truffle Frosting:
Place the chopped chocolate in a microwave safe bowl and melt in the microwave, in 15 second increments, stirring in between each, until smooth. Set aside to cool (this should only take a few minutes). In the bowl of stand mixer fitted with the paddle attachment, or in a large bowl using a handheld electric mixer, beat the cream cheese on medium-speed until smooth. Reduce the speed to low; add in the confectioners' sugar and beat smooth. Add in the raspberry jam and cooled chocolate and beat smooth. Spread frosting over cooled brownies.
For the Chocolate Glaze:
Place the chopped chocolate and canola oil in a microwave safe bowl and melt in the microwave, in 15 second increments, stirring in between each, until smooth. Cool for a few minutes, then drizzle over the frosting. Chill brownies for at least 30 minutes before cutting.