Simple and super moist pumpkin muffins are topped with a sweet vanilla glaze. My favorite snack on a chilly Fall day!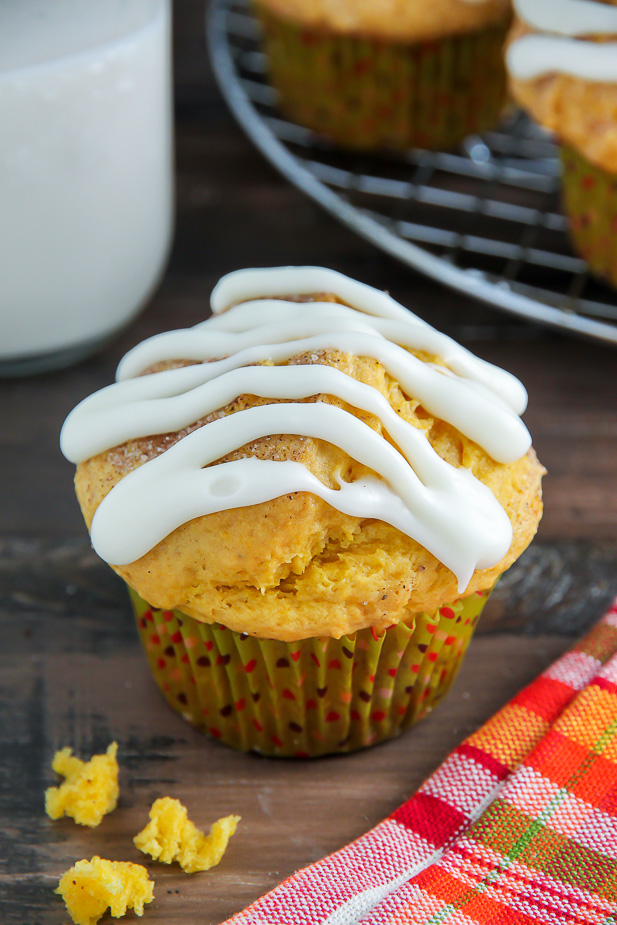 Easy Pumpkin Muffins
I have a soft spot for pumpkin. I have a soft spot for muffins. And my soft spot for vanilla glaze is growing by the day. So I guess it's no real surprise I said goodbye to my good intentions of "eating just one" the minute these soft and fluffy pumpkinlicious muffins hit my lips. Truth: I ate 3 warm from oven with a cup of coffee as my chaser.
My only regret? Not making these sooner! One taste and these muffins will have you walking in a pumpkin wonderland.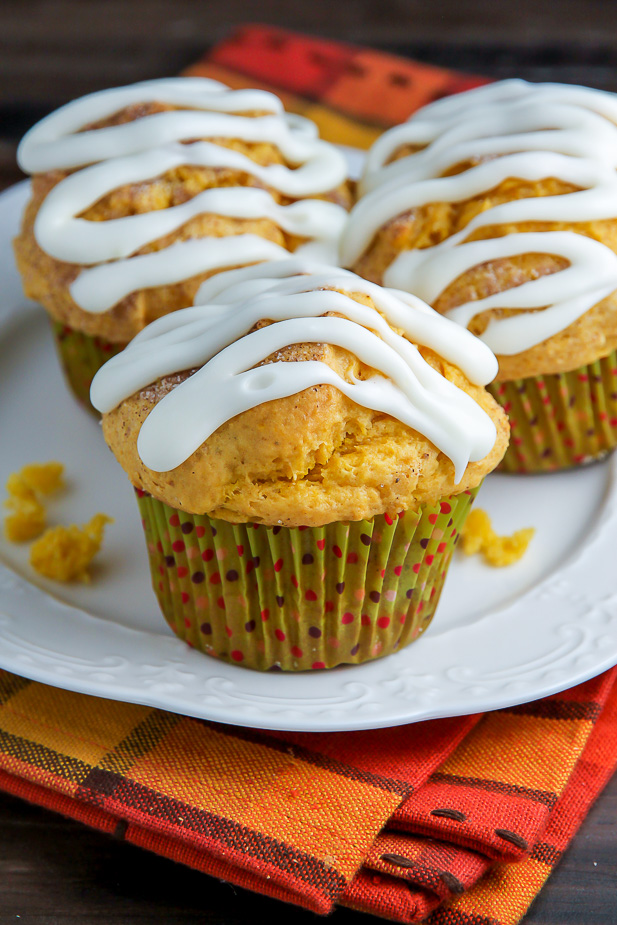 These gorgeous little muffins were a hit at a bake sale I contributed to a few weeks ago. I baked two dozen to donate to the sale and my friend let me know they were gone in less than 30 minutes! Her words exactly "they're the perfect gateway recipe to Fall baking". I couldn't have said it better myself.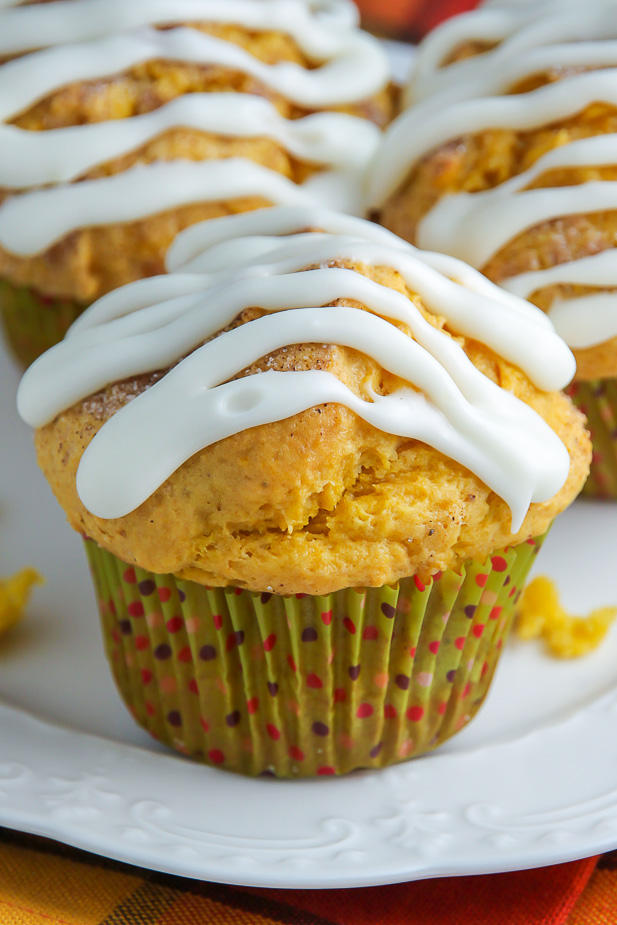 Bonus: These muffins fill your kitchen with the dreamiest scent while baking.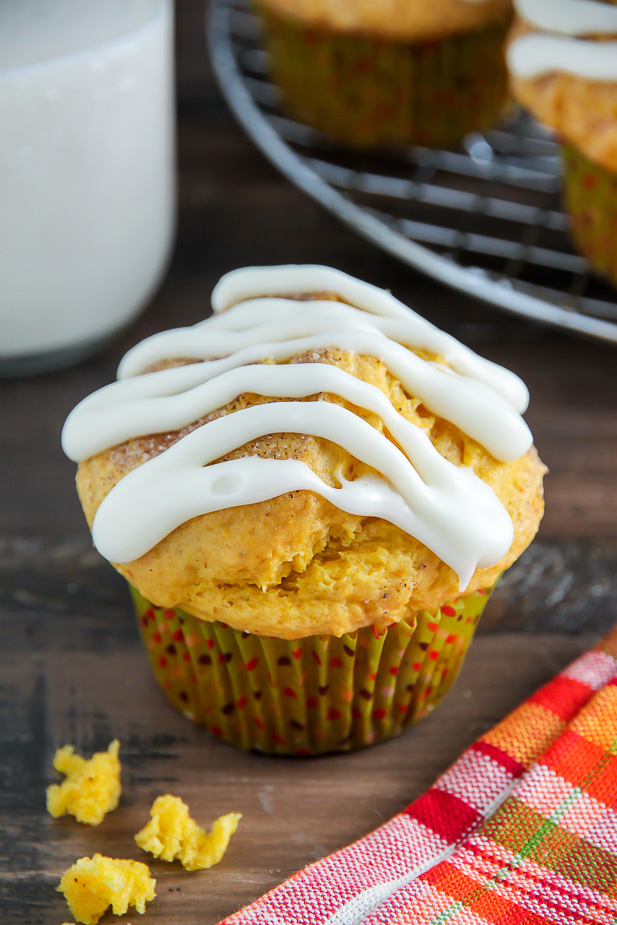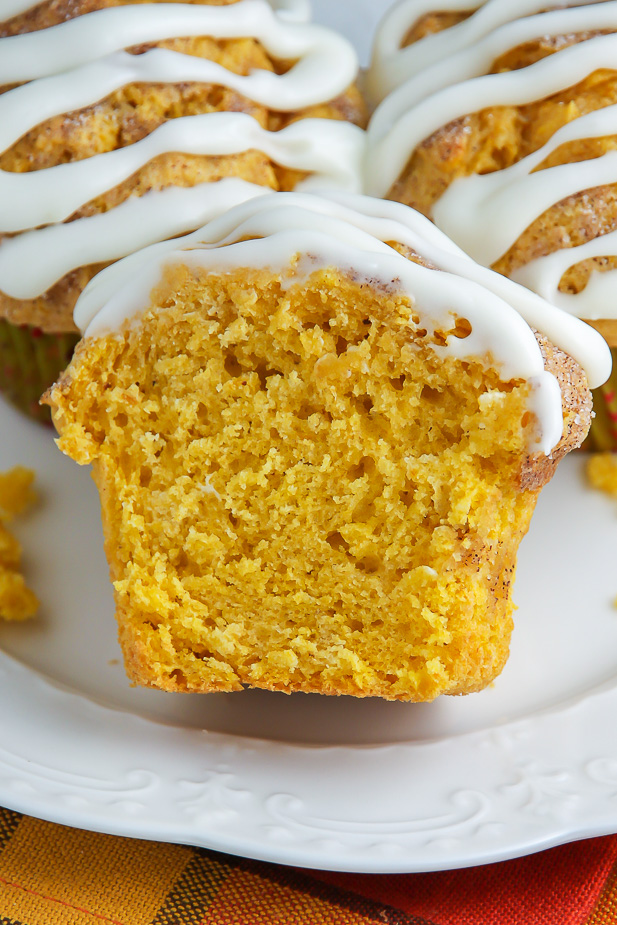 So let's get down to business. Making these muffins is really, really, really easy!
This recipe begins with some very simple ingredients. For the muffin base you'll need all-purpose flour, baking powder, sugar, eggs, milk, vanilla, salt, butter, an orange, and of course, pumpkin. Pretty simple stuff, right? And for the glaze, it gets even simpler! You'll need some confectioners' sugar, milk, a pinch of salt, and vanilla. EASY!!! ♥♥♥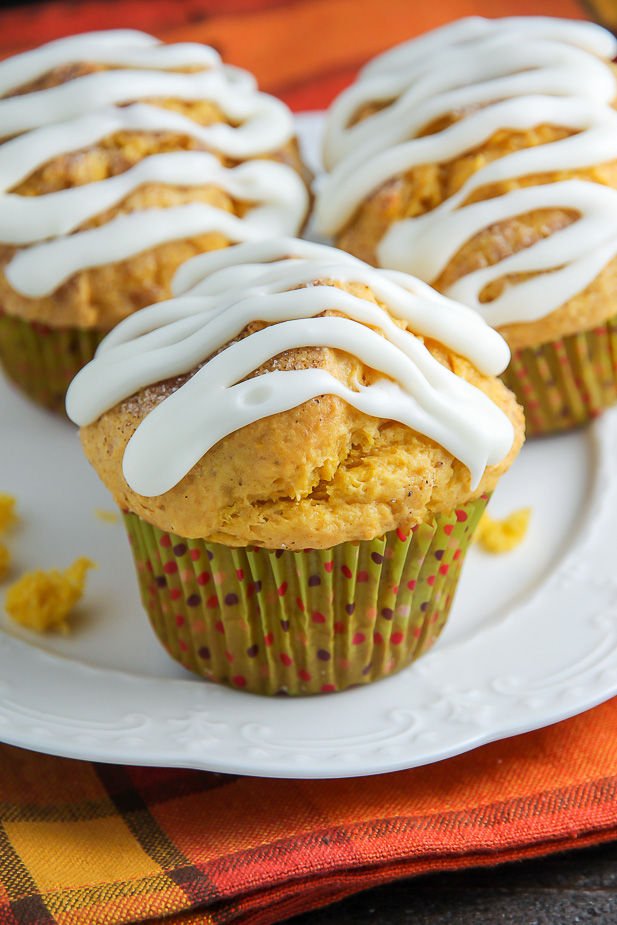 This simple pumpkin recipe produces moist , fluffy muffins with tall, crunchy, cinnamon-sugary tops. The bakery-style muffin tops are my favorite part! ← They're a muffin must in my opinion.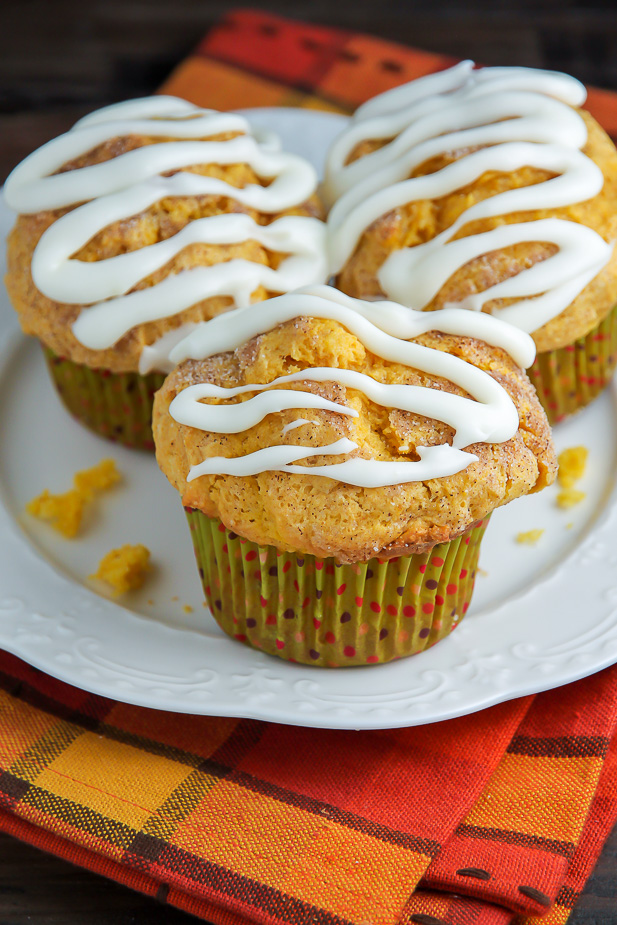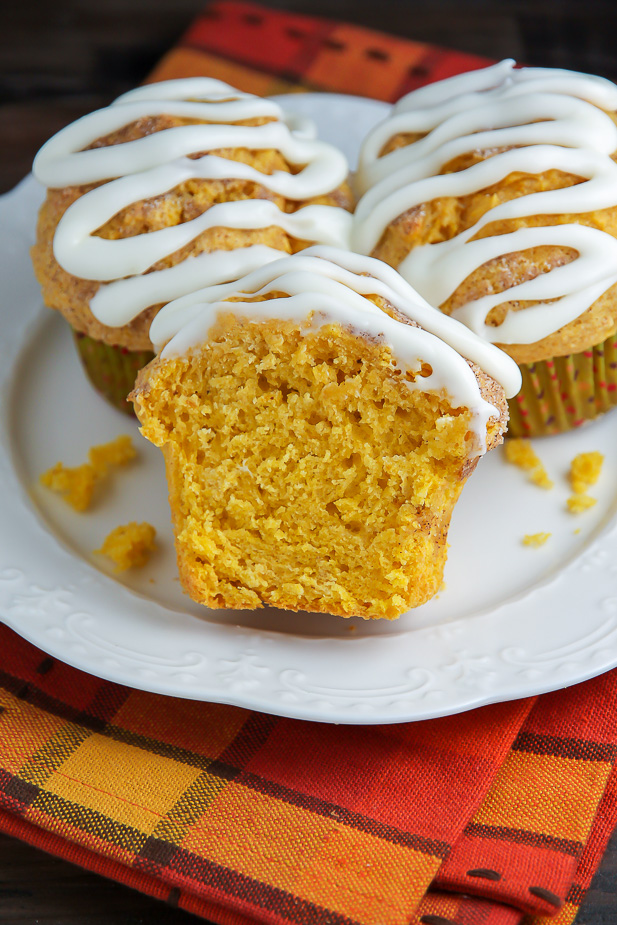 These muffins represent my love of all things simple, spiced, and sweet. They're perfect warm from the oven, but they also freeze – minus the glaze – wonderfully and reheat like a dream. Eat them with a cup of coffee in the morning, snack on them in the afternoon, or be a goodie good and make them a light dessert. No excuses – just make them, eat them, and enjoy them 🙂 I'm no prophet, but I know you're going to love this one!
So… is your muffin tin out yet? Happy baking! xoxo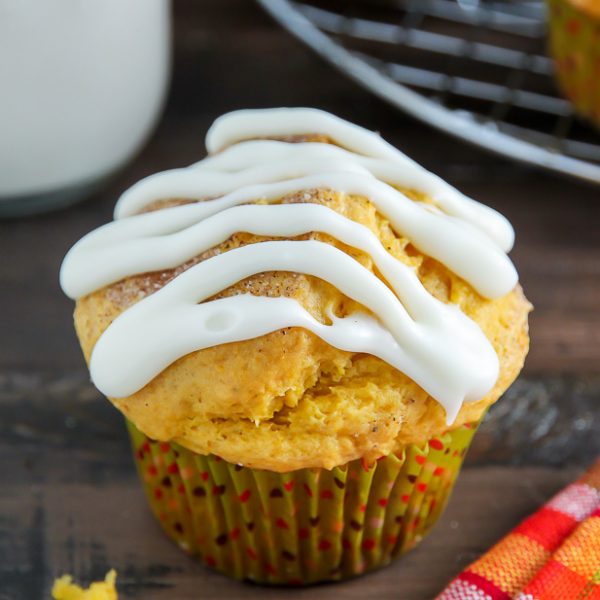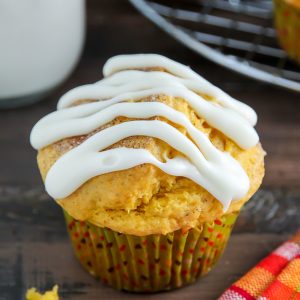 Simple Pumpkin Muffins with Vanilla Glaze
Simple and richly spiced pumpkin muffins with a sweet vanilla glaze. The perfect treat on a Fall day!
Ingredients
For the cinnamon sugar topping:
2 tablespoons granulated sugar
1 teaspoon cinnamon
For the pumpkin muffins:
1/2 cup granulated sugar
1/2 cup light brown sugar, packed
1 teaspoon orange zest (usually the zest of one large orange)
3 cups all-purpose flour (not packed)
1 tablespoon baking powder
1/4 teaspoon baking soda
1/4 teaspoon salt
2 teaspoons pumpkin pie spice
3/4 cup WHOLE milk (whole milk or full-fat will yield the best results)
3/4 cup pumpkin puree (not pumpkin pie filling)
1/4 cup orange juice (fresh squeezed or store-bought will work)
2 large eggs, at room temperature
1 teaspoon vanilla extract
1 stick (4 ounces) unsalted butter, melted and slightly cooled
For the glaze:
1 cup confectioners' sugar
2-3 tablespoons heavy cream or whole milk
1/4 teaspoon salt
1/4 teaspoon vanilla extract
Instructions
For the cinnamon sugar topping:
In a small dish combine sugar and cinnamon; set aside until needed.
For the muffins:
Adjust an oven rack to the middle position; preheat oven to 375 degrees (F). Line a 12-cup muffin tin with paper liners; spray lightly with non-stick spray; set aside.

Combine sugars and orange zest in a large bowl; using your fingers rub the orange zest into the sugars until well combined and fragrant. Add the flour, baking powder, baking soda, salt, and pumpkin pie spice into the bowl and mix well to combine.

In a medium-sized bowl combine the milk, pumpkin puree, orange juice, eggs, and vanilla extract; whisk well until completely smooth and combined. Gently fold the liquid mixture into the dry mixture, stirring with a rubber spatula until just combined. Fold in melted butter, stirring just until butter is incorporated.

Divide batter evenly among muffin tins, filling each tin 3/4 of the way full. Sprinkle a little of the cinnamon sugar mixture on top of each muffin.

Bake until set in the center and golden brown; about 20-22 minutes.

Allow muffins to cool in the pan 5 minutes, then glaze and serve warm.
Notes
Recipe should be followed exactly for best results.