Skinny Sausage Parmesan Stuffed Eggplant is so flavorful and perfect for dinner tonight! A great way to use up the eggplant from your garden!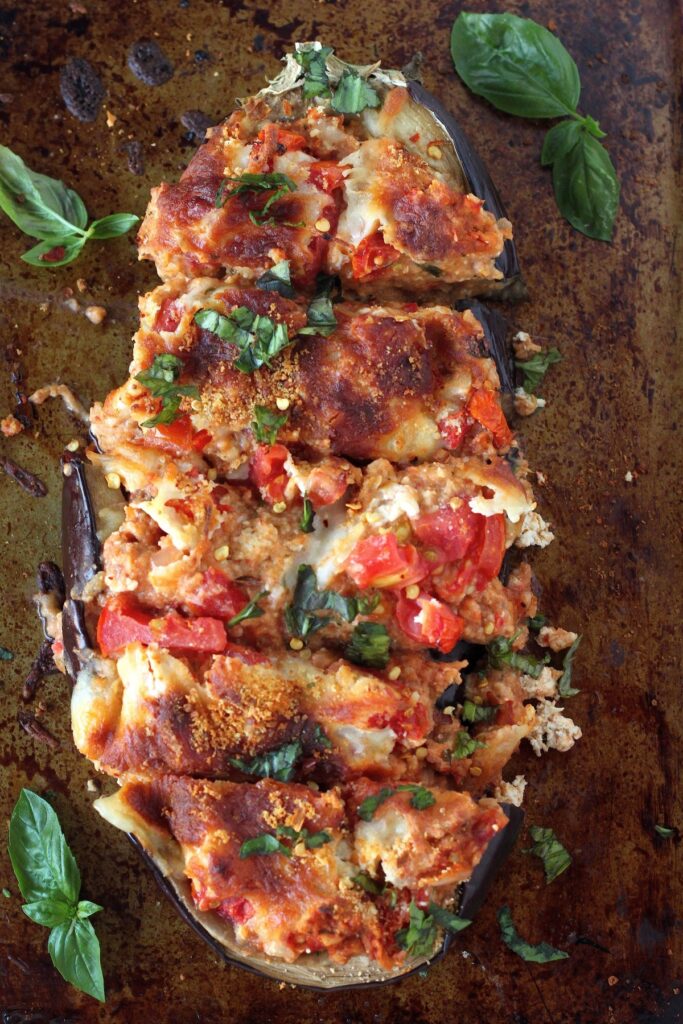 Sausage Stuffed Eggplant
During the month of August I had the luxury of spending a lot of time with some really good cooks, including my boyfriend's mother. One of the new-to-me dishes I learned to love – and cook – was stuffed eggplant. Have you guys made this before? It's so delightfully simple! Not to mention major in the delish department. I was hooked after one bite (ok… three!), and I just know you will be, too.
I lightened up this meaty// cheesy stuffed eggplant situation by using whole wheat bread crumbs, light cheese, and chicken sausage. With so many flavors and textures exploded in this dish, you'll never even notice those sneaky little changes 😉 Promise.
You can eat this excellent eggplant dish alongside a salad, stuffed shells, swordfish, or your favorite main dish. You can also serve this as the main dish! But we love food so much in my house we always have multiple dishes on the table 😉 But that's just us! Any way you serve it, you're destined for an awesome meal! xoxo

Skinny Sausage Parmesan Stuffed Eggplant
Skinny Sausage Parmesan Stuffed Eggplant is such a delicious Summer dinner recipe!!!
Ingredients
1 large eggplant
2 tablespoons extra-virgin olive oil, divided
1/2 pound ground chicken sausage
Salt and freshly ground black pepper
1 small red onion, diced
1 roasted red pepper, diced
5 cloves garlic, minced
1/2 cup freshly chopped parsley leaves
3/4 cup freshly chopped basil leaves, chopped
3/4 cup grated Pecorino Romano, divided
1/4 cup Mozzarella cheese
1/4 cup whole wheat Italian bread crumbs
1 egg
1/4 cup marinara sauce
2 Roma tomatoes, diced
Instructions
Preheat oven to 350 degrees (F). Line a large baking sheet with parchment paper; set aside.

Cut eggplant in half, scoop out the center (leaving just enough meat inside the skin so that it holds its shape when baked). Bring 4 cups of water to a rolling boil. Add the scooped-out center part and boil until very soft, about 12 minutes. Drain, pat dry, roughly chop, and set aside.

Add 1 tablespoon of olive oil to a medium-sized sauté pan over medium heat. Add the chicken sausage to the pan and saute until it browns slightly. Remove from heat, let cool briefly, then chop the cooked sausage with a wooden spatula (or knife…) so that there are no large chunks of meat. Set aside.

In a separate medium-szied sauté pan over medium heat add the remaining olive oil and saute the onions and peppers for 5 minutes. Add garlic and sauté for another minute. Remove from heat. Set aside.

In a large bowl mix together the cooked eggplant, the sautéed vegetables, cooked sausage, parsley, basil, 1/2 cup Pecorino Romano, bread crumbs, and the egg.

Fill the scooped-out eggplant halves with this mixture, dividing it evenly among the 2 halves. Place eggplant on prepared pan.

Top with marinara, chopped tomatoes, and the remaining 1/4 cup of grated cheese. Season with salt and pepper and bake for 1 hour in a preheated oven. After one hour, reduce heat to 300 degrees (F), remove eggplant from oven, sprinkle the mozzarella cheese evenly among the two sides, then return back to the oven for another 8-10 minutes, or until the cheese has completely melted.

Let cool briefly, slice, and serve.