If you like S'mores, you'll love this decadent S'mores Pie!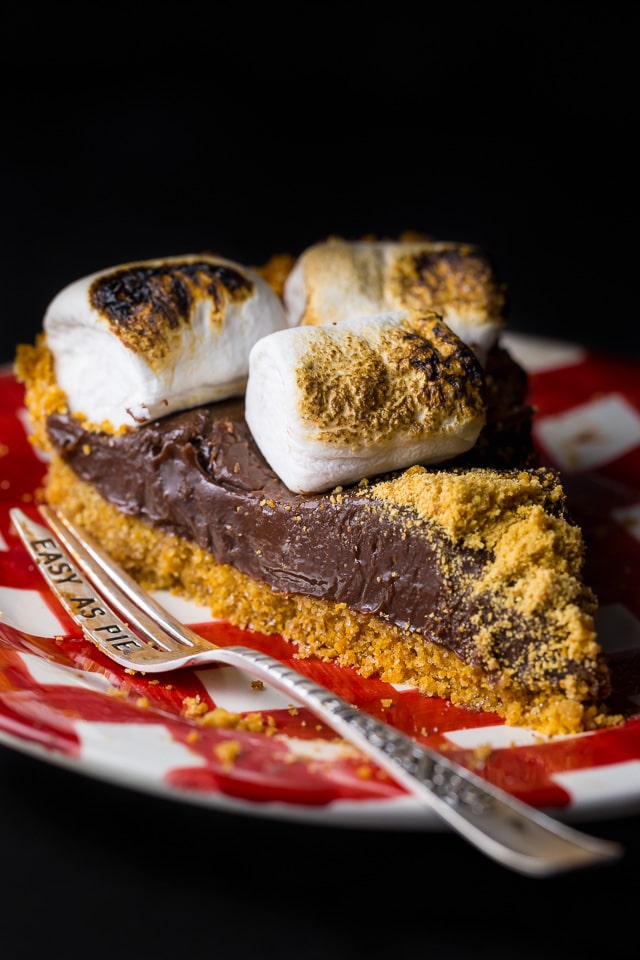 A recent trip to the grocery store quickly made me aware of two things:
1) I'm literally incapable of sticking to "the list". I go in for one item, and somehow leave with a full cart… which happens to be void of the one thing I went it for! Tale as old as time, right?!
and
2) 4th of July weekend is right around the corner!
Inspired by the shelves festively overflowing with patriotic patio decorations, grilling equipment, sparklers, and s'mores kits, this S'mores Pie was born. And oh boy is it good!
Dangerously good, my friend ↓
Tips and Tricks for Recipe Success:
You'll need two cups of graham cracker crumbs to make the pie crust. Most grocery stores sell them already in crumb form, but you can also make your own. Simply pulverize two or three packages of graham crackers in a food processor! Just be sure to measure after to ensure you have two full cups. If you have leftover crumbs, save them! You can always use them to make cheesecake 😉
Because the chocolate filling of this includes sweetened condensed milk, you're going to use a combination of semi-sweet chocolate and unsweetened chocolate. This ensures the filling is sweet but not overwhelmingly so.
The pie needs to "set" in the fridge for at least 4 hours before slicing, so plan ahead time wise for that.
To toast the marshmallows, you will need a kitchen blow torch. This is the one I used and I LOVE it. Can't wait to try it out on crème brûlée!
This pie can be a little messy, so be sure to serve it with plenty of napkins 😉
Wishing you a safe and delicious holiday weekend!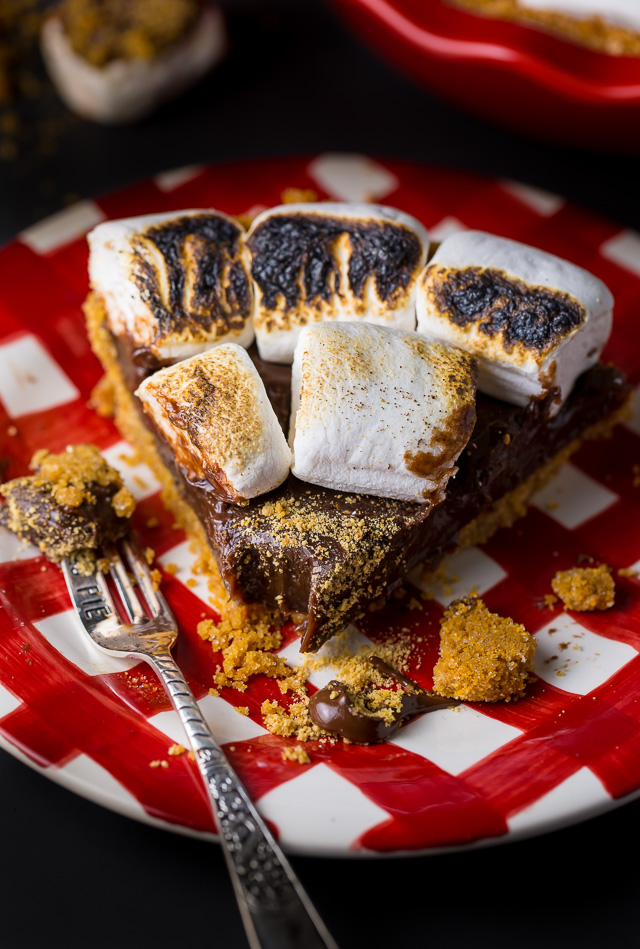 If you try this recipe for S'mores Pie, let me know! Leave a comment below and don't forget to snap a pic and tag it #bakerbynature on instagram! Seeing your kitchen creations makes my day ♥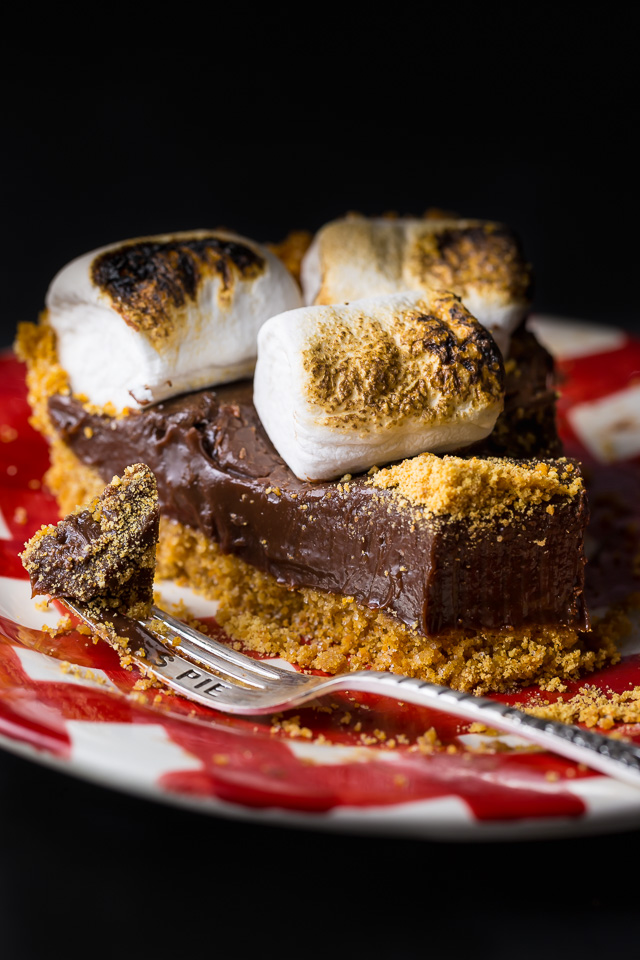 S'mores Pie
An easy recipe for Homemade S'mores Pie!
Ingredients
For the Graham Cracker Crust:
2 cups graham cracker crumbs
1/2 cup unsalted butter (1 stick), melted
For the Chocolate Filling:
4 ounces bittersweet chocolate, chopped
2 ounces unsweetened chocolate, chopped
(1) 14 ounce can of sweetened condensed milk
4 large egg yolks, at room temperature
2 teaspoons vanilla extract
1/2 teaspoon salt
Topping:
20 large marshmallows (about 1 bag)
1/4 cup graham cracker crumbs
Instructions
For the Graham Cracker Crust:
Preheat oven to 325 degrees (F).

In a medium-sized bowl, stir together the graham cracker crumbs and melted butter until evenly combined. Firmly press the mixture into a lightly greased 9-inch pie plate. Bake in preheated oven for 10 minutes. Set aside while you prepare the filling.
For the Chocolate Filling:
Increase oven temperature to 350 degrees (F).

Place both chocolates in a large, heatproof bowl. Using a microwave or double-boiler, melt chocolates, stirring frequently, until completely smooth. Set aside to cool for 10 minutes, then whisk in sweetened condensed milk, egg yolks, vanilla, and salt. The mixture will be quite thick!

Pour chocolate filling into the crust and bake in preheated oven for 18 minutes. Remove pie from oven and cool on a wire rack for 30 minutes before transferring the pie to the fridge to cool completely - about 4 hours.

Once the pie has set, cover the top with marshmallows. Using a kitchen torch, char the marshmallows to desired crispiness (this will happen very fast!). Sprinkle with graham cracker crumbs, slice, and serve!
Notes
If you'd like easier to slice pieces, try cutting your marshmallows in half before placing them on top of the pie. If you don't own a kitchen torch, you can heat the marshmallow layer up in the oven, but stay VERY close by, as they toast quickly and can catch on fire. Heating the marshmallows up in the oven will also require you to re-chill the pie for a bit, which is why I recommend using a kitchen torch. This pie will keep, covered tightly in the fridge, for 2 days. For best results, top with marshmallows right before serving, otherwise they get hard and sticky.