Looking for a recipe that will WOW? I present you with fluffy and flavorful sour cream and chive scones! A great choice for breakfast, brunch, or dinner.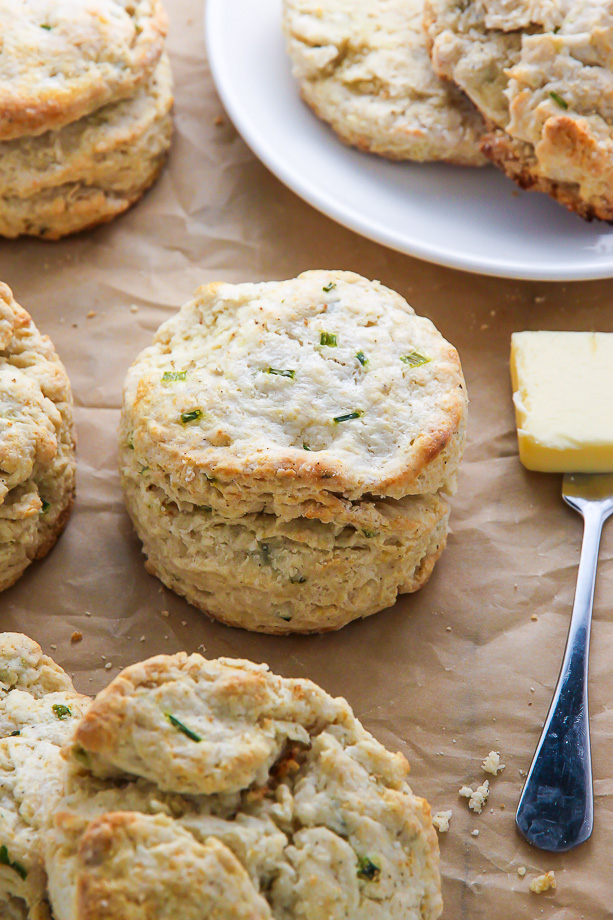 Happy Saturday. Meet the savory scones of your dreams. They are:
Supremely flaky
Loaded with flavor
Simple to make
Better than the bakery
Intensely satisfying
Perfect with bacon and eggs… or soup… or chili… or just a pat of butter
Savory isn't typically my main squeeze (sugar runs through my veins!), but I have to admit these scones have me dreaming up more and more sultry recipe ideas. Wait till you see what I'm bringing you tomorrow! You're going to love it.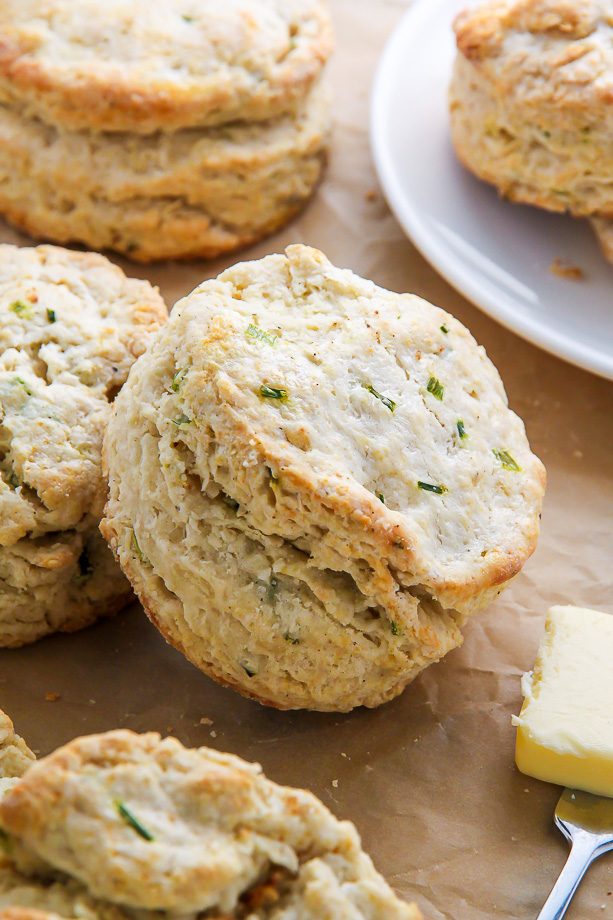 Making scones at home is extraordinarily easy, but there are a few things you need to know before jumping in. When made wrong, scones can be dry… bland… and just… blah. But when done the right way? Oh baby! They are a luxury to be savored.
Rich and tender with fluffy interiors and crunchy edges. Serve these for breakfast, brunch, lunch, or dinner – they are sure to steal the show!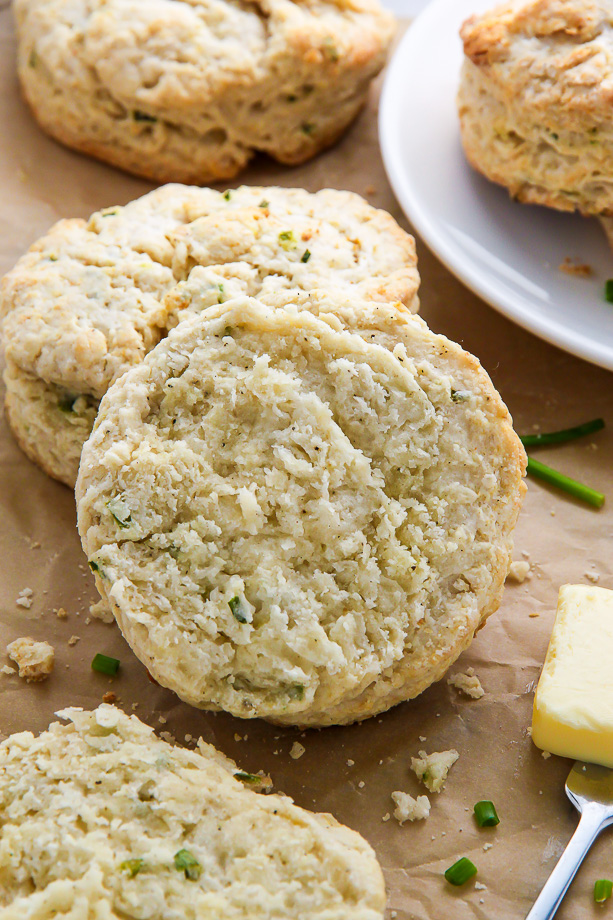 The key to amazing scones is COLD butter.
Why cold butter? Read on! Cold butter is what creates scones that are flaky, crumbly, and tender. If your butter is warm and melts before baking you're going to lose all those buttery layers that are essential in a scone. When it comes time to add the butter into the dough, you should resist using your hands, since body heat will quickly make the butter melt. Instead use a pastry cutter or two forks. My favorite method is grating the butter then quickly working it into the dough with my pastry cutter.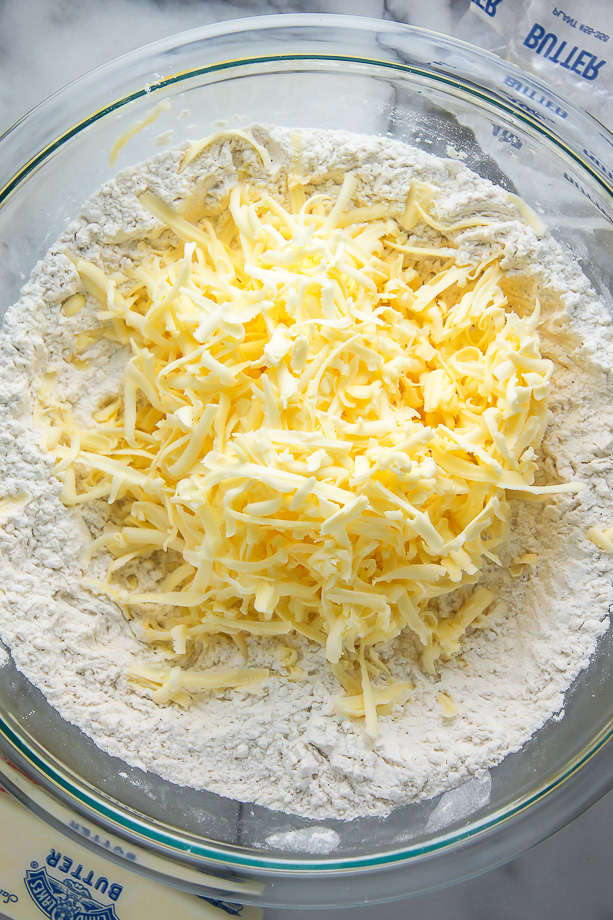 Once your chilled butter situation is under control, you're all set to assemble! For the dry ingredients you'll need flour (I used unbleached all-purpose here, but regular all-purpose will work, too), baking powder (2 tablespoon give these scones their high rise), granulated sugar (this adds depth and just a touch of sweetness), salt, black pepper, and onion powder. You'll also need fresh chives. Most of these ingredients are quite basic and should be easy to find at your local grocery store, if you don't happen to already have them at home.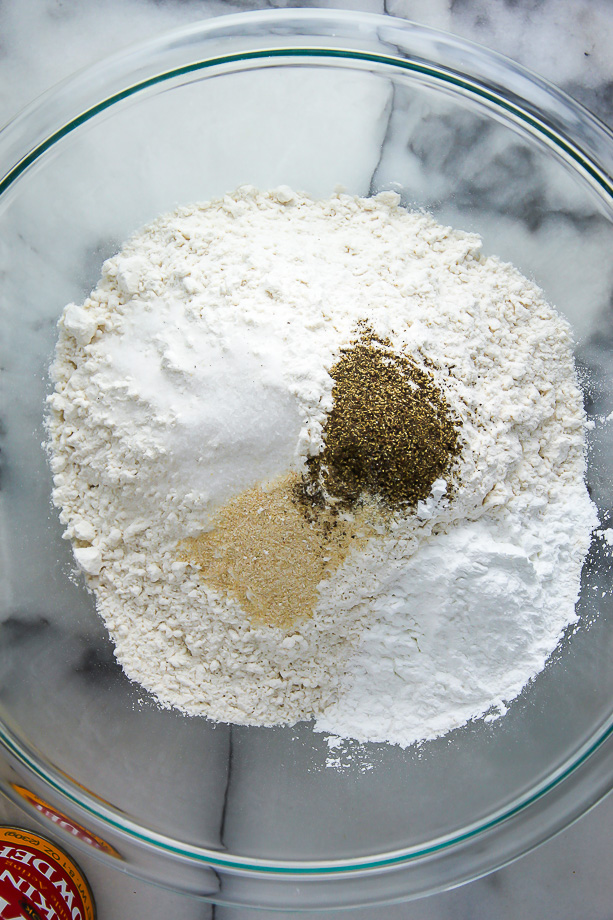 For wet/cold ingredients you'll need sour cream, milk, butter (make sure it's very cold), and an egg (lightly beaten, for brushing over the scones right before baking). Much like the dry ingredients listed above, these should be very easy to find – and may even already be in your kitchen waiting for you.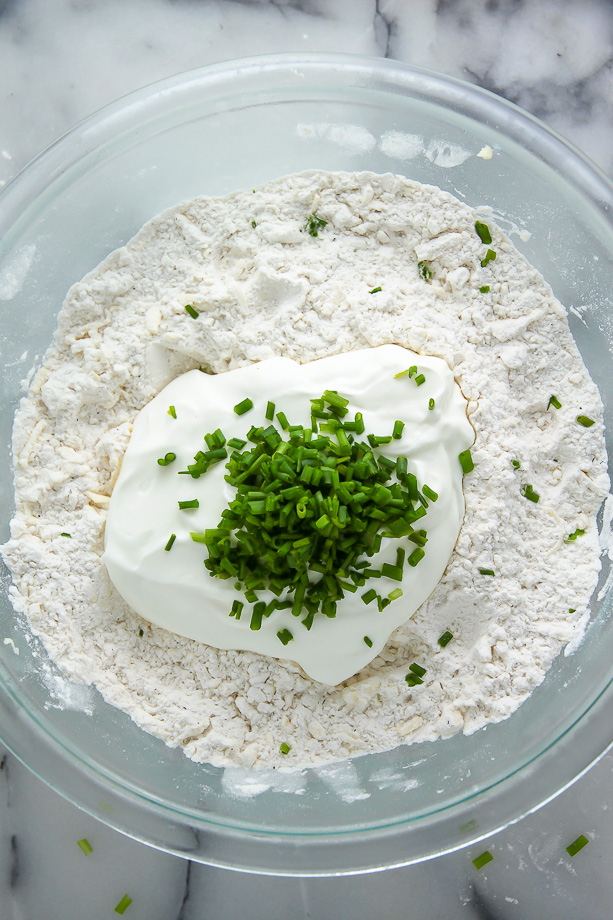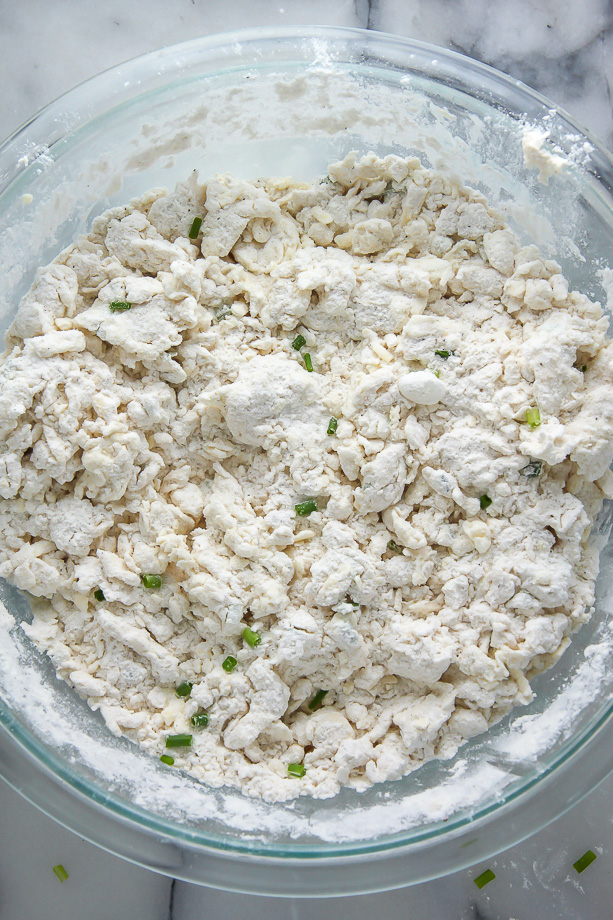 As always, it is best to stick to a recipe and the cooking/baking method it calls for exactly – at least the first time you're making it.
When it's time to cut the scones, you have some options. I used a 2″ biscuit cutter, and if you own one, you can use it, too. If you don't, try using an empty mason jar, small topped wine glass, or simply pat the scone dough into a 2″ thick circle then slice the circle into 8 triangles. Scones are forgiving treats, and can be shaped by almost anything. The important thing to remember, no matter how you choose to cut your scones, is to work quickly and try not to handle the dough too much. If you ever find your dough is warm and sticky, pop it back in the fridge or freezer for a few minutes and let it chill, then get back to work.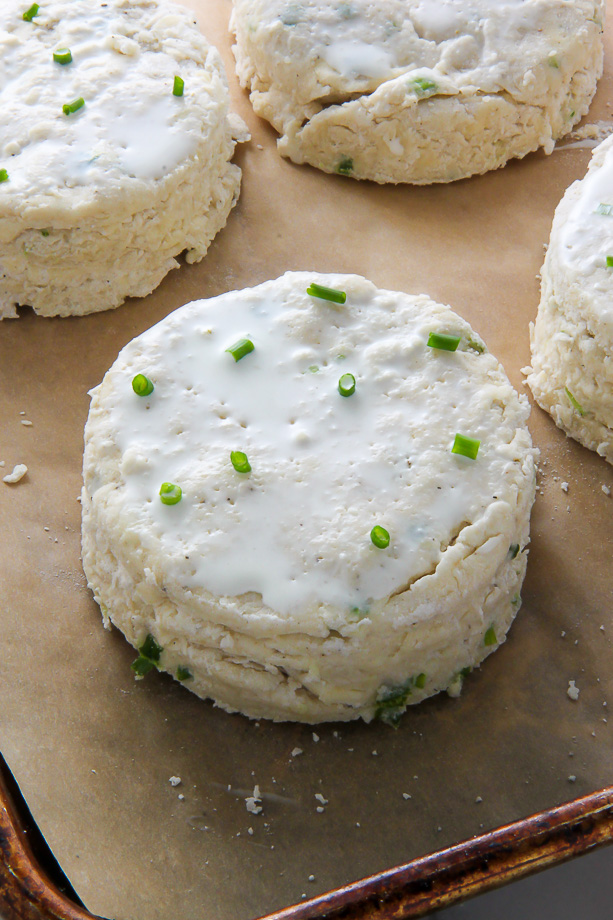 Viola! Perfect scones just like that. Pretty easy, right?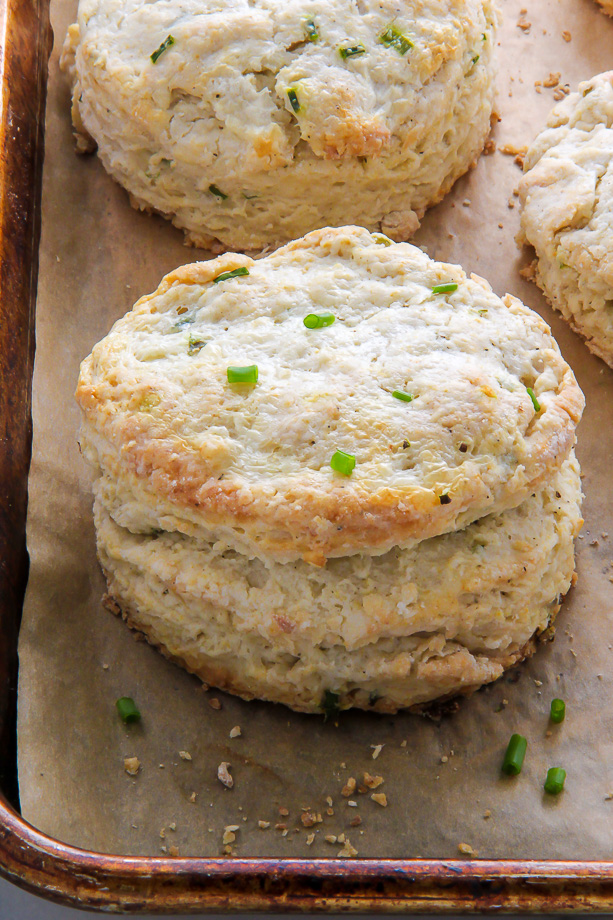 So tell me, how are you going to serve these scones? I am whipping up a batch of spicy sriracha black bean and butternut squash chili tonight, so we'll be eating these with that. Getting hungry just talking typing about it…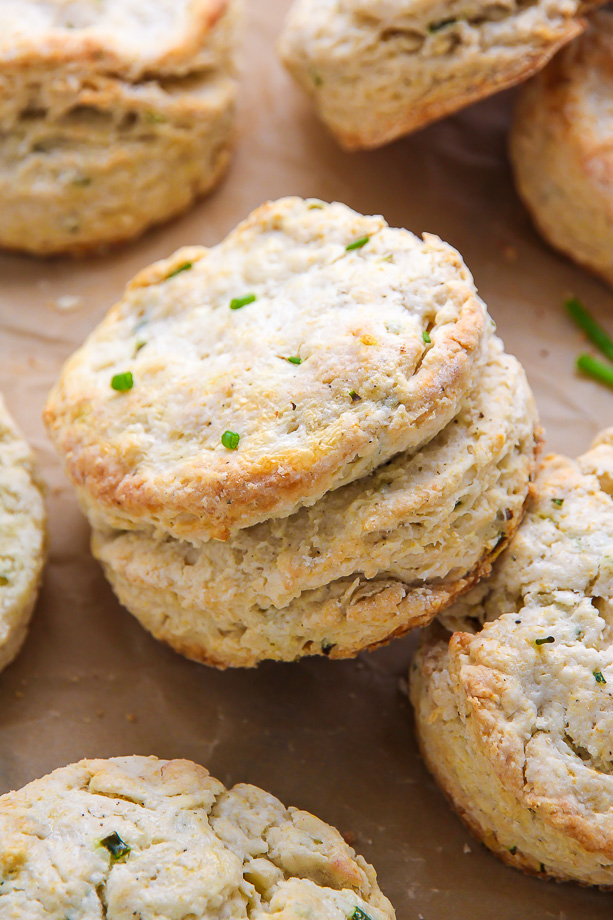 P.S. These scones freeze ah-mazing, so feel free to pop them in the ice box for up to 2 months.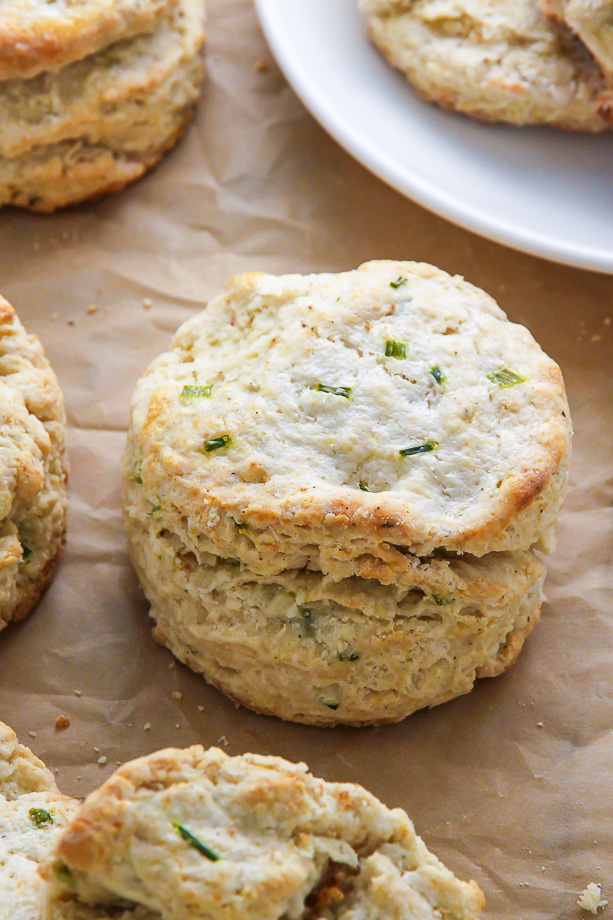 If you try this recipe, let me know! Leave a comment below and don't forget to snap a pic and tag it #bakerbynature on instagram! Seeing your kitchen creations makes my day. ♥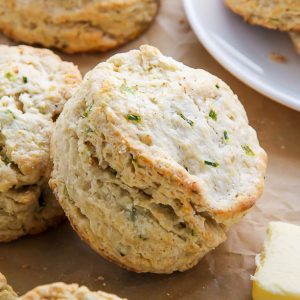 Sour Cream and Chive Scones
Incredibly thick and flavorful scones are made with sour cream and chives! Moist and crumbly all at once, we love serving these with soup or chili, but they also make wonderful breakfast sandwiches.
Ingredients
3 cups all-purpose flour (be sure not to pack your flour when measuring)
2 tablespoons baking powder
3/4 teaspoon onion powder
2 tablespoons granulated sugar
3/4 teaspoon salt (fine sea salt or kosher salt)
1/4 teaspoon black pepper
8 tablespoons (1 stick) unsalted butter, very cold, cut into cubes
1 cup full-fat sour cream
2 tablespoons milk
1/2 cup fresh chives, chopped
1 large egg, beaten
Instructions
In a large bowl combine the flour, baking powder, onion powder, sugar, salt, and pepper; whisk well to combine. Quickly cut in the butter until the mixture is a course meal. Cover the bowl and place it in the freezer for 15 minutes.

While the dough is chilling...

Preheat the oven to 400 degrees (F) and set a rack on the upper-middle level. Line a large baking sheet with parchment paper and set aside.

Once the 15 minutes are up, gently stir the sour cream and milk into the flour mixture; the dough will be soft, sticky, and shaggy.

Lightly flour your hands, then gather the dough into a ball. Transfer the dough to a well-floured surface and pat the dough into a large rectangle approximately 2" inch thick. The dough will look very shaggy - not to worry!

Use a small round biscuit cutter to cut out about 8 scones, reshaping the dough as needed and using scraps to form new rounds of dough. Place the scone cut-outs onto the prepared baking sheet, leaving a little space in between each one for slight spreading. Brush each scone with a little beaten egg.

Bake the scones for 18- 20 minutes, or until they are lightly golden brown on top. Serve at once!

Or just eat them straight off the pan like we do... with sunny side up eggs and extra bacon.
Next try these Bacon, Pepper Jack, and Jalapeno Scones!