Bacon, Pepper Jack, and Jalapeno Scones are so flaky and flavorful! One of our favorite savory scone recipes. Serve for breakfast or with dinner!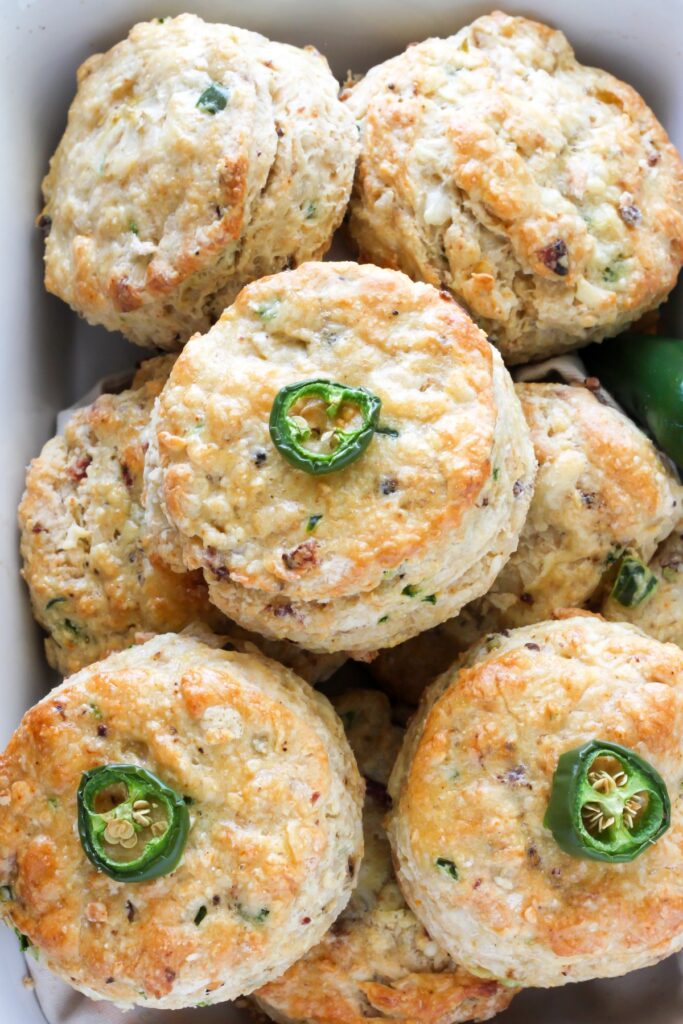 Jalapeno Bacon Scones
I've got to tell you, these scones have completely changed the way I do breakfast. They're so addicting! Normally, on the weekdays, I like coffee with just a splash of almond milk as my morning meal. It gets me going on the right track. Maybe a mini muffin if I wake extra ravenous. But you know, stuff-to-do! No time for grand meals and the dishes that inevitably come with them.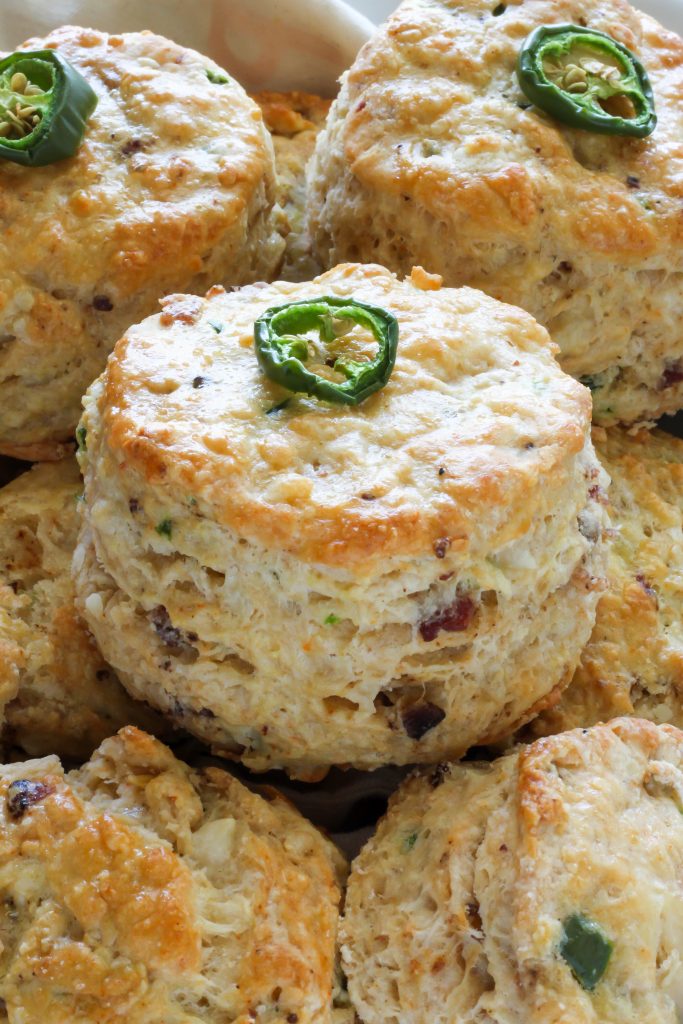 Oh! But how all of that's changed with the creation of these savory scones! The past 4 mornings have been all about the scones. Topped with a pat of butter. And a sunny side-up egg. Extra coffee and bacon on the side. This is how I want to spend all of my mornings.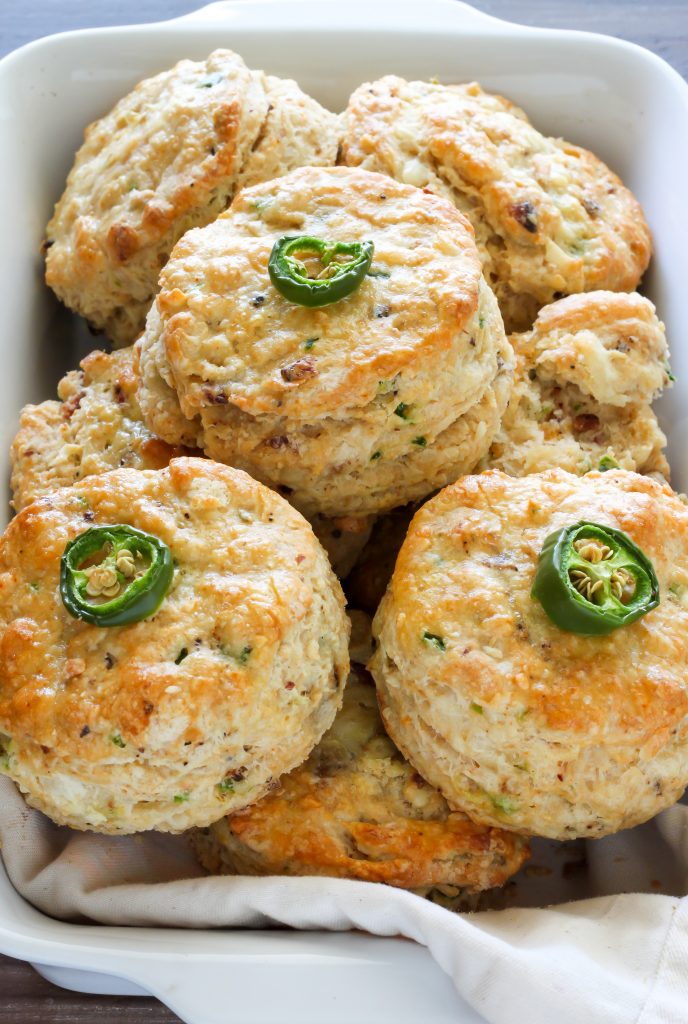 Bacon Jalapeno Cheese Scones Recipe
Alright my friends, let's dive face first into the delicious details that make these scones possible!
For the dry ingredients you'll need flour (I used unbleached all-purpose here, but bleached all-purpose will work, too), baking powder (2 tablespoon give these scones their high rise), brown sugar (this adds depth and just a touch of sweetness), salt, paprika (smoked or regular, but I prefer smoked) and black pepper. Most of these ingredients are quite basic and should be easy to find at your local grocery store, if you don't happen to already have them at home.
For wet/cold ingredients you'll need Greek yogurt, pepper jack cheese, butter (make sure it's very cold), and an egg (lightly beaten, for brushing over the scones right before baking). Much like the dry ingredients listed above, these should be very easy to find – and may even already be in your possession!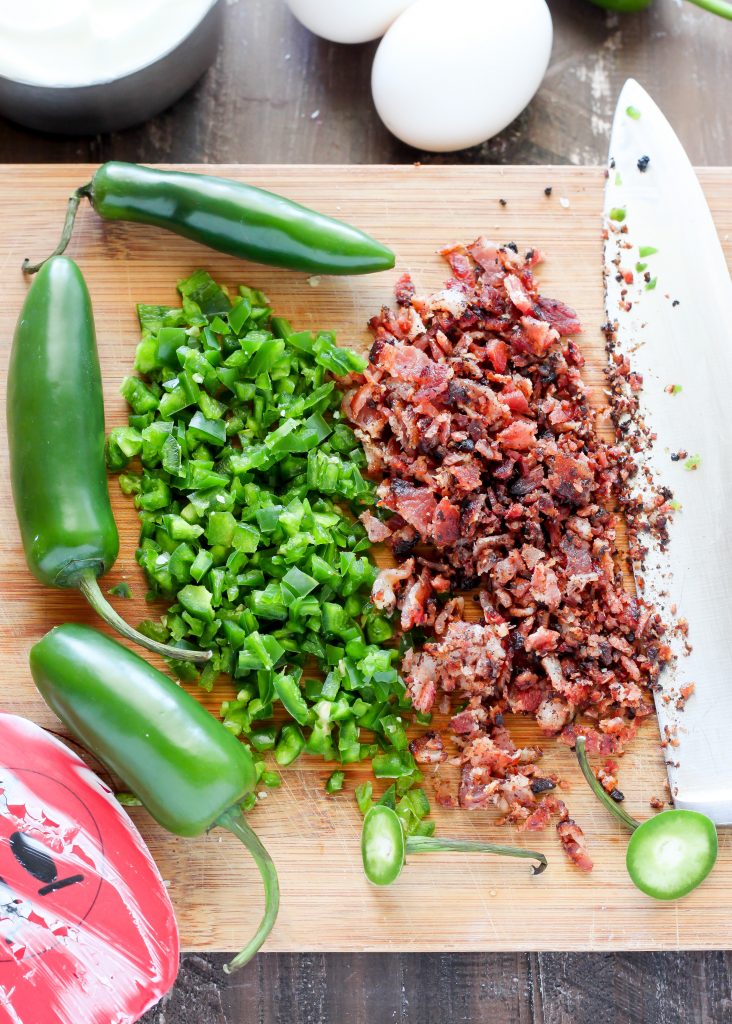 The final two ingredients we have not yet discussed are fresh jalapeno peppers and BACON. Bacon in caps because it excites me. But then again, so do spicy peppers. The peppers get diced (make sure you remove their seeds) and the bacon gets fried. These two ingredients are what takes these scones over-the-edge of ho-hum and into awesome land. Don't skimp on em'.
I debated whether or not to add scallions to these scones, and in the end, I did not. Upon inspection (read: taste testing) I am happy to report I made the right call. These scones have a lot going on, and I think any more "add-ins" would just be overkill. Sounds hard to believe, I know, but trust me, these babies are perfect the way they are!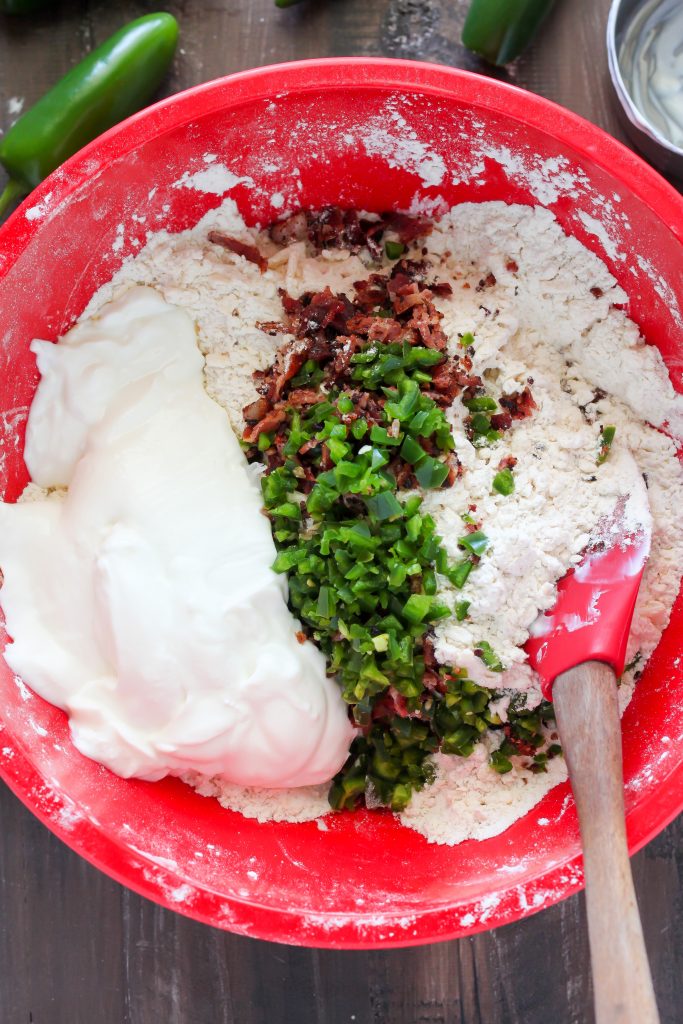 If you do feel the urge to play around with the "add-ins", here are a few ideas I know would work:
 Swap out the spicy pepper jack cheese for milder cheese such as sharp or colby-jack.
Use diced ham or turkey bacon in place of the bacon.
Use sour cream in place of the Greek yogurt. I recommend using full-fat no matter what you choose.
Cut the called for amount of jalapeno peppers in half for a more mild bite.
All of that said, those are just guides in case you must substitute an ingredient. As always, it is best to stick to a recipe and the cooking/baking method it calls for exactly – at least the first time you're making it.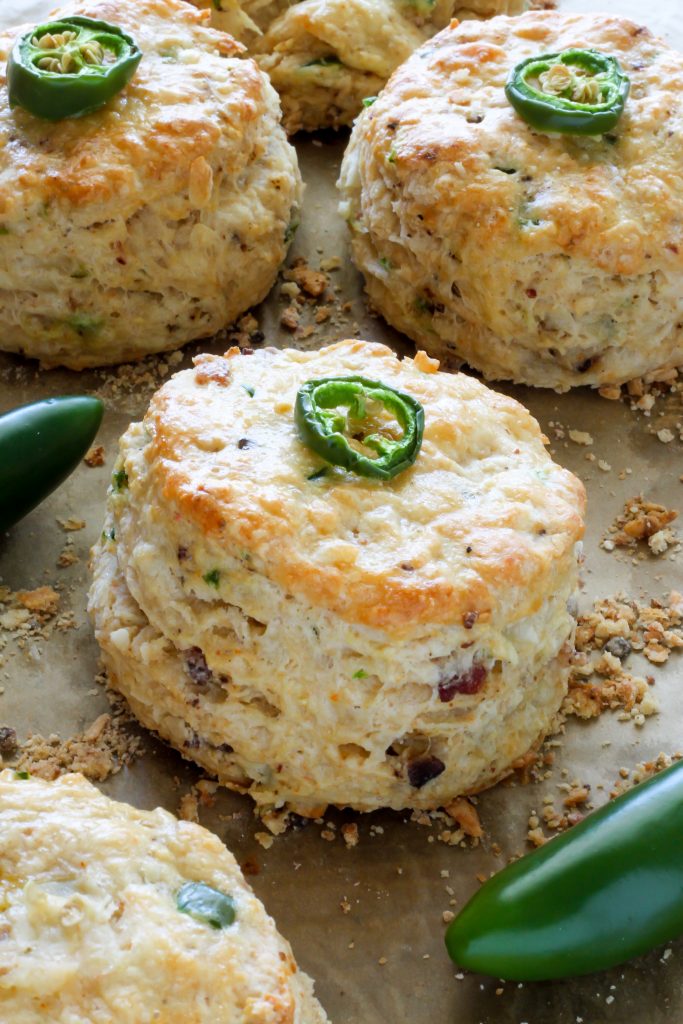 How to handle Scone Dough
If you've never made scones before, a quick note on what to expect when you're dealing with the dough. Scone dough reminds me of making pie crust. It's always a little messy, confusing, and there is no doubt going to be a moment where you look down at the shaggy flour and butter mess on your table and think "there is just… no way this is going to work out". But it will. I promise.
My biggest piece of advice? FLOUR is your friend. Keep a little bowl of flour nearby. Make sure your board is well floured before dumping the scone mixture out onto it. Be sure your delicate hands are coated with a little flour before you begin bringing the dough together. Flour, and a little patience, will get you far, my dear.
When it comes time to cut the scones, you have some options. I used a 2″ biscuit cutter, and if you own one, you can use it, too! If you don't, try using an empty mason jar, small topped wine glass, or simply cut the scones into triangles. Scones are forgiving treats, and can be shaped by almost anything. The important thing to remember, no matter how you choose to cut your scones, is to work quickly and try not to handle the dough too much. If you ever find your dough is warm and sticky, pop it back in the fridge or freezer for a few minutes and let it chill, then get back to work.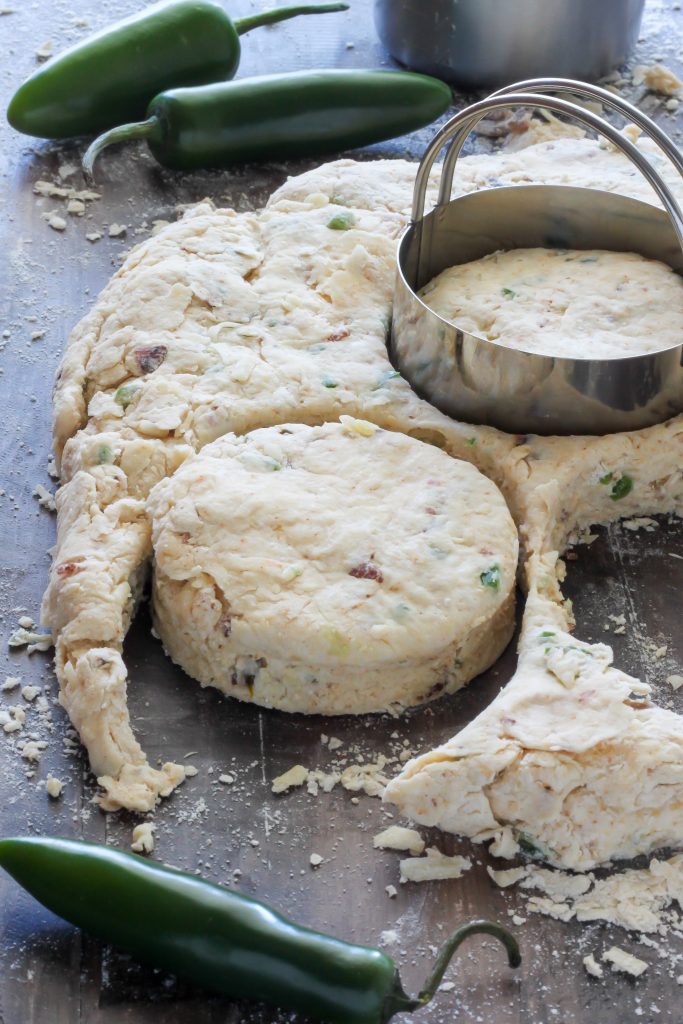 Alright. So your scones are cut and ready for baking! Right before you pop them in the oven, you're going to lightly brush the tops of each scone with egg wash. You can also add a little jalapeno pepper slice if you're feeling decorative.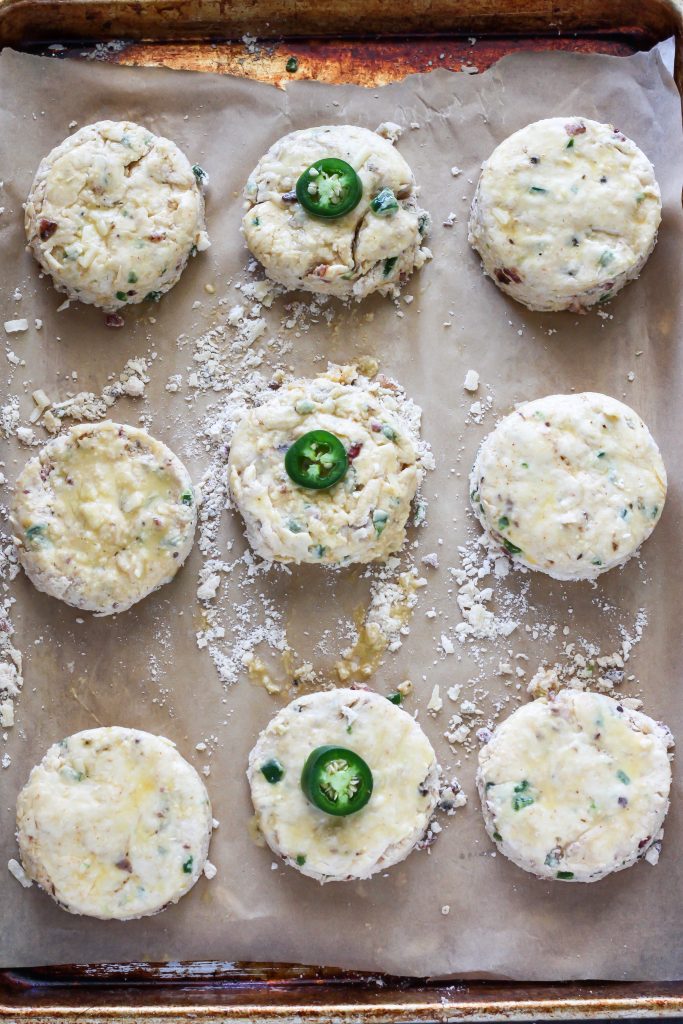 The scones will bake for about 18 minutes. And yes… you know they're going to make your house smell amazing.
Once emerged from the oven, EAT AT ONCE. Just kidding. Kinda…
Scones really are best served warm, straight-from-the-oven. But you definitely want to let them chill a few minutes so you don't burn your hands/mouth/face off. I like to use these minutes to fry a couple of eggs, make an extra pot of coffee, and maybe – if we're feeling extra indulgent – toss a few slices of bacon in a skillet. These scones are delicious as-is… but they really do make the BEST breakfast sandwich base. So ya know, options options options!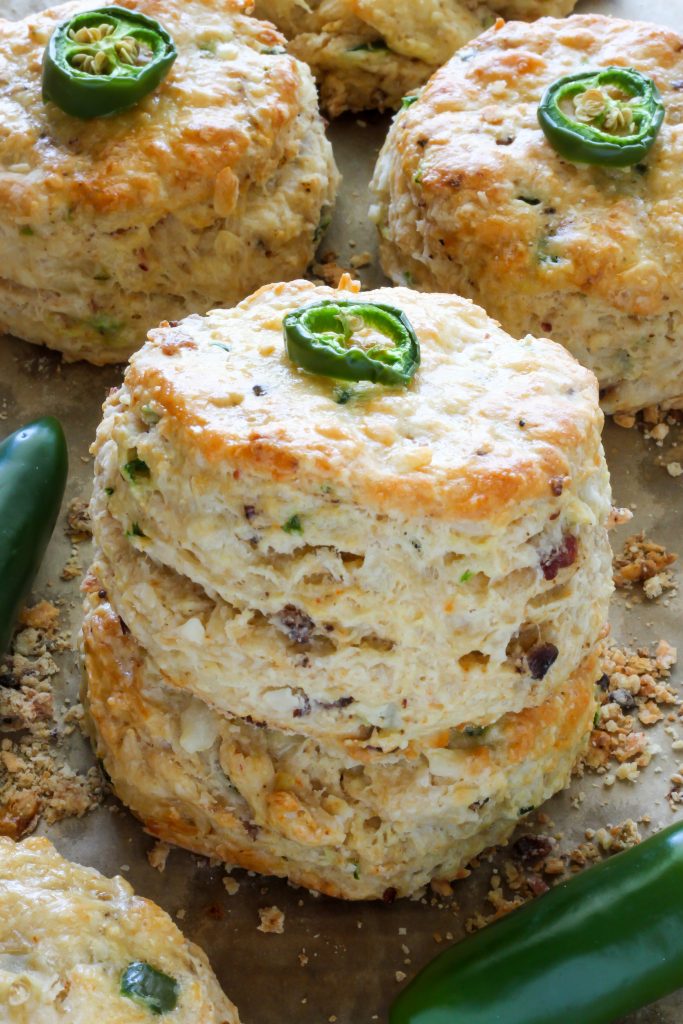 Serve, eat, enjoy. I hope you guys love these as much as we do 🙂 xoxo
More Savory Scones: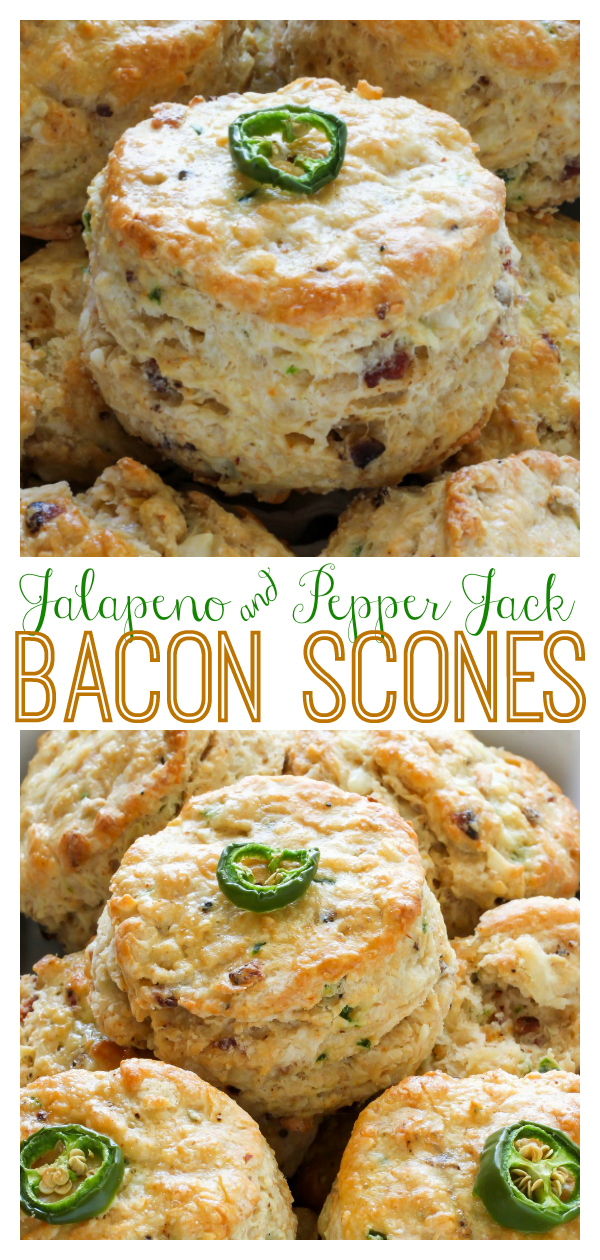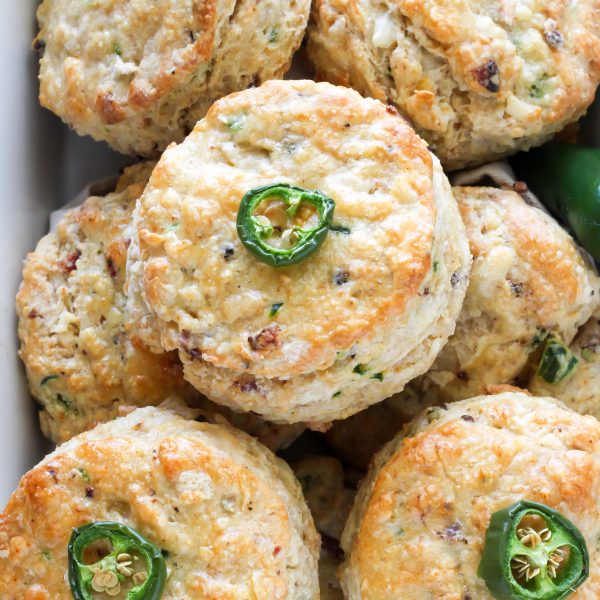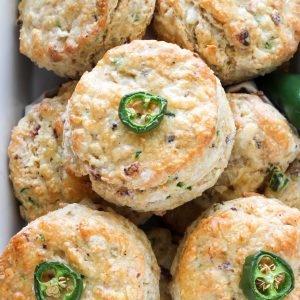 Bacon, Pepper Jack, and Jalapeno Scones
Incredibly thick and flavorful scones are loaded with bacon, pepper jack cheese, and diced jalapeno peppers! Moist and crumbly all at once, we love these with eggs, butter, and extra bacon slices. They're also delicious with nothing at all - straight from the pan.
Ingredients
4 slices of bacon, cooked crispy, cooled, and chopped
1-2 small jalapeno peppers, seeds removed, finely chopped (use 1 for a mild flavor)
2 and 3/4 cups all-purpose flour (be sure not to pack your flour when measuring)
2 tablespoons baking powder
2 tablespoon packed dark brown sugar
1 teaspoon salt
8 tablespoons (1 stick) unsalted butter, very cold, cut into cubes
1 cup (4 ounces) grated pepper jack cheese
1/4 teaspoon smoked paprika (regular paprika will work, too)
1/4 teaspoon black pepper
1 cup full-fat plain Greek style yogurt
1 large egg
For the egg wash:
1 large egg, beaten
1 teaspoon water
Instructions
In a large frying pan over medium-heat cook the bacon until brown and crispy; about 7 minutes.

Transfer bacon to a paper towel lined plate and allow it to cool for a few minutes. Once it's cool enough to handle, transfer it to a small cutting board and using a sharp knife chop the bacon into bits; set aside.

Carefully slice the jalapeno peppers in half vertically and use a small spoon to scrape out the seeds (don't use your bare fingers here). Chop the peppers into small bits; set aside.

In a large bowl combine the flour, baking powder, brown sugar and salt; whisk well to combine. Quickly cut in the butter and cheese; stir in the paprika and pepper. Cover and place bowl in the freezer for 15 minutes.

While the dough is chilling...

Preheat the oven to 400 degrees (F) and set a rack on the upper-middle level. Line a large baking sheet with parchment paper; set aside.

Once the 15 minutes are up...

Gently stir the Greek yogurt, egg, chopped bacon, and jalapeno peppers into the flour mixture; the dough will be soft, sticky, and shaggy.

Lightly flour your hands, then gather the dough into a ball. Transfer the dough to a well-floured surface and pat the dough out into a large rectangle approximately 1" inch thick. The dough will look very shaggy - not to worry!

Use a small round biscuit cutter to cut out about 12 scones, reshaping the dough as needed and using scraps to form new rounds of dough. Place the scone cut-outs on the prepared baking sheet, leaving a little space in between each one for spreading. Brush each scone with a little egg wash.

Bake the scones for 18- 20 minutes, or until they are lightly golden brown on top. Serve at once!

Or just eat them straight off the pan like we do... with runny eggs and extra bacon on the side.
For the egg wash:
In a small bowl combine the egg and water, beat well. Use as directed in the recipe.
Notes
You can use full-fat sour cream in place of the Greek yogurt if needed. For a less spicy version leave out the black pepper and use only 1 jalapeno pepper.