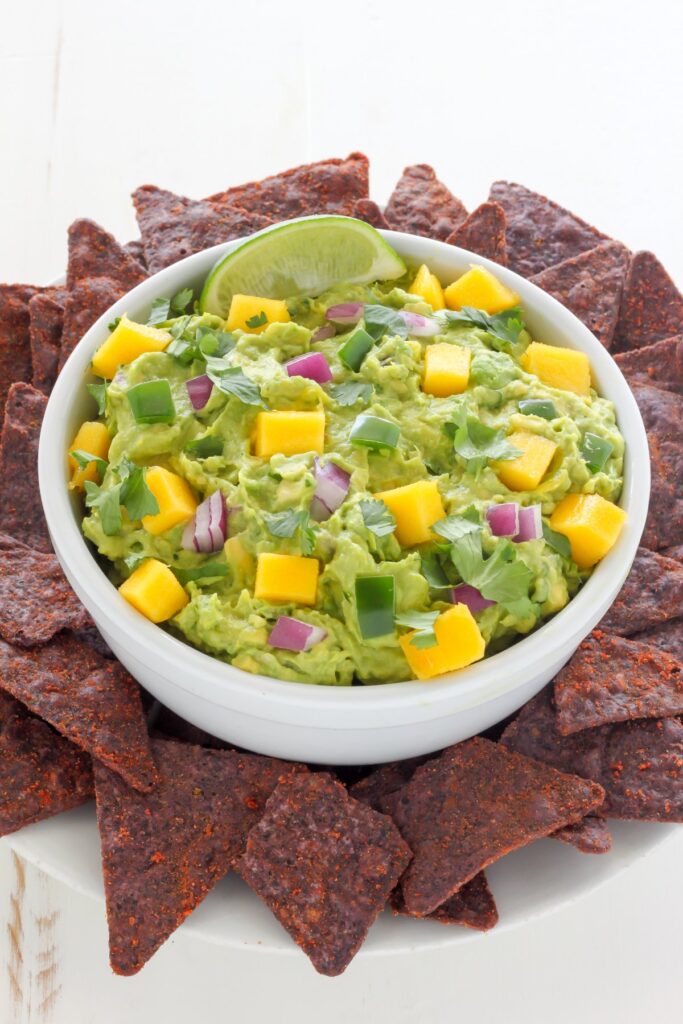 Friends, I've made you something green, chunky, and vastly versatile. Something seriously scrumptious. Totally tasty.
You can make it a snack, a meal, a dip or a spread. Really. Just add some cold beverages and good company and you're destined for a glorious Summer night. I did that for YOU!
It's healthy too –  so it won't make you feel so bad about breaking up with the gym this weekend. Or eating half a chocolate cake with sweet creamy coffee at 7 am. Or abandoning the whole "eat better and get a booty like Pippa Middleton" plan.
… that was my plan.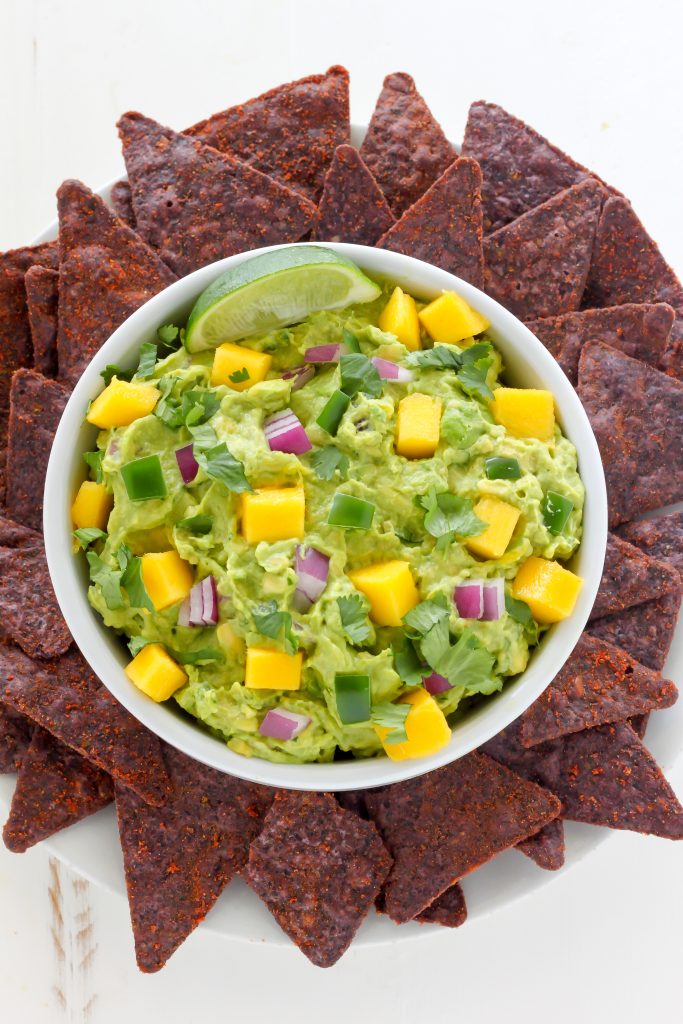 Did I mention this green flavor bomb is creamy-buttery-smooth-dream town?
And there isn't a single ounce of cream or butter?!  gasp. And, it has GOOD fats in it!! Say it with me, GOOD FAT. Simple, spicy, avocado magic.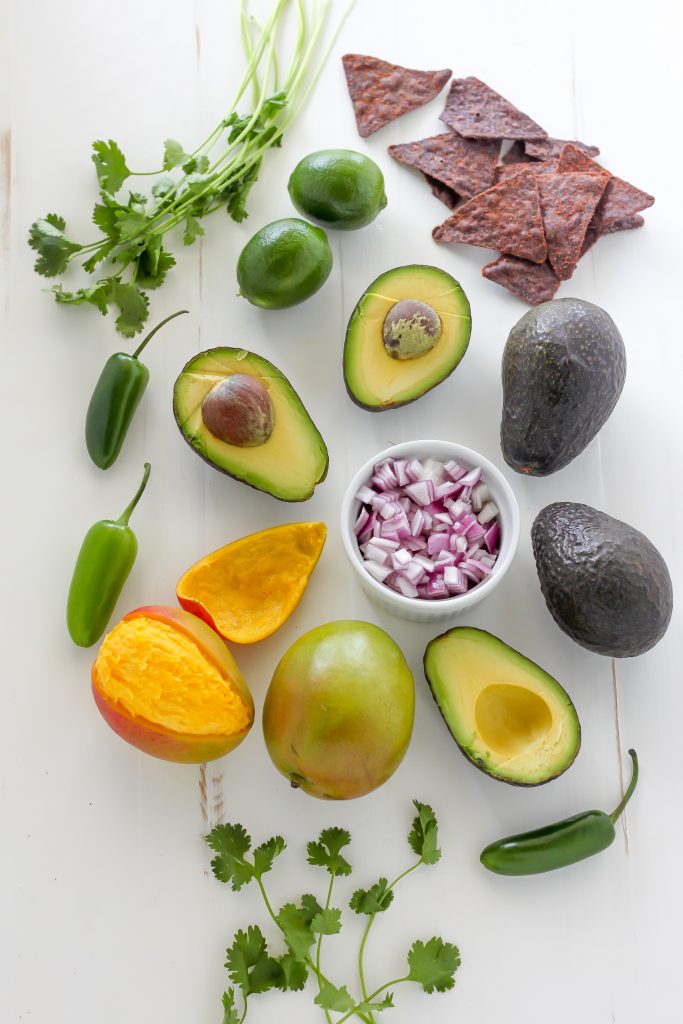 Sweet diced mango adds a sunny burst of color and flavor. Mangos are ferociously sexy right now. Fleshy, plump, and bursting with juicy goodness, the way they should be. This dreamy stone fruit plays something deliciously fierce against the fiery heat of the jalapenos.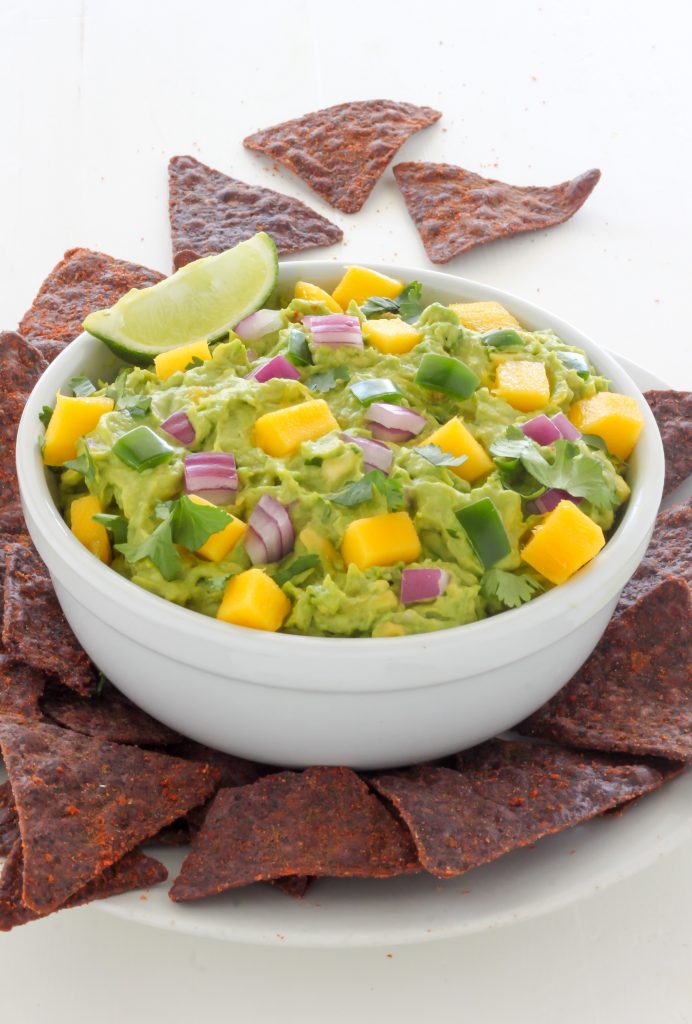 Wait. You brought the chips, right?
I hope you got fresh, salty ones. Stale corn chips really do this dip an injustice.
Don't be like me and pull out that bag (you know, the one all the way at the back of the cabinet that you ripped opened after too many tequilas and then forgot to chip clip shut. yea, that one) and try and pass them off as fresh. You will notice. Your guest will totally notice.
They won't say anything, (unless you do first) because they are your guest after all. And i'm sure they don't want to look like a huge chip snob jerk face. Ya know? But deep down they will be wondering why the heck you would make such an amazing dip, only to serve it up with stale, crisp-less chips.
Whhhyyyyy???
So just buy new chips, please please please. Please? This is me begging. And, asking nicely. Because it's that important, and I only want the best for you! You could also toast up some baguette and slice it thinly, which is what I ended up doing in the end. Just be sure to take small bites of the baguette and CHEW… like a human, not a horse, lest you pull a jaw muscle and then feel the need to whine about it for the next 45 minutes- You know who you are.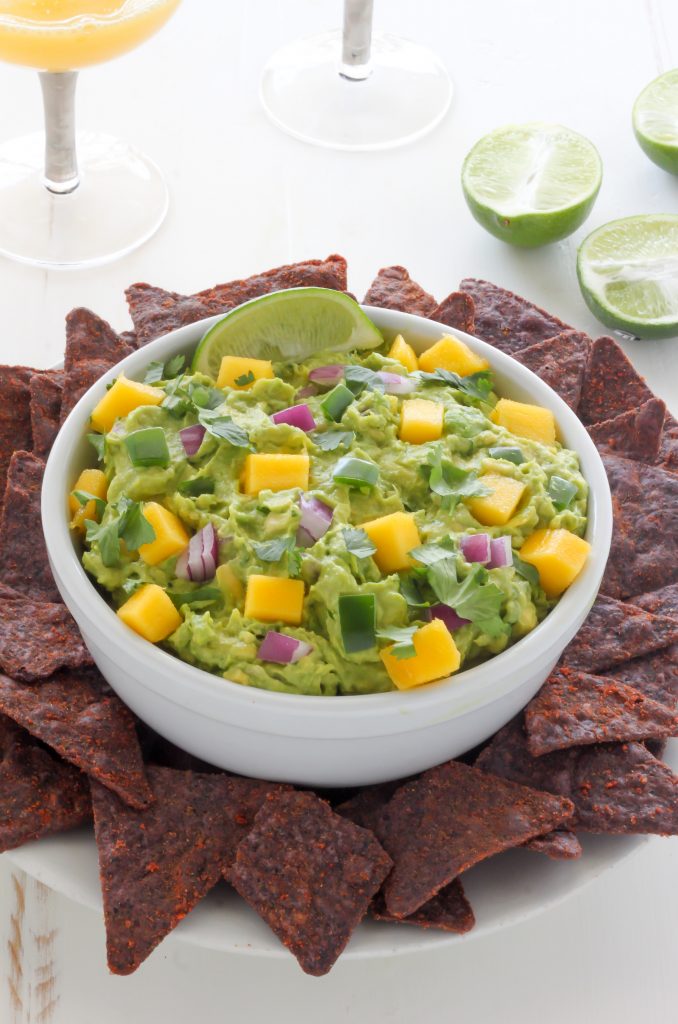 I really wish I was eating this right now. I wouldn't use chips. Or bread. Just a spoon. I would scoop it straight from bowl to mouth, happy as a clam.
What I'm trying to tell you is, I think you should make this for dinner, or a snack, or as an appetizer for your next party, and then invite me over. I'll bring the chips, fresh ones. Promise.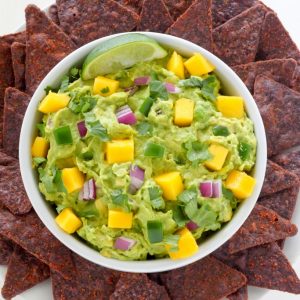 Spicy Mango Guacamole
Thick and creamy Guacamole made extra delicious by the addition of sweet, juicy mango.
Ingredients
4 ripe avocados, cut in half and pitted
1/3 cup ripe mango, diced finely
2 limes, juiced
3/4 cup of cilantro, chopped
1/4 cup red onion, minced
1 large jalapeno, diced very finely
2 cloves garlic, minced
3/4 teaspoon ground cumin
1 teaspoon finely ground sea salt, more to taste
1/2 teaspoon fresh ground black pepper, more to taste
Instructions
Using a sharp knife carefully halve the avocados, remove the pits, dice the avocado inside the skin, and then scoop out into bowl. Add in the mango, lime juice, garlic, onion, cumin, salt, and pepper to avocado and gently stir/mash to combine all the ingredients. Add cilantro and stir. Taste to see if more spices are needed, then serve.
Notes
*photos for this recipe were updated 4/16/2015