These Sweet and Spicy Sriracha Baked Chicken Wings are perfect for parties! The sauce is made with honey and sriracha hot sauce, so it's sweet, spicy and finger licking good! So good and serves a crowd.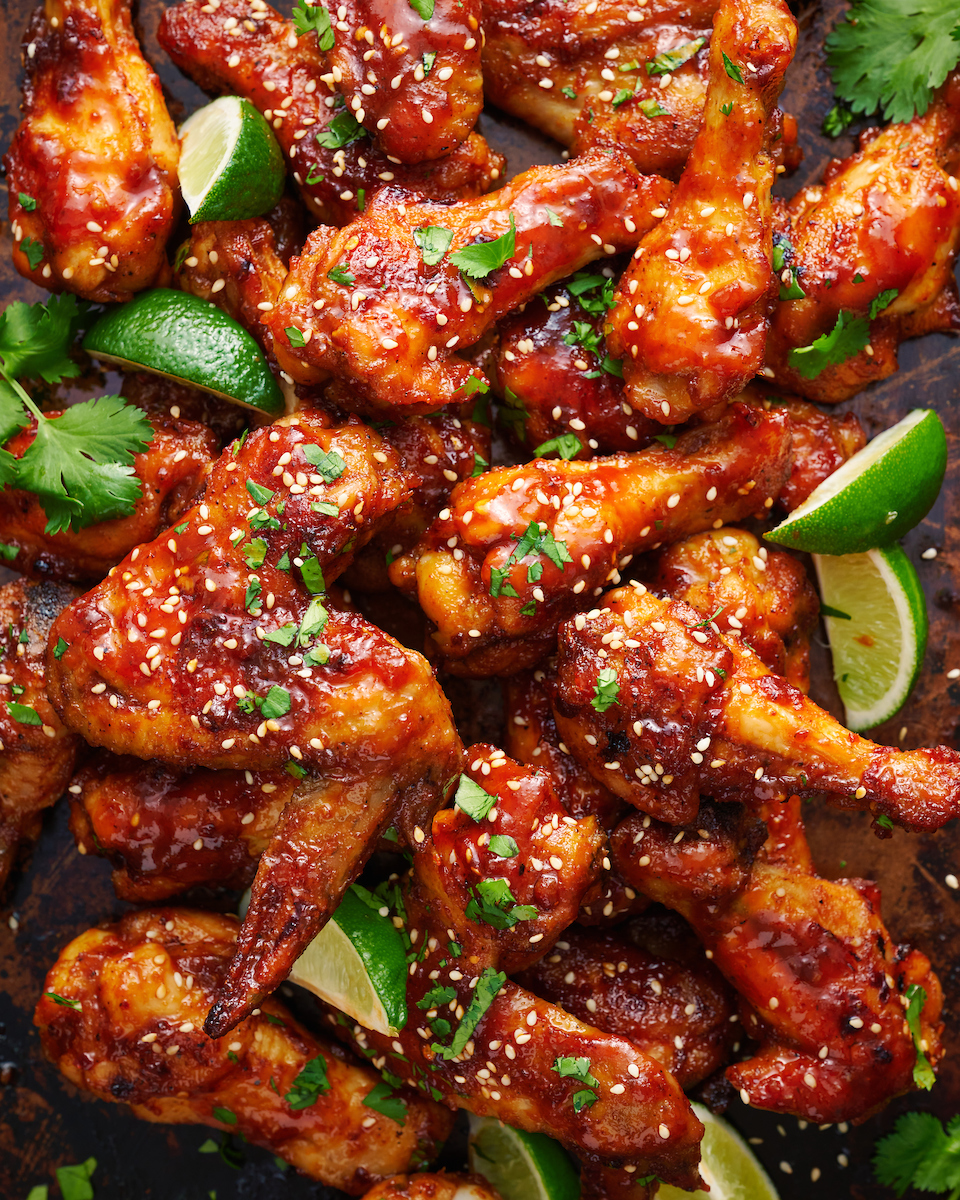 Honey Sriracha Baked Chicken Wings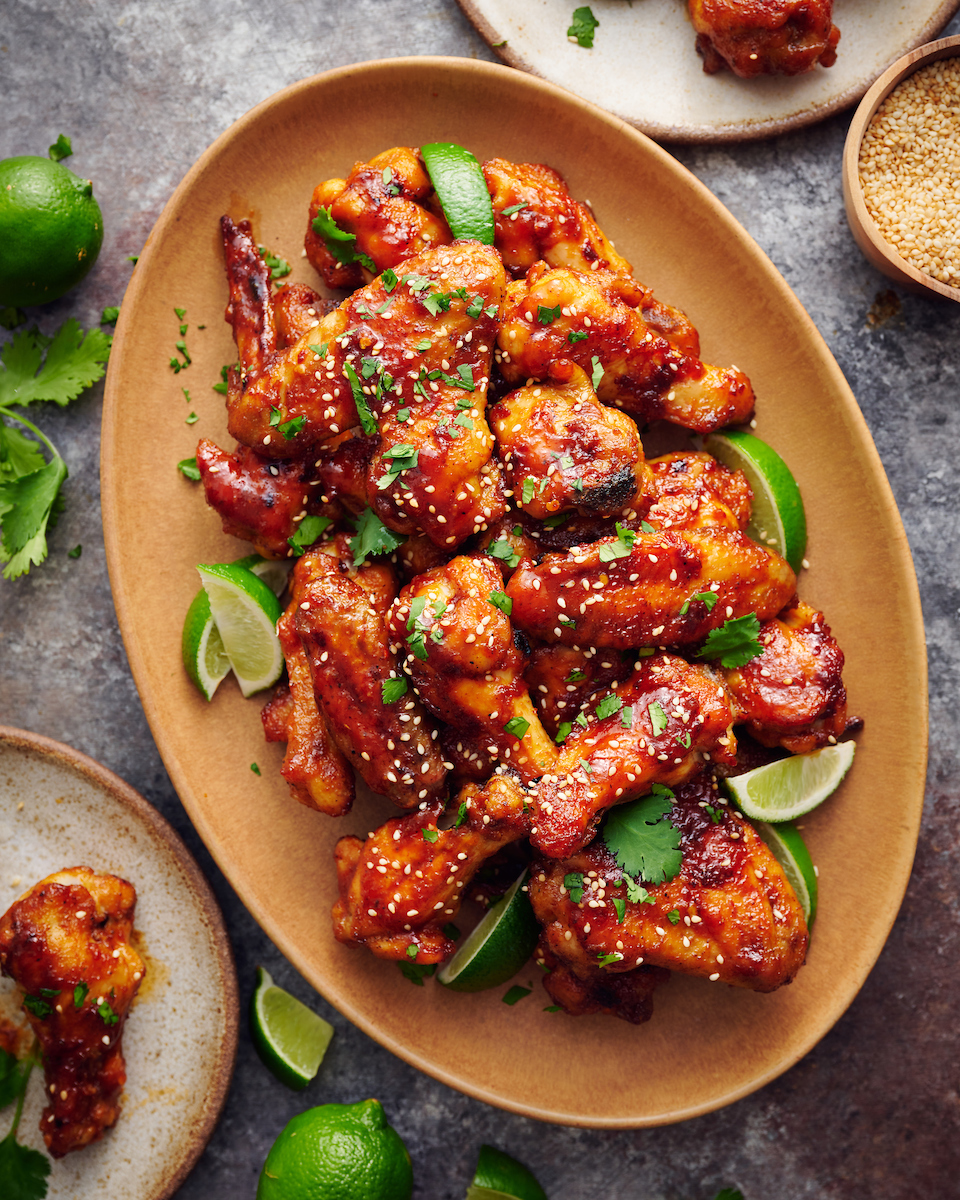 Every year I try to challenge myself in the kitchen by cooking at least one thing a month that takes me completely out of my comfort zone. For the record, cookies are comfort zone… muffins and scones are my safe place… chewy blondies and rich chocolate brownies feel as safe a fuzzy blanket, and plates of pasta are always a blinking neon "HAPPY" sign…
So what gets me anxious behind the countertop? MEAT. Not all meat; I can cook a juicy burger or Sicilian Braciole without breaking a sweat. It's mainly meat that needs prep. You know… the butchering, to put it delicately. It makes me cringe and clam up and want to run very very fast in the other direction. I'm a wimp like that.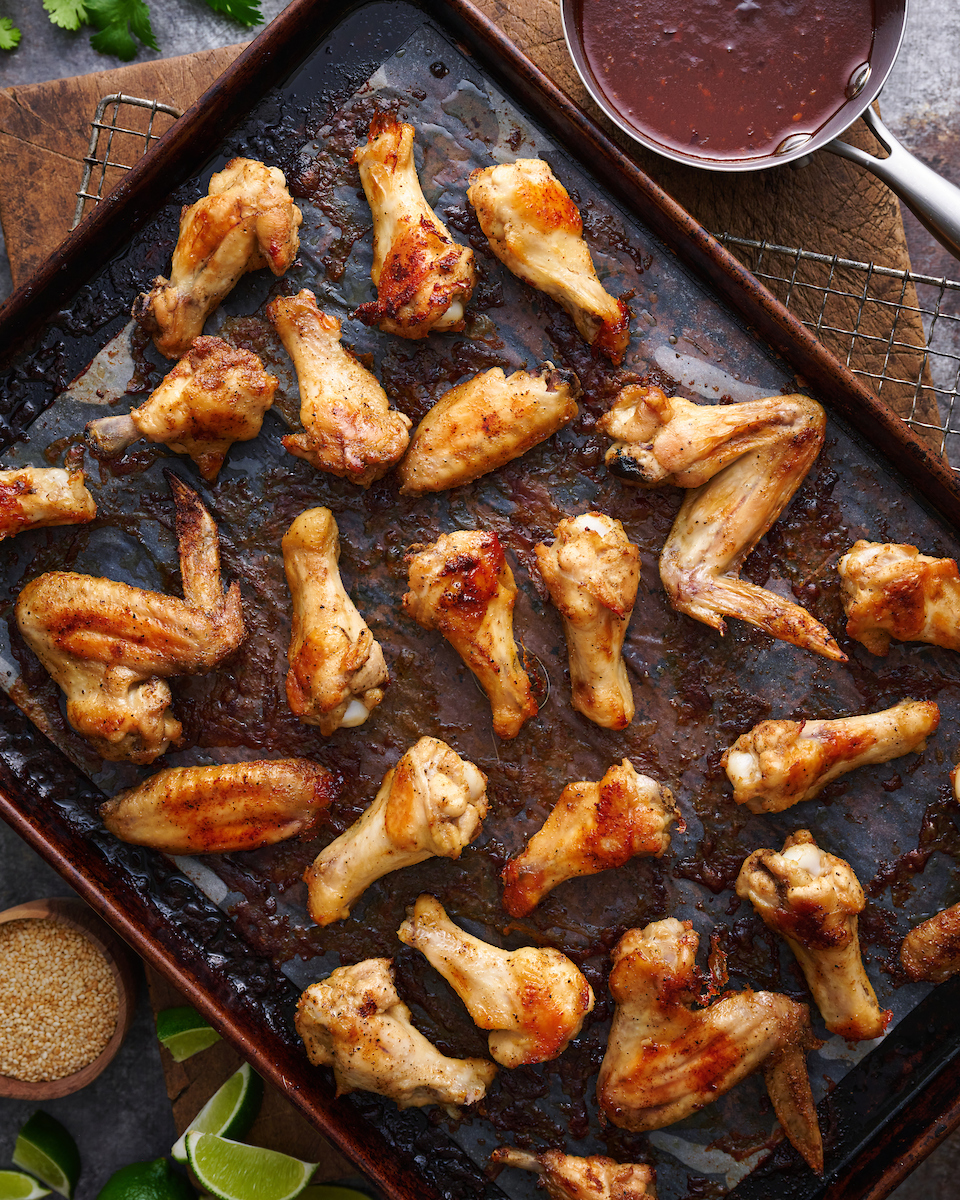 Hands-down my favorite appetizer to order when we dine out is sticky, saucy, sweet and spicy chicken wings. They're such a treat because they're something I never ever ever make at home. Or I should say, up until last week I never ever made at home. February was all about the chicken wing challenge! And although there were quite a few tears and a whole lot of swearing, I have to say one bite of these sweet and spicy sriracha baked chicken wings made it all worth it. Redemption is sweet.

How to make Honey Sriracha Chicken Wings
These sriracha wings are baked – not fried – so you'll need a very large baking sheet and an oven for this adventure.
The raw wings will get thoroughly patted down with paper towels (this helps remove excess moisture) before getting tossed with spices and oil. I used sesame oil here because I love the subtle Asian flavor it lends to the overall taste. You can find sesame oil in ethnic markets and most large grocery stores; it's usually in the ethnic cooking aisle.
How long to bake chicken wings at 400 degrees?
The wings will bake for about 50 minutes, but maybe a little less depending on how your oven runs! I know that probably sounds like forever, but it's worth it! I promise. And during this time you can prepare your spicy sweet sriracha sauce.
I love this sweet and spicy sriracha sauce because it's made with sriracha, honey, butter, and spices! AKA ALL OF THE YUMMY THINGS. You'll cook this combination of delicious ingredients on the stove top, and then brush them onto the baked wings. Then you'll crank up the broiler on your oven and bake the wings for an additional 4-5 minutes. This final stage is so important for crisping! Because broiling really seals the sauce into the wings and creates that crunchy skin we all know and love.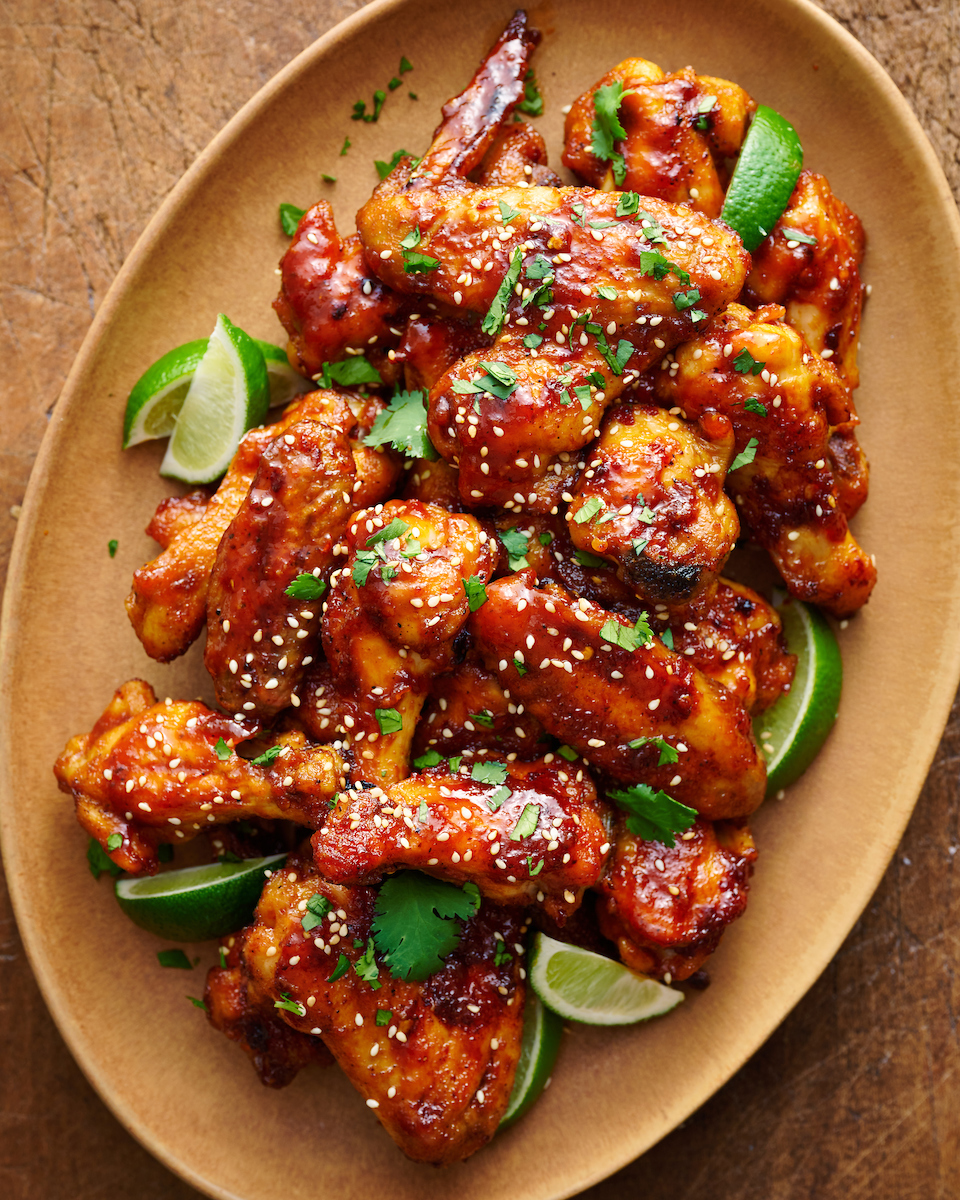 These wings are spicy, crunchy, and saucy on the outside. But tender, meaty, and luscious on the inside. And this recipe makes 3 pounds of wings, so definitely enough to serve hungry friends. But if you plan on feeding a large crowd, I encourage you to multiply this recipe as needed. Because they fly off the tray! I made these for a bunch of boys last weekend and all I can say is HOLY COW – they were a huge hit!
More Chicken Wings Recipes:
More Sriracha Recipes:
If you try this spicy chicken wings recipe, leave a comment below, or snap a photo and post it to instagram using the #BakerbyNature hashtag. Knowing you made a recipe and enjoyed it always makes my day! xoxo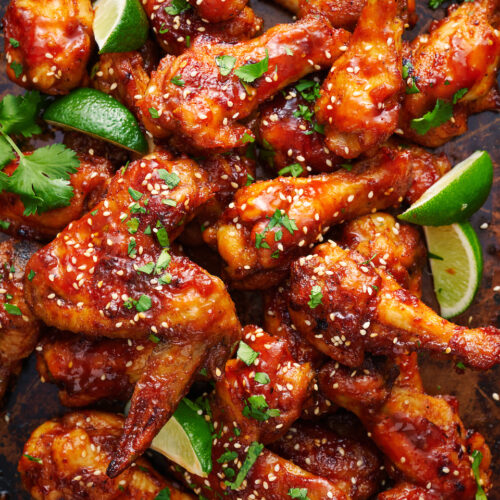 Sweet and Spicy Sriracha Baked Chicken Wings
These Sweet and Spicy Sriracha Baked Chicken Wings are perfect for parties! The sauce is made with honey and sriracha hot sauce, so it's sweet, spicy and finger licking good! So good and serves a crowd.
Ingredients
3 pounds chicken wings
3 tablespoons unsalted butter, melted
2 tablespoons sesame oil
2 1/2 teaspoons garlic powder
1 teaspoon kosher salt
3/4 teaspoon freshly ground black pepper
1/4 teaspoon cayenne pepper
For the sauce:
4 tablespoons unsalted butter
1/2 teaspoon crushed red pepper flakes
1 teaspoon fresh ginger, finely grated
1/3 cup honey
1/3 cup Sriracha sauce
1 tablespoon soy sauce
1 tablespoon fresh lime juice
1 tablespoon rice wine vinegar
1 teaspoon cornstarch
2 teaspoons sesame seeds, for garnish
1/4 cup fresh cilantro, chopped
Instructions
Preheat the oven to 400 degrees (F). Line a large rimmed baking sheet with parchment paper; set aside. Dry the chicken wings thoroughly with paper towels, pressing down hard to remove as much excess moisture as possible.

Place the chicken wings in a large bowl; set aside. In a small bowl combine the melted butter, sesame oil, garlic powder, salt, pepper, and cayenne. Pour this mixture over the wings and using your hands, toss well to coat. Spread the wings in a single layer on the prepared baking sheet.

Bake the wings until browned and crisp; 50-55 minutes, using tongues to flip them over halfway.

In the meantime, make the sauce.
For the sauce:
Melt the butter in a small pot over medium heat. Once it's melted, add the crushed red pepper and ginger; cook for a minute, then add in the honey, Sriracha, soy sauce, lime juice, and vinegar. Bring the mixture to light boil, stirring constantly, then stir in the cornstarch; cook just until thickened up - about 30 seconds. Remove from the heat and set aside.

When the wings have finished baking, carefully remove the tray from the oven and set aside. Increase the oven temperature to the broiler setting. Carefully remove the wings from the baking sheet and transfer to a large, heatproof bowl. Pour the warm sauce over the wings and gently toss to coat. Drain any excess oil from the baking sheet, then transfer the wings back to the prepared sheet and place the pan in the oven for 4-5 minutes. Stay near your oven during this time; the broiler acts fast. Carefully remove wings from the oven and transfer them to a large serving platter. Sprinkle the wings with sesame seeds, cilantro, and more honey (if desired); serve with lime wedges and lots of napkins.