Strawberries and Cream Donuts are sweet, fluffy, and perfect for Summer! Bonus: They bake up in just 10 minutes.
I'm always trying to find fun fresh ways to combine my favorite flavors into new donut creations. In fact, you may remember I made Super Simple Cinnamon Bun Donuts in early January and proclaimed my goal of 2015 was to make as many donuts as possible. So far I've made Double Chocolate Cake Donuts, Lemon Poppy Seed Donuts, Double Chocolate Peanut Butter Cup Donuts, Black and White Confetti Donuts, Vanilla Frosted Funfetti Donuts, and a personal favorite – Pineapple Upside-Down Donuts. So that's 9 recipes in 6 months… not bad, right?
Which brings us to our ninth donut recipe of the year: Strawberries and Cream Donuts. If you're reading this in real time – Happy National Donut Day to you! Naturally we're celebrating this delicious holiday with dozens and dozens of donuts – duh. And this fun and fruity flavor is a new favorite!
These pretty pink treats are soft, fluffy, and bursting with strawberry flavor. The best part?! They're baked and ready in just 20 minutes!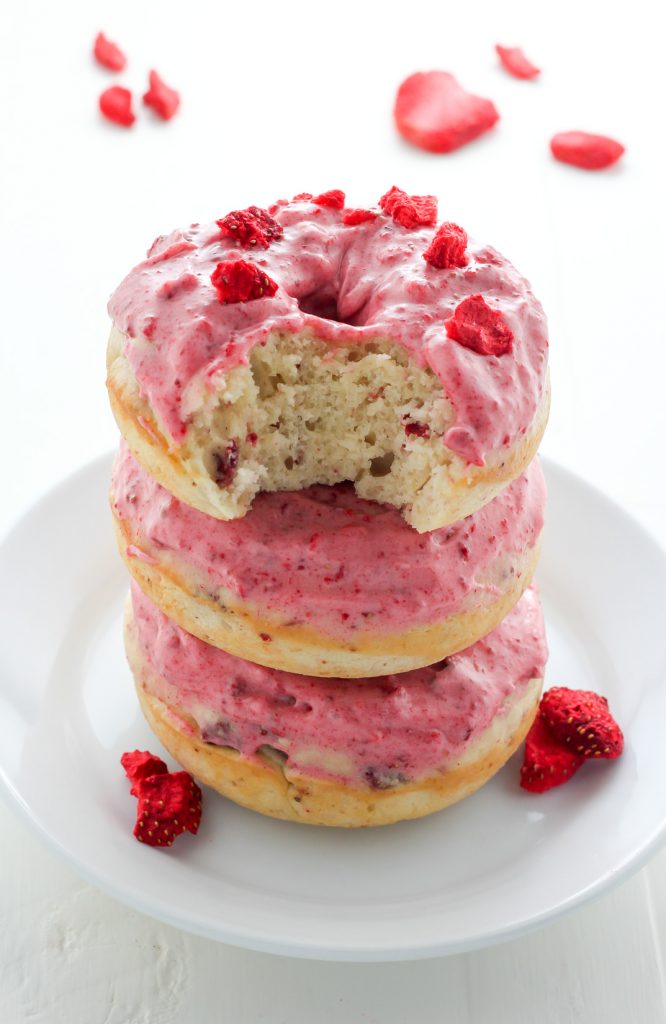 So let's get down to the recipe details! Don't worry – this is an exceptionally easy recipe, so I'll keep the details to a minimum.
1) This recipe does not use fresh strawberries. Instead I use freeze dried strawberries (not to be confused with regular dried strawberries) which are hard, crunchy, and easy to break into tiny pieces. Freeze dried strawberries are a dream to work with in baked goods and frosting because they bring all the berry flavor we want and love without changing the consistency of the recipe. I do not recommend substituting fresh strawberries in this recipe as they will dramatically change the consistency of your donuts and frosting, and most likely leave you with very unsatisfactory results. If you'd like some recipes for fresh strawberries, check out this Strawberry Vanilla Smoothie, these Strawberry Rolls with Vanilla Glaze, or these Chocolate Covered Strawberry Shortcakes.
2) These Strawberries and Cream Donuts are baked, not fried, meaning you will need a donut pan for this recipe. I have not tried baking these donuts in a muffin tin, or without a donut pan, so I can not offer any substitutions for this baking tool. If you don't own a donut pan and are interested in purchasing one, I've included the link to the very pan I use and love at the end of this post – it's durable and quite affordable!
3) Be sure you don't over bake your donuts! They only need to bake for 10 minutes. They will come out of the oven looking fluffy but quite soft. I recommend letting the donuts cool in the pan – untouched – until they've cooled completely.
4) For the strawberry, you have two options: smooth frosting or chunky frosting. As you can probably tell from my photos, I chose chunky. I'm a texture person and enjoyed the little bits of crunchy strawberry in each bite. If you prefer a smooth consistency, simply pulse the freeze dried strawberries in a food processor or blender until they resemble bright red strawberry dust.
If you're thinking you should DEFINITELY make a double batch of these then you and I are totally brain twins destined to be besties for life. Grab that donut pan and GET BAKING!
P.S. If you love donuts as much as me, follow my Doughnuts Pinterest Board.
Strawberries and Cream Donuts
Fluffy Strawberry Vanilla Donuts topped with Strawberry Frosting! Baked, not fried, these donuts are ready in 20 minutes.
Ingredients
For the Strawberries and Cream Donuts:
1 cup + 2 tablespoons all-purpose baking flour
1/2 cup granulated sugar
1/2 teaspoon salt
1 teaspoon baking powder
1/2 cup full-fat sour cream
2 1/2 tablespoons unsalted butter, melted
1 large egg, at room temperature
1/3 cup freeze dried strawberries, lightly crushed
For the Strawberry Frosting:
2-3 tablespoons heavy cream (more if needed)
1 cup confectioners' sugar, sifted
1/4 teaspoon salt
1/4 cup freeze dried strawberries, crushed or pulsed into berry dust (read notes in blog post for more on this)
Instructions
For the Strawberries and Cream Donuts:
Preheat oven to 350 degrees (F). Lightly grease a doughnut pan; set aside.

In a large bowl whisk together the dry ingredients. In a separate bowl whisk together the sour cream, melted butter, and egg. Gently fold the wet mixture into the dry mixture until just combined - don't over mix! Gently fold in crushed strawberries.

Spoon mixture into prepared doughnut pan, and bake for 10 minutes, or until the doughnuts spring back when lightly pressed. Allow doughnuts to cool completely in the pan before frosting.
For the Strawberry Frosting:
Combine heavy cream and confectioners' sugar in a medium-sized bowl. Whisk smooth, adding a touch more cream if the frosting seems too thick; adding a touch more sugar if the frosting seems too thin. Mix in salt and dried berries.

Once the donuts have cooled completely, spread the frosting over the tops of each and decorate with extra dried berries if desired.
Notes
*This recipe may easily be doubled. *Freeze Dried Strawberries can be found online and in most grocery stores. *Donuts are best eaten the first day, but may be stored in the fridge for up to 24 hours.