Light, fluffy, and loaded with fresh strawberries – these Healthy Greek Yogurt Strawberry Pancakes are a guilt-free treat sure to make any morning a little more special!
It's no secret pancakes are one of the best foods in the universe. With just a handful of basic pantry ingredients – and a little creativity – you can make an incredibly delicious breakfast, brunch, or dinner in no-time! In fact, pancakes – with a side of bacon and a couple sunny up eggs – are one of my favorite dinners when my body and soul need a little edible tender, love, and care.
Question: Do you ever do breakfast for dinner? Or Brinner, as we like to call it.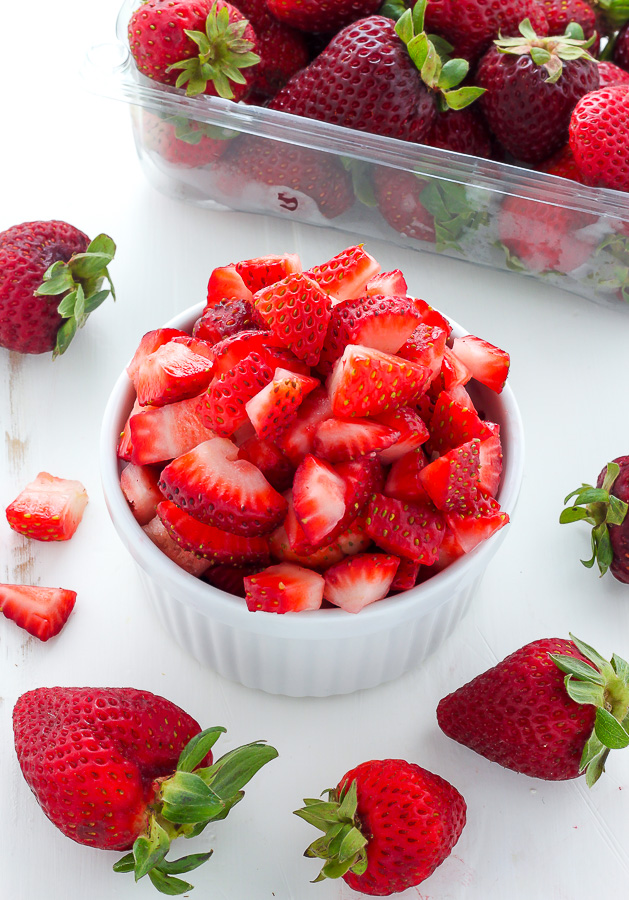 Today I'm treating you to an easy pancake recipe that is just perfect for Summer: Healthy Greek Yogurt Strawberry Pancakes. This recipe is adapted from one of my very favorite pancake recipes – the blueberry pancakes of your dreams. <—- If you haven't tried those yet, do yourself a favor and jot it down on your to-do list NOW.
But I digress! My idea was to take that incredible recipe and lighten it up juuuuust a little bit.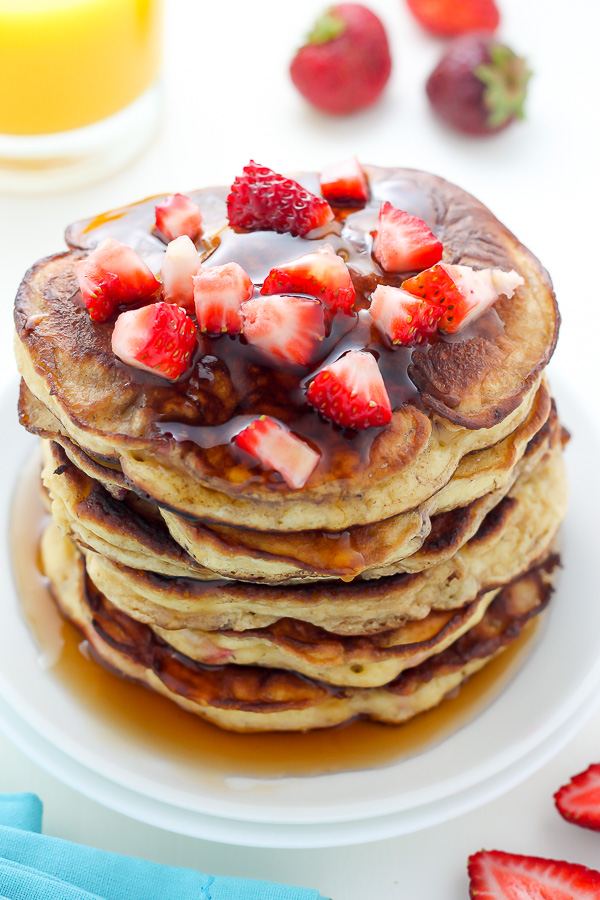 Here's what I did:
1) Swapped out the sour cream for Greek Yogurt. I prefer to use full-fat Greek Yogurt here, but since I know many will ask "can I use a low-fat or non-fat yogurt instead?" I'll address that right now. Full-fat Greek Yogurt is my preferred choice because it yields light, fluffy, incredibly creamy pancakes – every time. This recipe uses 100% whole wheat flour, which sucks up moisture more than all-purpose flour, so the more fat the better. All of that said, a lower-fat or non-fat yogurt will likely still yield some pretty decent pancakes. They may be a little less creamy/rich, but that's just what happens when you remove some of the fat 😉
2) As mentioned in the novel above, I swapped out the all-purpose flour and used 100% whole wheat flour in its place. If you're not into whole wheat flour, or are dabbling in the beginning stages of adding it to your diet – don't fret! This recipe can be made with all-purpose flour or even with half whole wheat and half all-purpose. It's pretty flexible on the flour front.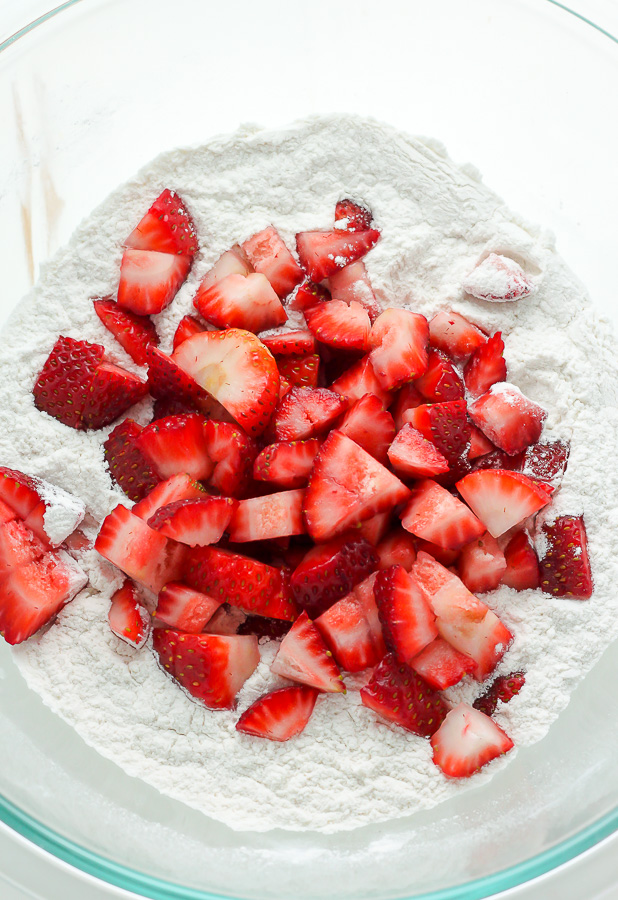 3) Fresh Strawberries ♡♡♡ One and a half whole cups, my friend! If you love berry goodness in your breakfast, you're going to go nuts over these.
4) I ditched the whole milk and added in a secret ingredient – orange juice! Do me a favor, ok? Don't skip the OJ! It's only 3 tablespoons but it adds the most incredible flavor. Plus, you know you'll want a glass with your pancakes.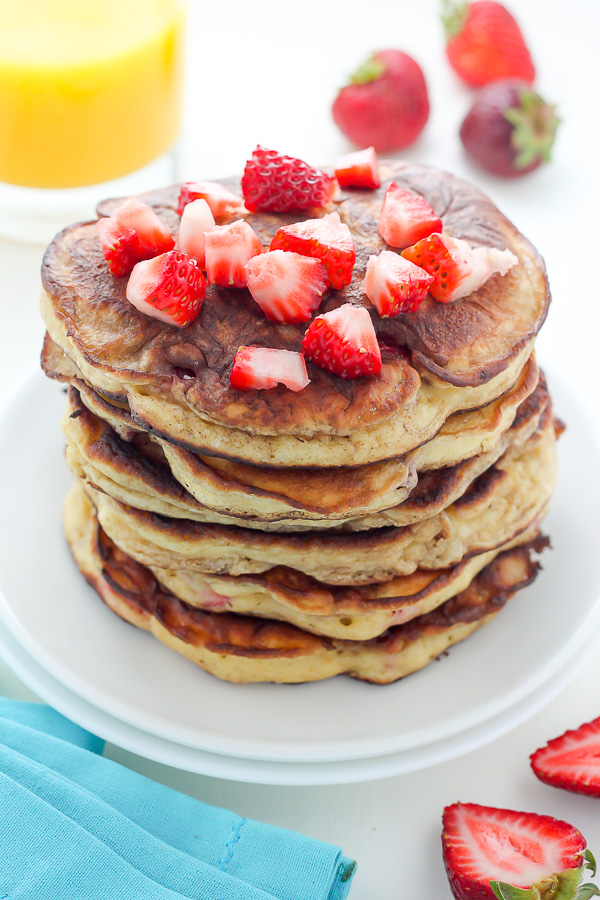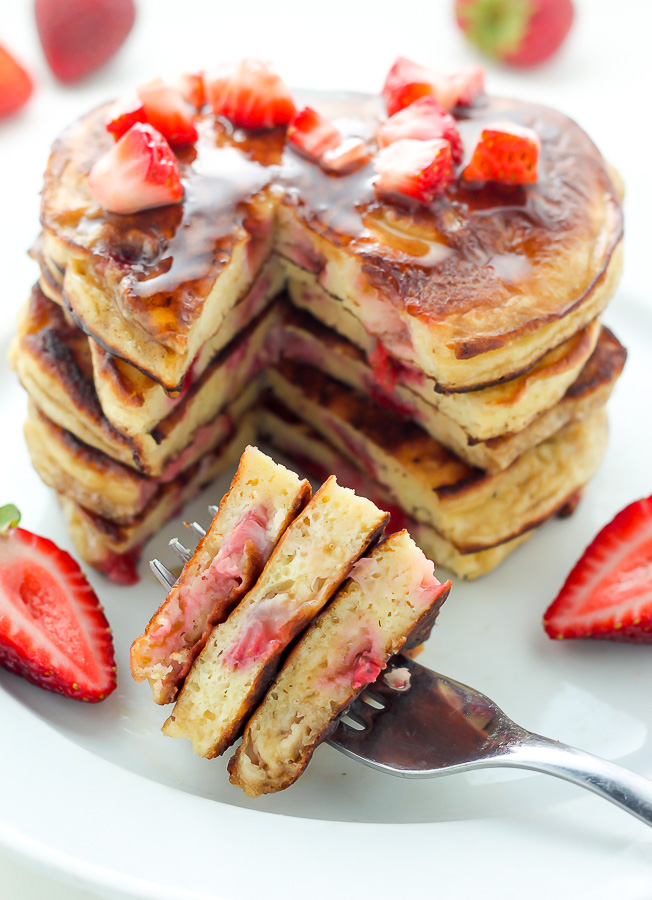 If you're a pancake lover, give this fresh and fruity recipe a try asap! I promise you won't regret it. <—- That's coming from the girl who's made 3 batches in 8 days 😉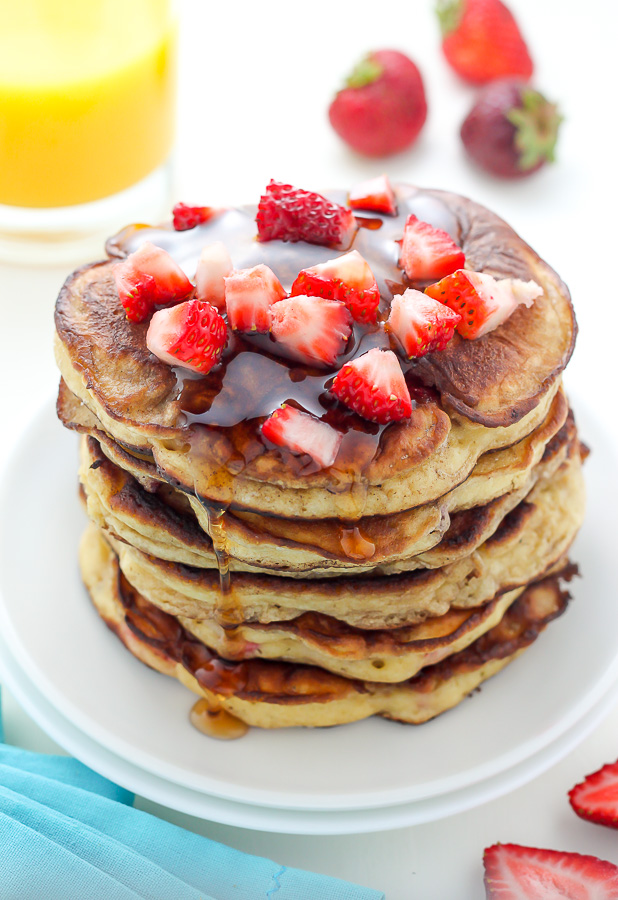 Healthy Greek Yogurt Strawberry Pancakes
Ingredients
3 large eggs, separated
1 cup full-fat Greek Yogurt
3 tablespoons orange juice
2 1/2 tablespoons dark brown sugar
2 teaspoons vanilla extract
2/3 cups + 2 tablespoons whole wheat flour
2 1/2 teaspoons baking powder
1/4 teaspoon salt
1/4 teaspoon ground cinnamon
1 1/2 cups fresh strawberries, cut into small chunks
4 tablespoons butter, for the pan
Maple syrup, for serving
Instructions
In a large bowl whisk together the egg yolks, Greek yogurt, orange juice, brown sugar, and vanilla; set aside.

In a separate large bowl whisk together the flour, baking powder, salt, and cinnamon; and diced strawberries and toss to combine, making sure berries are fully coated in the flour.

Add flour mixture to the wet milk mixture, and stir just to combine; do not over mix! The batter will be thick, so don't worry if there's a lot of clumps left.

Add egg whites to a large bowl or the body of a stand mixer. Beat using a handheld mixer or the whisk attachment until the whites begin to form soft peaks.

With a rubber spatula fold egg whites into flour/Greek yogurt mixture, stirring until fully incorporated.

Melt 1/2 tablespoon of butter in a large skillet over medium-heat.

Ladle 1/3 cup scoops of the batter into the skillet, only cooking a few at a time so they don't blend together. Cook pancakes until the edges begin to brown and the top of the batter bubbles, then flip and cook for another 1-2 minutes. Repeat for all pancake batter.

Top pancakes with syrup and extra strawberries, or anything else your heart desires! Serve at once.

You'll also love:
Strawberry Rolls with Vanilla Glaze
Strawberry Vanilla Smoothie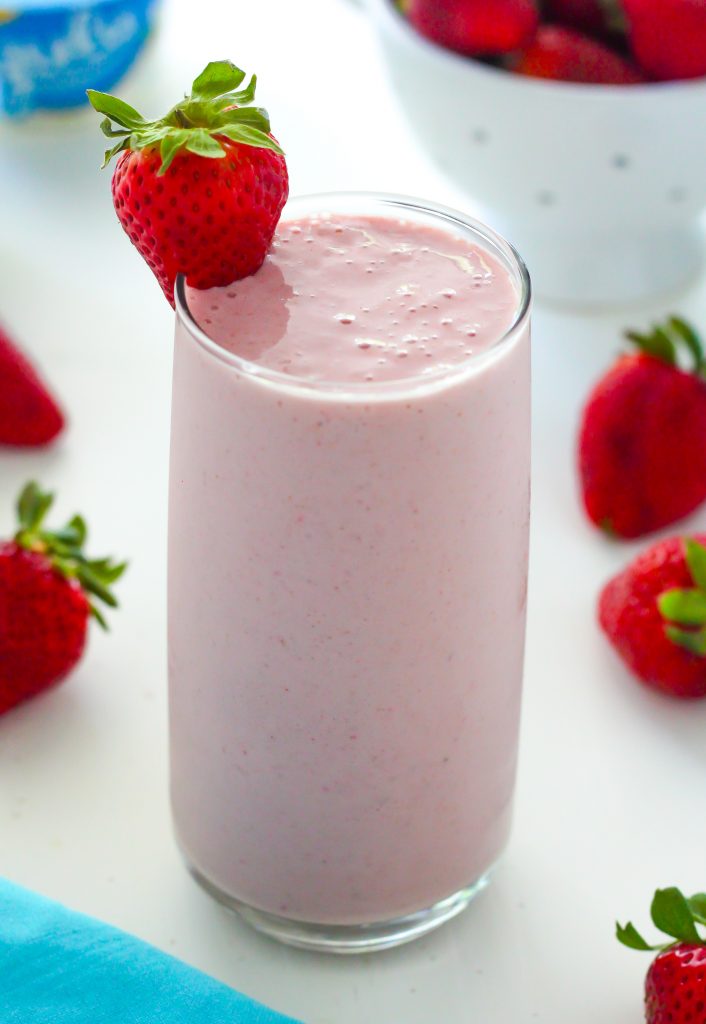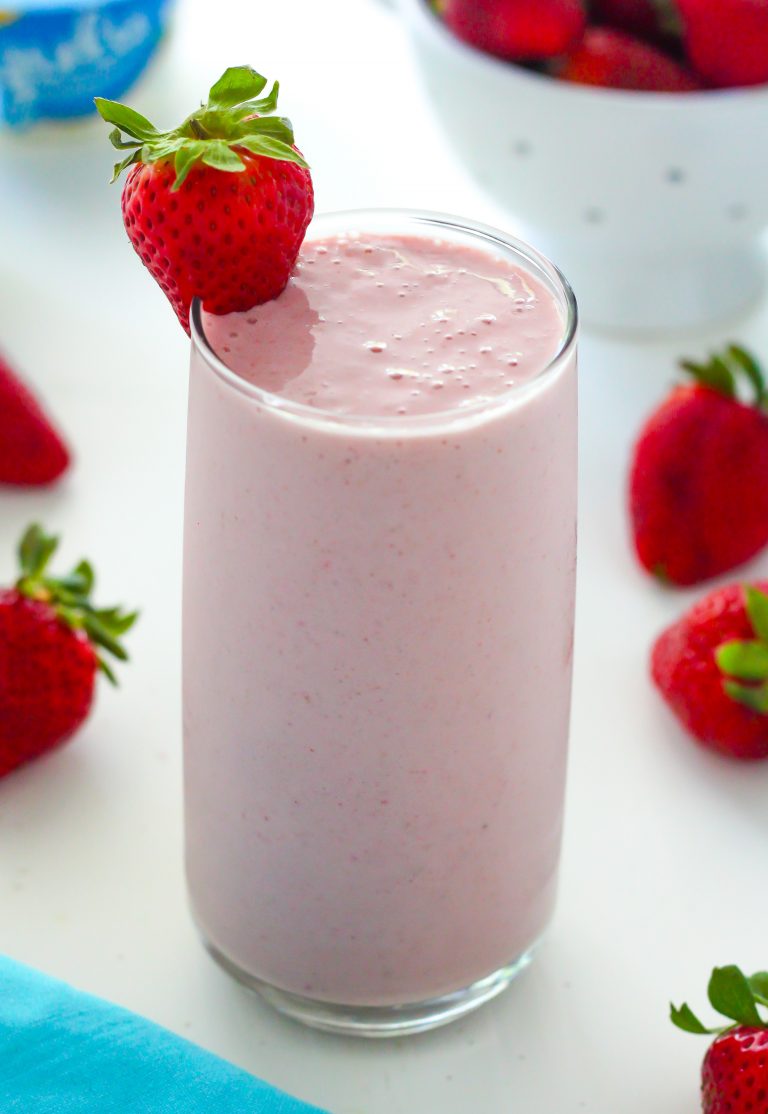 Strawberries and Cream Donuts