I went through a silly stage in life where I did NOT like salmon. Well, that and a whole lot of other really awesome foods. I think I might have mentioned this before, but I was once quite the picky eater. You know, One of those "I don't like it even though I've never tried it" types. I know… Ick!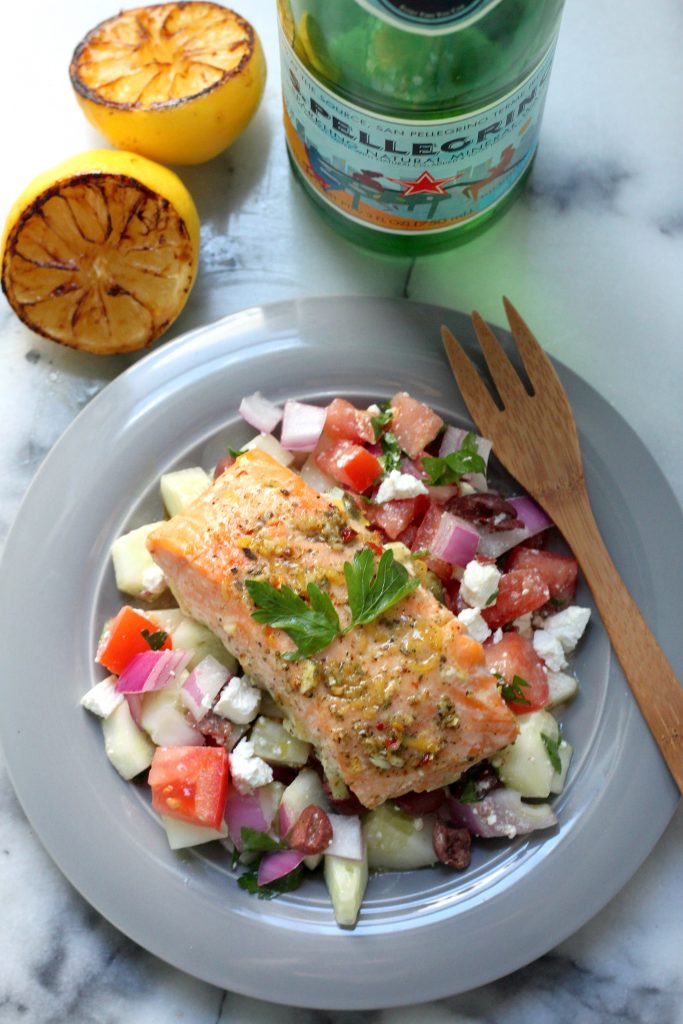 Luckily I worked in a restaurant in my early twenties and that shook me straight out of any food hesitations I once had. Mandatory menu sampling… it saved my life! Or at least changed it. I left that job loving salmon, pickled onions, blue cheese, hot sauce, and fried eggs. Pretty much all my favorite foods these days. Also… Is it weird I want to put all those things on a taco? Probably. But that's what I call LIVING!
Last week salmon was on sale at our favorite seafood spot, and whenever salmon is on sale, it's ours for the taking! I usually buy a whole pound so we can squeeze two meals out of it. Ashley looooves leftovers like cold salmon loves a big salad. It just works. Also, apparently Ashley refers to herself in third person now. Hmmm…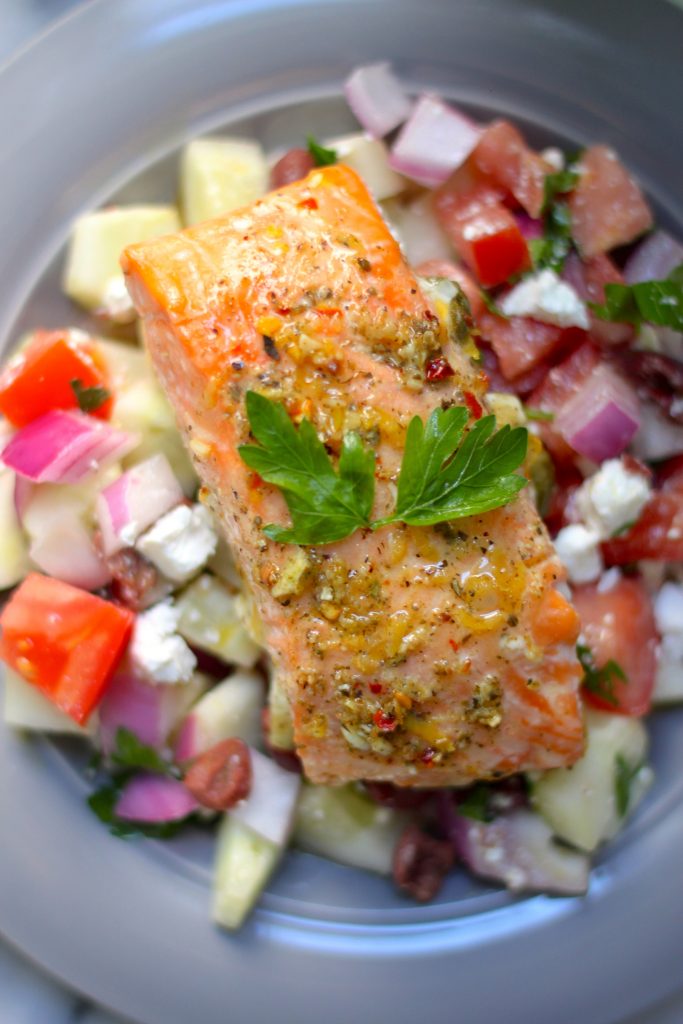 This salmon is definitely a new favorite. For me and you, I think. See, all you do is cover your salmon fillets in a lemon and herb marinade (it smells so good!), pop it in the oven for 15 minutes, and then plop it on top of the easiest // most delicious Greek salad salsa you've ever made. Can supper get any simpler?
Sunday Suppers: Baked Lemon and Herb Salmon with Greek Salad Salsa
Ingredients
For the salmon:
1 lb. salmon, skin off; cut into 4 fillets
Zest and juice of one lemon (should be about 3 tablespoons of juice)
2 cloves garlic, minced
2 tablespoons parsley, very finely chopped
2 tablespoons olive oil
1 tablespoon capers (optional)
Salt and pepper
For the salsa:
2 tablespoons red wine vinegar
2 tablespoons olive oil
Salt and pepper
1/2 teaspoon dried oregano
1 garlic clove, minced
1 cup grape tomatoes, quartered
1/2 cup chopped cucumber
1/2 cup crumbled feta cheese
1/4 cup chopped red onion
1/4 cup kalamata olives, chopped
Instructions
For the salmon:
Preheat oven to 425 degrees (F). Line a baking sheet or skillet with parchment paper. Place salmon fillets on parchment, then generously sprinkle both sides of each fillet with salt and pepper.

In a small bowl whisk together the lemon zest, juice, garlic, parsley, and capers. Pour the mixture over the salmon, being sure each piece gets fully coated.

Place pan in the oven and bake for 15-16 minutes. Serve over salsa.
For the salsa:
In a small bowl, combine the vinegar, oil, salt, pepper, oregano, and garlic; set aside.

In a large bowl, combine the tomatoes, cucumber, feta cheese, onion and olives. Drizzle with vinegar mixture and toss to coat. Chill until serving.