This Greek Orzo Salad is loaded with flavorful ingredients like crumbled feta, tomatoes, cucumber, olives, and chickpeas – but you can add grilled chicken or shrimp for more protein! Making this recipe is so easy, just combine the ingredients in a large mixing bowl, add the dressing, and toss!
Greek Orzo Salad Recipe
Say hello to the ultimate summer side dish recipe! This pasta salad is perfect for parties, picnics, and potlucks because it's easy to make ahead of time and perfect for feeding a hungry crowd! It's also very forgiving and adaptable, so feel free to swap the pasta variety, modify the veggies, or add a protein like chicken or shrimp!
I have a million pasta salad recipes in my recipe box, but this Greek Orzo Pasta Salad is definitely one of our all-time favorites. It comes together in 20 minutes and it'll keep it in the fridge for up to 5 days!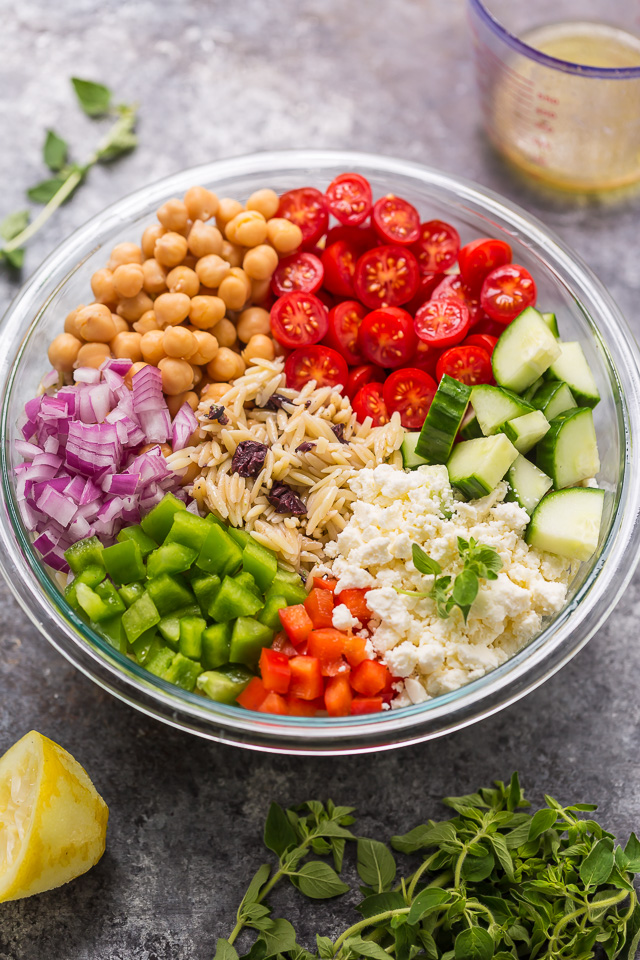 Greek Orzo Salad Ingredients
Orzo: Although it looks like rice, orzo is actually a small variety of pasta that works great in soups and salads. Feel free to use regular or wheat orzo! And if you can't find orzo, use another small pasta like macaroni or orecchiette.
Tomatoes: When it comes to tomatoes, use whatever variety looks best! Cherry tomatoes, grape tomatoes, or even chopped heirloom or vine tomatoes will work great.
Cucumber: I love using english cucumber in this recipe, but almost any cucumber variety will work. Feel free to peel the cucumber or leave the peel on if you prefer.
Feta Cheese: Use the best variety of feta you can get your hands on! For the best flavor, I suggest buying a large block of feta and crumbling it yourself.
Red Onion: If you're not a fan, feel free to omit the onion or reduce the amount.
Kalamata Olives: You'll use the olives in the dressing as well as the salad. You can buy fresh or jarred olives. I suggest buying water packed olives vs oil packed olives, but both will work in a pinch.
Red Bell Pepper: Fresh red pepper adds a delicious crunch, jarred roasted red peppers make a fine replacement.
Green Pepper: Not a green pepper fan? Feel free to omit this ingredient, no need to add anything in its place.
Chickpeas: I used canned chickpeas, but you could certainly soak your own. Be sure to rinse and pat your chickpeas dry before adding them to the salad.
Olive Oil: The base of our red wine vinaigrette, I suggest using a quality variety you enjoy the taste of. Feel free to really lean into the Greek and use a Greek olive oil!
Garlic: I prefer fresh garlic and 100% suggest using it for the dressing. But in a pinch, a 1/2 teaspoon of garlic powder may be used.
Oregano: Again, I prefer fresh oregano, but if you cannot find it, dried oregano may be used. Use half the amount called for if you plan on using dried oregano.
Lemon: The juice and zest of a lemon adds acidity and brightness to the Greek salad dressing.
Red Wine Vinegar: For a more intense vinegar flavor, add an extra tablespoon to the recipe.
Dijon Mustard: Any variety will work, but we love Grey Poupon.
Seasoning: A small amount of sugar, salt, and pepper helps enhance all of the other flavors in the dressing and salad. I suggest starting with a small amount, tasing, then adding more if desired.
This salad is extremely versatile, so feel free to use it as a starting point. Then shake it up and make it your own.This is one of those recipes that's really hard to "mess up". Try adding fresh herbs, using white beans instead of chickpeas, or add chicken, shrimp, or salmon!
How to Make Orzo Salad
Cook the Pasta: Bring a large pot of water a boil then add in the orzo. Do NOT cook orzo to package instructions. Instead, boil for about 7 minutes, or until al dente. Drain and rinse with cold water.
Prep the Veggies: You'd be surprised how time consuming this can be! So I suggest starting your veggie prep as soon as your pasta water is on the stove. I suggest cutting everything into pretty small bite-sized pieces so it's easy to eat.
Make the Dressing: To make the red wine vinaigrette, simply whisk together the salad dressing ingredients until well combined. Be sure to taste before dressing your salad and season with salt and pepper as needed.
Toss the Salad: Place the pasta in a large mixing bowl, add the dressing, chickpeas, chopped vegetables, feta, and toss. If you want, you can sprinkle a little extra feta on top to make it look pretty.
Serve your Salad: I suggest either serving right away, or cover the bowl and place it in the fridge until needed. It'll keep for up to 5 days… not that it ever lasts that ling in my house!
Tools Needed for this Recipe: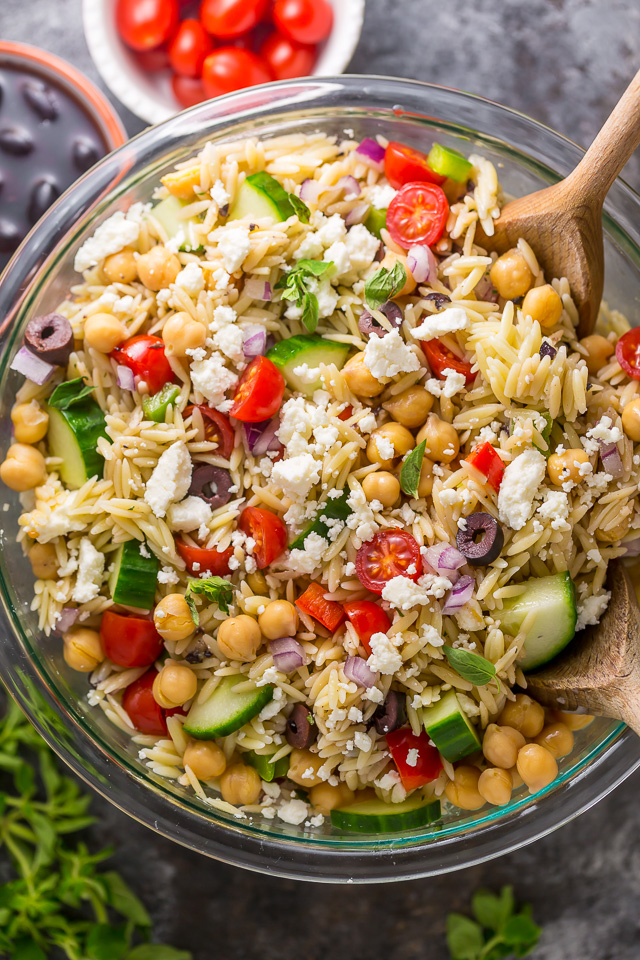 More Summer Salad Recipes: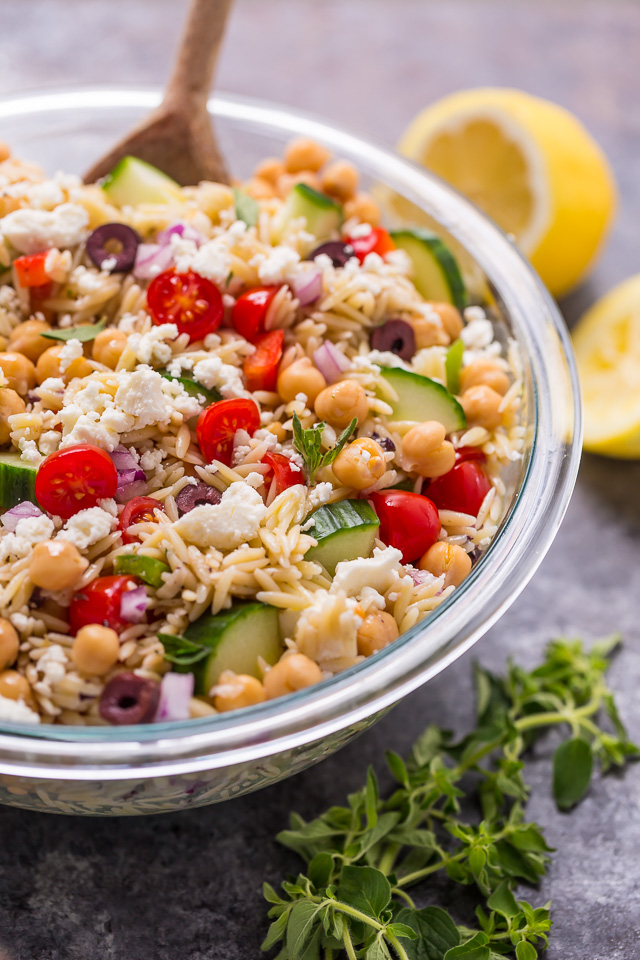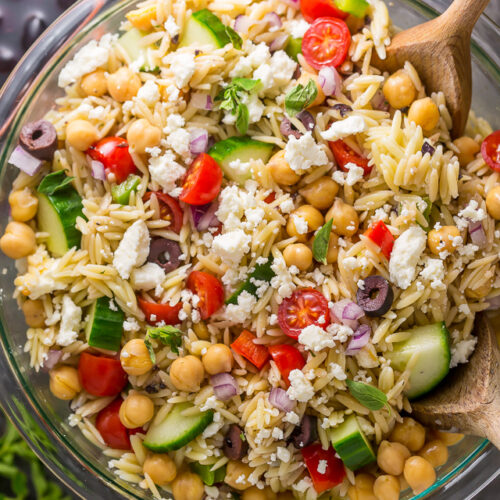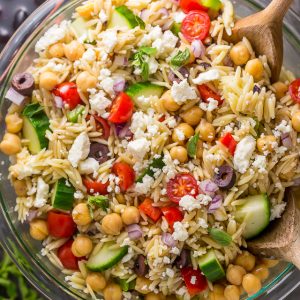 Greek Orzo Salad
Greek Orzo Salad is healthy, delicious, and packed with fresh veggies! This pasta salad is the perfect side dish for Summer parties, picnics, and potlucks. To make it a full meal, add chicken, shrimp, or salmon!
Ingredients
1 pound orzo
1 large english cucumber sliced in half lengthwise then cut into half moons
2 cups cherry tomatoes cut in half
1/2 cup kalamata olives pitted and sliced in half
1 small red bell pepper seeds removed and diced
1 small green pepper seeds removed and diced
1 15.5 ounce can chickpeas drained, rinsed, and patted dry
1 small red onion diced
1 8 ounce container feta cheese crumbled
For the Red Wine Vinaigrette:
1/2 cup olive oil
2 cloves garlic, minced
3 tablespoons red wine vinegar
1 and 1/2 Tablespoons Lemon Juice freshly squeezed
1 teaspoon lemon zest finely grated
1 and 1/2 teaspoons dijon mustard
1 teaspoon fresh Oregano finely chopped (or 1/2 teaspoon dried)
1 teaspoon granulated sugar
1/2 teaspoon salt more to taste
1/2 teaspoon ground black pepper more to taste
2 Tablespoons Kalamata olives finely chopped
Instructions
Place a large pot of salted water over high heat and bring to a rolling boil. Add orzo and cook until al dente, 7 to 8 minutes. 

Drain pasta and rinse under cold water until cool. 

Place pasta in a large serving bowl and set aside.

In the meantime, prepare the vegetables and dressing.
For the Red Wine Vinaigrette:
In a small bowl combine the olive oil, garlic, vinegar, lemon juice, zest, mustard, oregano, sugar, salt, pepper, and olives. Whisk well until completely combined. Add dressing to orzo.

Add vegetables, olives, chickpeas, and feta to the orzo bowl and mix well to combine. Season with salt and pepper, if desired.

Serve at once, or chill until needed. Salad will keep, covered and stored in the fridge, for up to 5 days. Mix well before serving.