Sunny Lemon Squares feature a crunchy coconut crust, creamy lemon filling, and a sprinkle of sweet sugar on top. YUM.
Sunny Lemon Bars
I simply don't have enough lemon recipes on this blog. That's the verdict I came to after spending 20 minutes clicking through my own archives, searching for a stroke of lemon inspiration. I'm hosting a baby shower next weekend and the mommy-to-be is a lemon lover to the max. Suffice to say I'm working overtime this week, testing new lemon recipe, baking up old favorites, preparing some homemade decorations for the shower (I'll share if any of them turn out!), and trying not to lose my mind. But coffee (and wine) shall see me through.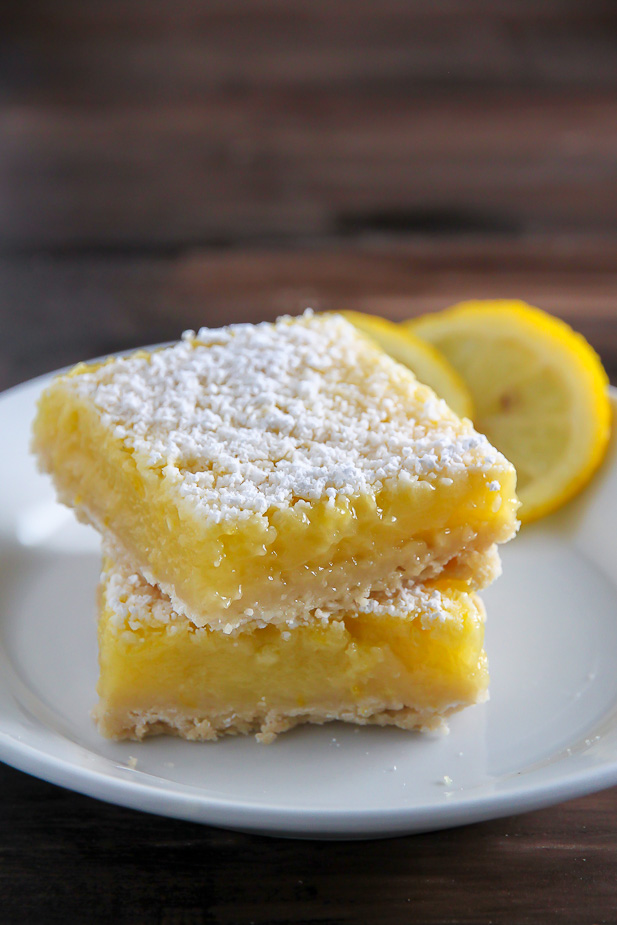 One recipe I know I'll be serving to my guests? Sunny Lemon Squares. A recipe I've been itching to share with you for months now. The lemon flavor is bright, perky, and perfectly balanced, and the crunchy coconut crust adds a little tropical twist to the overall flavor, without being overwhelming. I find the coconut flavor extremely lovely and quite subtle, but if you're anti-coconut, allergic, or cannot find coconut oil in a store near you, feel free to use melted butter in its place.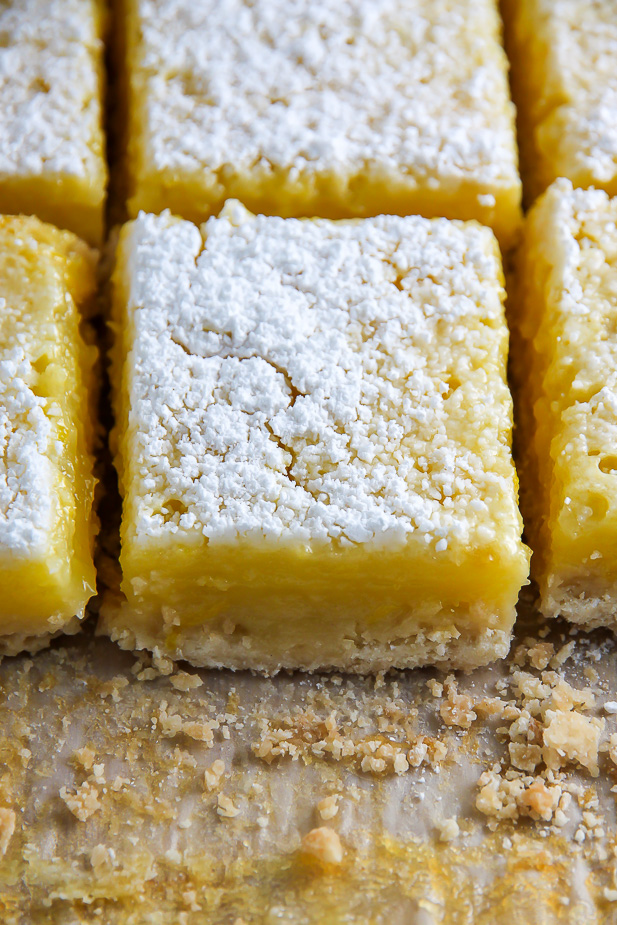 Creamy lemon Squares
For this recipe, fresh lemon juice is key. You'll need one whole cup it, so be sure to have 8-10 plump lemons on hand and ready for the squeezing. You can do this by hand – just get ready to pump those hand muscles – or you can use a lemon squeezer
or citrus juicer
to make things a little easier. Fresh lemon juice infuses the creamy filling with a bright, sunshiny sweet flavor that just can't be beat. I do not recommend substituting store bought lemon juice or lemonade.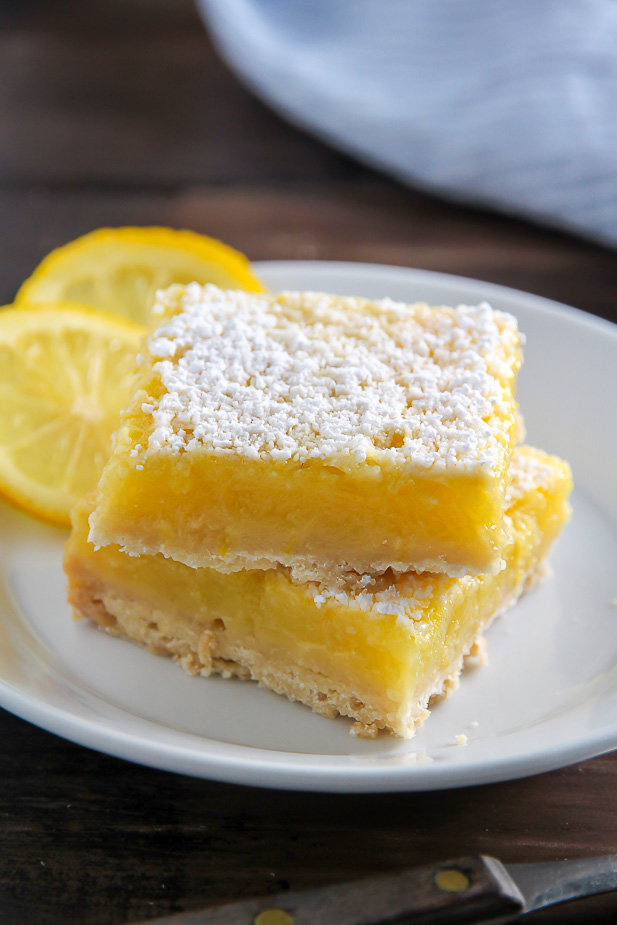 Although this dessert comes together quite easily (you don't even need an electric mixer!), it does need to chill for at least 4 hours before slicing and serving. The good news? You can totally make these sunny lemon squares ahead of time. They'll stay lively and delicious in your fridge for up to 3 days!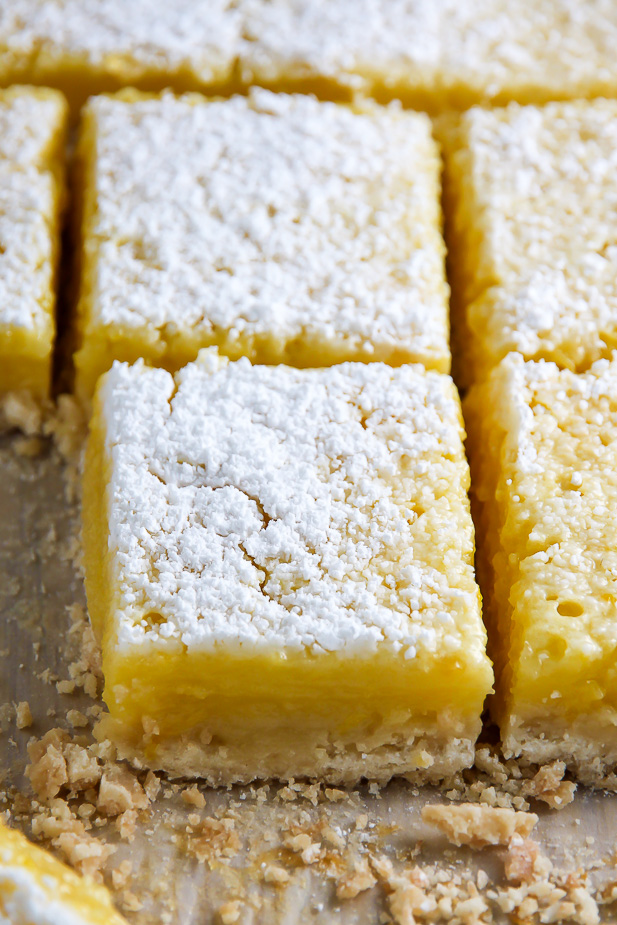 A little tip: Dust the lemon squares with confectioners' sugar right before serving. I like to use my fine-mesh strainer to evenly decorate the squares with sugar, but if you don't own one, you can do this by hand. Just go easy with the sugar at first; you can always add more later if desired.
↑ This is not a step you want to do in advance, as the sugar will being to melt and look clumpy after a while.
This recipe makes 12 large squares, or 24 tiny ones. If you're serving a large group of guests, I suggest cutting the squared small – especially if there are additional desserts being served.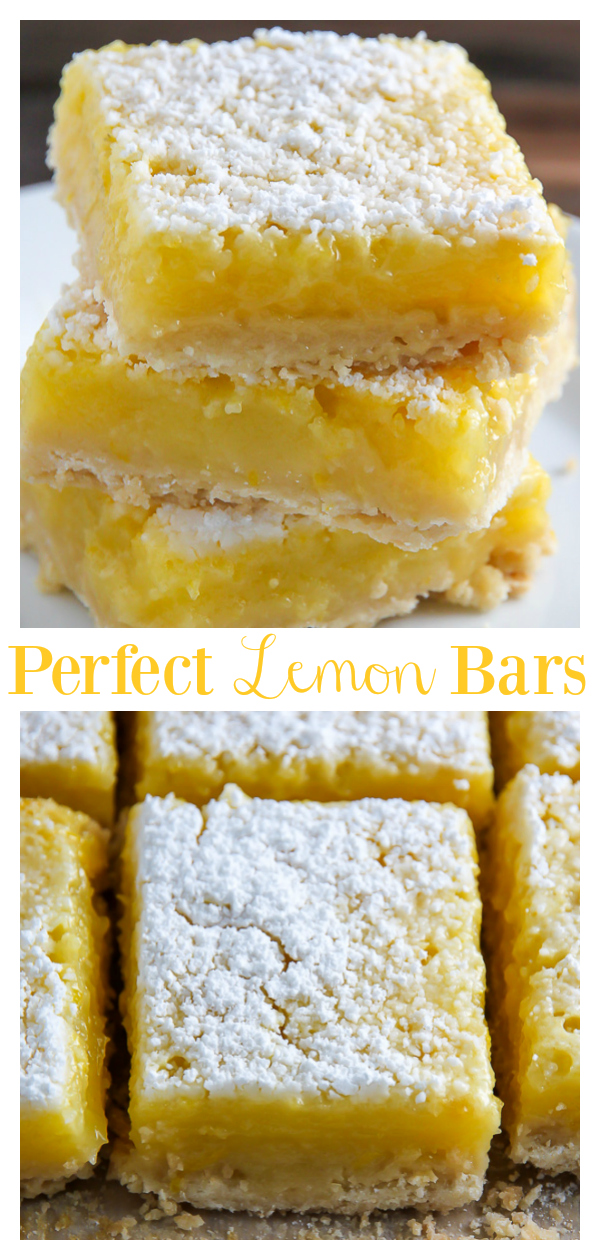 A sweet burst of sunshine in every single square. These babies will brighten up even the dreariest of days.
More Lemon Recipes: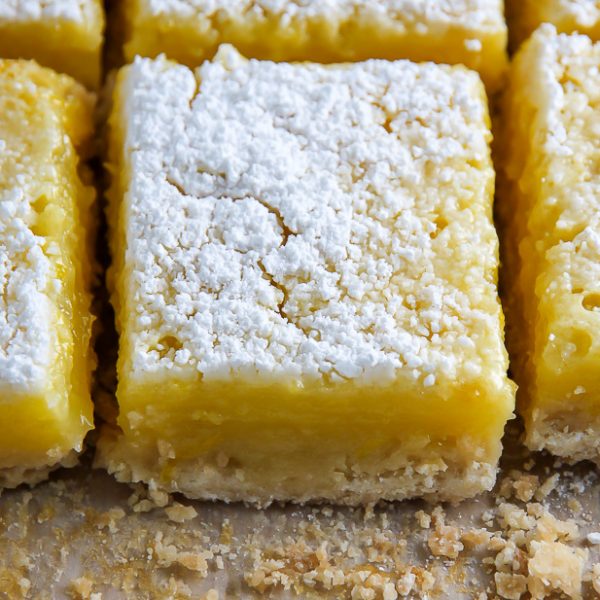 Sunny Lemon Squares
Sunny lemon squares are the perfect balance of sweet and tart! The crisp coconut crust pairs perfectly with the creamy lemon curd filling. Dust with confectioners' sugar for a pretty presentation.
Ingredients
For the coconut crust:
1 cup melted coconut oil
1/2 cup granulated sugar
1/2 teaspoon vanilla extract
1/2 teaspoon salt
2 cups all-purpose flour
For the lemon filling:
2 cups granulated sugar
1/3 cup + 1 tablespoon all purpose flour
2 teaspoons lemon zest
1/4 teaspoon salt
6 large eggs, at room temperature
1/2 teaspoon vanilla extract
1 cup fresh squeezed lemon juice
1/2 cup confectioners' sugar, for dusting
Instructions
For the coconut crust:
Preheat oven to 350 degrees (F). Line a 9x13 baking pan with parchment paper, allowing the ends of the paper to overlap two opposite edges of the pan. Generously grease the parchment paper and any exposed pan; set aside.

In a medium bowl combine the coconut oil, sugar, vanilla, and salt; mix well. Add the flour and stir until just incorporated. Press the mixture evenly into the bottom of the prepared pan. Bake for 14-15 minutes, or until the crust is set and lightly golden. Set crust aside to slightly cool; reduce the oven temperature down to 300 degrees (F).
For the lemon filling:
In a large mixing bowl combine the sugar, flour, lemon zest, and salt; mix well until thoroughly combined. Add in the eggs, vanilla, and lemon juice and whisk until well combined.
Assembly and baking:
Pour the lemon filling on top of the partially baked crust. Return the pan to oven and bake for 30 minutes, or until the filling is set in the center. Cool to room temperature, then cover the pan and refrigerate for at least 4 hours, and up to 3 days.