Easy Lemon Cheesecake Bars are perfect for almost any occasion! Made with fresh lemon juice, lemon zest, cream cheese, and sour cream, they're tangy, sweet, and so delicious. If you love lemon and cheesecake, you have to try this recipe!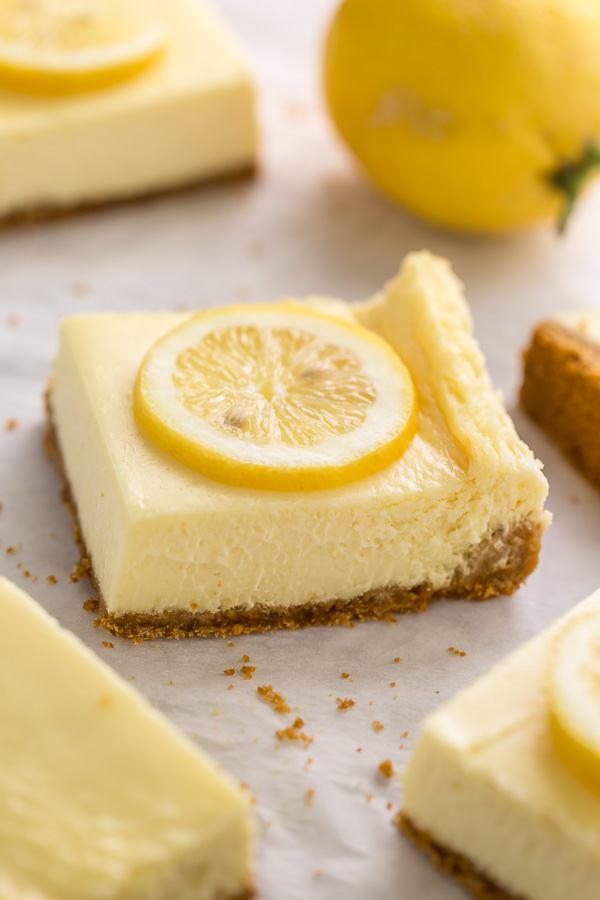 Lemon Cheesecake Bar Recipe
Spring is slowly but surely on its way, and that means lots and lots of lemon recipes are in order! And since I know so many of you love lemon as much as I do, I couldn't keep these luscious double lemon cheesecake bars from you another minute longer. They're SO creamy! And loaded with tangy lemon flavor. But the best part? They're so darn easy! You can whip them up in about 20 minutes, and they only require 30 minutes of bake time. Plus, no water bath or springform pan required! So if you've been too scared to try your hand at cheesecake, you should definitely try this lemon bars recipe!!! It's perfect for experienced bakers and novice ones.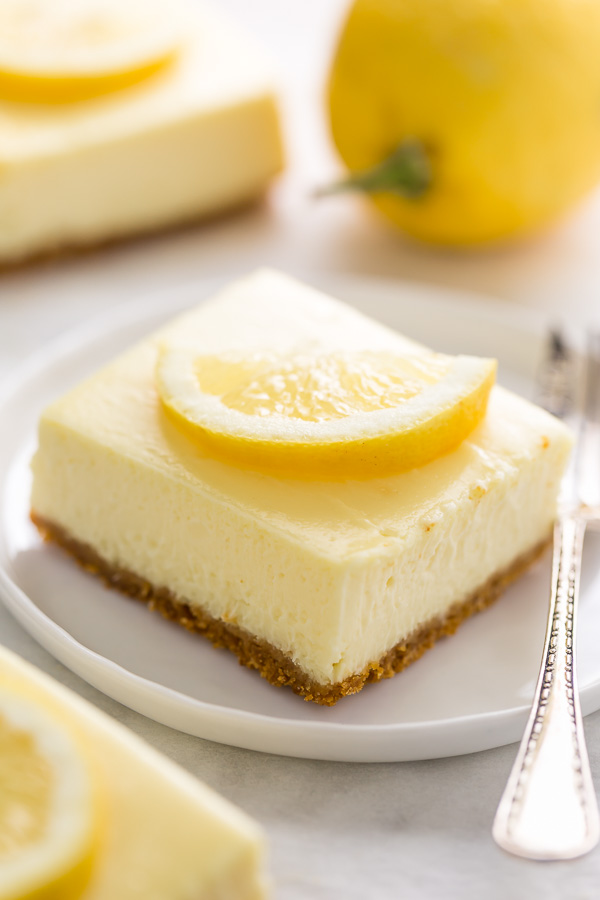 Tips and Tricks for Recipe Success
Here are the ingredients you'll need to make Lemon Cheesecake Bars:
cream cheese: always use full-fat!!! and be sure your cream cheese is very soft before you begin assembling the batter!
sour cream: makes the cheesecake batter tangy and creamy. Again, use full-fat.
sugar: granulated sugar works best for this recipe! we use a little more than most cheesecake recipes to balance out the tart from the lemon.
eggs: you'll use whole eggs and egg yolks for this recipe.
a few whole lemons: because you'll be using the lemon juice and the lemon zest, be sure to grab at least 3. and if you have extra, you can slice them up and use them for decor!
and finally, heavy cream: this makes the cheesecake batter creamy, creamy, creamy! do not substitute this with milk or even half and half.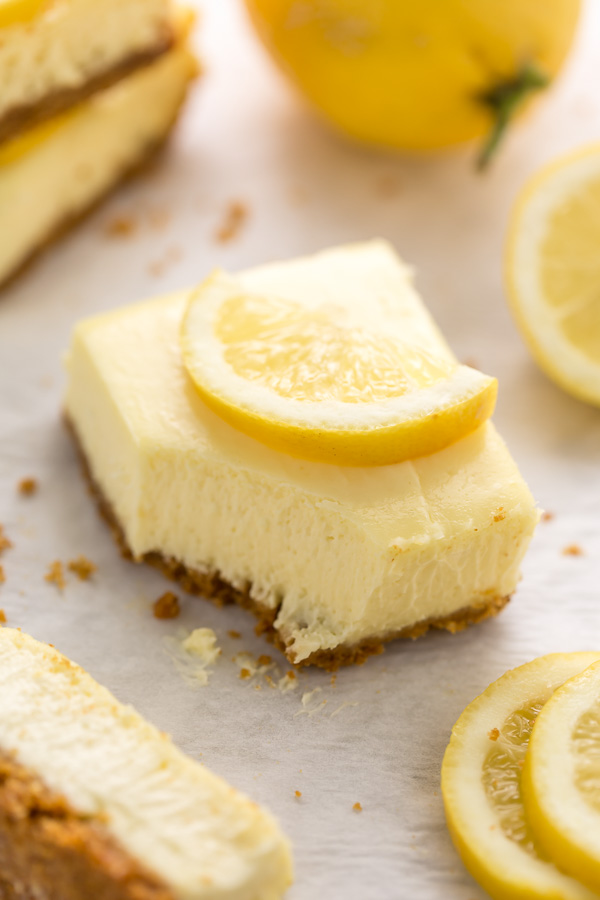 Oops! I almost forgot: you'll also need graham cracker crumbs, melted butter, and sugar to make the crunchy graham cracker crust! Brown sugar should not be used as a sub! You can make your own graham cracker crumbs by crushing sheets of graham crackers in a blender or food processor. Or, save yourself the extra step and buy them pre-crushed at the grocery store.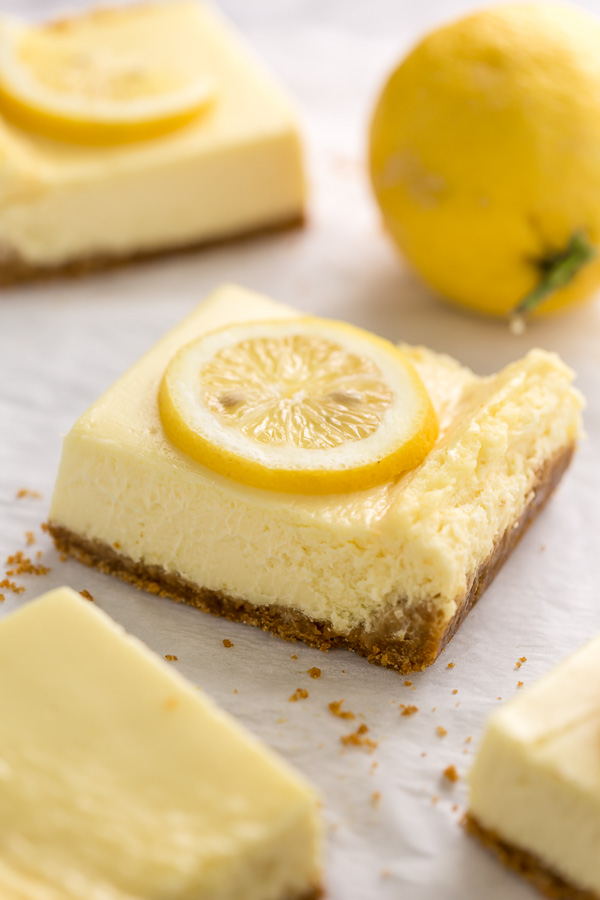 How to make Lemon Cheesecake Bars:
The first step is to make your crust! So after you preheat your oven to 350 degrees, you'll simply combine the graham cracker crumbs, the melted butter, and the sugar, then press the down into a 9×13-inch baking tray and bake for 10 minutes. THIS STEP IN SUPER IMPORTANT IF YOU WANT A CRISPY CRUST! And we all know no one wants a soggy bottom 😉
Ok, so now that your crust has been pre-baked and is cooling, you can get started on the batter. But first! Be sure to reduce the oven to 325 degrees!
You're going to need a food processor, high-power blender, or stand mixer to make this recipe.Add your cream cheese and sour cream to the body of your electric mixer and beat it until it's smooth and completely lump free. You'll probably need to scrape down the sides a few times. But be patient here! Because no one wants a lumpy cheesecake.Once your mixture is silky smooth, you'll beat in the sugar and lemon zest, then add the eggs and the yolks. Finally, you'll pour in the cream and the lemon juice. Then pour the lemon filling into the prepared pan (on top of the partially baked crust) and bake for 30 to 35 minutes. Or until the the edges are set but the middle is still jiggly. Don't be afraid to pull them out when they're jiggly!!! I promise, they will firm up!
The final step is also the hardest step: let them cool completely in the baking pan!!! At least 4 hours in the fridge.
CHEESECAKE TIP: be sure not to over beat the batter. You want all of the ingredients to be well combined. But if you beat it excessively, too much air gets in the batter and can cause the cheesecake bars to puff up while baking, then collapse when they come out of the oven.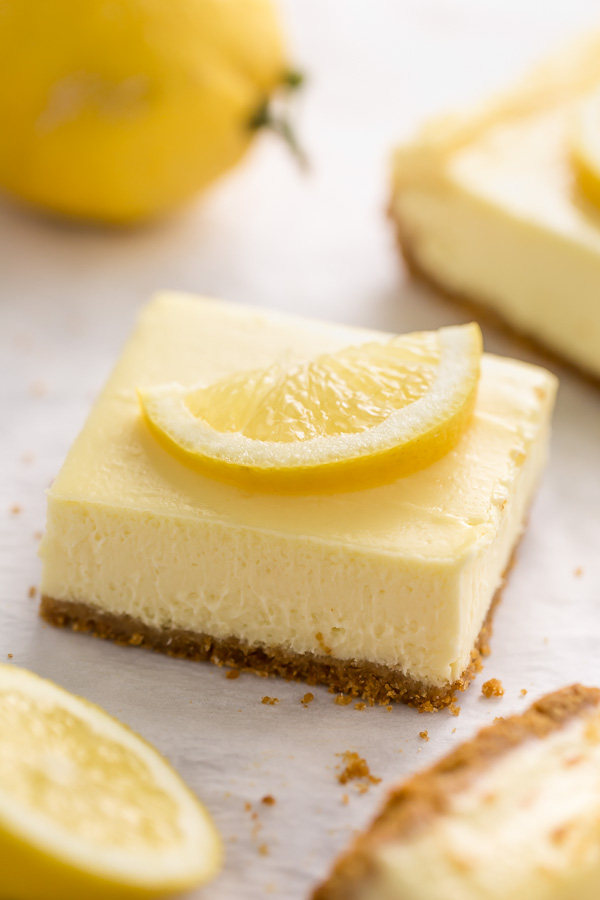 Can I Freeze Cheesecake Bars?
Yes, of course! Simply cool these lemon cheesecake bars completely, then wrap the whole slab, or slices, in multiple layers of saran wrap, then place in a freezer bag, and place in the freezer. These cheesecake bars will keep, stored properly in the freezer, for two months. Defrost overnight, in the fridge, before serving.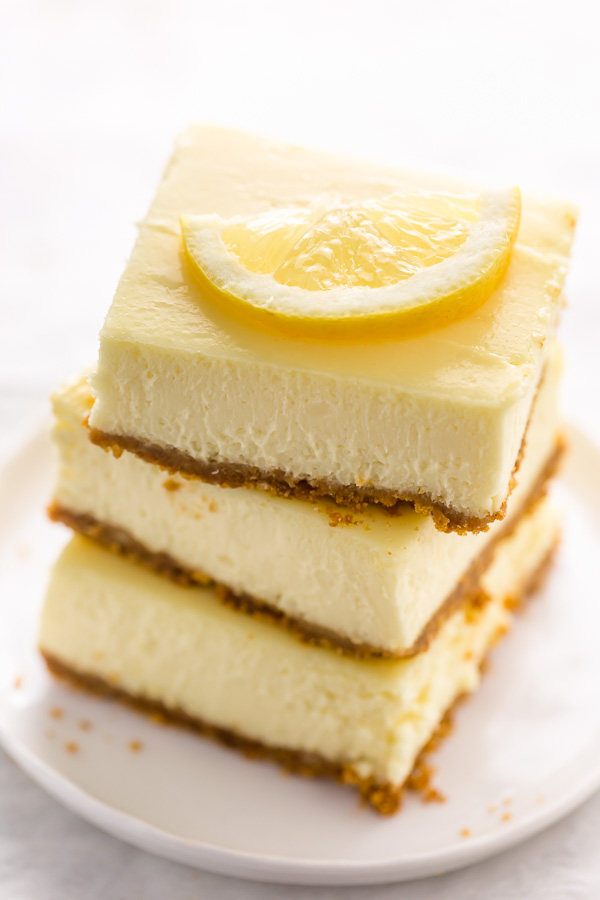 For more Lemon Cheesecake Recipes, Check Out:
For more Cheesecake Bars Recipes, Check Out:
P.S. If you're serving more than 6 people… I suggest baking a double batch of these lemon cheesecake bars! Because everytime I serve them my guests go back for seconds, and sometimes THIRDS! This is the best lemon cheesecake… in bar form! Try serving them with fresh berries and lemon slices! You could also top each slice with a dollop of whipped cream or a sprinkle of powdered sugar. Enjoy!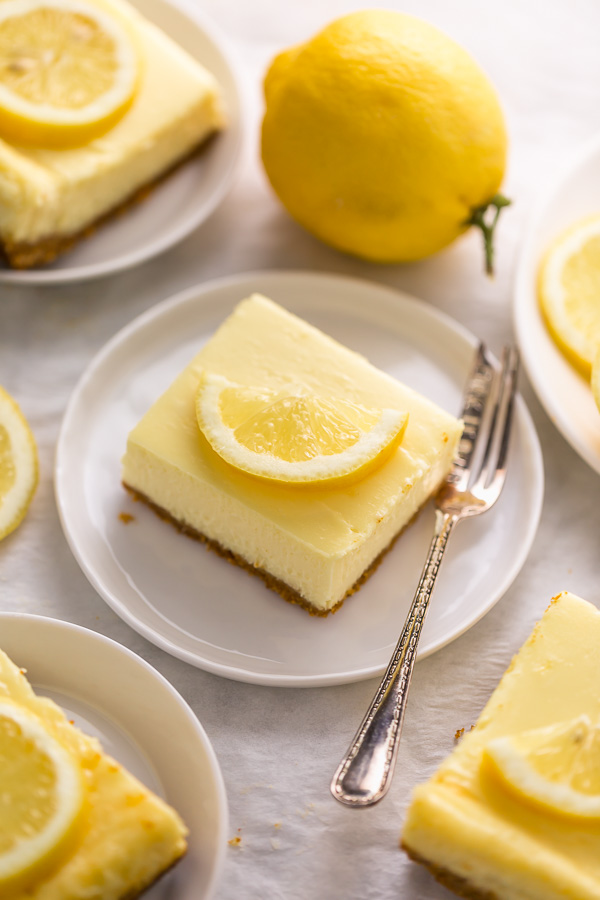 AND IF YOU TRY THIS RECIPE FOR LEMON CHEESECAKE BARS, PLEASE LET ME KNOW! LEAVE A COMMENT BELOW AND DON'T FORGET TO SNAP A PIC AND TAG IT #BAKERBYNATURE  ON INSTAGRAM! SEEING YOUR KITCHEN CREATIONS MAKES OUR DAY.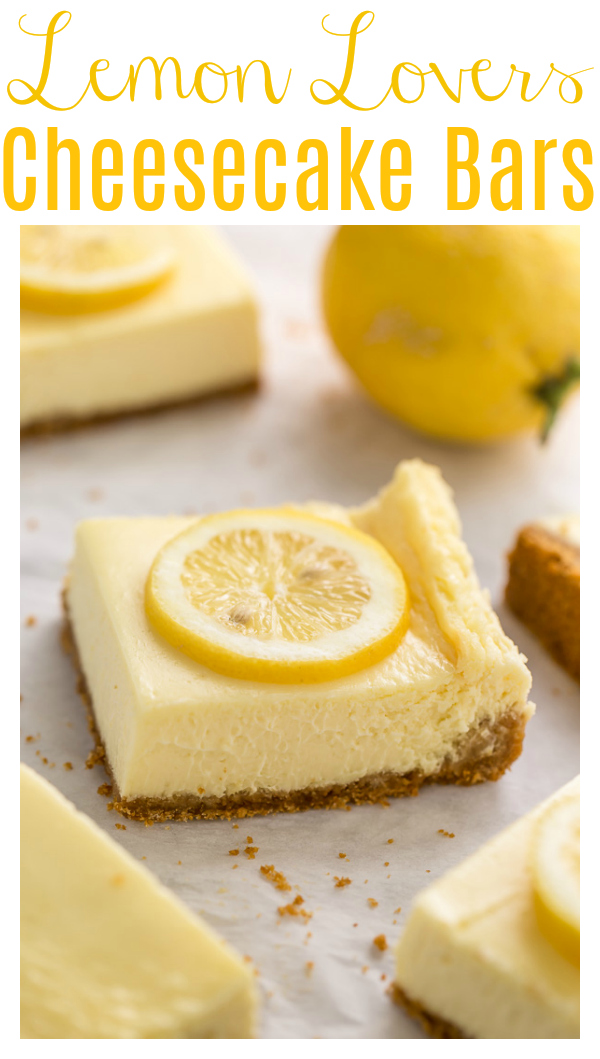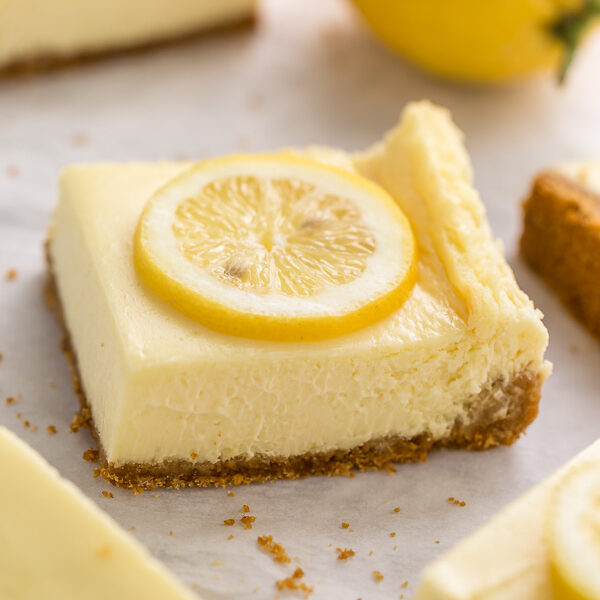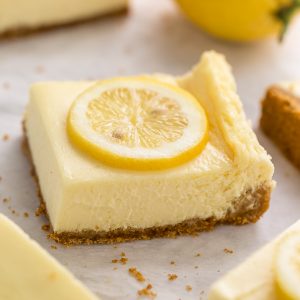 Lemon Cheesecake Bars
Easy Lemon Cheesecake Bars are perfect for almost any occasion! Made with fresh lemon juice, lemon zest, cream cheese, and sour cream, they're tangy, sweet, and so delicious. A must try for lemon lovers!
Ingredients
For the Graham Cracker Crust:
2 cups graham cracker crumbs
1/3 cup granulated sugar
4 ounces unsalted butter, melted
For the Lemon Cheesecake Bars:
3 (8 ounce) packages full-fat cream cheese very soft
1 cup full-fat sour cream at room temperature
1 and 1/3 cups granulated sugar
1 Tablespoon lemon zest
3 large eggs at room temperature
2 large egg yolks at room temperature
1/3 cup heavy cream at room temperature
1/2 cup lemon juice freshly squeezed
Instructions
For the Graham Cracker Crust:
Preheat oven to 350 degrees (F). Line a 9x13-inch baking pan with heavy-duty aluminum foil, allowing two of the sides to overlap (you want an overhang of at least 2-inches on two sides) and spray lightly with nonstick baking spray. Set aside.

In a large bowl combine the graham cracker crumbs, sugar, and butter and, using a rubber spatula, mix well to combine. Press the mixture into the bottom - and slightly up the sides - of the prepared pan.

Bake the crust in preheated oven for 10 minutes. Remove the crust from the oven and set aside on a cooling rack until needed.

Reduce the oven temperature to 325 degrees (F).
For the Lemon Cheesecake Bars:
In the body of a high power blender, food processor, stand mixer fitted with the whisk attachment, or in a large bowl using a hand held electric mixer, beat the cream cheese and sour cream until completely smooth. 

Add sugar and lemon zest and beat until smooth, scraping down the sides and bottom of bowl as needed. On low speed, add in the eggs and yolks and beat until just combined. Don't over mix here!

Using a rubber spatula, fold in the heavy cream. Fold in the lemon juice, mixing just until combined. 

Pour filling on top of prepared crust, and spread evenly.

Check to ensure your oven has cooled to 325°F, then place the pan in the oven and bake for 38 to 40 minutes, or until the edges have set and the middle is still a little jiggly. The cheesecake will firm up a lot as they cool.

Remove the bars from the oven, and cool at room temperature for one hour. Then refrigerate for at least 5 hours, or overnight.

When you're ready to serve: use the foil overhang to lift the cheesecake bars from the pan and transfer them to a cutting board. Using a large, sharp knife, slice the slab into squares, wiping the knife clean with a damp cloth between slices. Top with lemon slices, if desired. Serve at once. 
Notes
Lemon Cheesecake Bars will keep, stored in the refrigerator, for up to 4 days. You may also freeze them for up to 2 months. To freeze: fully cool the cheesecake bars, then place the cooled cheesecake (whole or sliced) on a freezer-friendly platter and freeze, uncovered, until completely firm. Once firm, remove the cheesecake from the freezer and wrap it in heavy-duty aluminum foil. Then place it in a freezer bag; seal the bag and return it to freezer for up to 2 months. When ready to serve: remove the foil and defrost in the fridge overnight.