Super fudgy homemade brownies topped with decadent chocolate frosting and rainbow chocolate chips! These are basically copycat cosmic brownies… but so much better! Indulge your inner child with a batch today!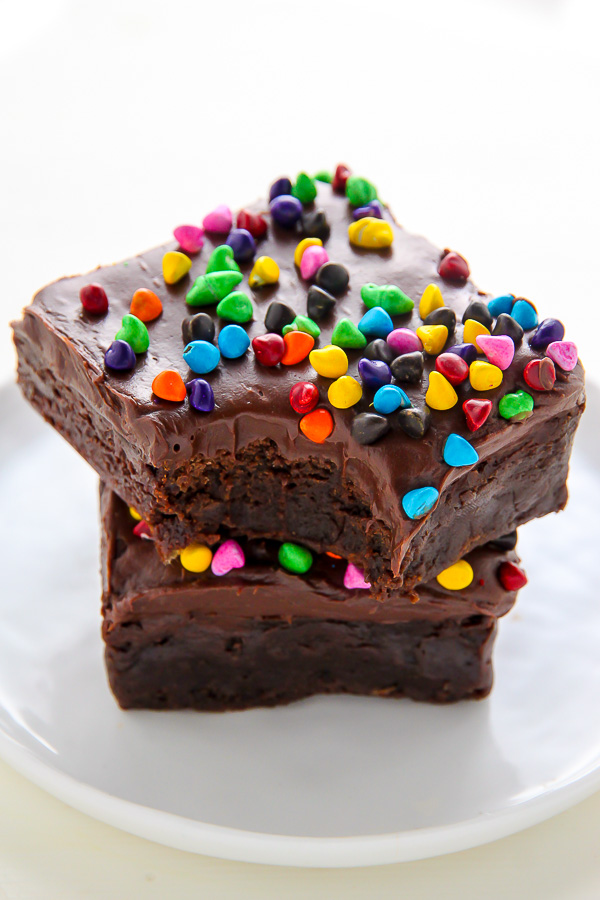 Copycat Cosmic Brownies
Today I'm so excited to be sharing a new recipe for supremely fudgy brownies slathered with creamy chocolate frosting. Side note: Can you believe we've been talking dessert here for almost 5 years and I've never shared my chocolate frosted brownie recipe with you?! Shame, shame, shame on me. Today I change that once and for all.
So without further ado, meet the chocolate frosted brownies of your dreams!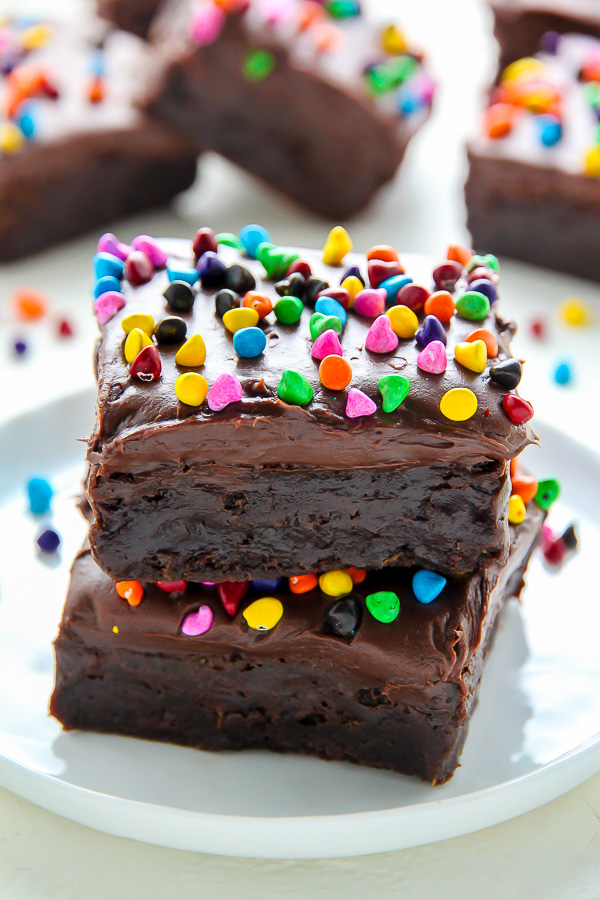 These brownies are:
outrageously rich and fudgy
exploding with real chocolate flavor
topped with the most delicious chocolate frosting
made with super basic ingredients
extremely easy to assemble
a huge hit with chocolate lovers of ALL ages
and perfect for parties, picnics, and pretty much any occasion you can dream of!
I made these for a party last month and I couldn't believe how FAST they were devoured. Obviously kids love them (chocolate + chocolate + sprinkles = duh), but I was floored to see how many adults were swiping them up! Moral of the story? Everyone loves these brownies! So if you're a serving crowd, I suggest baking two trays. This recipe yields 12 brownies, which in my experience feeds 6. My friends pretty much always go in for seconds when these brownies are involved 😉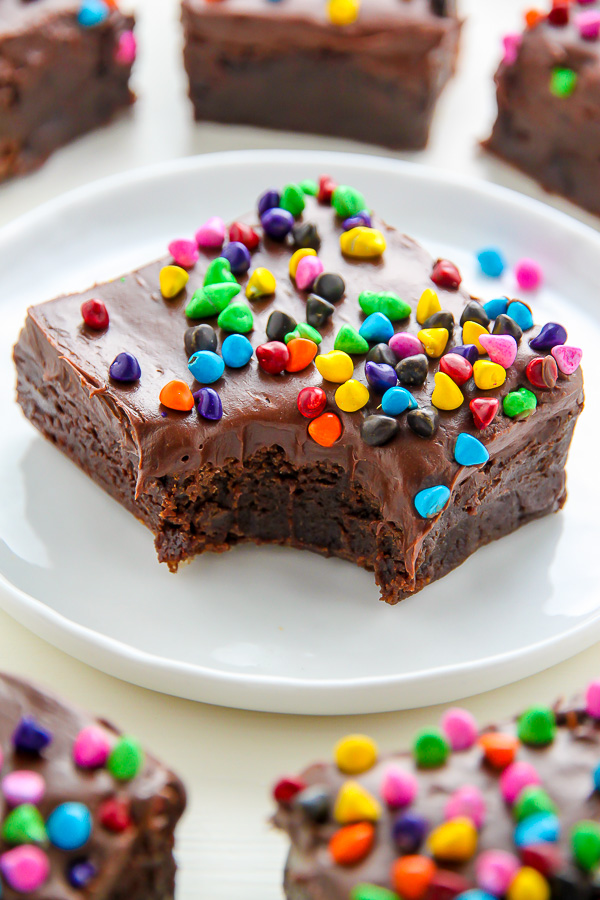 How to Make Cosmic Brownies
To make this brownie recipe you're going to need flour, salt, cocoa powder, chocolate (dark and unsweetened), butter, granulated sugar, brown sugar, eggs, honey, and pure vanilla extract. If you're thinking "Huh?! Honey…?! In brownies?!"… I totally feel you. I know it's a little unexpected, but honey is actually the secret ingredient in this recipe! It's what makes these brownies extra fudgy, and gives them a melt-in-your mouth consistency. Fact: It took me a very long time to get this recipe just right, so I don't recommend straying from it in any way or form. If you do, your results will certainly be different from the brownies you see here. I encourage you to read through the full ingredient list and recipe below before beginning. Why? Because I want you to bake the best brownies EVER!
For the frosting you're going to need softened butter, cocoa powder, salt, confectioners' sugar, vanilla extract, and heavy cream. I love to slather the frosting on nice and thick, then pop the tray of brownies in the fridge for an hour or so before cutting. This step helps the frosting set and makes cutting the brownies a lot less messy! That said, this step totally optional. If you're in a rush (and let's be real… who isn't when brownie eating is involved?!) you can totally cut the brownies right away. Just be sure you cool your brownies completely before frosting them. Otherwise the frosting is going to melt into a giant chocolate mess. If you're short on time and need to frost ASAP, place your brownies in the fridge to speed up the cooling process. I do this all the time – it basically cuts the cooling time in half! Can I get an amen?
I was feeling a little nostalgic when I was decorating these brownies and decided to top them with rainbow chips (Cosmic brownies anyone!?). I love rainbow chips and buy a giant bag HERE, but you can decorate these brownies with anything you'd like. Chopped nuts, shaved chocolate, or sprinkles would all be a lovely choice. Or, if you're a chocolate purist like mom, leave them plain! These brownies are 100% awesome enough on their own.
Don't you wish YOU took that bite?! ↓ Do yourself a favor and make these TODAY!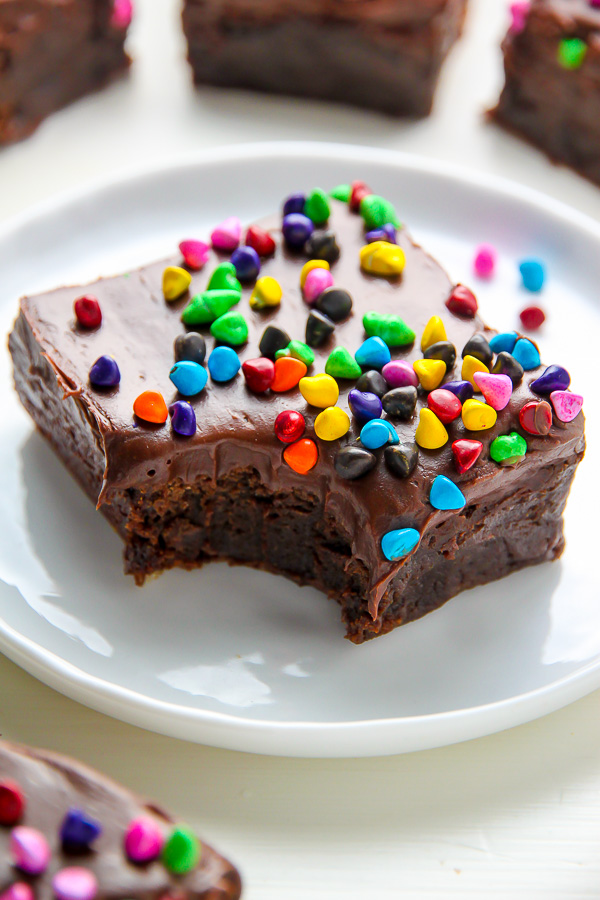 More Brownie Recipes:
If you try this recipe, I'd love to hear about it! Leave a comment below and don't forget to snap a pic and tag it #bakerbynature on Instagram! ♥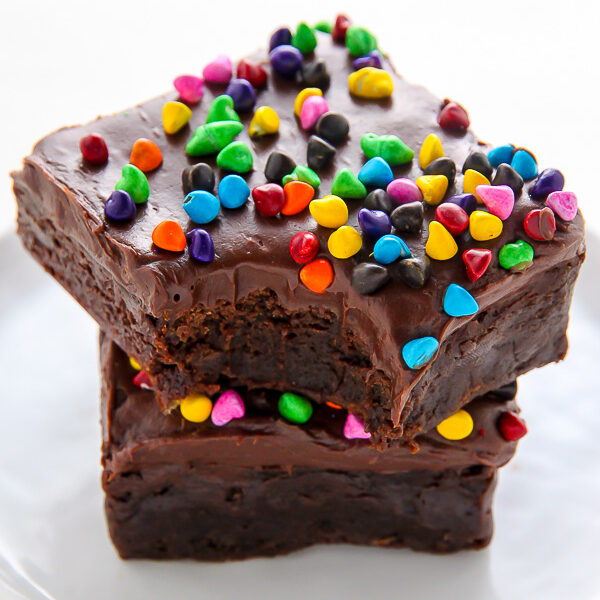 Super Fudgy Chocolate Frosted Brownies
Super fudgy homemade brownies topped with decadent chocolate frosting!
Ingredients
For the brownies:
1 cup + 2 tablespoons all-purpose flour
3/4 teaspoon salt (any fine grain salt will work fine)
1/4 cup unsweetened cocoa powder
8 ounces dark chocolate, chopped
3 ounces unsweetened chocolate, chopped
1 cup unsalted butter (8 ounces) cut into 1 inch pieces
1 and 1/2 cups granulated sugar
1/2 cup packed light brown sugar
5 large eggs, at room temperature
1 tablespoon pure vanilla extract
3 tablespoons honey (use a runny honey, not a grainy one)
For the frosting:
1 stick (8 tablespoons) unsalted butter, at room temperature
1/3 cup unsweetened cocoa powder
Pinch of salt
1 1/3 cups powdered sugar (more if needed)
1 teaspoon vanilla extract
4 tablespoon heavy cream (more if needed)
Colorful chocolate sprinkles (optional, see post for info on where to buy)
Instructions
Preheat your oven to 350 degrees (F). Line a 9x13 inch baking pan with parchment paper; lightly spray with non-stick baking spray and set aside.

In a medium bowl add the flour, salt, and cocoa powder; whisk well to combine and set aside.

Place both chocolates and the butter in a large bowl; set it over a saucepan of simmering water, stirring occasionally, until the chocolate and butter are completely melted and smooth.

Turn off the heat. Keeping the bowl over the water, add both sugars; whisk until completely combined, then carefully remove the bowl from the pan. It will be hot - so use a pot holder or oven mitt. Cool the mixture for 10 minutes. Add the eggs to the chocolate mixture, one at a time, whisking well after each addition. Add the vanilla and honey and stir until combined. Be sure NOT to over beat the batter at this stage, or your brownies will be cakey. Sprinkle the flour mixture over the chocolate mixture and, using a rubber spatula (not a whisk), fold the flour mixture into the chocolate until just combined (a bit of the flour mixture should still be visible).

Pour the batter into the prepared pan and smooth the top. Bake in the center of the oven for 25 minutes, rotating the pan halfway through the baking time, or until a toothpick inserted into the center of the brownies comes out with a few moist crumbs sticking to it. Let the brownies cool completely in the pan before frosting them. To cut, lift the brownies out of the pan using the parchment paper. Cut into squares and serve. You may also place the uncut frosted brownies in the fridge, covered, for up to 3 days. Bring to room temperature before serving.
For the frosting:
Using a stand mixer fitted with the paddle attachment, or using a large bowl and an electric handheld mixer, cream the butter for 2 minutes on medium speed. Reduce the speed to low and add in the cocoa powder and salt; beat for 1 minute. Add the powdered sugar and continue mixing on low speed until incorporated (don't worry if it looks lumpy). Add the vanilla and cream and beat for 1 minute before increasing the mixer speed to medium-high; beating for 2-3 minutes, or until frosting is smooth and fluffy. Add more cream if frosting appears too thick (1 tablespoon at a time), and add more confectioners' sugar (1 tablespoon at a time) if frosting appears too thin.

Spread the frosting onto the cooled brownies. Store the brownies in an airtight container, or tightly wrapped in the pan, in the refrigerator, for up to 3 days.