Oreo Brownies are so easy and a MILLION times more delicious than boxed brownie mix! Loaded with rich chocolate flavor, chocolate chips, and plenty of crushed Oreo cookies! Preheat your oven to 350 and bake these brownies today!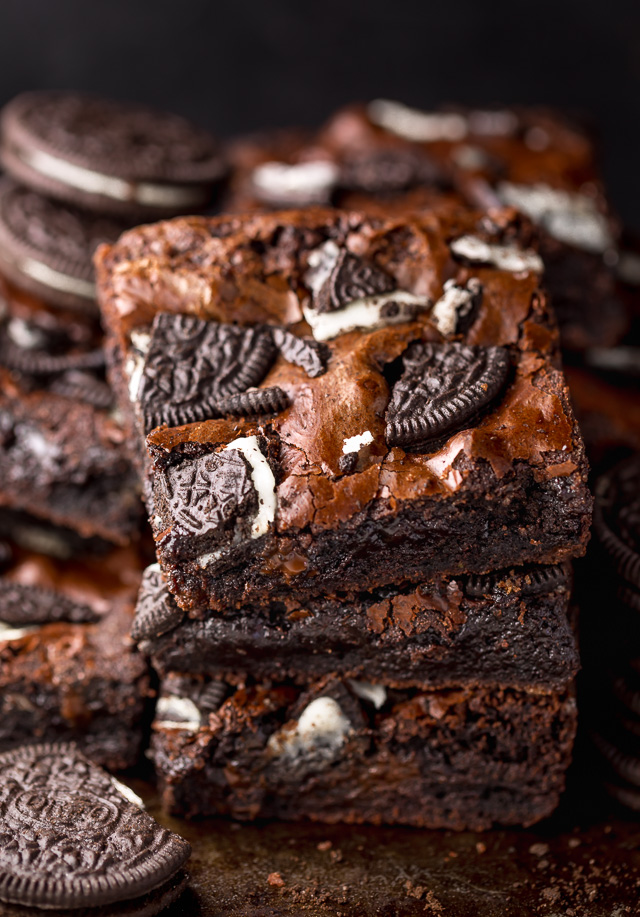 Oreo Brownie Recipe
It's no secret I'm obsessed with anything chocolate! But lately, my obsession has taken a laser focus on homemade brownies! I can't stop baking them! And I constantly find myself dreaming up new flavor and texture combinations.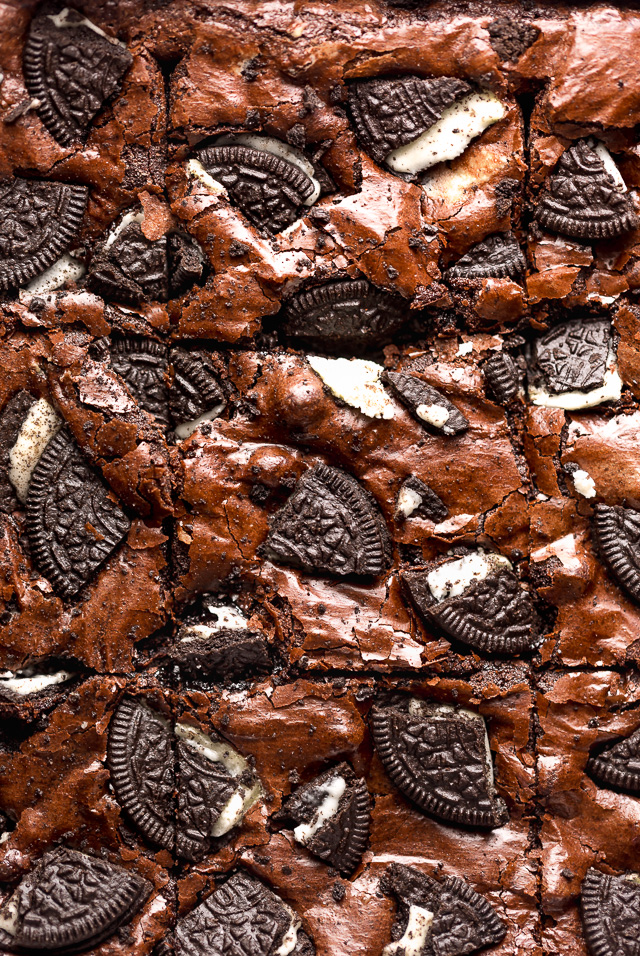 So I decided to poll you guys on IG stories and get your feedback on some of my ideas! In case you missed it, I asked if you'd rather see Oreo Brownies OR S'mores Brownies on the blog. And guess which recipe won?
That's right: OREO! But guess what? S'mores only lost by 3%! So I've decided I'll make that recipe next. Because you can never have too many brownie recipes… right?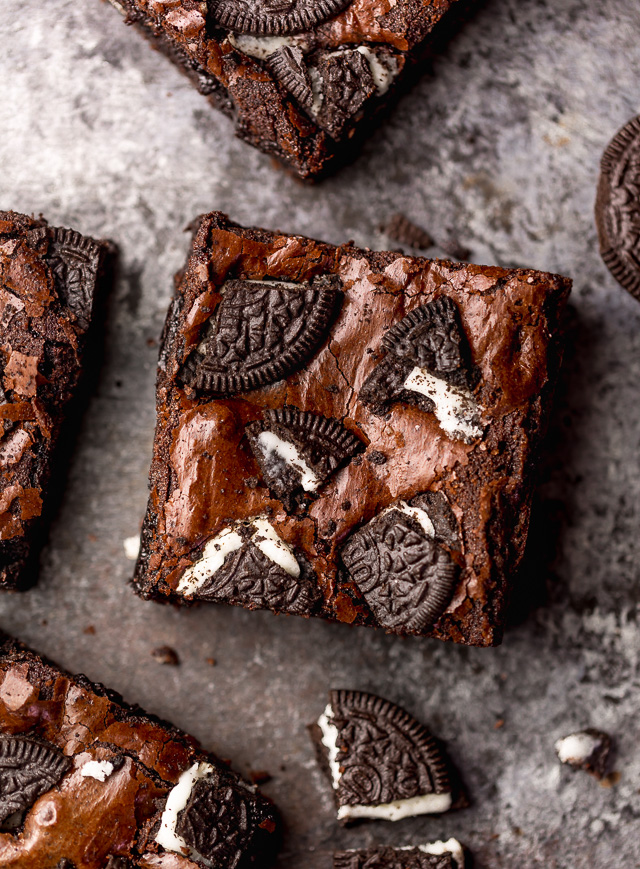 Ingredients for Oreo Fudge Brownies:
Butter: I always suggest using unsalted butter, but salted will work in a pinch. Simply omit the salt called for in the recipe.
Sugar: Granulated sugar works best for these brownies. If you only have brown sugar and are dying to bake these, it will work… but because brown sugar contains more moisture than granulated, the brownies will be slightly more cakey.
Oil: Liquified coconut oil, vegetable oil, and canola oil are all great options. I don't suggest olive oil because it will add an aftertaste I don't find particularly desirable. At least not in brownies!
Vanilla extract: Just a dash enhances all of the flavors. If you're out, don't fret! You can simply omit this ingredient and bake as directed.
Eggs: Make sure you have large eggs, not medium or extra large. And bring them to room temperature before you begin baking!
Flour: All-purpose flour, measured the right way! Which is by fluffing the flour up in the bag, then lightly spooning the flour into the measuring cup. Fill the cup up until it's heaping over, then use the flat edge of a knife to level it off. Measure your cocoa powder the same way! Or use an electric scale!
Cocoa powder: Because this recipe doesn't call for baking soda or baking powder, you can use Dutch-process cocoa powder OR unsweetened cocoa powder. I prefer Dutch-process because it gives the brownies a rich cocoa flavor and color!
Salt: Don't skip the salt! Just a dash balances out the sweetness and enhances the chocolate flavor!
Oreo cookies: You'll need 14 Oreo cookies for this recipe! I like to just roughly break them up with my hands. You'll fold half into the batter, and then press the other half on top of the brownie batter.
Chocolate chips: I like to add between a 1/2 cup to 1 cup. You can use any variety of chocolate chips, but I prefer semi-sweet or dark chocolate. Note: using white chocolate chips or milk chocolate chips will make these brownies MUCH sweeter. You can omit the chocolate chips all together, but the tops of the brownies may be a little less shiny.
Please see the recipe box for exact quantities! The above is simply a more in-depth look at the ingredients needed, as well as suggestions for substitutions!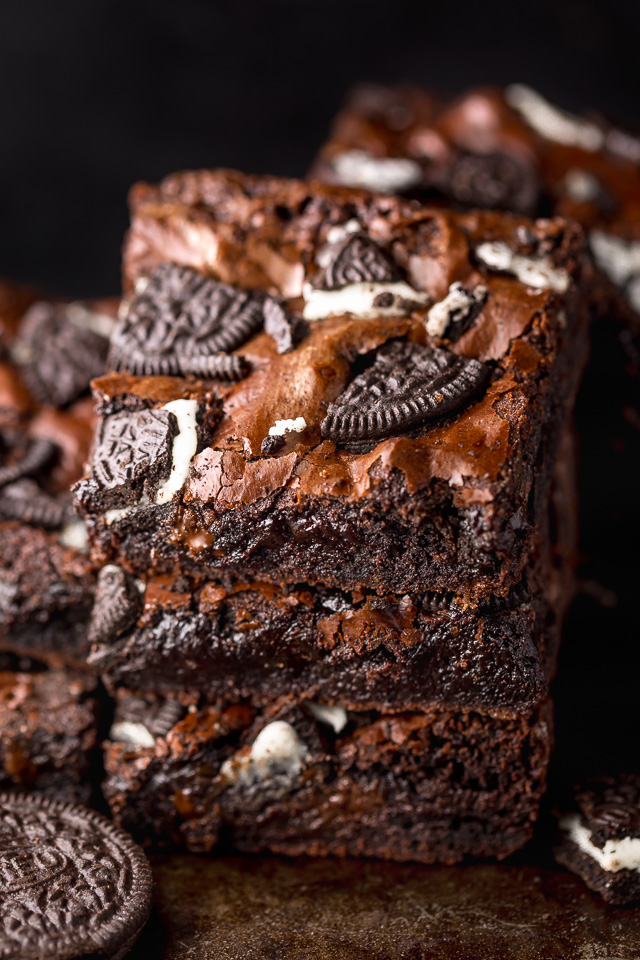 Tips for Baking Perfect Brownies
Use the right baking pan! I suggest using a reflective metal baking pan, like this one.
If you're using a glass or ceramic baking pan, you'll need to increase the bake time by about 10 minutes.
Be sure your eggs are a room temperature! This will ensure your ingredients properly bond together, and that your eggs don't scramble when they're combined with the hot butter.
Don't over mix your brownie batter! This is what causes CAKEY brownies.
Pro tip: stop mixing when you still see the tiniest trace of dry ingredients. Then fold in your chocolate chips and oreo cookies. You should only need 3 or 4 stirs to incorporate those final ingredients. It's better to under mix than over mix!
Bake your brownies on the middle rack. I get a lot of questions about this, so just wanted to point out that unless otherwise stated, I always suggest baking on the middle rack.
You'll also want to be sure not to over bake your oreo brownies! They should still be a little jiggly in the center, and a few moist crumbs will come out when a toothpick is inserted.
Place your brownies on a cooling rack and cool completely in the pan! You'll be amazed at how much they firm up as they cool.
If you want a warm and gooey brownie, simply reheat in the microwave for a few seconds.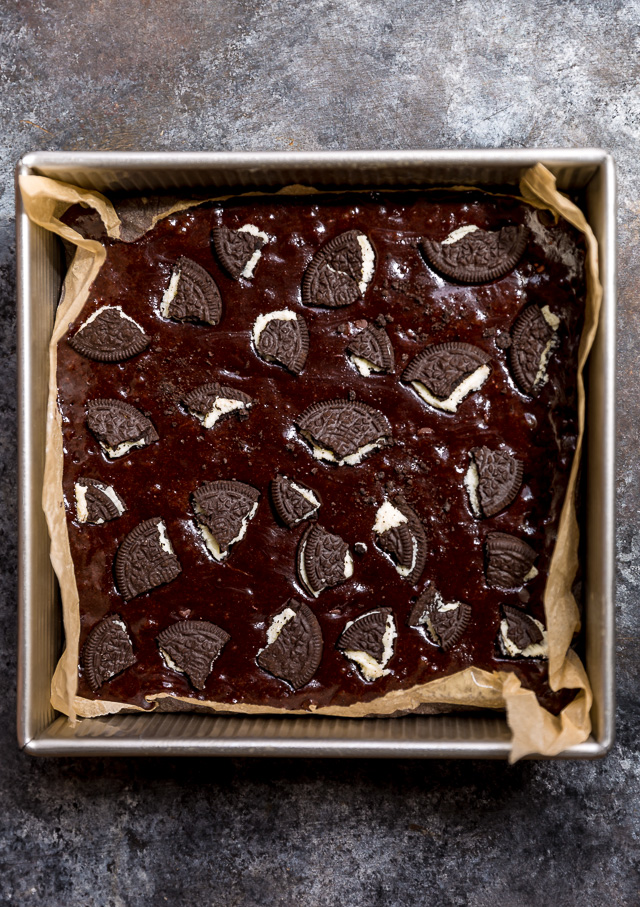 Can I freeze Brownies?
Yes! I freeze these all the time. I like to individually wrap each brownie, then pop them in a large freezer bag, and place that in the freezer.
They'll keep for 2 months! But they never last that long in my house lol. To thaw, simply place it on the counter for a few hours. Or, if you really can't wait, unwrap and microwave for a few seconds.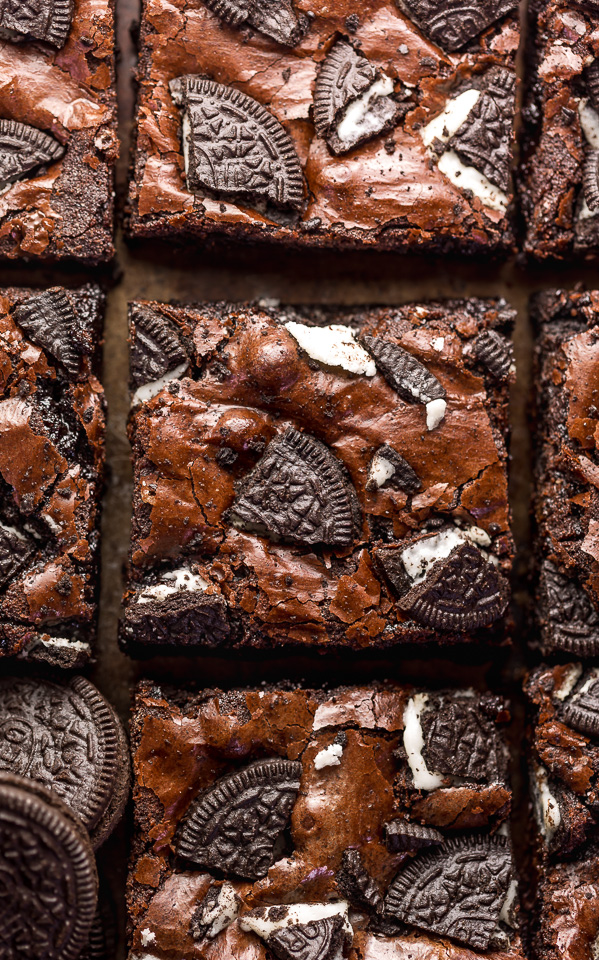 More Brownie Recipes:
More Oreo Recipes: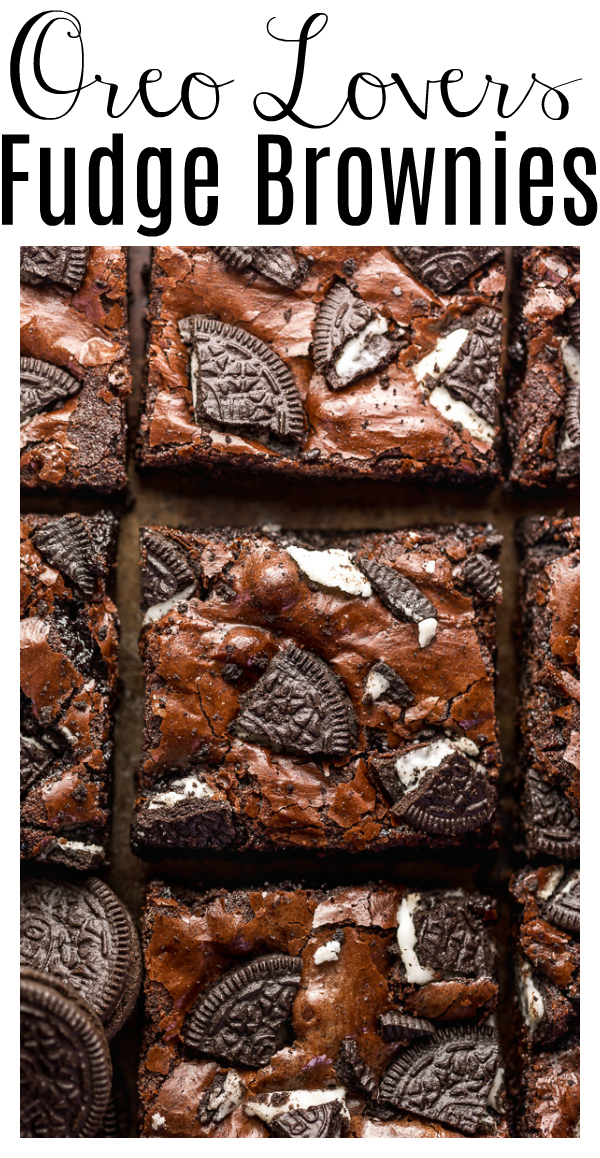 If you're an Oreo lover, jump to the recipe below and get baking! You can also print the recipe 😉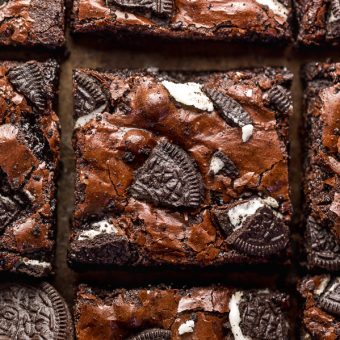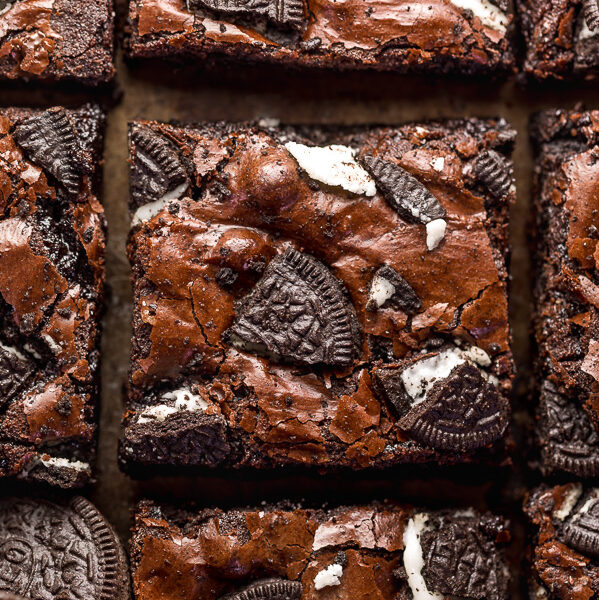 Oreo Brownies
Oreo Brownies are so easy and a MILLION times more delicious than boxed brownie mix! Loaded with rich chocolate flavor, chocolate chips, and plenty of crushed Oreo cookies! Preheat your oven to 350 and bake these brownies today!
Ingredients
3/4 cup (95 grams) all-purpose flour
1/2 teaspoon salt
1/2 cup (43 grams) unsweetened Dutch-processed cocoa powder
3/4 cup (170 grams) unsalted butter
3 Tablespoons (35 grams) *oil
1 and 1/2 cups (300 grams) granulated sugar, divided
2 teaspoons vanilla extract
2 large eggs plus 1 egg yolk
3/4 cup (128 grams) semi-sweet chocolate chips
14 Oreo Cookies, roughly chopped
Instructions
Preheat the oven to 350 degrees. Line a 9x9-inch baking pan with parchment paper. Spray lightly with non-stick baking spray and set aside.

In a large bowl, sift together the flour, salt, and cocoa powder. Set aside until needed. 

In a medium saucepan, combine the butter, oil, and 1/2 cup of the sugar. Heat over medium heat, stirring frequently, until butter is completely melted. Remove from heat. 

In a large mixing bowl, combine the eggs, egg yolk, and remaining sugar. Whisk until well combined, about 30 seconds. Stir in vanilla. 

Slowly, pour the warm butter mixture into the egg mixture, adding it very gradually (a little bit at a time) and whisking constantly until completely combined. 

Add in the dry ingredients and, using a rubber spatula, slowly stir until just combined. 

Finally, fold in the chocolate chips and 1/2 of the Oreo cookies! *Do not over mix! 

Scrape the batter into the prepared pan and smooth the top. Press the remaining Oreo cookies on top of the batter.

Bake for 30 minutes, or until the edges are firm and the top is shiny and slightly cracked. 

Place the pan on a cooling rack and cool for at least 2 hours before slicing. 
Notes
*Canola Oil, Vegetable Oil, or Liquified Coconut will work. *Do not over mix! Stop stirring when you see the last trace of dry ingredients. Over mixing will give you cakey brownies.