Bursting with sweet Summer cherries, this homemade fruit pie is a favorite!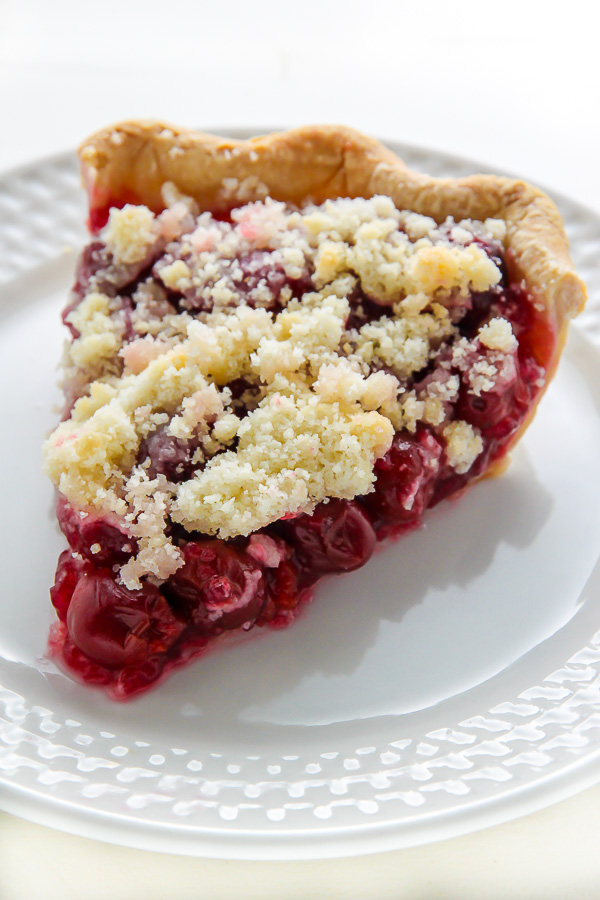 Hallo, mah people
Today, we get serious about pie. No, wait. Let me start over. Today we're getting SERIOUS about PIE! Ah, yes. That's better. Pie needs caps and exclamation points because it's exciting! And it deserves them because it's delicious.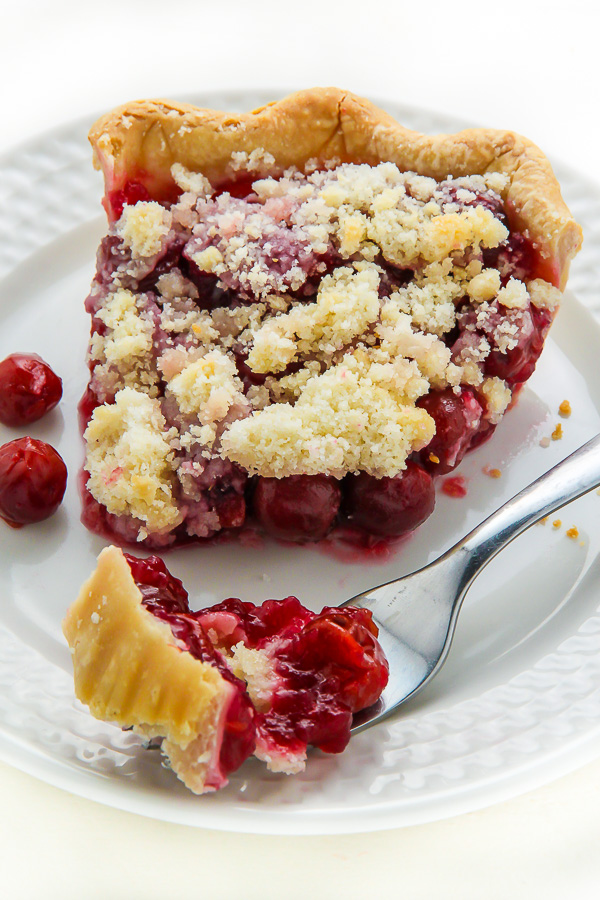 So we all know good pie is always an awesome idea (duh), but this sweet cherry pie with ginger crumble topping… mercy me! Is it too much to say it may linger around the top pies in all the land? Cause I don't want to be caught humblebragging. Or brag bragging. But after eating 3/4 of this not so humble pie myself, I'm unbelievably inclined to sing its praises. I just speak the truth!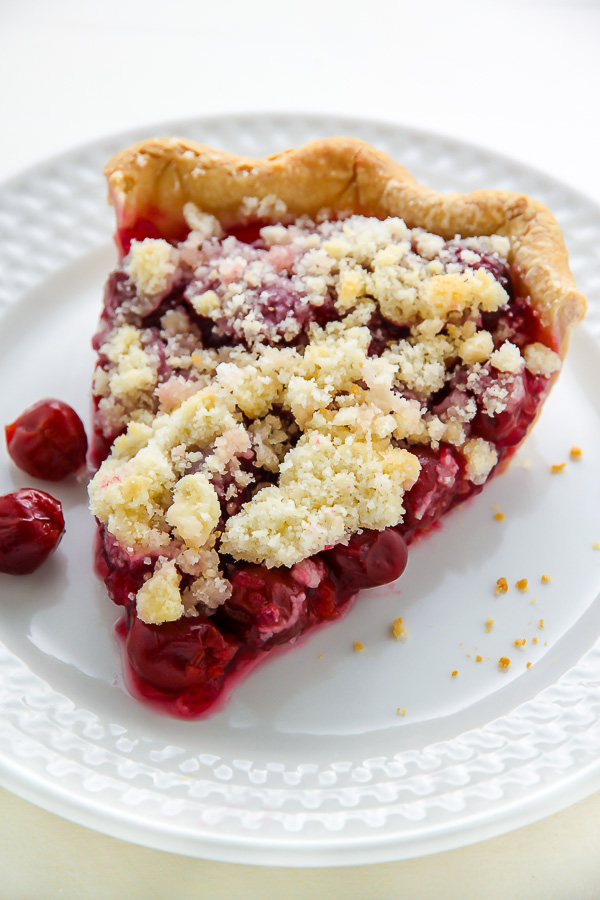 I mean, sweet cherries?! And spicy, buttery crumble?! Ugh. It hurts so good.
P.S. Make plans to have lovely people close by when you bust this pie out! It's looks fancy and omg, if you ever want to fit in your jeans again, you'll want folks near by to help in eating situation.
Plus, pie with friends is almost as sweet as pie with ice cream. If you combine the two… MAGIC!

Sweet Cherry Pie with Ginger Crumble Topping – Baker by Nature
For the crust
Ingredients:
2 1/2 cups all purpose flour
2 tablespoon sugar
1/2 teaspoon salt
1 cup very cold unsalted butter, cut into tiny cubes
1/2 cup ice water (you probably won't use it all)
Instructions
Mix flour, sugar, and salt in a food processor or blender. Add butter and pulse until a coarse meal forms. Slowly blend in just enough ice water to form moist clumps. Gather the dough into a ball and divide in half (you can use a kitchen scale if you want them to be perfectly even).  Form dough into 2 balls and gently flatten into disks. Wrap each disk in plastic and place in the refrigerator to chill for at least 2 hours.
For the filling
Ingredients:

5 cups sweet cherries, pitted
1/4 cup cornstarch
1/2 cup + 2 tablespoons sugar
1/4 teaspoon salt
1/4 teaspoon almond extract
1 tablespoon fresh lemon juice
Instructions
In a large bowl stir together the cherries, cornstarch, sugar, salt, lemon and almond extract. Let mixture sit while you make your crumble and roll out your crust.
For the crumble
Ingredients:
3/4 cup granulated sugar
1/2 all purpose flour
1/2 cup candied ginger
5 tablespoons butter, melted
Instructions
Mix sugar, flour, and candied ginger together in a medium-sized bowl, then stir in melted butter. Put the topping in the freezer while you mix up the cake. This is important! You want big, frozen chunks of crumble.
For the assembly and baking
Preheat oven to 400 degrees (F).
Roll out half of the chilled dough on a well floured work surface, rolling it to about a 12-inch round. Gently place the dough in 9-inch pie pan and either trim the edges or crimp them decoratively. With a slotted spoon add cherry mixture into pie crust, making sure the majority of its juices remain in the bowl (we don't want soggy pie!). Add half of the frozen crumble on top of the pie, and then place in the oven – on the middle rack – and bake for 30 minutes. Reduce oven temperature to 375, rotate pie, and add the remaining crumble. Bake for another 25 minutes, or until the crust and crumble are golden. Let pie cool on a rack… or eat it hot at your own risk and delight.