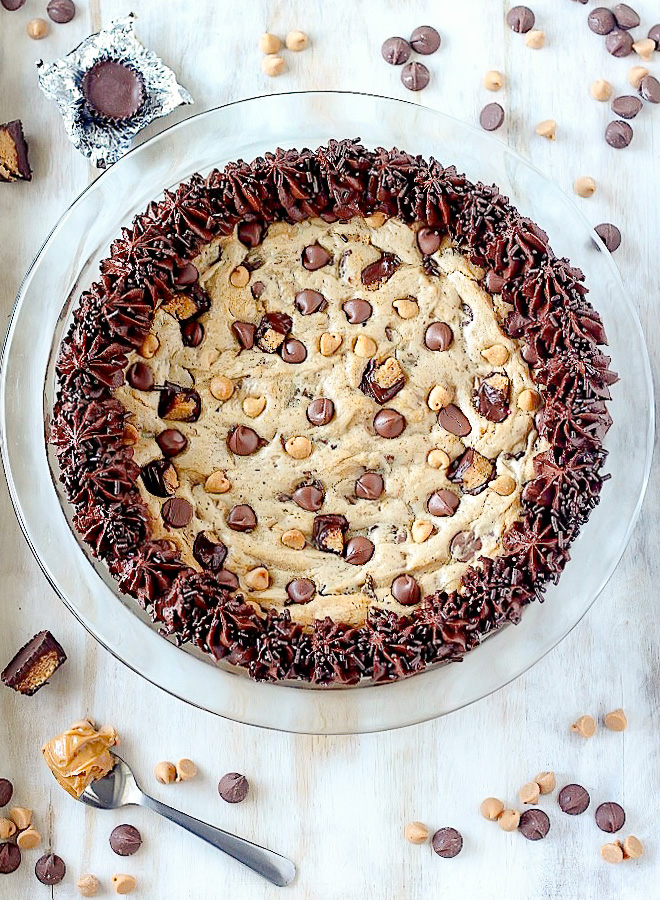 Can't decide between cookies or cake? Make BOTH! It's easy with this peanut butter chocolate chip cookie cake!!! A giant peanut butter cookie packed with chocolate chips, peanut butter chips, AND peanut butter cups… trust me – this is one cake you don't want to miss.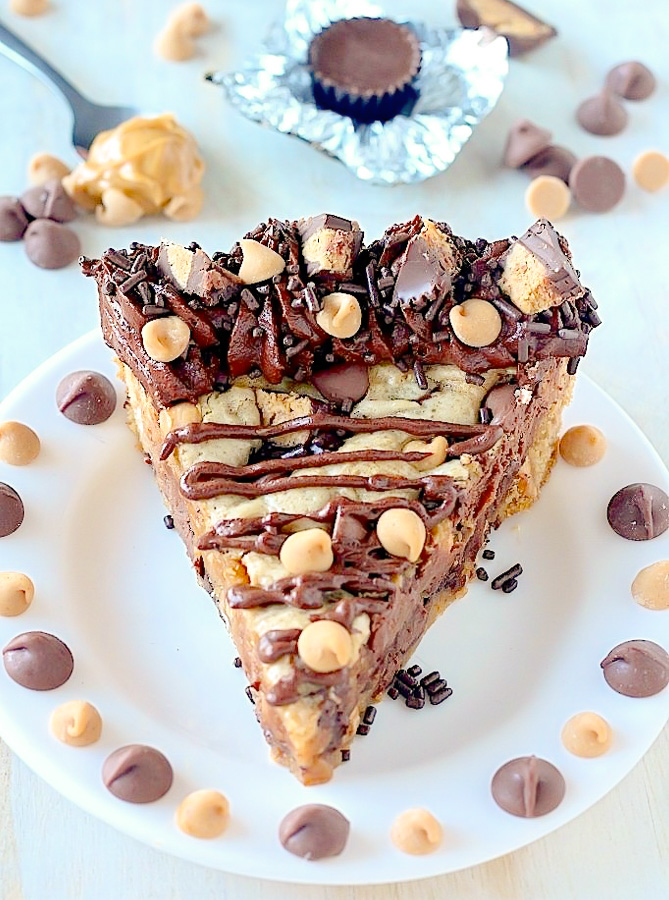 Greetings from the beach! We're on vacation this week (hence the slower pace of posting), and I have to say, it's been very easy letting the laid-back beach life takeover. We're staying in a super cute house right on the bay, and in between the napping and eating and EATING (omg the eating!), well, let's just say life is gooooood. Also, I miss you guys! I have some great stuff stored up to share, but um, the wifi here is fickle as a pickle, so I'm sort of working with what the internet situation allows.
Question: Do you have any late Summer trips coming up? I find August is a big vacation month!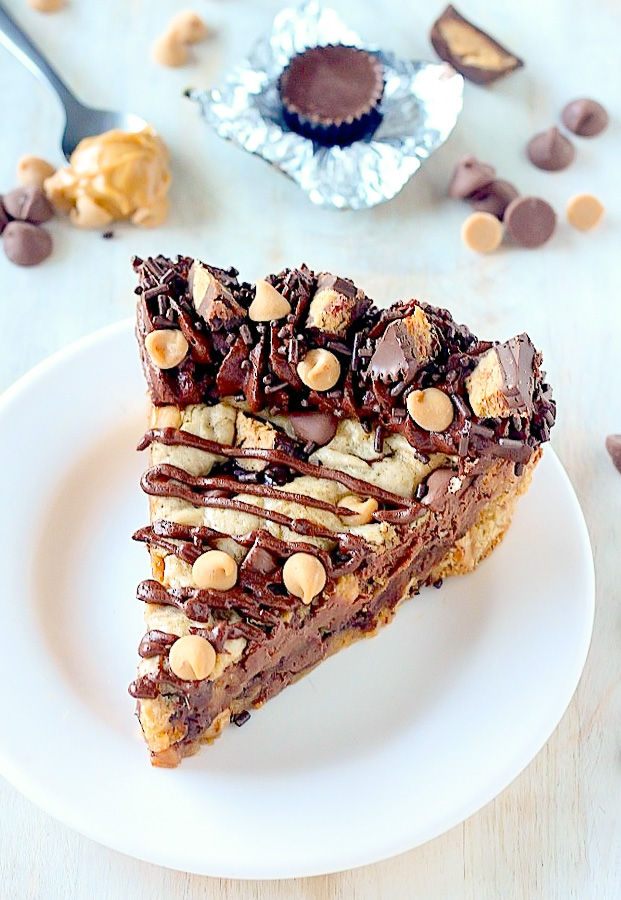 So annnnnnyway! Moving off of vacation, and on to COOKIE CAKE! Have you ever made/ate/seen a cookie cake before? I grew up obsessing over the ones they sold at the King of Prussia Mall (I believe it was Mrs.Fields, to be exact), and I begged my mom to buy me one pretty much every time we walked by the store. They smelled so good! They were also like $30 and so I had to wait a few years before I finally convinced her to dish out the cash and splurge on one! The important part: I finally got her to splurge on one. I'm pretty persuasive when it comes to cookies 😉
The BAD news… mall cookie cakes don't taste half as good as they look. Dry, crumbly, and loaded with overly-sweet frosting. Nothankyou. #Cookiesnob
The GOOD news: YOU can make an AWESOME cookie cake at home for WAY less $$$ and VERY little effort. Woo-hoo!!! Let's get excited. Let's shout it from the rooftops!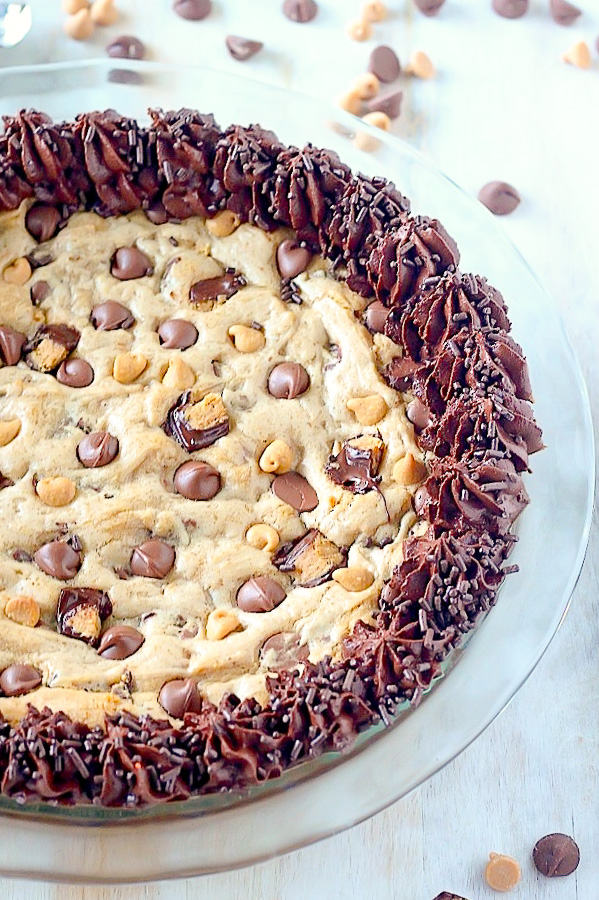 Ok. Now that we've covered the "this is exciting" part, let's move on to the specifics. The base of this cake is a thick, chewy, soft-right-in-the-center peanut butter cookie that's LOADED with goodies. These goodies are chocolate chips (you could use chunks here, too), peanut butter chips, and chopped up peanut butter cups. Yes. All those in one cookie cake! Can you say Yum-may?!
The cake is baked in a pie plate (although I have a feeling a round cake pan would also work…), then allowed to cool COMPLETELY. This part is important as we are adding frosting all around the edges of the cake, and warm cake + frosting = a BIG mess. Moral of the story: Don't be a fool; let it COOL 😉

I decorated the chocolate frosting with chocolate sprinkles, because you can never have enough chocolate, right?! Also, I drizzled a little of the left over chocolate frosting over my piece of cookie cake, because obviously I can go a little overboard with the chocolate love. You will have a little chocolate frosting left over… so feel free to do the same. You can thank me later 😉 xoxo
Ultimate Peanut Butter Chocolate Cookie Cake
Ingredients
For the Ultimate Peanut Butter Chocolate Cookie Cake:
1/2 cup unsalted butter, room temperature
1/4 cup creamy peanut butter (I used skippy)
3/4 cup brown sugar
1/4 cup white sugar
2 large eggs, at room temperature
1 teaspoon vanilla extract
1 and 3/4 cups all-purpose flour
1 teaspoon baking powder
1/4 teaspoon salt
1 semi-sweet chocolate chips
1/2 cup peanut butter chips
12 mini peanut butter cups, chopped
For the Chocolate Frosting:
2 cups confectioners' sugar (plus more if needed)
1/3 cup unsweetened cocoa powder
1/2 cup unsalted butter, VERY soft
2 -3 Tablespoons whole milk
2 teaspoons vanilla extract
1/4 teaspoon salt
chocolate sprinkles
Instructions
Preheat oven to 350 degrees (F). Spray a 9-inch pie dish lightly with nonstick spray; set aside.

In a large bowl using a hand-held mixer or in the body of a stand mixer fitted with the paddle attachment, beat the butter and peanut butter on medium speed until completely smooth. Add the sugars and continue to beat on medium speed until creamy; about 1 minute. Add in the eggs and vanilla, increase speed to medium-high, and beat until combined, scraping down the sides and bottom of the bowl as needed; set aside.

In a separate, medium-sized bowl, combine flour, baking powder, and salt. Turn the mixer on to low speed and carefully add the dry ingredients to the wet ingredients, beating just until combined. Using a rubber spatula stir in the chocolate chips, peanut butter chips, and chopped peanut butter cups.

Pour the cookie dough into the prepared pan and use the spatula to spread it evenly around the pan. Bake for 23-25 minutes, or until the center is almost set and the edges are golden. Once removed from the oven, allow cookie cake to cool completely. Once cooled, use a sharp knife to loosen the sides of the cookie cake and transfer to a serving dish; alternately you can serve the cookie cake directly from the pan.
For the chocolate frosting:
Sift together the confectioners' sugar and cocoa powder, pressing it through a small sieve and into a large bowl to assure there are no lumps left; set aside.

Beat the butter on medium speed until smooth and creamy; about 2 minutes.

Gradually add the sifted sugar/cocoa powder alternately with the milk. Stir in vanilla and salt.

Once all of the ingredients have been added, beat on high speed until creamy and combined; about 2 minutes.

Decorate the cooled cookie cake with frosting and chocolate sprinkles.