This deep dish Valentine's Day Cookie Pie is loaded with festive M&M's and Heart Shaped Peanut Butter Cups!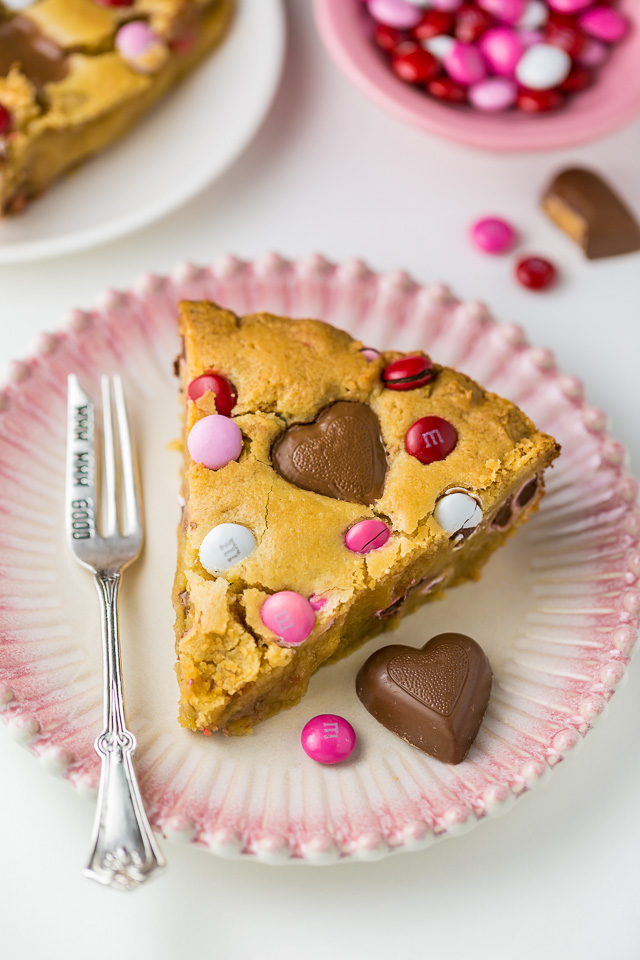 Happy National Pie Day!!!
How are you celebrating? (Obvious answer: With PIE!!!)
Today's also the fabulous Mariska Hargitay's birthday, which I'll be celebrating with a Law & Order marathon this evening. But I digress! Let's focus on the pie. Or in this case, let's focus on the giant cookie pretending to be pie 😉
Since National Pie Day falls on a Monday – and Mondays are never easy – I wanted to share a recipe with you that's simple enough to whip up on a weeknight. Enter this fun and festive Valentine's Day Cookie Cake! Each bite is chewy, crunchy, chocolatey, and loaded with peanut butter cups. Each bite is BLISS.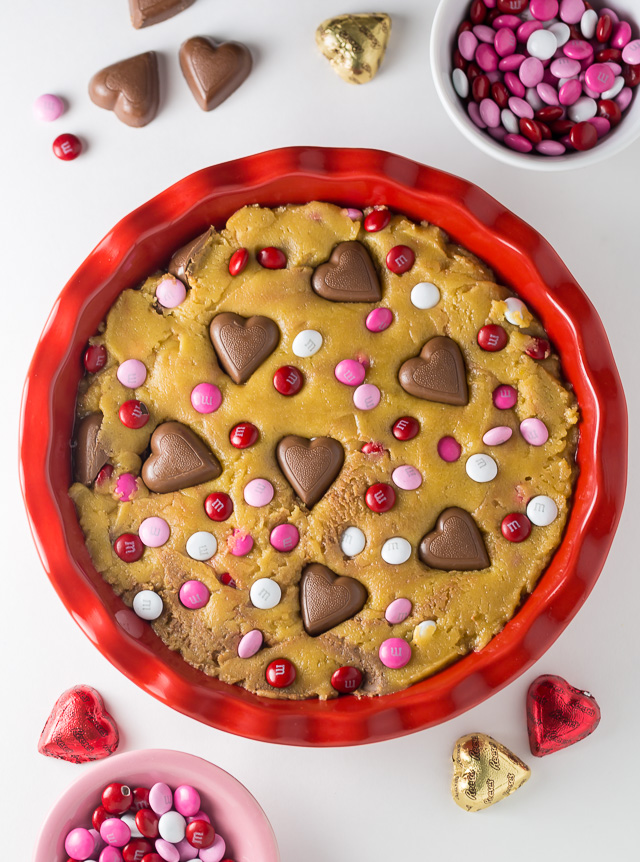 Tips and Tricks for Recipe Success:
Throughout the months of January and February, you should be able to easily find Valentine's day colored M&M's and heart shaped Reese's at most grocery stores and pharmacies. I bought both of these at CVS, and I know my local Walgreen has them too. That said, you can totally use regular M&M's and mini Reese's cups instead.
Don't over bake your Valentine's Day cookie pie! Although I've given an estimated bake time in the recipe box below, every oven is a little different, so be sure to pay attention to visual clues. When your pie has a shiny, golden top, set edges, and just a little jiggle in the middle, it's ready to come out of the oven. Over baking will result in a dry, crumbly cookie pie.
Allow the cookie pie to cool on a wire rack for at least an hour.
If you'd like your cookie pie to look exactly like the one you see in my photos, press extra M&M's and peanut butter hearts on top right before baking.
For an extra decadent dessert, serve this pie with a scoop of ice cream on top!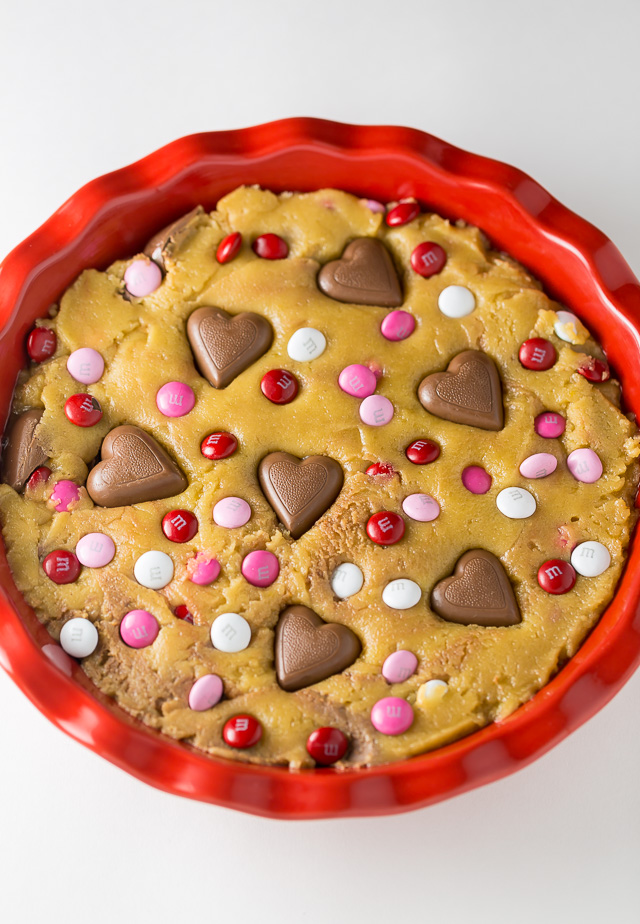 Is your oven preheated yet?! This Valentine's Day Cookie Pie isn't going to bake itself 😉
ENJOY ♥

If you try this Valentine's Day Cookie Pie, let me know what you think! Leave a comment below, and don't forget to snap a pic and tag it #bakerbynature on instagram! Seeing your creations makes my day ♥
Valentine's Day Cookie Pie
This deep dish Valentine's Day Cookie Pie is loaded with festive M&M's and Heart Shaped Peanut Butter Cups!
Ingredients
2 sticks (8 ounces) unsalted butter, melted
1 cup light brown sugar, packed
1 cup granulated sugar
1 large egg plus 2 egg yolks, at room temperature
1 tablespoon vanilla extract
2 cups all-purpose flour
1/4 cup cornstarch
1/2 teaspoon salt
2 cups Valentine's day M&M's (although regular will work)
3/4 cup mini heart shaped peanut butter cups, chopped (regular mini peanut butter cups will work)
Instructions
Preheat oven to 350 degrees (F). Light spray a 9" pie plate with non-stick baking spray; set aside.

In a large bowl add the melted butter, brown sugar, and granulated sugar; beat well until combined. Beat in the egg, egg yolks, and vanilla. Add in the flour, cornstarch, and salt and mix until just combined. Be sure not to over mix here! Fold in the M&M's and chopped peanut butter cups. Spread the mixture into the prepared pie plate. Top with additional M&M's and peanut butter hearts, if desired. Bake for 38 to 40 minutes, or until the top is golden brown, the edges are completely set, and the center of the pie is only slightly jiggly. If your cookie begins to look too dark, you can place a piece of tin foil over the top until it's done baking.

Place pie on a wire rack to cool for at least one hour before slicing and serving.