A supremely moist Vanilla Buttermilk Bundt Cake topped with a simple Vanilla Glaze and plenty of sprinkles!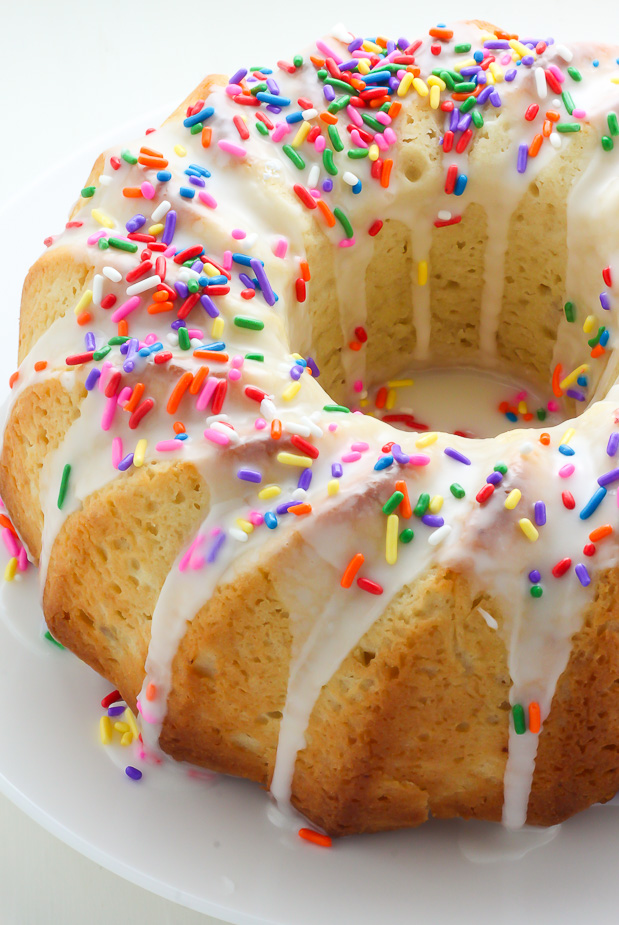 While rich and decadent chocolate cake will always have my heart (proof can be found here, here, and here), I also really really really like a good slice of vanilla. So pure and sweet; buttery and rich; glazed and sprinkle-y. This easy cake can be dressed up or down, and believe me when I say it FLIES off the table. My friend Lynn said it tastes like a giant glazed buttermilk doughnut, so there's that, too 😉 Cake that tastes like a doughnut?! That's winning.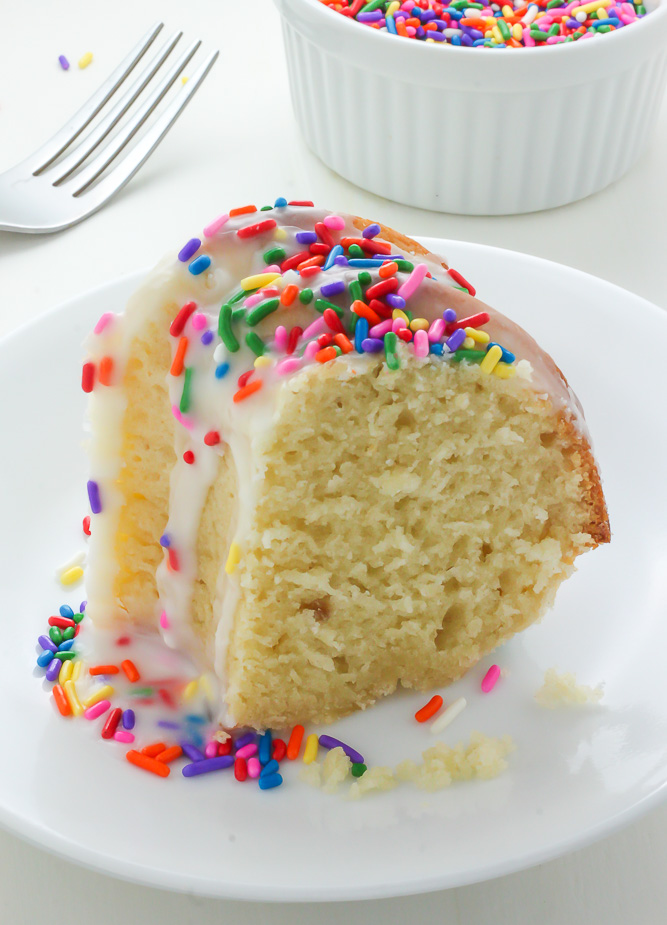 This cake bakes very fast (around 45 minutes in my oven) so be sure to keep an eye on it while it's baking. You'll want to spray your bundt pan with non-stick spray very generously. Don't worry if the cake is a little brown/golden on the edges when you remove it from the pan – that's what the glaze is for. And the sprinkles! I've never met a baking problem a little decorating handy work couldn't fix 😉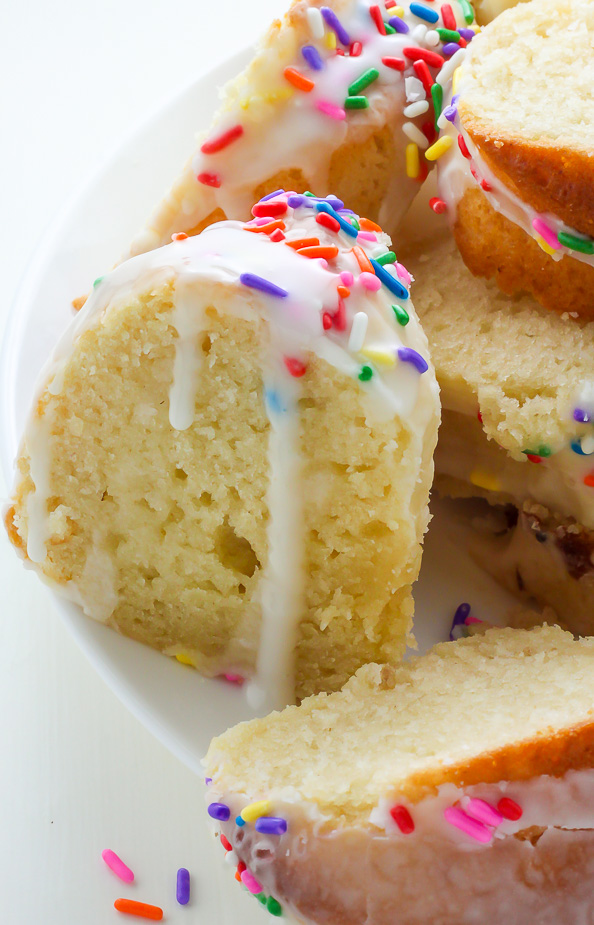 I like to cut this cake up before my guests arrive so they can just grab and go, but if you'd like to really WOW them, leave it whole, then slice it right before dessert o'clock. Enjoy!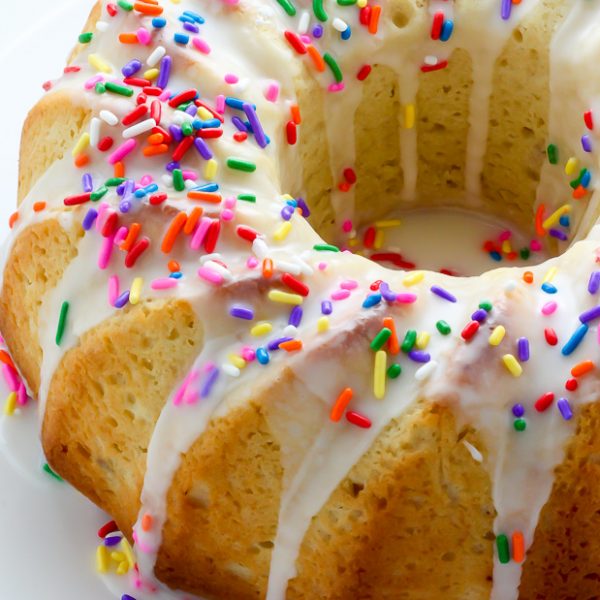 Vanilla Bean Buttermilk Bundt Cake with Buttermilk Icing
Moist and incredibly rich vanilla bundt cake topped with buttermilk icing and sprinkles!
Ingredients
For the Vanilla Bean Buttermilk Bundt Cake:
1 cup granulated sugar
1/2 cup unsalted butter, melted
2 large eggs, at room temperature
3/4 cup buttermilk
*1 vanilla bean or 2 teaspoons vanilla extract
2 cups cake flour
2 teaspoons baking powder
1/2 teaspoon salt
For the Vanilla Buttermilk Icing:
2 cups confectioners' sugar; sifted
3-4 tablespoons buttermilk
1 1/2 teaspoons vanilla extract
1/2 cup rainbow sprinkles, optional
Instructions
Preheat oven to 350°F. Generously grease a Bundt pan; set aside.

Beat granulated sugar and butter in the bowl of a stand mixer fitted with the paddle attachment on medium-speed until combined and creamy; about 2 minutes. Add in eggs, one at a time, beating well after each addition. Reduce speed to medium-low and add in buttermilk and vanilla; mix until well combined. Add in the flour, baking powder and salt; beat just until smooth.

Pour batter into prepared pan. Bake for 35-45 minutes or until a toothpick inserted into the center comes out clean, or with just a few crumbs attached. Carefully loosen the cake from pan using a butter knife, then turn it out onto a wire rack to cool completely.

In the meantime, make your icing!

In a medium-size bowl combine the confectioners' sugar, buttermilk, and vanilla extract; whisk completely smooth. If the glaze is too thick, add more buttermilk, one tablespoon at a time; if the glaze is too thin, add more confectioners' sugar, 2 tablespoons at a time. You're looking for the glaze to be thick enough to hold it's shape, but thin enough to pour.
Decorate:
Simply pour the glaze over top the cooled cake and add sprinkles (if desired).
Notes
*You will cut the vanilla bean in half, then scrape the inside into the batter, or simply use vanilla extract.